Ways to Repurpose an Old Door are all over the world wide web at the moment. It's not surprising because everyone is all about thrifting and revamping old things these days. If you have an old door somewhere in your house or you saw one at a vintage store that looks quite lovely, we give you here fantastic ways to repurpose it. Take note, most of these ways to repurpose an old door will require the use of power tools and the assistance of your able-bodied husband, boyfriend, father, brother, or next door neighbor.
---
1

Headboard

This is one of the common ways that you can repurpose an old door. I have been meaning to do this ever since I saw Marshall and Lily's headboard on How I Met Your Mother. Isn't their teal one gorgeous?
---
2

Entry Way Bench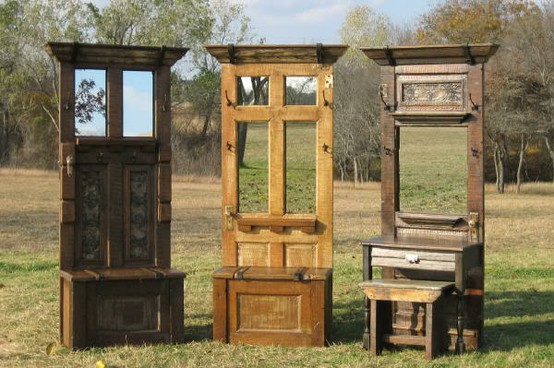 Depending on how you finish and paint the piece, this type of** old door repurpose** will look positively beautiful in any house. There are many ways that you can add your personal touch, too. You can add mirrors, hooks, or turn the mini bench into a storage unit.
3

Shelves

Old door to shelves? Why, yes! Doing this is very easy, too. You can use the door as the back portion of the shelves, add wood pieces in front for storing your things and you're done. Another way to do it is by cutting the whole door into parts and reassembling it to form an actual bookcase.
---
4

Screen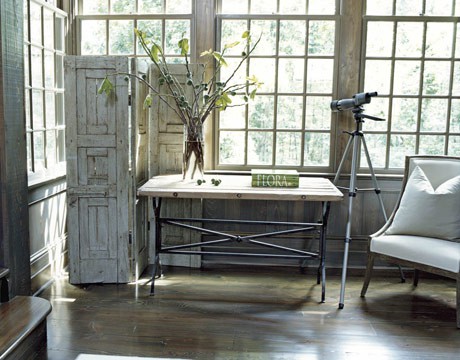 This is one simple** way to repurpose old doors**. In fact, you will need only hinges and at least three doors for this. This is a brilliant revamping project for city dwellers. A screen made of doors can easily transform a small studio apartment into a cozy home with a semblance of compartmentalized spaces.
---
5

Table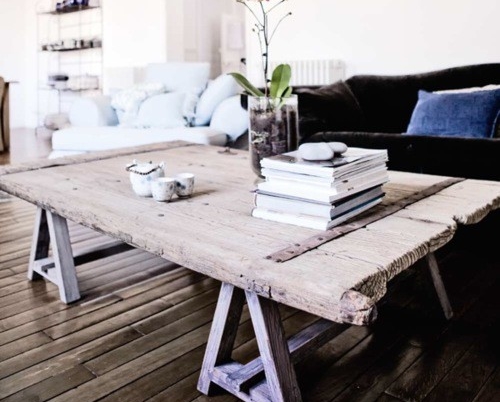 I so wanted to make a table out of a door when we moved to our new flat. My boyfriend wasn't sold on the idea, sadly. If you or your significant other are more adventurous, turning an old door to a table will be quite rewarding. Depending on the size of your door, you can make a coffee table or a dining table. You can even make a desk!
---
6

Day Bed / Bench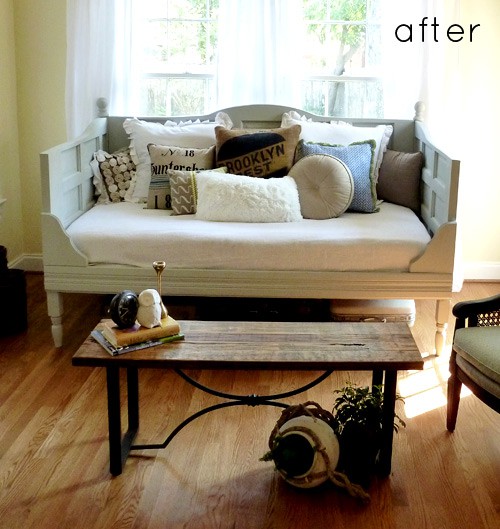 How creative is this? Really, this is pure genius. It looks like they used two doors for the bench above but you can utilize a single piece, too. A rustic way to have a go at this project is to cut up the door and use the pieces for the back and armrests. Easy!
---
7

Kid's Bed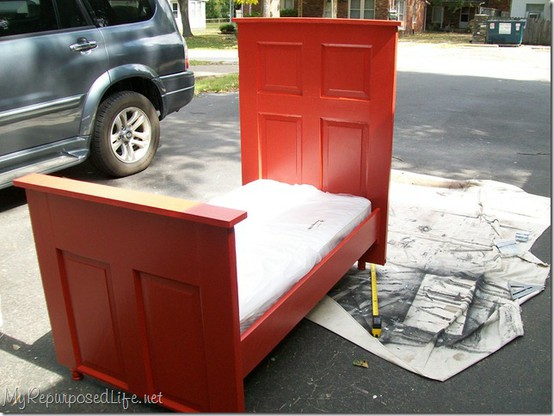 This idea is very similar to the headboard old door repurpose above. But instead of using the whole door for the headboard alone, you will be utilizing the whole piece both for the headboard AND footboard. Paint in bold color for that extra DIY goodness.
---
8

Notice Board

Paint a door with chalkboard paint or cover it with cokboard sheet and you'll have a unique notice board for your study in no time. So easy and fun; makes me wish I have a bigger home office.
---
9

Rack

This will work with French door-types (see top photo above). Once you remove the glass and repaint the metal frame, you will have one unique rack for magazines, towels, and just about anything you want to hang. This is an old door repurpose that can work for your living room, bathroom, bedroom, home office, garden, and other parts of the house.
---
10

Wall Art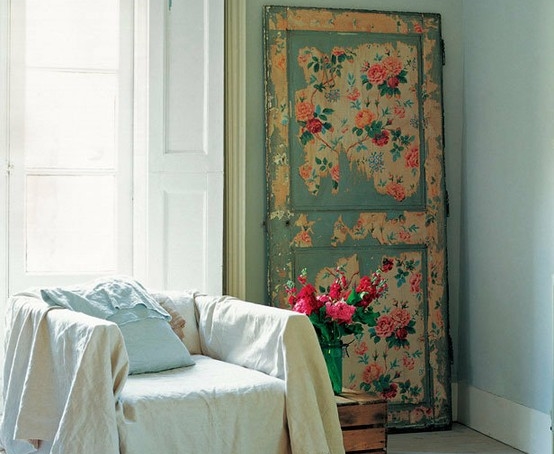 Got an old door that is too beautiful to discard? Don't! If you're aiming for that shabby chic look for your home, using this door as wall art is a great idea. Options to revamp it include painting flowers, hanging photos, giving it a patina look, and many more.
Have you done some of these ways to repurpose old doors? We'd love to see your finished projects! Also, if you have more ideas on** how to repurpose old doors**, we'd love to hear them. Our comments section is always open ;)
Top Photo Credit: Pinterest
---
Popular
Related
Recent