Ways to Upcycle a Bicycle are perfect projects for giving a wonderful machine a new life. Whether you want to upcycle a bike that you've had for years or you happened upon one on Craigslist, these DIY ideas will surely help you out. Let's check out these bicycle DIY projects, shall we?
---
1

Wheel Clock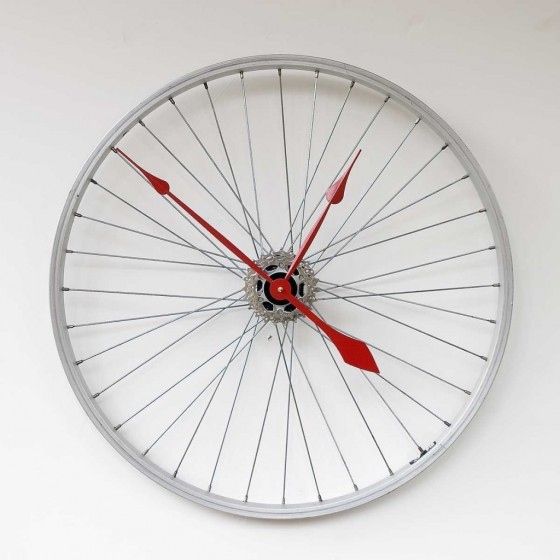 Been looking to make one of those large wall clocks? Now you can create one using a bicycle wheel. Those who love the modern or industrial school of home decor will definitely love this bike DIY idea. Not only is it so very easy (and cheap!) to do, it will also add amazing visual appeal to any home.
---
2

Lazy Susan / Table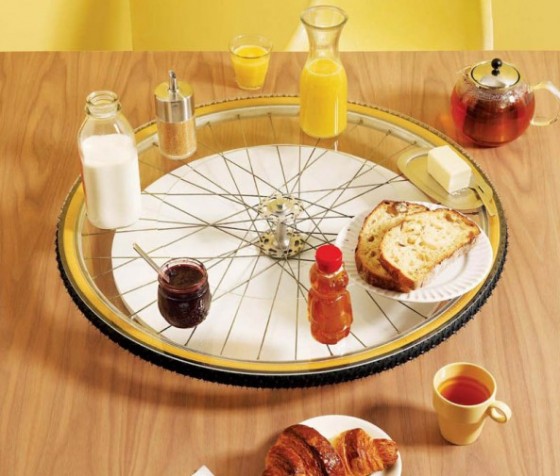 How about enjoying "meals on wheels?" Making this Lazy Susan might need some advanced skills but that's what your boyfriend or dad is for, really. With some design variation, you can also make a table out of a bicycle wheel.
Trendinig Stories
More Stories ...
3

Bathroom Sink and Storage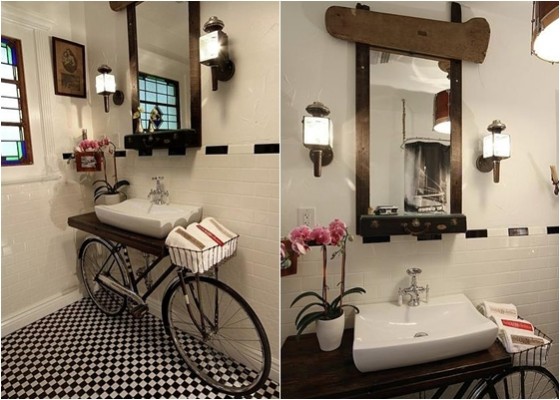 This is probably one of the most popular bicycle upcycles out there. It's incredibly inventive, isn't it? I like that this doesn't look tacky or out of place. It helps that other elements of this bathroom look beautiful, too.
---
4

Pot Rack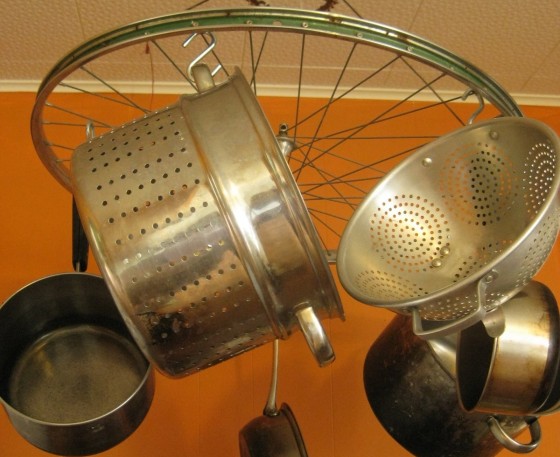 One of these days, I will make a list of creative DIY pot racks. For now, I will include this bike DIY idea here. Just like most of the projects here, this one is easy to do. Using sturdy wire and a clean bicycle wheel, you'll be able to make a nifty pot rack for you kitchen in no time.
---
5

Mobile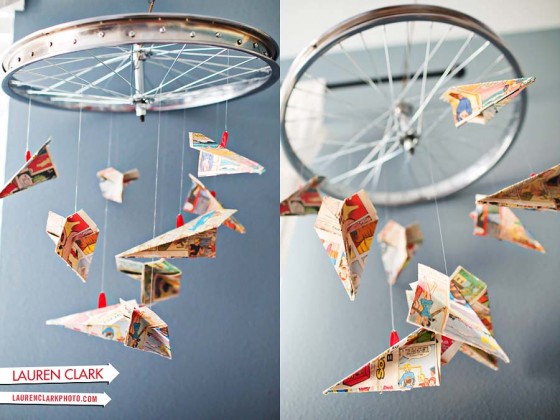 How delightful! Using comic book pages for this mobile was certainly a stroke of genius. Of course, the use of the bicycle wheel is the best part about this mobile. Could anything be possibly more perfect for a boy's room?
---
6

Bracelet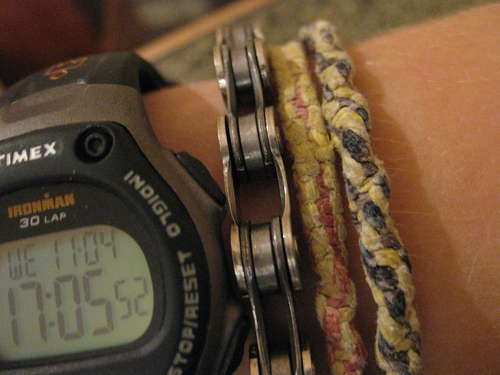 Bike chain to a bracelet! How cool. This is a great way to upcycle a bicycle for those who like having unique accessories. Even guys can wear these.
---
7

Planter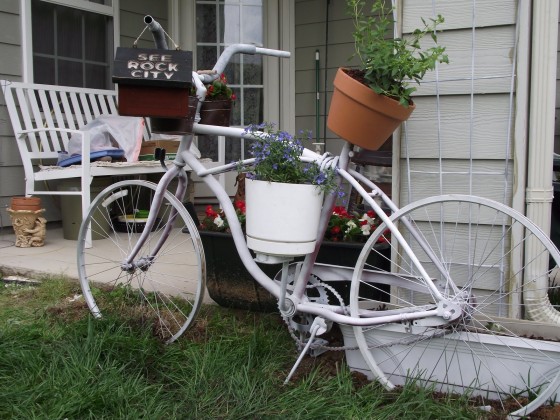 I have included this in my list of creative planters but it bears repeating. Why? Because using a bike as planter is clever, adorable, and beautiful. Doing this is definitely a simple and cheap way to add a touch of whimsy and magic to your garden or front porch.
---
8

Chandelier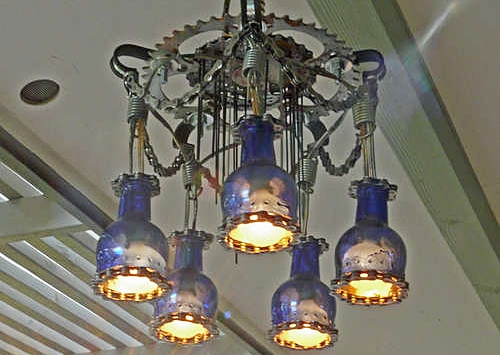 There are many ways that you can go about making a chandelier out of a bicycle or bicycle parts. The one that links to the tutorial below will give you something wonderfully Steampunk. For other ideas, check out Marin Camille.
---
9

Wall Art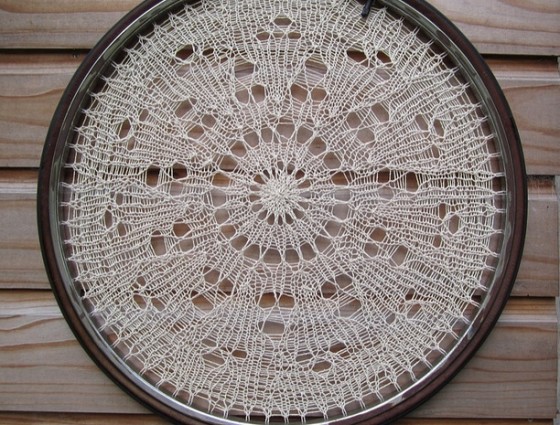 The rim of a bicycle wheel can be a perfect frame for any circular-type wall art. This crocheted beauty is one example. With your imagination, you can also make a dream catcher or fabric wall art.
---
10

Garden Trellis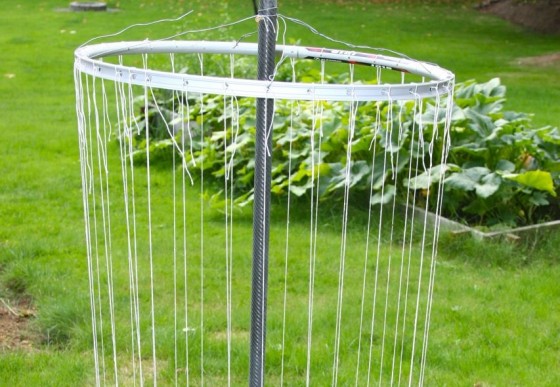 Talk about clever gardening! If you want to build a quality trellis for peas and other climbers, you can use discarded bicycle rims. These look incredibly easy to make so give it a go.
I don't know about you but these methods of upcycing bicycles are calling out to the green crafter in me. Since I don't know how to ride a bike (yes, yes, I know my childhood was incomplete), I should just look into these bicycle DIY projects. Will you be trying some of these ways to repurpose a bicycle? Please show us what you end up making!
---
Popular
Related
Recent