DIY Wine Racks are great projects for adding a touch of unique and handmade to your home. Whether you have a dedicated bar area in your home or you are still planning to create one, I bet you will find creative inspirations from these DIY wine racks. These DIY wine racks are easy and cheap to make. They'll add a touch of personality to your home, no doubt about it.
---
1

PVC Pipes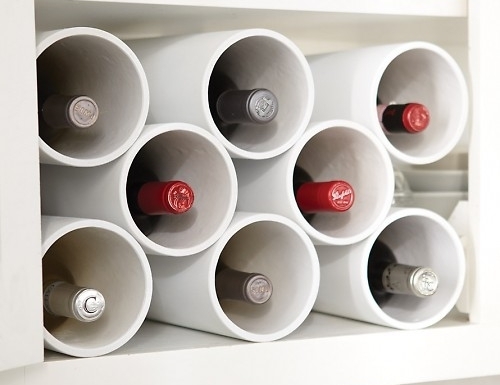 This is a great DIY wine rack that is not only cheap but easy to make, too. The materials you will need are a 4-inch PVC pipe, paint, and velcro strips. Martha organized hers in 3 layers but you can also make one with the pipes stacked on top of each other. The latter is a great solution for small spaces.
---
2

Mailing Tube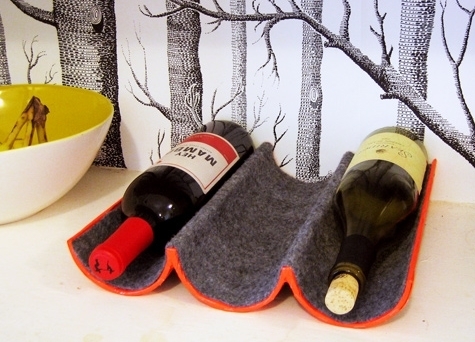 Isn't this clever? This makes me wish that I saved the many mailing tubes I've received over the years. If you have some in your home, giving this fun DIY wine rack a go is a great idea. This will also make a great gift for a friend who loves wine.
Trendinig Stories
More Stories ...
3

Crate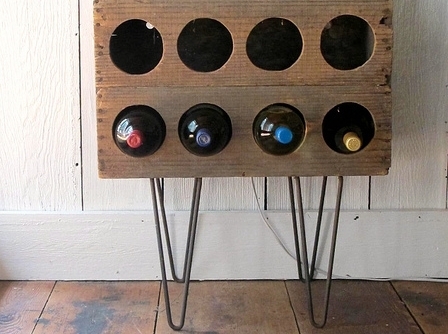 The top part of this DIY wine rack used to be a soup crate. The hairpin legs were then added to increase the rustic and stylish factor of the whole repurposed project. Brilliant.
---
4

Wood Plank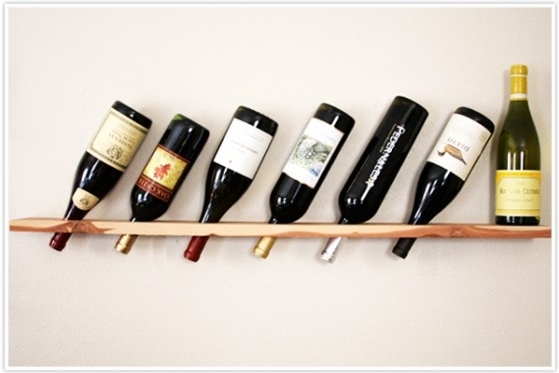 Does your home have a rustic feel? If you want a wine rack to match, this wood plank idea is great. This project requires power tools and perhaps the assistance of an able-bodied male.
---
5

Wood Scrap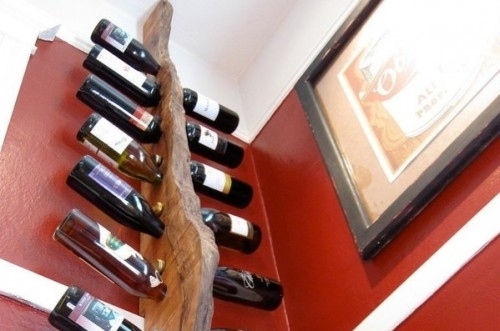 This one is basically similar to the idea above. However, this wood scrap project is recommended for those who store a good number of wines in their homes.
---
6

Galvanized Pipe Hangers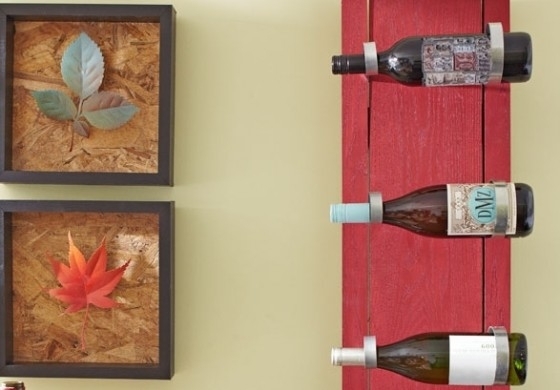 This particular DIY wine rack idea will also require the use of complicated tools and the help of a handyman. Of course, if you know your way around an electric screw driver or you can handle simple carpentry projects, you may give this one a go.
---
7

Cans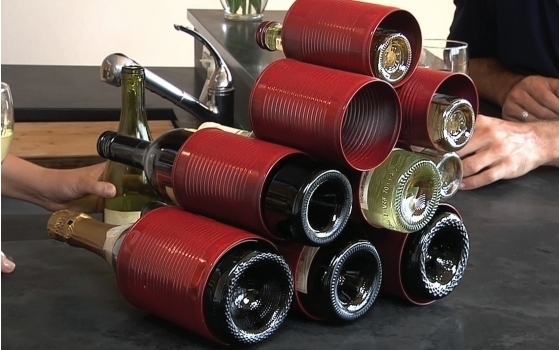 Is there anything greener? Not only will you be making a unique wine rack, you're being eco-friendly, too. The best part, however, is the fact that this one is incredibly easy to assemble. Basically, you clean the cans, glue them together, and paint!
---
8

Steel Rods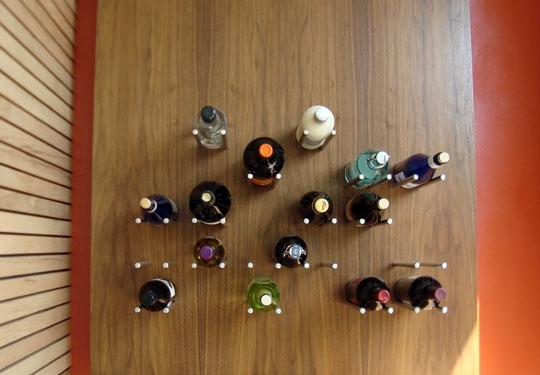 Isn't this chic? This will probably not work for my flat because I have cats but a girl can dream, right? Read the comments to know how to install something like this in your home.
---
9

Riddling Rack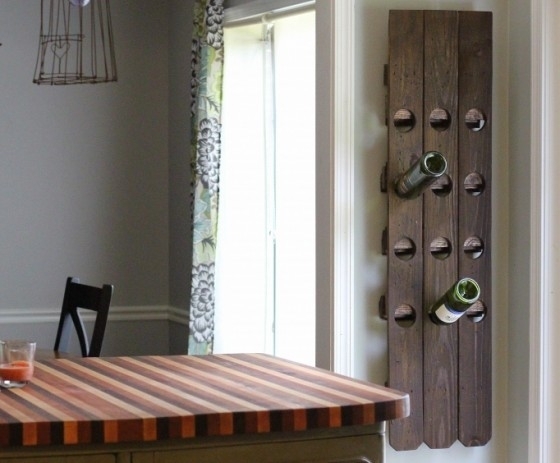 Something similar to this are sold in stores but they will set you back several hundred dollars. Why not make your own? The wooden planks used here are left over fencing materials. Looks great with that aged look, right?
---
10

Pallet Shelf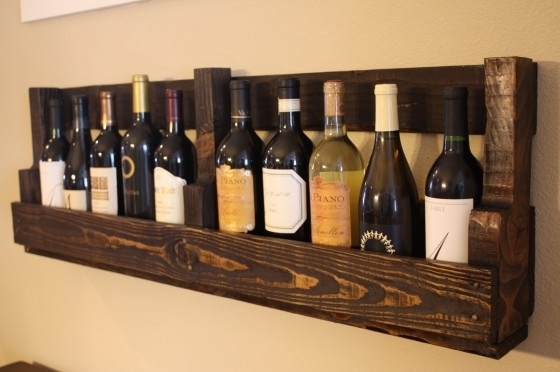 Pallets turned into wine rack? Yes, it can be done; THAT is how versatile pallets are. After you construct the shelf, several layers of paint will look fantastic. Of course, wood stain will work, too.
---
11

Wood and Nails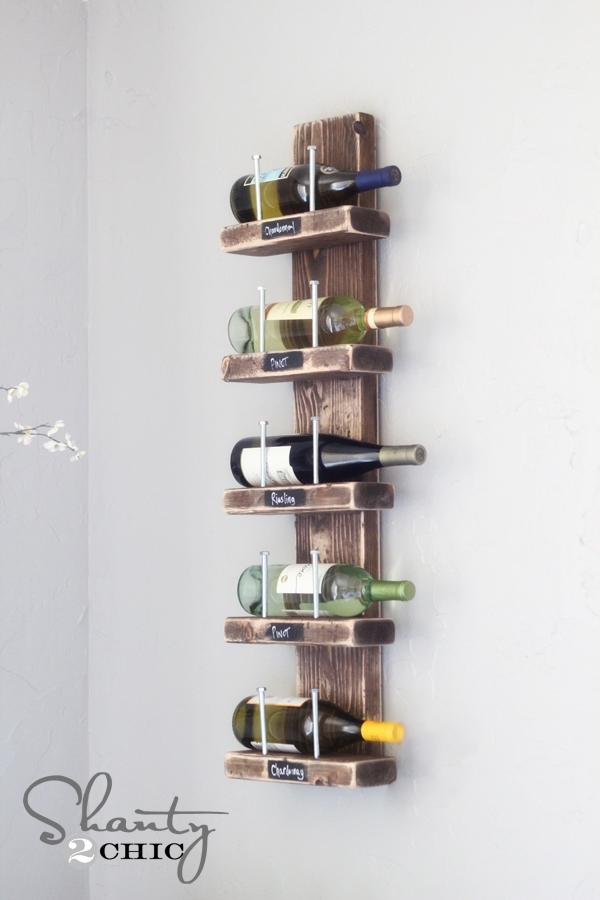 It's as easy as it sounds, but not as it looks. This looks like something that could be bought in a store, which will be even more satisfying when you tell people you made it! It's just wood, large hex screws, and chalkboard paint so you can change the wine label whenever you need to!
---
12

Mod Table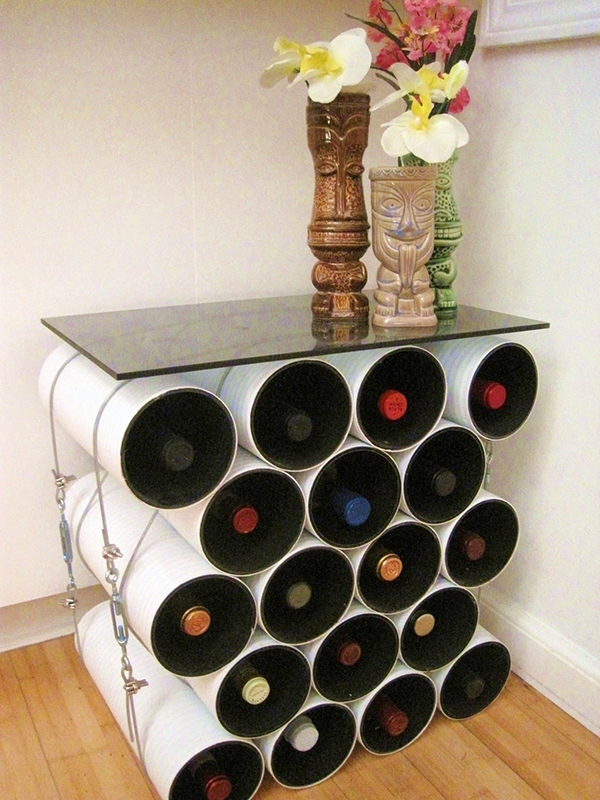 This awesome wine rack is multi-functional because it can also be used as a table or maybe even a small bar. The table is made from drainage pipes, turnbuckles, and then they added a glass table top. Feel free to scrap the glass and this will still look cool!
---
13

Old Shelves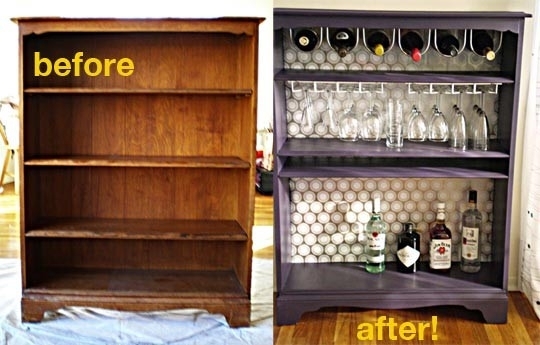 This is just one big piece that can hold not only your wine, but all of your liquor too if you so choose. If you just want it as a wine rack you can just replicate the top design on ever shelf. Use an old piece of furniture you have or get one at a yard sale, paint it, and add some wall paper and you have a cute new wine rack.
---
14

Sideways Shelf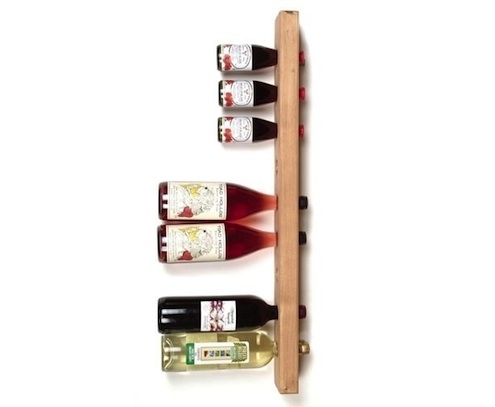 Ok, so this isn't the most exciting one on the list, but it's the cheapest and maybe one of the easiest. It looks a lot like normal wine racks, except that it's on its side. This is a simple thing that could make all of the difference in catching your guest's eye.
---
15

More Mailing Tubes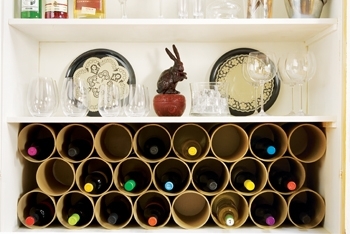 Who knew they could be so useful!? This is a cute and simple wine rack idea. Maybe you don't need or have as much space as the picture shows, but you can just use as much space as you need. For this you just need mailing tubes and a place to put them!
So go ahead and make your home bar dreams a reality; construct one of these DIY wine racks now. If you have other DIY wine rack ideas or you have made your own, show them off here!
This article was written in collaboration with editor Lydia Sheehan.
---
Comments
Popular
Related
Recent