DIY centerpieces are easy to make and they look even more amazing than any store bought numbers. Needless to say, a lovely DIY centerpiece also costs much less than anything you could buy, plus you have the accomplishment of making something beautiful yourself. Because I love setting a pretty table when I have dinner with guests or just with the Better Half – my favorite dinner date! – I've gone on a search for some of the most gorgeous DIY centerpieces I can find. Most of them don't include flowers simply because I don't like to be presumptuous about what kinds of flowers people like, but keep in mind, you can add your own with most or all of these!
---
1

Light in a Bottle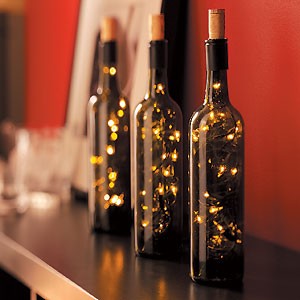 Lots of DIY centerpieces make use of old wine bottles. This one's one of my favorites, simply because of the lights in the bottles themselves. All you need are battery or solar powered fairly lights. I'm pretty sure there are also high tech LED options that would work wonderfully. And, of course, it's up to you to pick the colors of the lights and the bottles.
---
2

Tea Candle Delight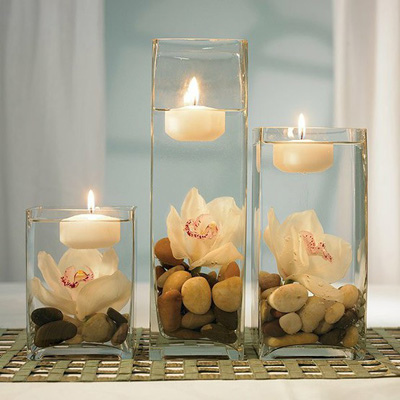 I absolutely love, love, love this do-it-yourself table decor. You can actually do this – a tea candle in a vase, a votive holder, or anything like that – any time of year, with any containers. It works with or without the flowers, with real or fake flowers, with or without the rocks … you get the idea. But the overall effect is absolutely gorgeous.
3

Color Coordination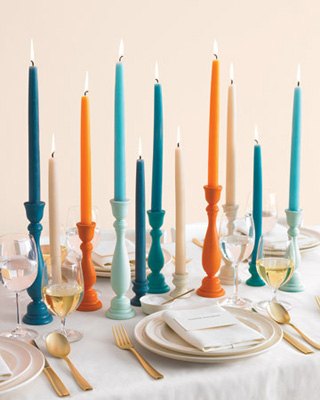 Lots of DIY centerpieces are simple, but they look fantastic – and this is one of them. All you need are tapered candles and holders – then, color coordinate! You can paint your candle holders to make your candles, or you can simply buy them in the shades that you like. This is quite easy and, again, incredibly simple, but it makes a big pop.
---
4

Marvelous Mason Jars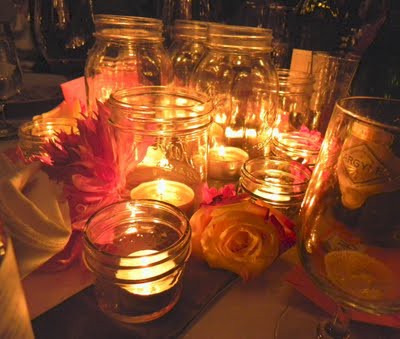 Mason jars lend themselves well to lots of gorgeous DIY centerpieces. I love this one. It's ideal for a romantic, candlelit dinner, and if you have the jars, it's practically free. Especially if you shop at IKEA, because you can get about a billion tea candles for approximately three dollars or something.
---
5

Beauty under Glass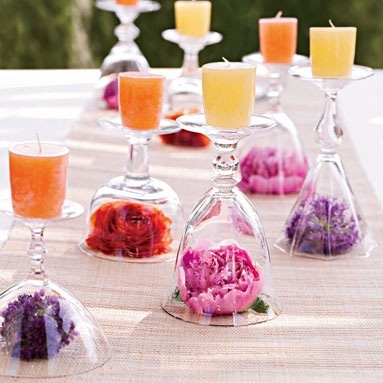 This bit of DIY table decor does use flowers but, again, you can use your favorites and they can be real or fake. What I like about this centerpiece is that you can make an arrangement in the middle of the table or you can place a single overturned glass in front of each place setting. It's simple so it lends itself well to any season, too. Gotta love versatility!
---
6

Suddenly Citrus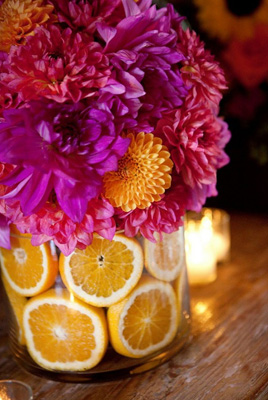 There are a lot of different takes on this centerpiece. Some use flowers, some don't. Again, it's up to you, and you can utilize real flowers or silk ones. The fruit is the main thing, and this can be done with vases of any size and oranges, grapefruits, lemons, limes, or any other kind of citrus.
---
7

A Seasonal Affair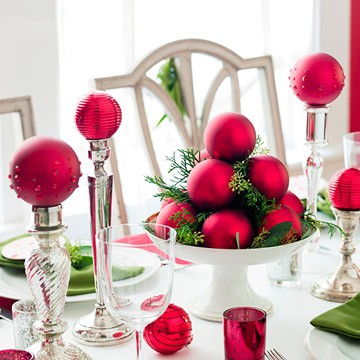 I know what you're thinking – this only works at Christmas, right? Absolutely not! You can use your Christmas decorations in DIY centerpieces like this one any time of the year. Go with any color or size as well, it will still be gorgeous. I've got coffee table centerpieces that use my green, silver, and black bulbs right now!
These DIY centerpieces are incredibly easy to make, and there are so many others – it all depends on what you want and what you like! The internet really is a great thing, because there are also tons of video tutorials that can help you make sure you've gotten everything right. Tell me, what kind of do-it-yourself table decor do you best like to try?
Top Image Source: weheartit.com
---
Popular
Related
Recent