DIY Skeleton Key Home Decor Ideas are great for those who love having a touch of whimsy in their living space. I love skeleton keys. In fact, I love them so much that I search our local eBay every day for unique skeleton key finds. But when I gathered these** DIY skeleton key home decor projects**, I realized that I should stop stalking skeleton key-designed items online. I should just get my craft on and do one of these fun DIY skeleton key home decor ideas.
---
1

Framed Art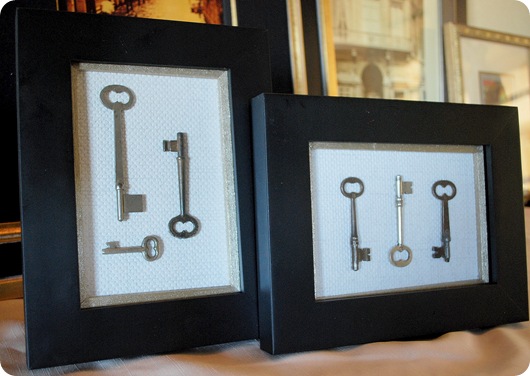 Skeleton keys are works of art. If you have genuine skeleton keys, you can frame them and display them in your home. I like the way Kate made her framed keys look like they are in shadow boxes. Check out the link to see how she achieved this.
2

Lacy Key Art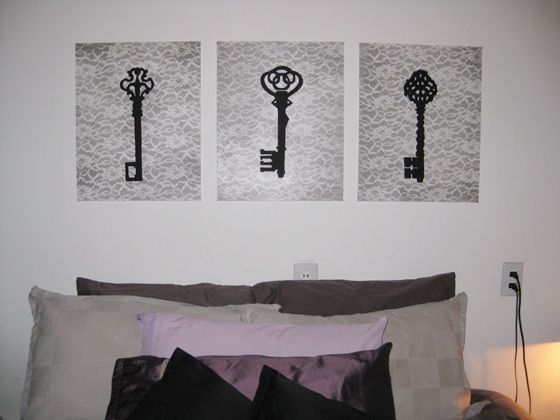 Here is another DIY skeleton key home decor idea that will help you prettify a blank wall. This project will not require actual skeleton keys. You will only need to paint the design. Of course, you can also glue actual keys over the lacy painted canvas. That will be lovely, too.
---
3

Pillow Case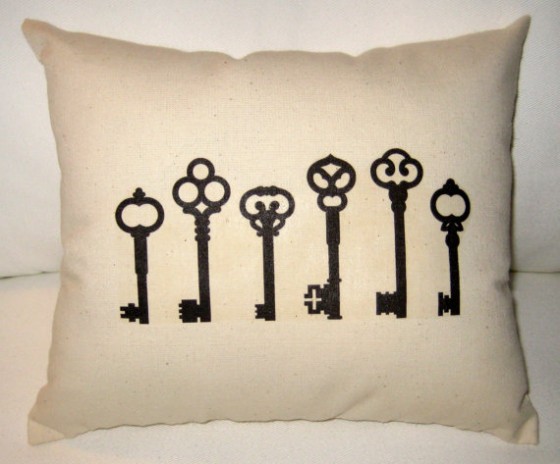 Isn't this pretty? This pillow is an Etsy item but I think that this is easy to copy. With the help of freezer paper, you can print these beautiful skeleton key silhouettes on fabric and make your own pillow cases. You can also use the design to print fabric for curtains and table runners.
---
4

Valentine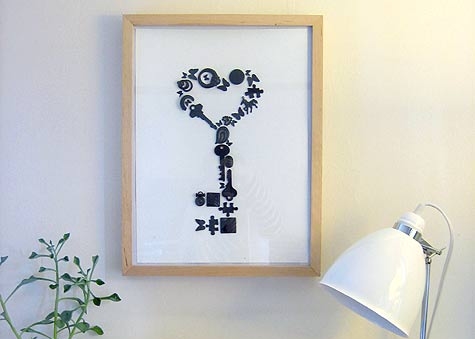 A perfect Valentin'e Day gift that says "You have the key to my heart" or something like that. If you make your own, make sure that you use trinkets that you and your husband or boyfriend value.
---
5

Key Holder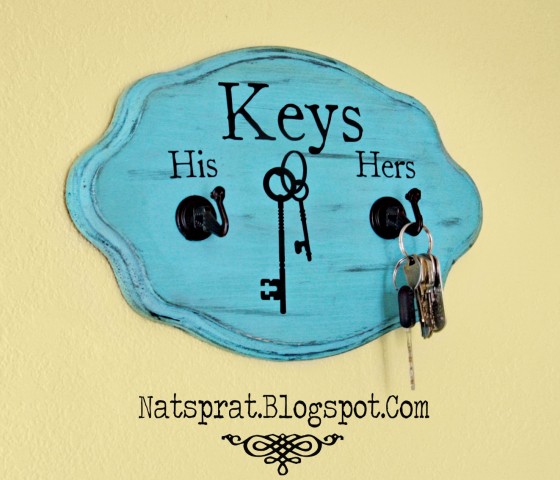 DIY skeleton key home decor ideas tend to be on the shabby chic side, don't they? If you happen to like this designing "movement," you will want to give this key holder project a go. I bet you will find the distressed details quite fetching.
---
6

Key Holder II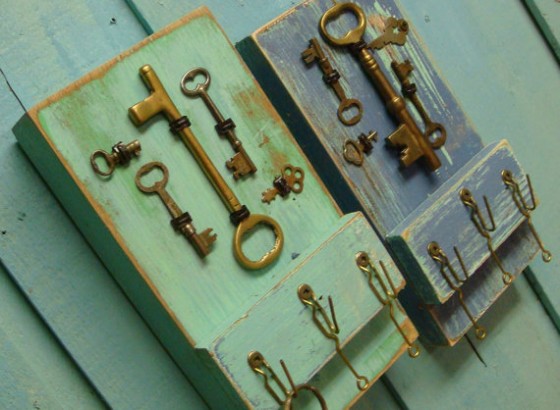 Here is another key holder inspiration perfect for a shabby chic home. I find the distressed wood base of this key holder quite pretty. The paint color is great, too. This is an Etsy listing but you can use this design to make something similar. If you have oversized skeleton keys, you have to give this project a go.
---
7

Key Portrait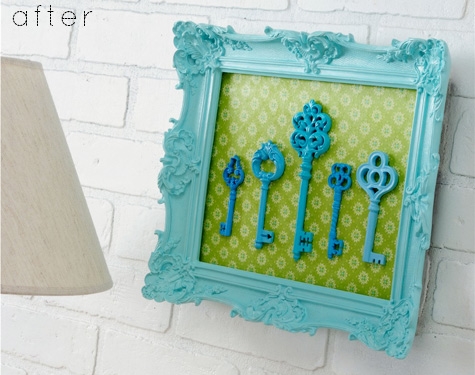 This DIY skeleton key home decor idea is for making key art as well but it looks different from the ones featured above. Unlike the other framed key ideas here, this project will be perfect for those who love bright accents in their homes. I have a frame similar to this and I might just reuse it for framing pretty keys. I'll need to find said keys first...
---
8

Key Holder III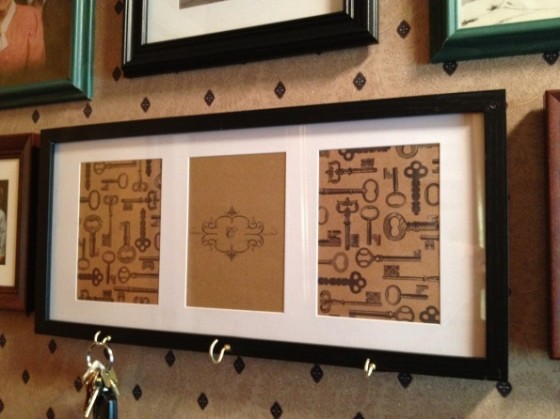 This particular key holder idea is for those who are not fans of the overly shabby chic school of design. To make this key holder, you will not need actual skeleton keys. You simply need to find pretty paper with skeleton key design, frames, and hooks.
---
9

Candle Holder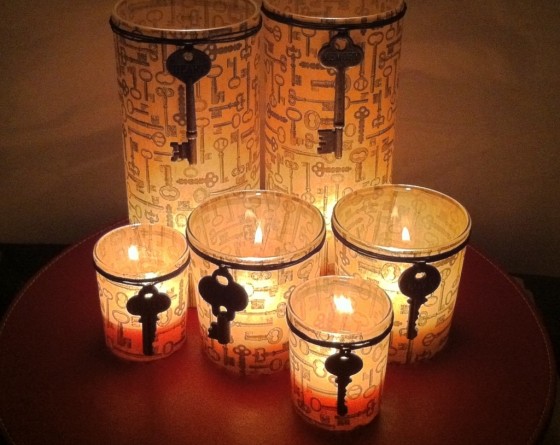 These look so great, don't they? This is a simple "wrap with pretty paper and finish with key charms" project. For those who are hosting an intimate dinner and are wondering how to decorate the table, this candle holder idea will be perfect.
---
10

Hanging Keys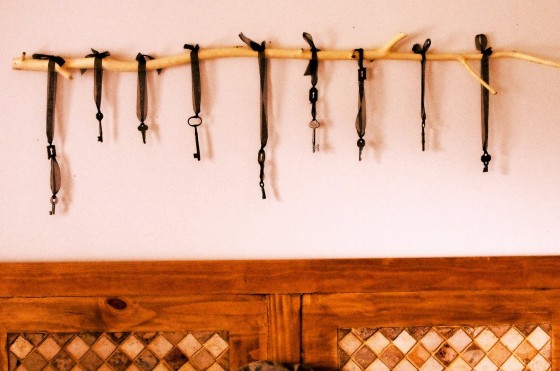 This** DIY skeleton key home decor idea** is pretty simple and easy to do as well. Take a branch, hang keys using ribbon, and attach to the wall. Very easy but the result is bordering on magical.
To say that these DIY skeleton key home decor ideas inspired me is an understatement. I am obsessed with these materials and believe me, I will be copying some of these skeleton key craft projects. I must leave you now because like I said, I need to find large skeleton keys.
---
Comments
Popular
Related
Recent