DIY party decoration ideas can be found in droves on the internet. DIY-ing your own party decorations can not only be cost effective but you'll also get a sense of accomplishment from creating an amazing party space yourself. Decoration specifics such as colours and sizes may vary depending on the theme and style of your party, but these can all be easily adapted to suit any DIY party decoration idea. Take a look at a few ideas for DIY party decorations, below.
---
1

Tissue Paper Pom Poms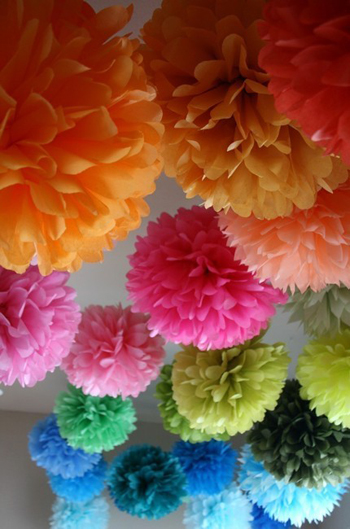 Tissue paper pom poms are some of most common DIY party decoration ideas around. Making these involves folding a stack of sheets of tissue paper into accordion folds, securing them in the centre with floral wire, trimming the ends, and separating the layers and pulling them away from the centre one at a time. When hung from the ceiling, they create a whimsical and playful scene. The best part about these DIY decorations is that you can adjust the size and colour to suit your needs.
---
2

Circle Garlands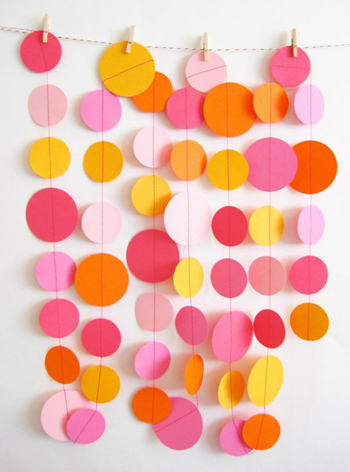 If the previous DIY decoration idea seemed too complicated or time consuming, then these circle garlands are an easier project. To make these, cut bits of cardboard or felt into circles and join them together by sewing a piece of string through them all. Hang them from the wall, ceiling or a doorframe for a fun look
---
3

Jar Candle Holders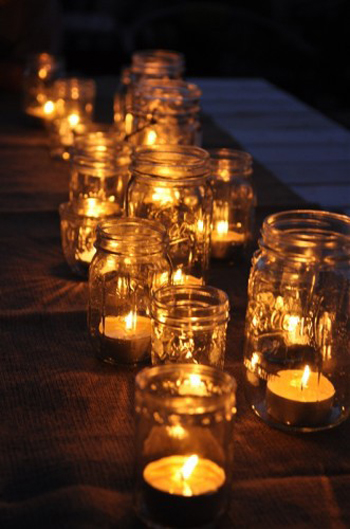 When it comes to mood lighting, nothing beats the glow of a candle. When it comes to DIY party decoration ideas, this is one of the simplest. All you need are mason jars in varying sizes and tealight candles. Place the candles inside the jars and then light them when ready. This looks great as a table setting.
---
4

Tassel Garlands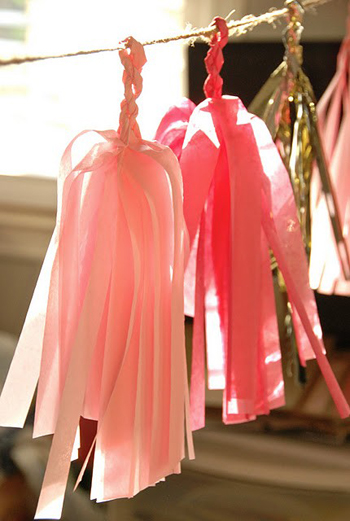 Making tassel garlands is one of the more time consuming DIY decorations out there. You'll need lots of tissue paper, a craft knife, twine, a ruler, and glue. For detailed instructions I'd recommend searching the internet for a step-by-step guide (there are plenty). These garlands look great when hung from the ceiling in a variety of colours.
---
5

Hanging Lightbulb Vases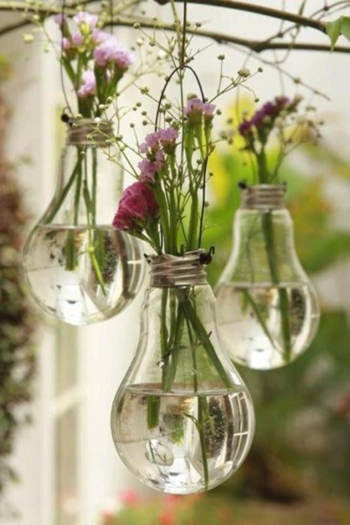 This DIY party decoration is so quirky! It's also a great way to make use of old light bulbs. Firstly, you need to gently saw off bottom of the light bulb and pull out the filaments. Then you need to poke two holes through the metal opposite each other (to hang wire through). Finally lace thin wire through the holes, tie off at the desired length, and fill with flowers. Remember to keep these out of the way of human traffic to prevent people bumping into them!
---
6

Streamer Chandeliers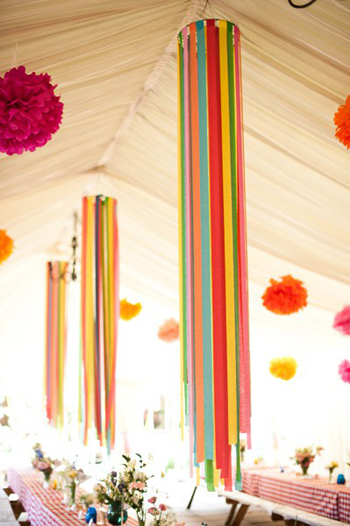 These streamer chandeliers are great for high ceilings or the outdoors. To make them, cut strips of crepe paper to varying lengths. Attach them to a circular ring and then attach the ring to the ceiling.
7

Recycled Can Centrepieces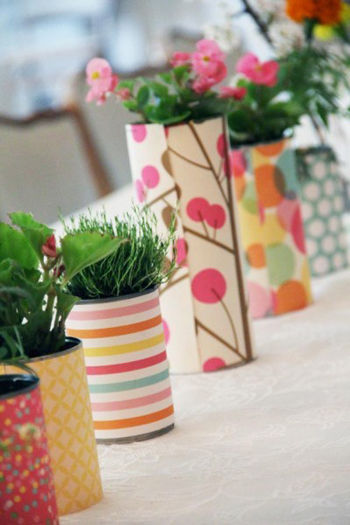 All you need for this DIY are tin cans (cleaned, of course) and some pretty gift wrap or paper. Wrap and glue the paper onto the cans and then fill them with pretty blooms. As far as DIY party decoration ideas go, this can be done by even the most craft-inept.
---
8

Paper Cup Party Lights
If you're after a different way of stringing up and displaying your fairy lights, this is a DIY idea that is worth a look. Simply punch holes in the bottom of the paper cups for you to poke the light through. Cover the cups in pretty paper to suit the theme of your party.
These are just a few fun DIY ideas to decorate your next party space with. For more detailed instructions on how to make these DIY party decoration ideas come to life, a quick internet search will lead you on the right track. Do you have any interesting ideas for DIY party decorations you'd like to share?
---
Popular
Related
Recent