DIY Driftwood Crafts are here to help you with that nagging question you've had in your head for days. You know, this question: WHAT ON EARTH DO I DO WITH THESE DRIFTWOOD I COLLECTED FROM THAT BEACH TRIP? Stop stressing out because these darling driftwood craft projects are here to save the day. They're adorable, I promise.
---
1

Planter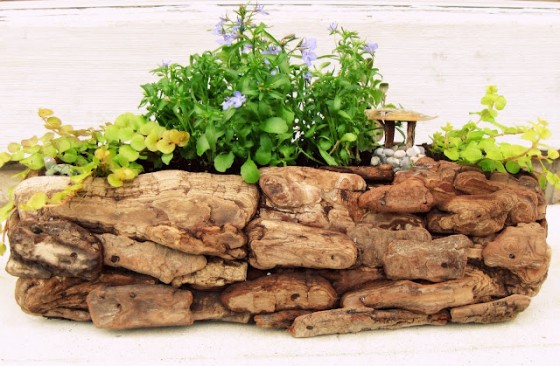 Take any wooden box, drill holes to the bottom, nail driftwood to the sides, and plant a pretty plant. From Lucy: This project cost next to nothing as the most important and beautiful material was free. Love it!
---
2

Star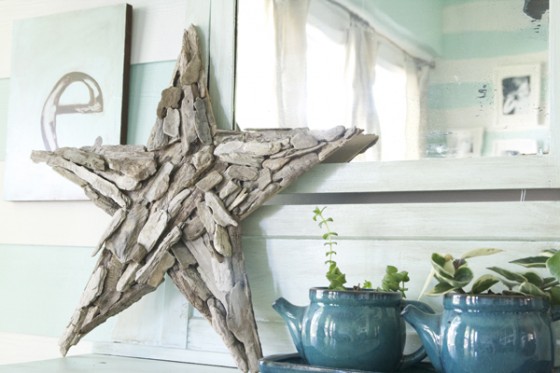 Looking for a way to add a summer feel to your mantel? You can do that using driftwood by making this coastal craft project. Isn't it adorable? You'll love this if you happen to enjoy jigsaw puzzles.
---
3

Lamp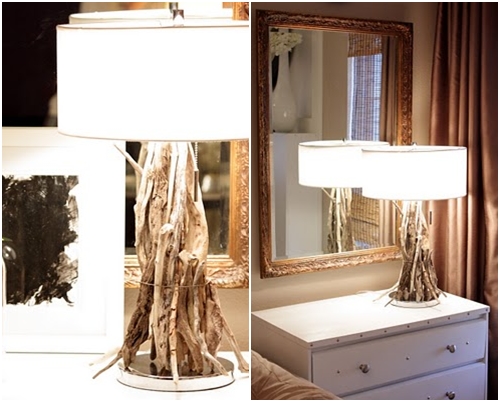 One way to give your bedroom an instant coastal feel is to make this easy DIY driftwood craft project. You don't even have to buy a new lamp to do this. If you have an old one with a slim base, you can easily transform it into a beach-inspired light fixture.
---
4

Mini Sailboats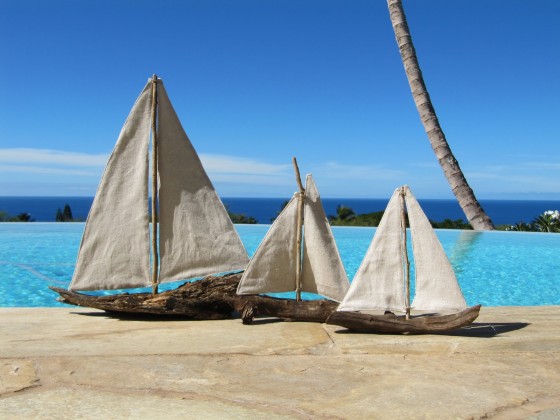 How cute! This is another summer mantel idea that you can do using driftwood. Design variation: use sails in fun colors!
---
5

Mirror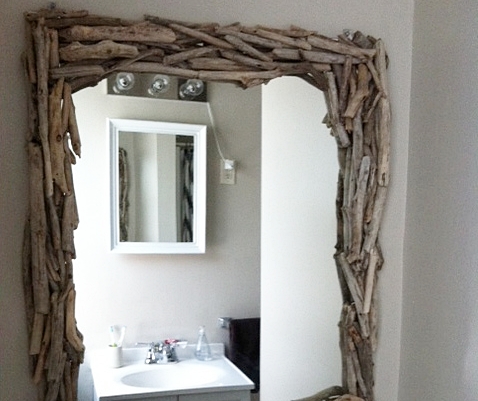 One of the ways that you can upcycle driftwood is to use them for framing a mirror. Heather Caroline shares with us a method for doing this project more smoothly. She said to hang the mirror first and then glue the driftwood after.
---
6

Colorblocked Hooks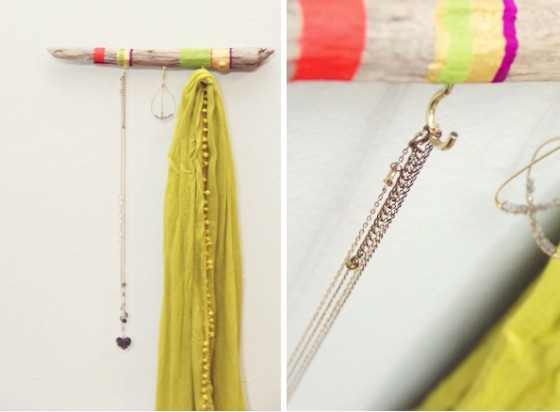 Adding colorblocking detail to any home project makes it instantly fun and trendy. For this particular DIY driftwood craft, you will paint driftwood with strips of colors, add hooks, and then use the finished product to hang jewelry, keys, and other items.
7

Mobile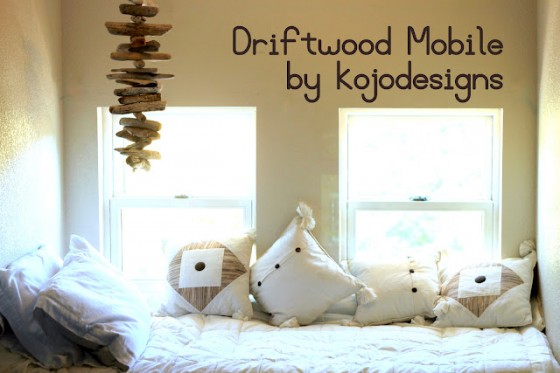 Now THIS is fun! You will need driftwood, white rope, a drill, and other basic tools. To assemble the mobile, you cut the pieces of driftwood, drill holes, and then thread rope through the holes. Hang and enjoy.
---
8

Starburst Mirror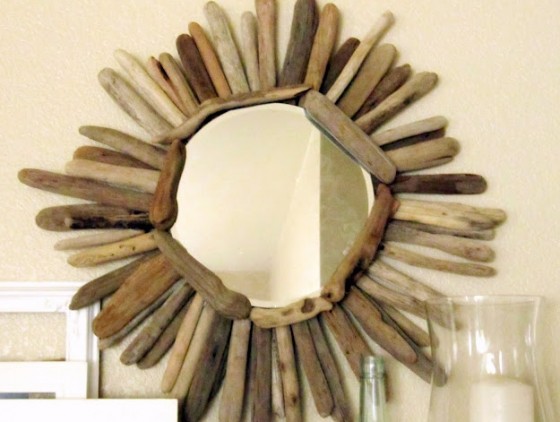 This is another mirror project that you can do using driftwood. Emily suggests using Gorilla Glue for sticking the driftwood to the round mirror.
---
9

Fish Wall Art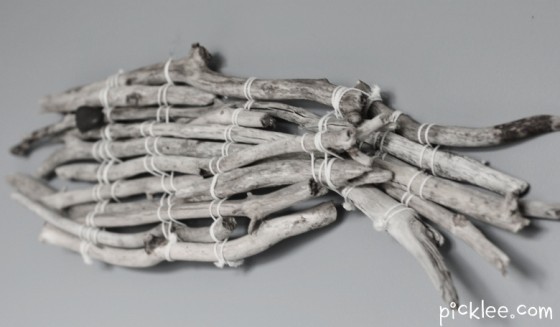 If you are looking for an undeniably beach-y driftwood craft project, this is the tutorial for you. To make this fish wall art, you will need driftwood of different lengths, twine, and a piece of rock. Check out the link for the assembly.
---
10

Wreath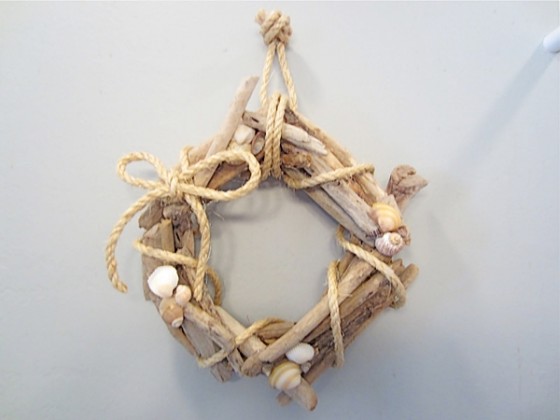 Of course, you can make a wreath using driftwood! I had to include this DIY driftwood craft tutorial because the materials used also happen to be summery perfect. Isn't the wreath lovely?
---
11

Mini Cottages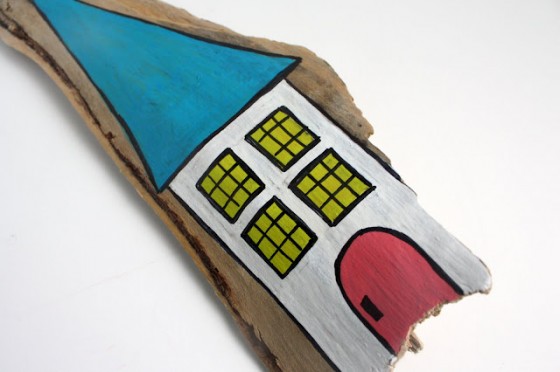 How cute! This is a great project if you can find only small pieces of driftwood. Don't ignore them; pick some up, give them a bleach bath, dry, and then draw houses in fun colors. They'll make for great magnets, mantel decor, Christmas ornaments, and wreath or garland components.
---
12

Candle Holder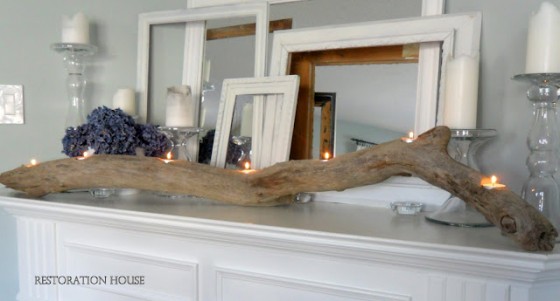 From small driftwood pieces, we go to a project that will require a piece much larger. Check out the link for the detailed instructions on how to make this pretty candle holder.
Aren't these DIY driftwood craft projects fun? If you're reading this from your beach house (lucky!), I suggest having a walk by the seashore later today and picking up materials for these DIY driftwood crafts. Have fun!
---
Popular
Related
Recent