DIY Terrariums are not novel ideas. In fact, there are a lot of fantastic DIY terrarium projects online today. We gathered here 10 that are very creative and come with useful tutorials. The DIY terrarium projects below will also give you brilliant ideas when it comes to the container to use. Enjoy!
Table of contents:
1

Ornament + Jar Lid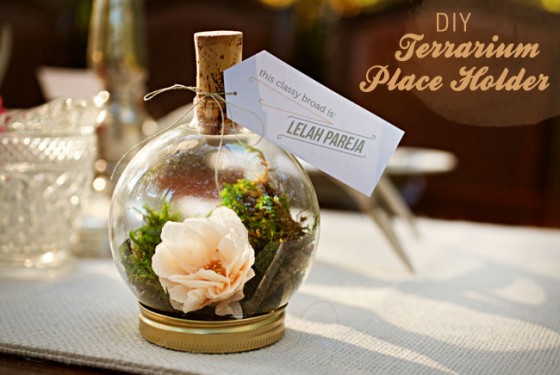 How cute! The container of this DIY terrarium is made of a glass Christmas ornament, a Mason jar lid, and a cork. Nifty, right? Of course, you can make something similar even if you are not planning a wedding. I think terrariums like these will look great on your mantel all year long.
2

Any round Glass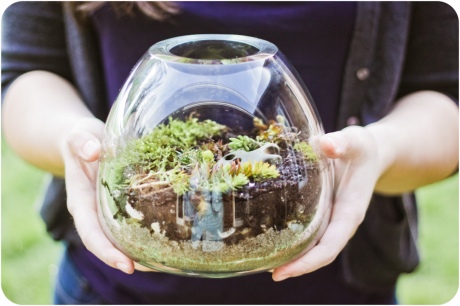 Any round and large-ish glass with an opening will be wonderful for making your own terrarium. Check out Madey Edlin's tutorial below; you'll love it because she included photos of every step.
3

Ornament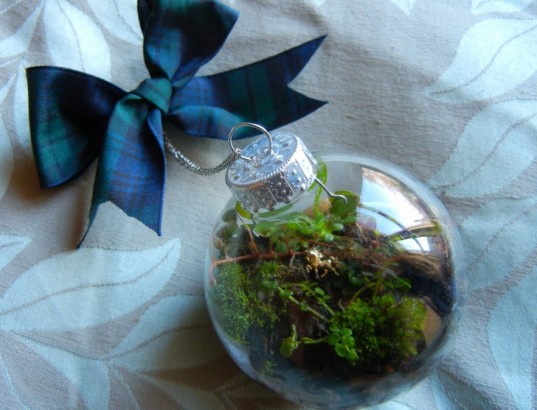 Here is another DIY terrarium tutorial that will require you to use Christmas ornaments. Unlike the first idea we have posted here, though, you will actually use the finished terrarium to decorate your tree. Fun!
4

Magnetic Metal Tin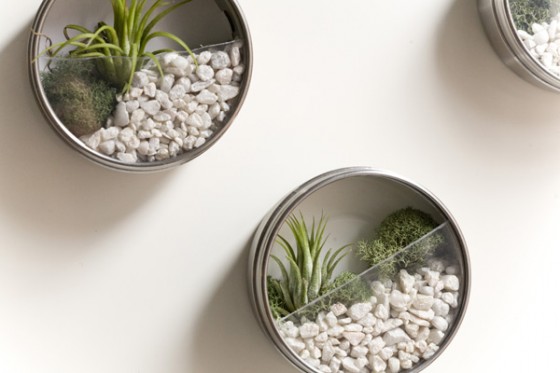 Terrariums are great because you have a seemingly endless ways to display or store them in your home. One of the fun ways is to use them as magnets. Check out the link below to know how to make your magnetic terrariums.
5

Any Glass Jar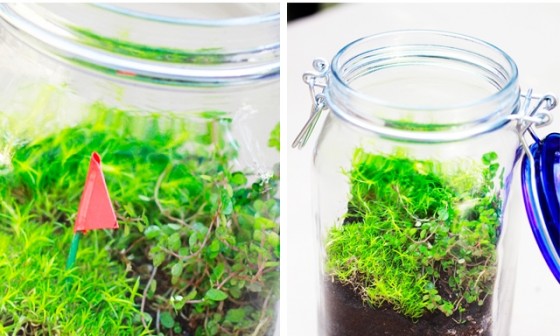 Got a clear jar that has been sitting in your kitchen for far too long? If you are not using it for storage, using it to make a terrarium is a great idea. Note from Lauren: Look for something that is tall, so you have enough space for enough soil, and room for the plants to grow upwards.
6

Lamp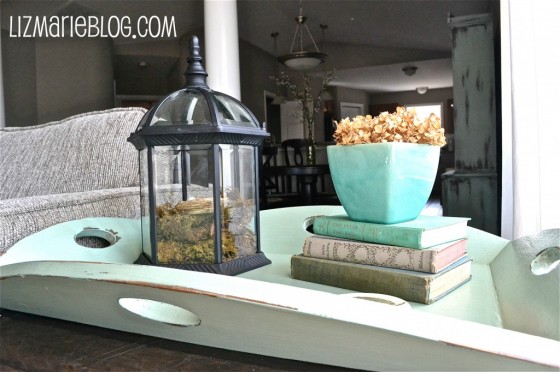 Light fixtures that are primarily made of glass make for wonderful terrarium containers. Liz here shows us how she transformed an old street lamp into a beautiful moss terrarium for their home. Design variation: use hanging lamps.
7

Layered Bowls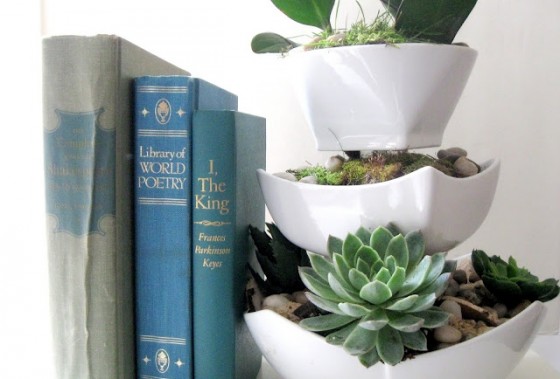 Another unique idea for making a beautiful terrarium is to use layered pots. To make this layered beauty, Lucy used dollar store ceramic bowls and clear glasses. The plants she used were mostly succulents.
8

Sewn Clear Vinyl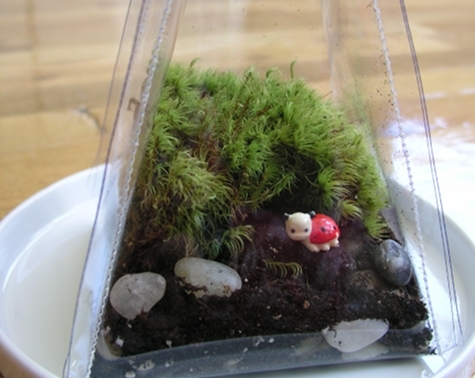 If you can't find a decent glass container for your DIY terrarium, you can just sew one. Design*Sponge has a fantastic tutorial for sewing a clear vinyl pot for succulents, moss, and other terrarium elements.
9

Cake Stand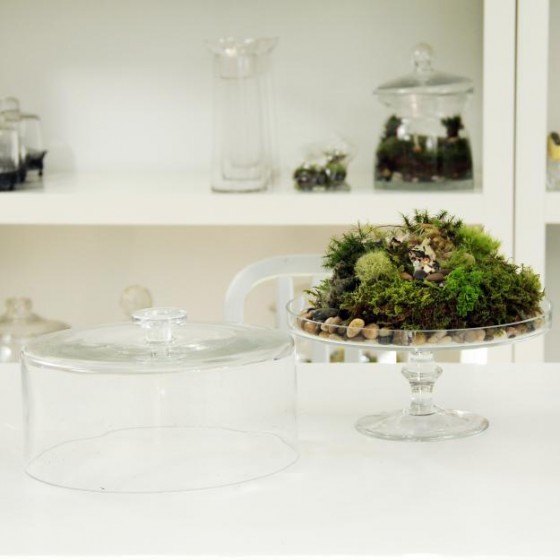 Glass cake stand as terrarium? Why not? In fact, this may be one brilliant idea because you get to enjoy a relatively large space. There is also no doubt that your visitors will be admiring your creation since it basically has its own pedestal.
10

Tea Cups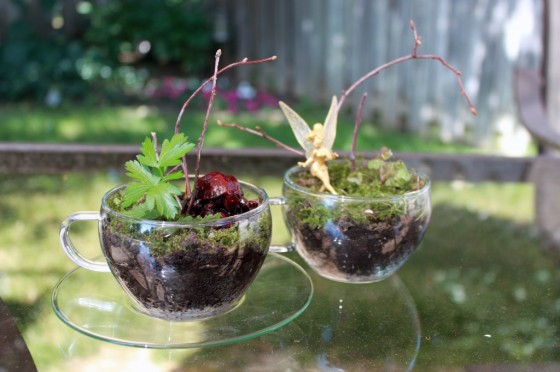 How about we make a tea-rrarium? Clear tea cups are incredibly cheap. If you don't like to use them for serving tea, you can use them for making an adorable terrarium.
11

Gathered Clear Bowls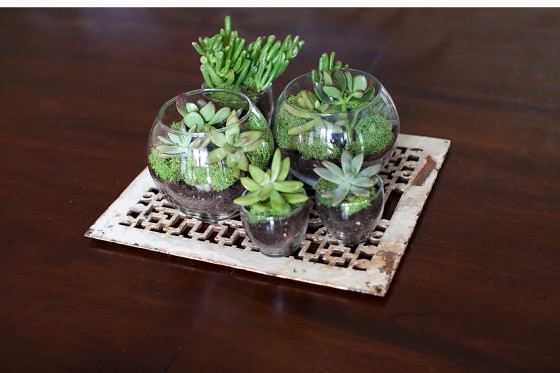 This particular tutorial does not exactly give you a unique container idea for a terrarium but it does show you a fun way to display the plants: use clear bowls in several sizes and group them together.
12

Mini Bottles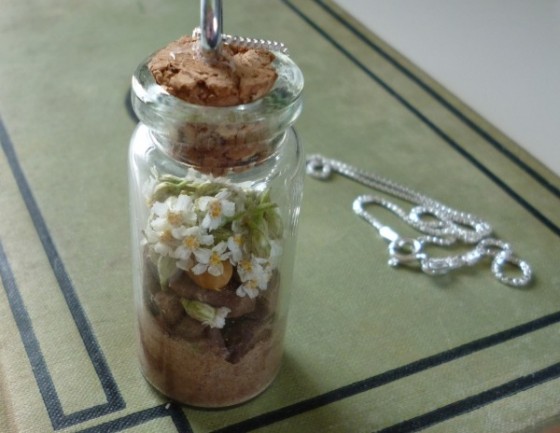 Going the miniature way is also possible when making DIY terrariums. These will make great party favors or even simple just-because gifts for your girl friends.
Before you go and tackle your very own DIY terrarium, I suggest you read up on what plants, gravel, or container to use. Some of the DIY terrarium tutorials above will give you basic ideas. Have fun!
Please rate this article