One of the ways that you can prepare your home for the end of summer is to make a DIY Waste Basket. Why, you ask? Because a** DIY waste basket** can, perhaps, make the study area in your home more organized. Of course, even if you don't have family members who are going back to school, you can still try some of these waste basket tutorials. I, for one, will make the ombre trash bin for my craft room.
Table of contents:
1

Ombre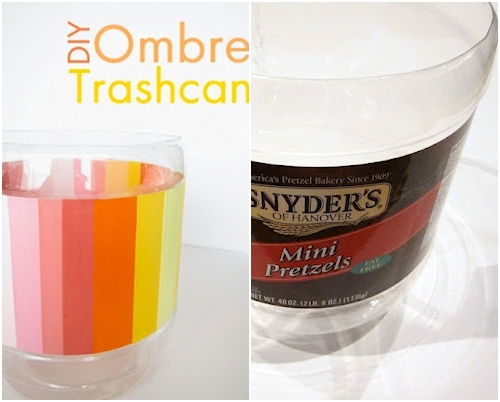 Is't this pretty? I think mine will be in shades of mint and blue. For this DIY waste basket tutorial, you will need a container (recycled is best), scrapbook paper, and Mod Podge in satin. You cut the scrapbook paper in strips and then Mod Podge them to the exterior of your new trash bin. Easy!
2

R2-D2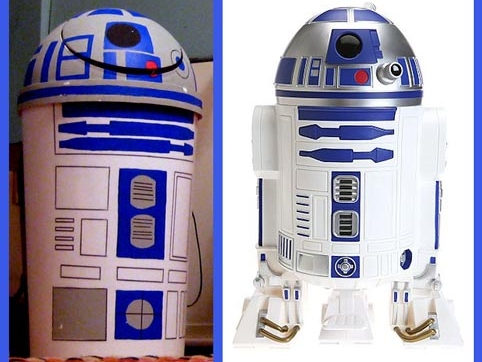 How cool! I'm sure this is something that your son/s or even husband would love to have. Urban Outfitters sells this kind of trash bin but this is a very DIY-able idea. Check out the link to make something similar to that waste basket to the left.
3

Wallpaper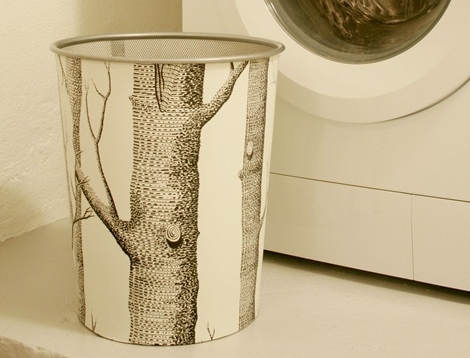 One of the simpler ways to give a plain trash can a makeover is to cover it with wallpaper. This is a fantastic idea because you basically have endless of options when it comes to the design.
4

Hand Painted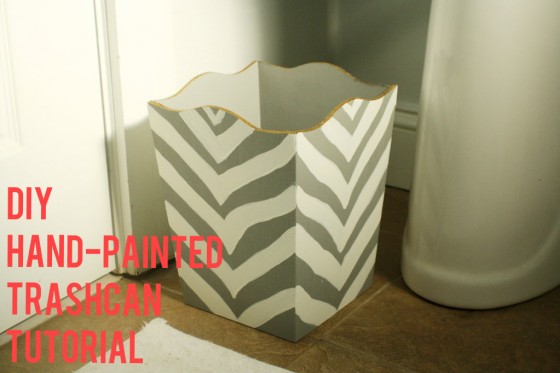 Of course, if no wallpaper meets your design standard, you can always paint your new waste baste. For this project, you will need a wooden trash can. Don't worry if you have no painting skills whatsoever, even simple patterns will work.
5

Ballard Designs-Inspired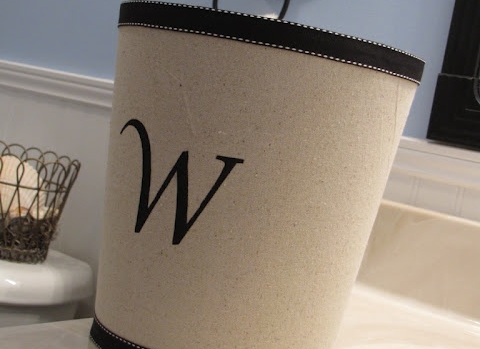 Don't you just love DIY projects that are inspired by actual items sold in stores? Items, mind you, that are pretty expensive. For this particular waste basket tutorial, you will need a cheap trash can, canvas or burlap, ribbon, letter stencil, and paint. You stencil the letter to the fabric, wrap the fabric around the trash can, and then embellish with ribbon. Done!
6

Papered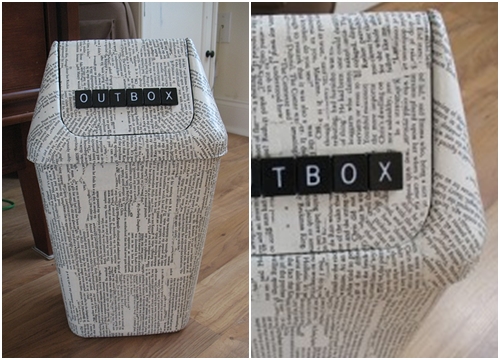 One clever and creative way to make a DIY waste basket is to cover it with book pages. This is made possible with the help of Mod Podge, of course.
7

Tilt out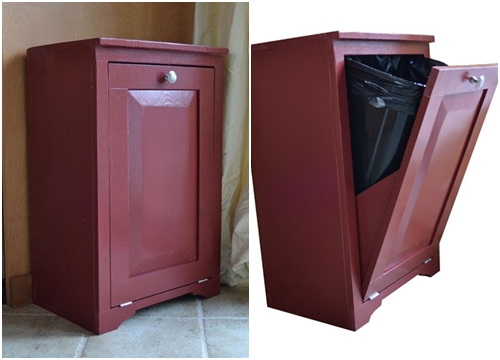 This is one of the more complicated tutorials listed here. This woodworking plan is brought to us by Anna White. If you have no experience when it comes to working with power tools, you may need to ask your husband or boyfriend for help.
8

Paper Strips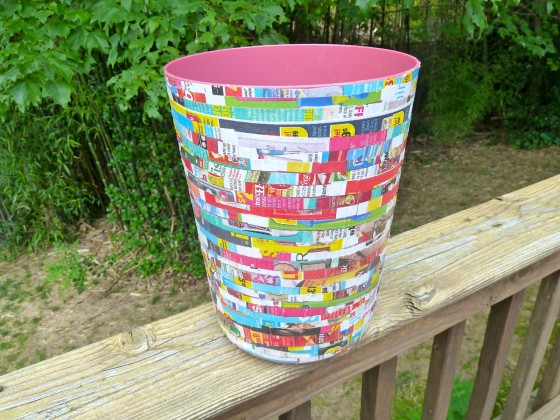 This trash can tutorial is pretty much similar to the previous one using Mod Podged paper. Instead of book pages, though, you will be using colorful junk mail or flyers.
9

Scalloped Bucket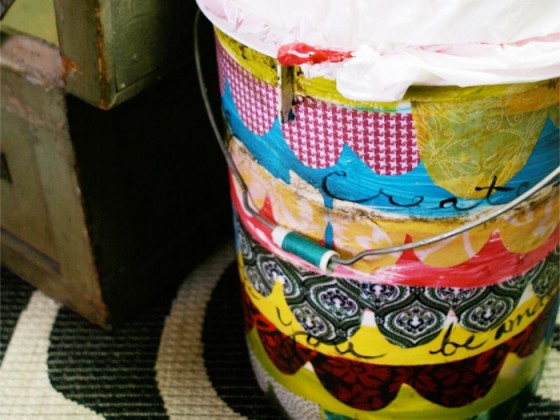 You guys know how much I love scalloped details on just about anything, right? Obviously, I had to include this artsy and scalloped goodness here.
10

Contact Paper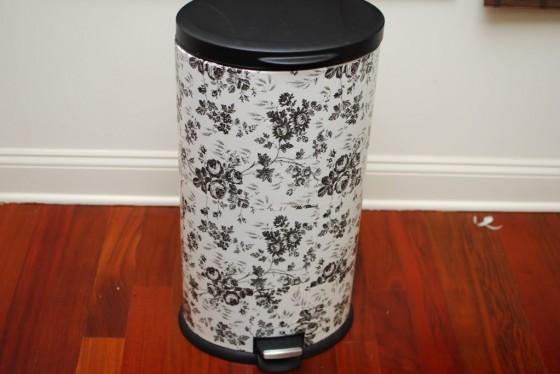 Contact paper is cheap. Contact paper can be used to give that plain trash can in your home a makeover. Pro tip: cut the paper in strips to avoid bubbles.
11

Fabric Dress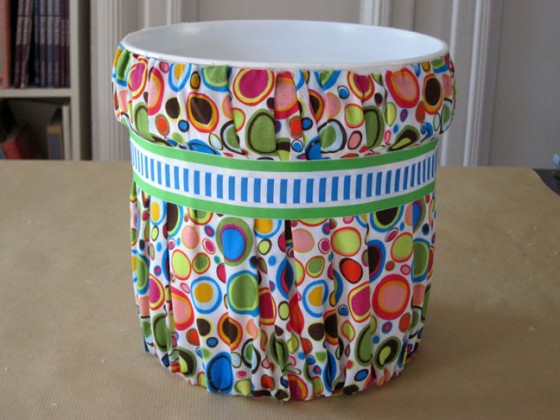 Is it just me or does this trash can look like it's wearing a dotted dress? If you want a waste basket that looks just as cute and kitschy, check out the tutorial after the link.
12

Paper Weave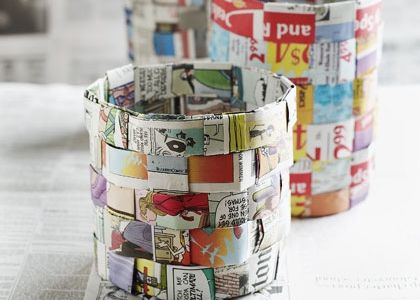 This DIY waste basket tutorial is for something tiny that you can put on top of a desk or in a craft room. It's very easy to make; in fact, your kids can help you construct them!
So there we have 12 DIY waste basket ideas. Got more? Share them with us! Now, if you do end up making something from this list of trash can tutorials, it would be great if you share photos with us, too.
Please rate this article