Mason jar lighting ideas range from using candles to actual bulbs. I have gathered here some that are clever and creative. These delightful mason jar lighting ideas are perfect for the home and for any party that you may be planning. Whether for a wedding, a simple garden dinner, or any other event that you want to make more romantic, these brilliant mason jar lighting ideas will surely be of help to you.
---
1

Floating Candle Holders

This is one of the simplest and indubitably pretty mason jar lighting ideas we have here. Aside from marbles, you can also put flowers, leaves, fruits, and other stuff inside the jar before you fill it with water.
---
2

Bookpage Jars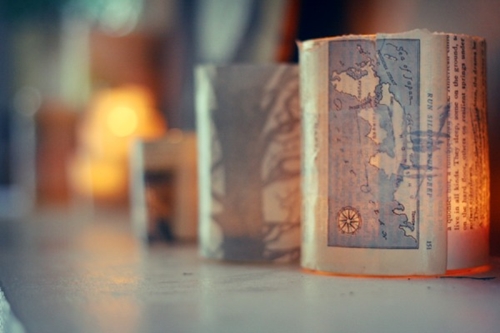 I am sold on the name of this project alone. If you have a lot of old books with interesting pages, this is a DIY project that you simply must take on. Use your finished products as centerpieces for an intimate dinner or even for a sunset wedding.
3

Epsom Salt Luminaries

This particular mason jar lighting idea is easy to do and yields oh-so-beautiful results. You can even be adventurous when it comes to the colors of your epsom salts.
---
4

Doily Luminaries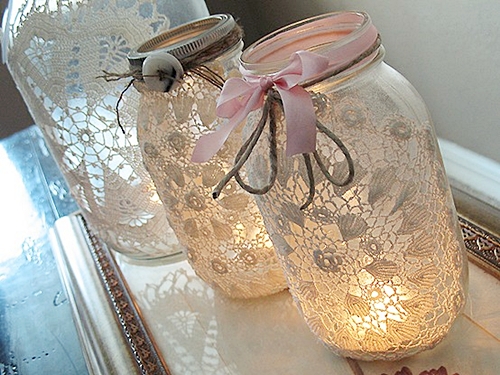 For this mason jar lighting idea, you will only need to wrap the jar with doilies. The result: a candle holder that will cast interesting shadows in any room you put it in.
---
5

Hanging Lanterns

If you wish to make your garden more romantic, making hanging lanterns using mason jars is a great idea. Check out Apartment Therapy for a complete tutorial.
---
6

Oil Lamp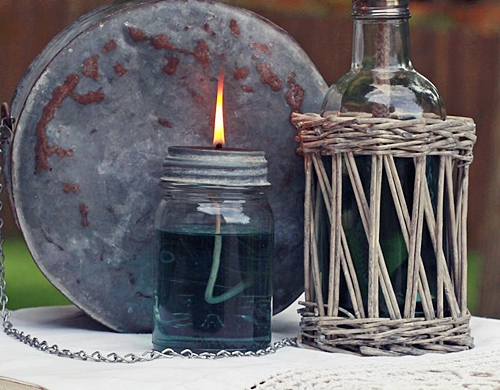 And if you want something with a touch of vintage and bygone eras, making oil lamps using mason jars is the project for you. These are very easy to make and can make any place extra romantic and magical.
---
7

Sconce

Got a sconce base that needs a face lift? Why don't you put a mason jar on top of it? This is one** clever mason jar lighting idea** that will make your home instantly quirky.
---
8

Twinkle Jars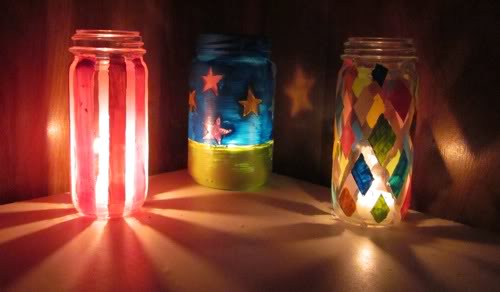 With a bit of paint and creativity, you can turn mason jars into colorful luminaries. Don't worry if you have no painting skills to speak of, even simple patterns will make this DIY idea work.
---
9

Frosted Luminaries

Cover the jars with star-shaped stickers, spray with frosting spray, dry overnight, remove stickers and you're done. Such simple steps for creating something that looks like it came straight out of a Martha Stewart magazine shoot.
---
10

Lamp Base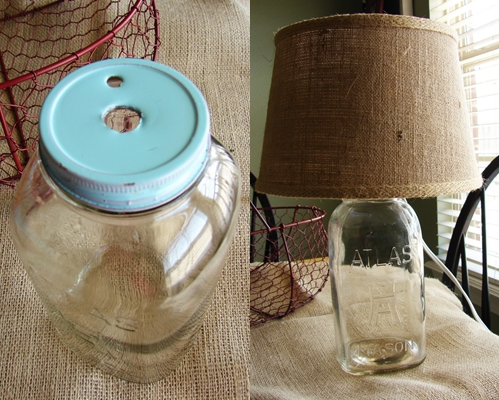 If you have large mason jar, you can use it as a lamp base. This is a** great mason jar lighting idea** because it can easily have elements that are all found at the thrift shop.
---
11

Jar-O'-Lanterns

Yes, Halloween is still many months away but it can't hurt to start preparing now, right? Aside from the creative factor, this project is great because your kids will want to help make them, too.
---
12

Chandelier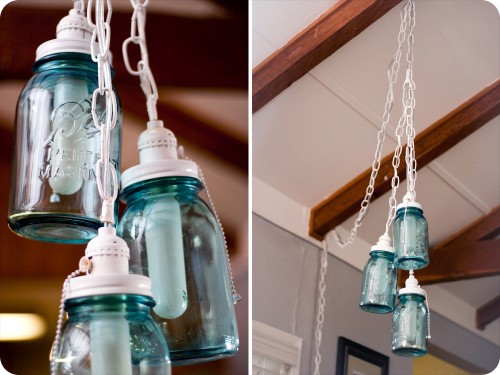 I say that this maybe the most advanced among these delightful mason jar lighting ideas. With the help of your dad or boyfriend, this mason jar-to-chandelier project will surely make any room in your house look beautiful in an instant.
So there you have some amazing mason jar lighting ideas. Mason jars have many uses aside from lighting and I'm quite excited to make more of these lists in the future. But first, tell me, have you tried using mason jars for setting the mood or illuminating your home?
---
Comments
Popular
Related
Recent