For most of us, our furry, scaly, or feathery friends are members of our family and deserve to have some special home decor for pets that they can call their own. You want your pet to feel loved and comfortable in your home because it is their home too. Their beds, food, toys, and play areas should all be incorporated into your home decor in order to make them happy, as well as have your home still looking great! If you are an animal lover like me, you will definitely appreciate these 7 unique items of home decor for pets!
---
1

Repurpose Your Nightstand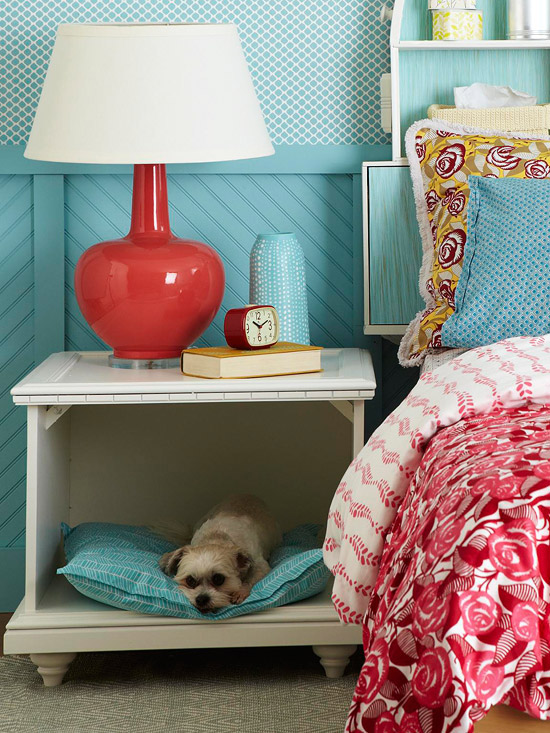 Instead of having your pet's bed take up extra space in your bedroom, repurpose an old nightstand into a bed for your pup or feline friend! Buy a comfortable bed cushion for your dog or cat that matches your room's color scheme to have it fit in with the rest of the room. If your pet likes extra privacy, hang a small pull curtain in front of the opening that can be opened and closed. This is also a great idea for home decor for pets for those of you who have their pets usually sleeping right beneath their bed, as it will prevent you from sleepily stepping on them at night.
2

Pet Food Station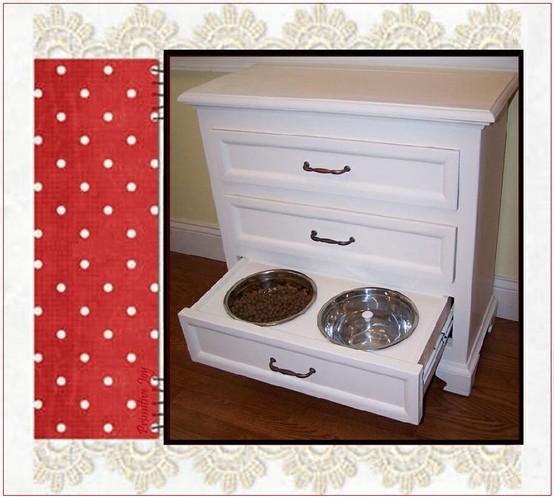 Turn an old dresser or other piece of furniture with a pull out bottom drawer into a feeding station for your pet! This will keep your pet from playing with their bowls when they get bored and inevitably prevent a mess. Plus it's another great space saving idea for your pet's eating area that would normally take up space in your kitchen. You can even use the other drawers or top of the furniture as a place to put all of your pet's food, treats, toys, litter, or leashes. It's like your pet's very own kitchen storage station!
---
3

Discreet Litter Box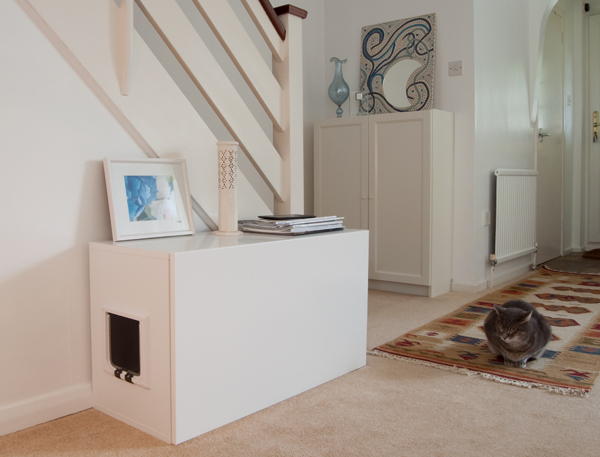 Ah, the downside of owning a cat... the smelly litter box. However, with the right enclosure, you can help control the smell and help your cat's litter box to blend in with the rest of your home! Any piece of furniture can easily be hollowed out for your cat's litter box and have a hole and cat-flap installed. This is a great way to help contain the smell as well as hide the box from being an eyesore in your home. Plus it will give your feline companion even more privacy.
---
4

Small Pet Haven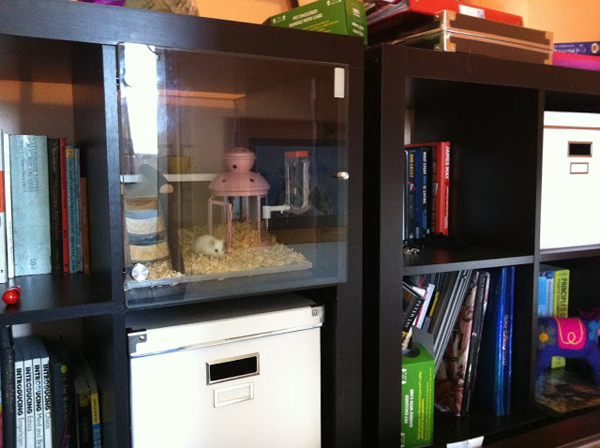 Have a smaller furry companion in your life? Why not give them a shelf in your bookcase? For hamsters or mice, a square cube on a shelf makes the perfect size habitat! Simply find and install a plexi-glass box with small holes that fits snugly into the shelf, and you have a perfect tank for them that doesn't take up extra space in your room! Find a clear box with only sides and a bottom (no top) so that you can pull it out of the shelf for easy cleaning and play! For bigger pets like snakes, lizards, bunnies, guinea pigs, or even chinchillas, do the same but with a wider book shelf.
---
5

Side Dog Bed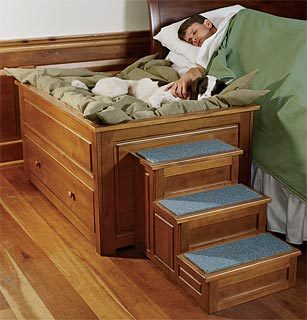 Do you hate sleeping away from your pup but find that they take up too much room on your bed with you? Why not create a bed for your dog that is level with your own! This way, your dog can have its own bed but still be within petting distance from you. This is great for people who love to sleep with their pets but hate having dog hair and smell all over their blankets. Make sure to put in some stairs so your furry friend can get up there!
---
6

Aquarium Coffee Table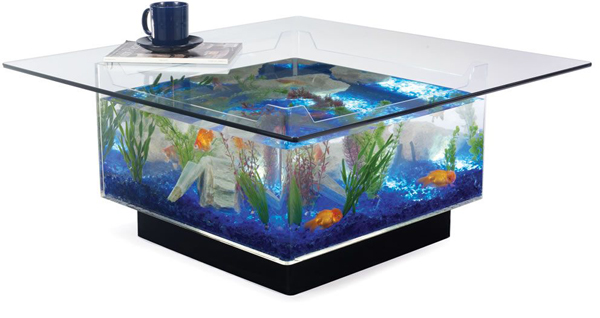 Maybe you're more of the pet fish kind of person. Fish are great pets when it comes to home decor because they are beautiful by themselves. The possibilities for creating the perfect aquarium for your home are endless, but if you want your pet fish to be the center of attention in your room, this glass-topped coffee table that contains an aquarium is perfect. Its acrylic sides provide clear viewing of the interior, while the removable tabletop is large and sturdy enough to accommodate almost anything you want to display on it. Lights in the base illuminate the tank from beneath the bed of blue glass gravel to give it even more of a deep sea feel for your home.
---
7

CatCase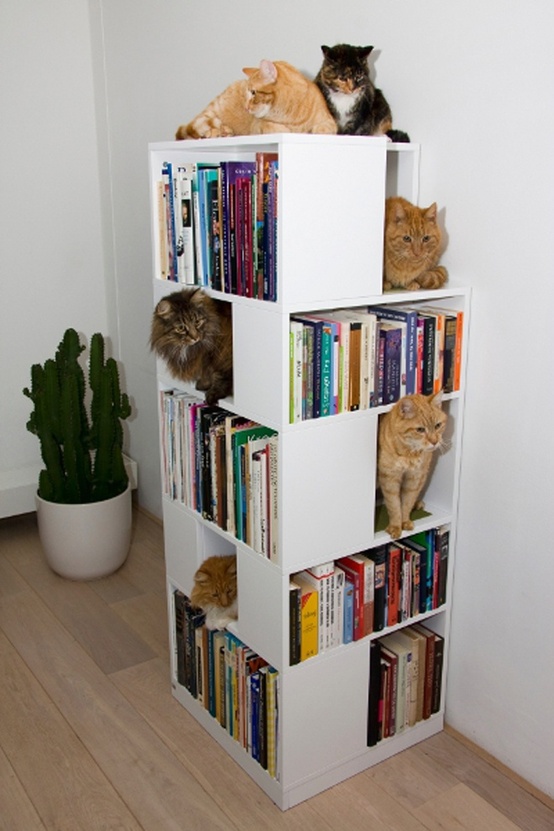 Love books? Love your cats? Combine the two! CatCase is a bookcase playground hybrid for your feline friends. It stores books, DVDs and more, while at the same time being the ideal playground for your cat. Inside the CatCase your cat can sleep or jump like they would with stairs from shelf to shelf in order to finally reach the top level, where there is a great and comfortable lookout. If you are looking for a bookcase as well as a play area for your cat, then this kills two birds with one stone! Talk about being an amazing space saver your cat will love!
Unique home decor for your pets is mainly about trying to blend in your animal's items with the rest of your family's. Your pet's bed, food, or play area should mesh well with the rest of your home and not stand out on its own. Another great tip is that Ikea is a great place to go if you are looking to make one of these ideas for your home. They have pet decor furniture hacks online that allow you to build your furniture to fit your pet! Do you have anything in your home decor that was specially made or bought for your pet?
---
Comments
Popular
Related
Recent