It's the color of serenity and calmness, so it's no wonder that there are hundreds of ways to add blue to any room. Who wouldn't want a touch of calm in their home?! Blue is an almost universally loved color, and it's a shade that will never date, too. If you're looking for ways to add blue to any room, here's some of my favorite ways to give any room a sleek new (blue!) make-over.
---
1

Country Kitchens…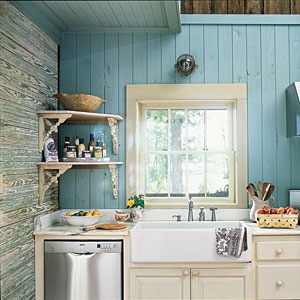 I love this modern take on a new country kitchen – it's one of the most unique ways to add blue to any room, and it'll fit into almost any home. Keep the country look by painting exposed wood with a light blue, such as this gorgeous duck egg blue shade, and use cream furniture and accents to really lift the color scheme. It's functional yet stylish, and don't you just want to bake vintage cakes in there?!
---
2

Bold Blues…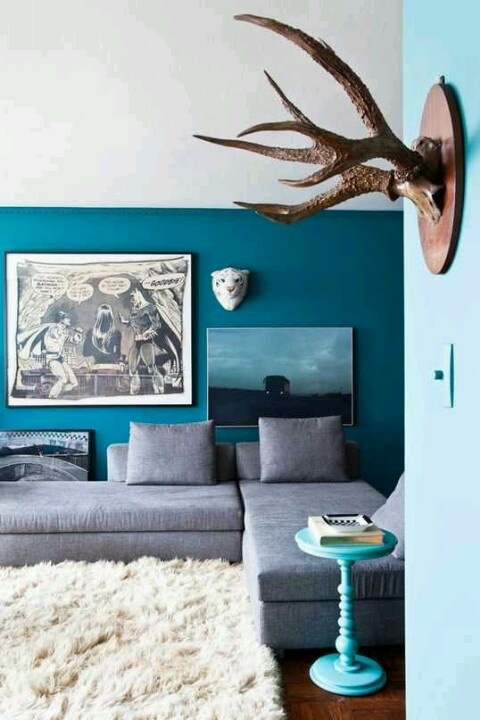 Painting a room a strong, bold blue can feel intimidating, and make the room appear smaller. Get the look without the fear by measuring the room, and using painters' tape to mark a horizontal line half way down. Then paint the top half of the wall white, and the bottom half a bold blue. I love the way this designer has placed blue canvases on the lower wall, too: it breaks up the color without breaking the scheme.
3

Modern Bedrooms…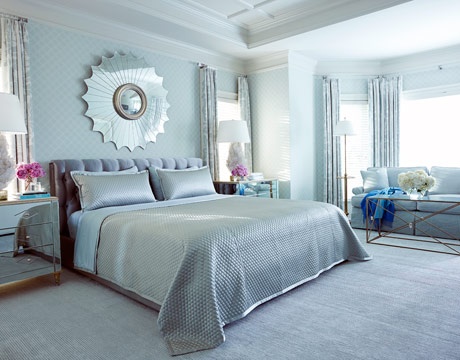 Whether you are redecorating your own bedroom or making over your spare room, a light blue color scheme is a great choice. It feels luxurious and welcoming, and there's definitely something hotel-like about it! Get the look by opting for a pale blue carpet, and matching the sofa to this color. Bedding in a similar blue adds a cohesive touch, and white and blue curtains allow light to flood into the room. Just add a few statement mirrors, like these gorgeous mirrored drawers and the bold mirrors above the bed, to finish the look. The white roses are a great idea, too!
---
4

Geometric…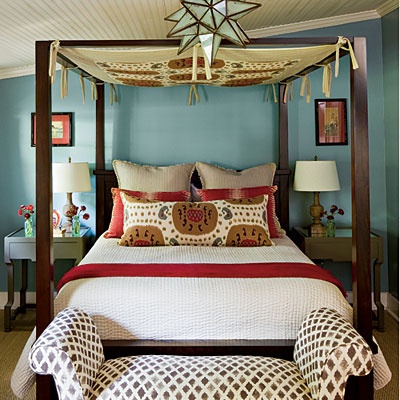 Blue décor doesn't have to be center-stage; it also makes a great backdrop for bolder rooms, such as this one. Opt for a mid-blue color, and paint all four walls smoothly. Keep the room a cream or off-white shade. Next, invest in a bed (I love the roof of this four-poster!) and use a plain bedspread. Add matching bedside tables and lamps for cohesion, and then brighten the room up with cushions and furniture in your favorite bold prints.
---
5

Nautical…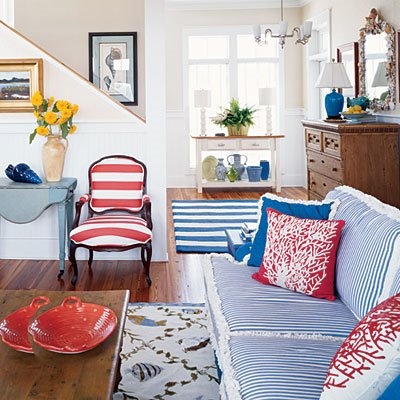 Love the nautical trend? It's easily adapted to fit your home, and I love how clean and bright this looks! To really rock this look, you want pieces in blue and white and red and white. A blue and white striped rug is ideal for adding a burst of color to the floor, and I love this striped sofa – it looks perfect teamed with red and white cushions! Tone down the look by opting for a few key pieces that fit the theme, but aren't exactly the same colors: the fish rug and shell ornament here are perfect examples. Now where can I track down a stunning red and white chair like that?!
---
6

Modern Kitchens…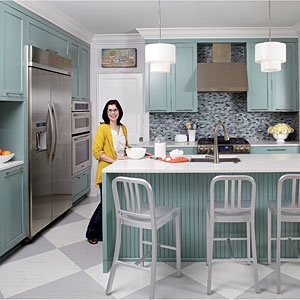 Fancy updating your kitchen but don't want a country look? This modern décor is ideal. First, pick a subtle blue shade, along with a bright gray. Furniture and cabinets should all be sanded and updated with the blue, and fit new modern handles in the same silver. Gray chairs are available in a whole host of styles, or update wooden chairs by spraying with gray spray paint. I love how gray appliances blend into this look seamlessly, and it's easy to give the room a fresh update, too – bright yellow or pink flowers add a blast of color that will never fail to boost your mood.
---
7

Three Shades…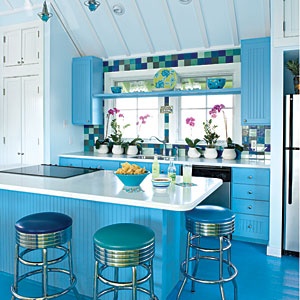 Of course, one of the boldest and easiest ways to add blue to any room is by picking a few shades and using them to drench the room! Check out the blue shades in this room – a dark blue covers the floor, before a mid-blue covers the cabinets and table, and a light blue covers the walls. Stools in a variety of blues break up the color, and I love those gorgeous pink flowers in the window. Bold, bright and dreamy, this is the coastal kitchen I've been dreaming of.
If you're looking for ways to add blue to any room without repainting, try investing in blue tablecloths or wine glasses, or searching out blue cushions, bedspreads and throws. Even blue furniture will make a big difference, without requiring too much effort. Have you got any tips on adding a touch of blue to your décor? I'd love to hear them!
---
Comments
Popular
Related
Recent