Whether you're starting from scratch or thinking your bedroom could use a makeover, there are tons of bedroom color schemes to consider! Your bedroom should be the space you use to escape the rest of the world for a while. It's because of this that the colors you choose are very important, as they are known to influence your moods! Plus, you want your bedroom to resonate who you are and what you enjoy. To help get your creative blood pumping, here are 7 gorgeous bedroom color schemes!
Table of contents:
1

Red, Black, & White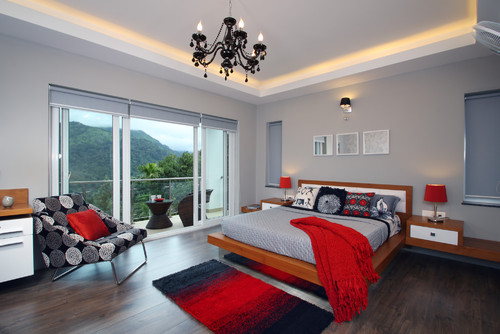 These are actually the same colors that are currently in my own bedroom so I had to put it first on this list of gorgeous bedroom color schemes! Using very deep reds and blacks can sometimes make your room look too dark. Your bedroom should feel bright and lively or else you may find yourself having a harder time waking up in the morning! So make sure to have a majority of your room a white or very light gray to break up the darkness. I love how deep reds just pop out at you by themselves, so pairing them with blacks and whites makes them stand out even more!
2

Soft Grays & Whites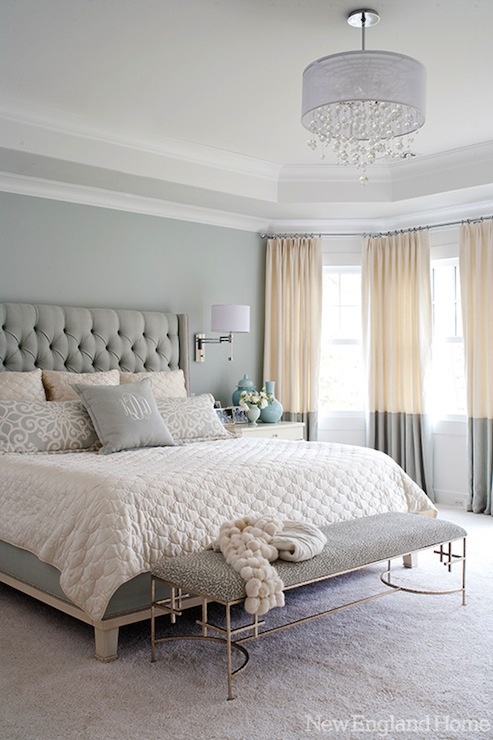 If you are more of a neutral colored person, try a softer color scheme. This bedroom color scheme is absolutely gorgeous but I would recommend it only for the cleanest of us! A soft colored room is great for giving off a calming energy which makes it perfect as a bedroom color scheme! I would suggest using off-whites instead of any bright whites to keep the soft feel throughout your room.
3

Bright Colors on White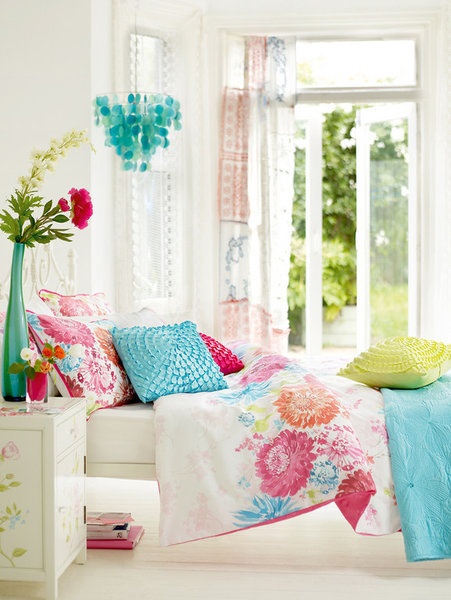 If you want a very bright bedroom, why not try some super bright colors? Once again, too much of a bold color can be too much, so try having the majority of your room white. Plus this will add even more of the brightness that you were trying to achieve. Bright pinks, blues, and greens go together best and give a very girly feel to your bedroom.
4

Coral & Blue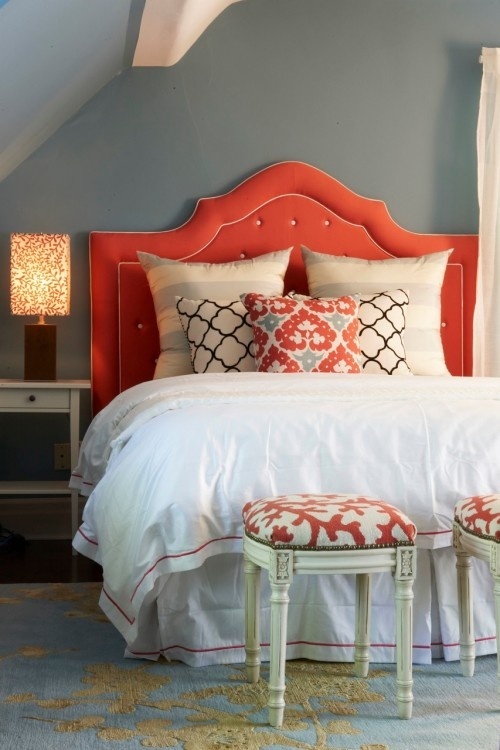 I feel like everywhere I look I see the color coral! It's because it's such a great color for just about anything, including your bedroom! A great color many people match it up with is a soft blue. This way you have a mix of a bold color with a soft color to balance each other. Also, coral colored furniture looks gorgeous, so be a little bold and paint your furniture to match!
5

Mint, Brown, & White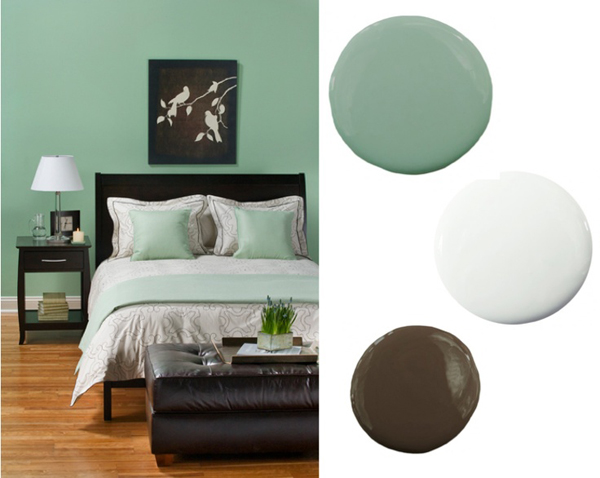 The other color I've seen everywhere along with coral is mint. Mint has such a cool and refreshing feel that makes it perfect for a bedroom. It looks great on walls and can give a pop of color to any neutral color scheme. Mint goes best when paired with browns and whites.
6

Purple & Gray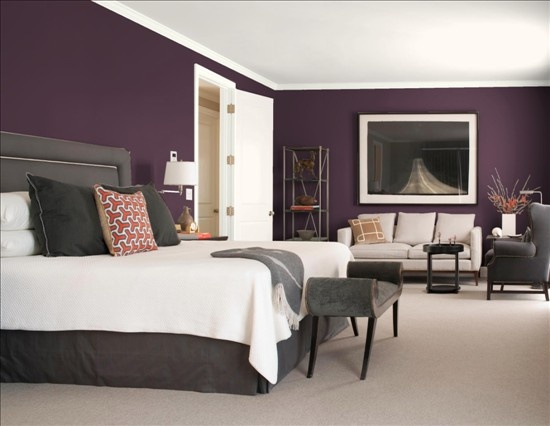 I love purple in the bedroom! The color automatically gives your room a feeling of luxury and romanticism. It's great matched with grays, off-whites, or even pale purples. If you're sharing a bedroom with your guy, it may be hard to convince him that purple is the way to go. So instead, try just adding a few deep purple accents.
7

Black & Yellow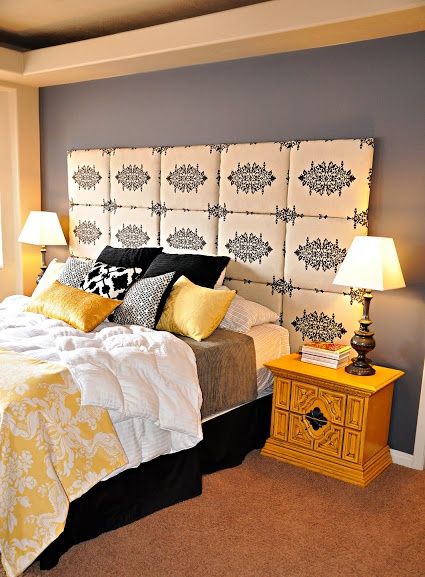 Yellow has become such a popular bedroom color lately, especially when it's used as an accent color to grays and whites. This bedroom color scheme uses yellows, blacks, whites, and grays, which come together beautifully! I would suggest staying away from super bright yellows and instead focusing on light mustard yellows.
8

Dark Walls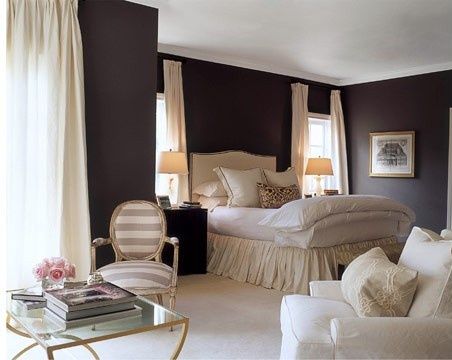 Normally, dark walls are a bit of a no-no when it comes to painting your bedroom. It's said to make a room look smaller and not as lively, but the way it is used in this color scheme is gorgeous! If you like the idea of dark walls, make sure everything else in the room is light colored. This way, the dark walls will make the rest of your room pop!
You don't always have to start all over to give your bedroom a fresh new color scheme. Sometimes all you need is to add a bright pop of color to it! What is your current bedroom color scheme? Do you love it or is it time for a change?
Please rate this article