Even before the Better Half and I moved into our lovely new house with its marvelously massive kitchen, we decided we wanted to decorate a citrus kitchen. Our old apartment had such a tiny little space that we knew, no matter what, we wanted to lighten and brighten our new kitchen with lots of orange, lemon yellow, and lime green, with mere touches of pink, white, and black for contrast. Because many base color schemes lend themselves well to citrus palettes, it's amazingly easy to create a citrus kitchen, so if you, too, want a lighter, brighter room, these techniques will help!
---
1

Know Your Color Scheme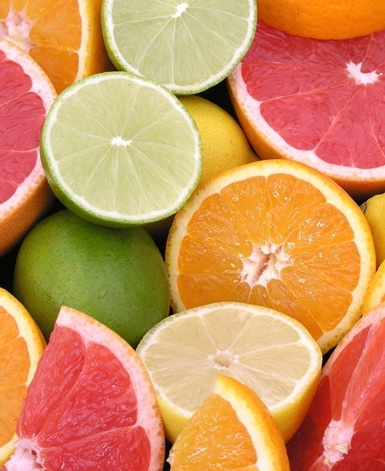 The colors are the key elements in a citrus kitchen, of course – they create the citrus motif. Many people think that they have to stick to lime green, lemon yellow, and bright orange. Those are the signature shades, but don't forget about grapefruit! I love this distinction, because I adore rich, vibrant shades of pink. You can use all of the traditional citrus shades in your kitchen, or mix and match among your favorites. For instance, go with lemon and lime, yellow and orange, or a bright, airy pink and green mix.
---
2

Stick to a Neutral Base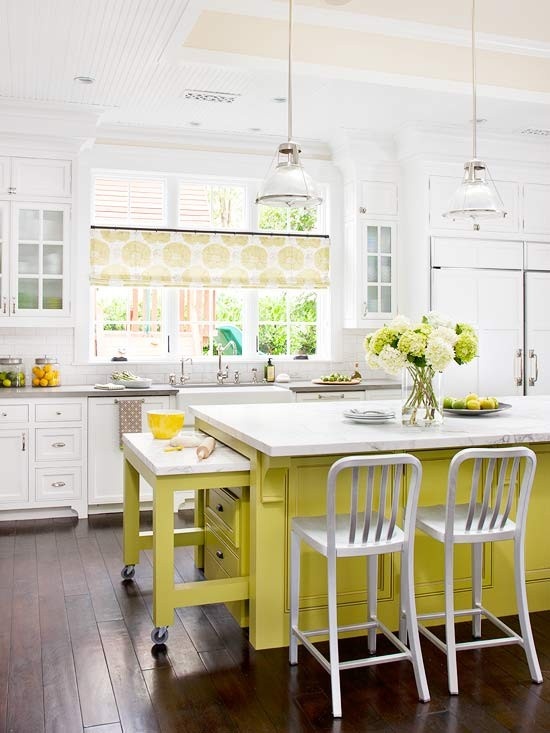 Because those colors are so vibrant and eye-catching, however, you don't want to overwhelm in your overall design. It's better if you stick to a neutral base in terms of walls, flooring, countertops, and cabinets. Our kitchen came with a base of warm, toasty beige and tan neutrals in the form of marble and Italian tiles; that makes a lovely backdrop for brilliant colors. However, if you want to paint your walls in, say, a pale yellow or a light green, that's absolutely fine! Just don't make everything bright, bright, bright.
---
3

Play with Popping Patterns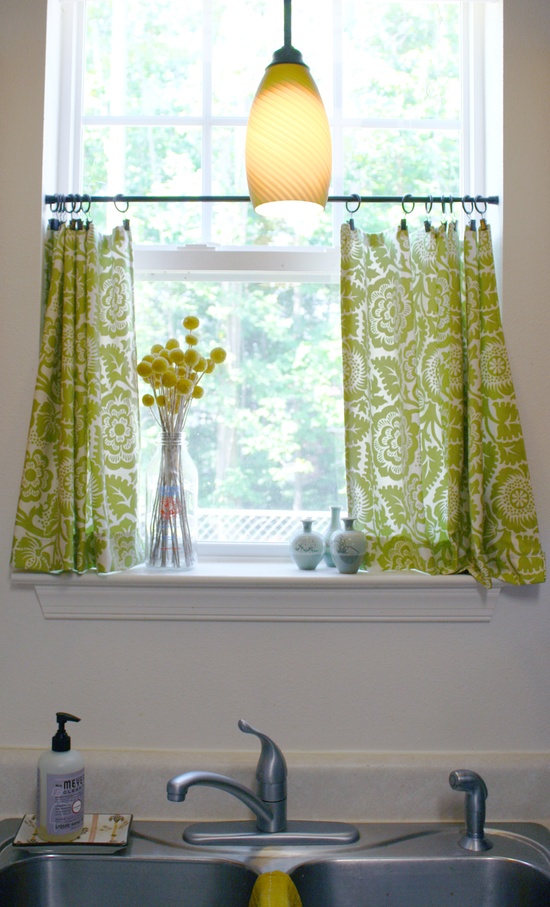 Citrus colors look gorgeous in patterns. You don't have to pick actual lemons, limes, or grapefruits though. Just incorporate the colors in appealing, audacious prints and patterns, such as in your curtains, dish towels, or rugs. That way you can add another layer of complexity to your overall décor.
---
4

Choose Interesting Accent Pieces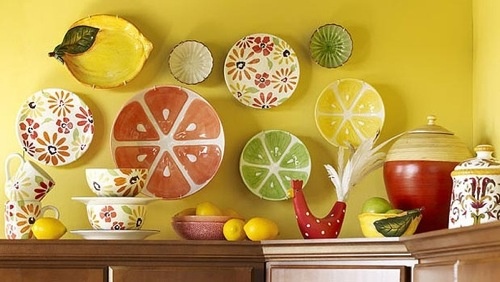 Yes, you can have accent pieces and ornamentation in your kitchen. Items such as vases, figurines, serving bowls, and similar décor items are all ideal for incorporating your citrus colors. For example, we've got a rich orange figure of the Eiffel Tower in our Parisian themed kitchen, and assorted display bowls in shades of lime and lemon.
---
5

Use Real Citrus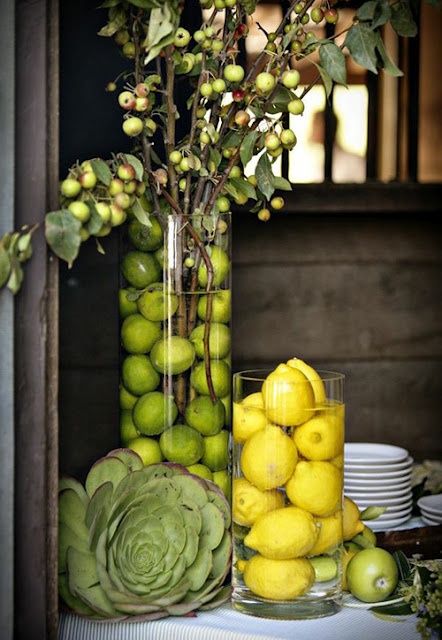 Citrus fruits make lovely decorations themselves. You likely buy and use oranges, lemons, limes, and grapefruits, right? Feel free to display them! You don't have to limit your choice to the traditional fruit bowl either. Layer fruits in a large vase or a clear bowl, get inventive and make a display on a cake stand, or come up with your own design. You can't go wrong, really, and you'll probably be more apt to quickly use your lovely fresh fruit! Of course, you can always go for plastic or wax if you'd rather.
---
6

Go for Function and Design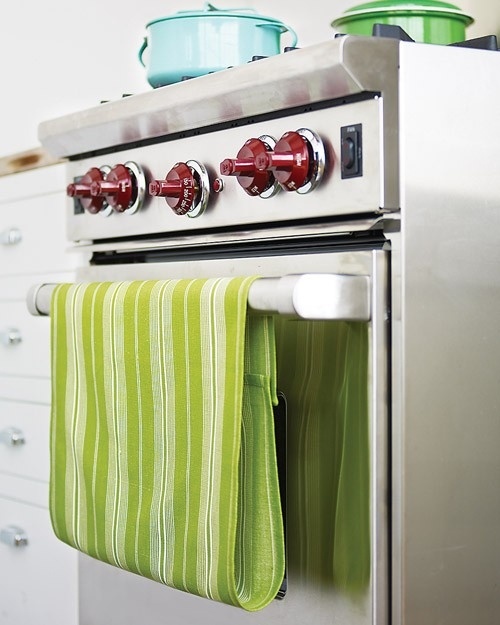 Going back to dish towels, as well as items like potholders or aprons, these are all fab ways to decorate. Hang your dish towels from hooks or your stove, but – and here's the kicker – make sure they incorporate your colors or pretty citrus fruit designs. You need all of these items for every day use, but they can also add to your aesthetic.
---
7

Add in Artwork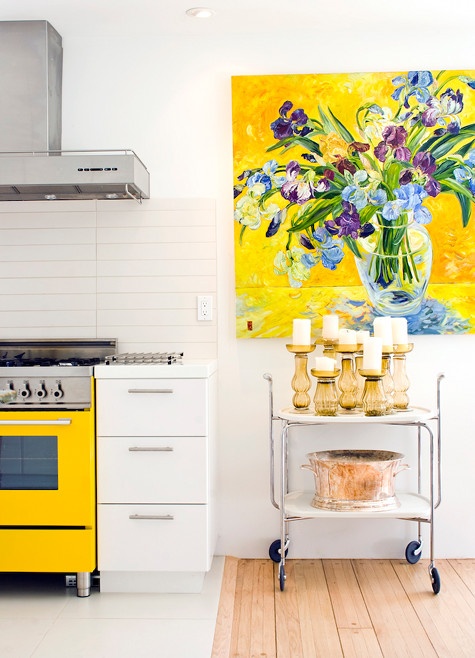 Don't be afraid to add artwork to your kitchen walls, shelves, or counters either. Whether it's your own Eiffel Tower figure or a beautiful painting on the wall, you can easily enhance the citrus element with various pieces of art. Get inventive – this is your kitchen, your space, and you know what you like. As long as you find items that showcase shades of orange, yellow, green, and pink, they will look beautiful!
Citrus is incredibly stimulating, so when you're cooking, you actually feel even more excited, motivated, and energized. Our kitchen is now bright, airy, and incredibly welcoming, filled with eye-catching details and brilliant pops of color that make our visitors feel great. And we do too, of course! Do you think you'd like a citrus kitchen, or do you prefer a different color palette?
More
Comments
Popular
Recent