I am a big fan of baroque furniture, but it can be hard to find these days since most furniture stores carry more modern designs. Luckily, with a little research, I was able to find some gorgeous pieces of baroque furniture that will be a perfect addition to your home. What's great about these pieces is that most of them are classic baroque with a modern twist! Get the best of both worlds with these 7 pieces of baroque furniture. All of these pieces can be found at fabulousandbaroque.com.
---
1

Fabulous & Rococo - Fuchsia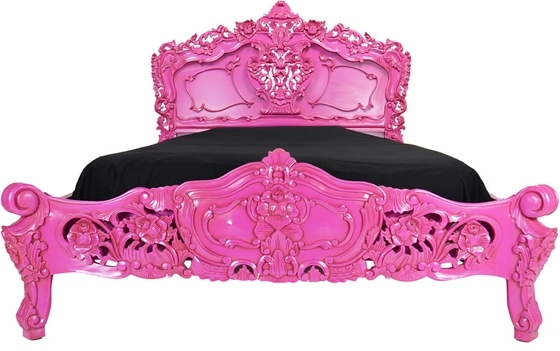 Now is this piece of baroque furniture every girl's dream bed or what!? Not only is it a stunning shade of pink, but the baroque designs around the bed frame are incredible. You will definitely feel like a princess out of a fairytale in this bed. This bed is handcrafted out of mahogany and then hand painted with that gorgeous fuchsia color. This bed is truly a piece of art!
---
2

Claudette Mirror - Gold Leaf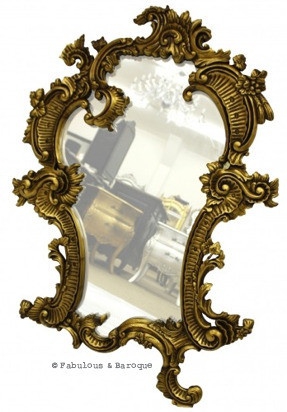 This gorgeous baroque gold leaf mirror will make the perfect accent piece to any room. I love the ornate flowers and leaves on the mirror frame. The designs are carved out of mahogany wood and then painted gold. This is one fabulous mirror!
3

Royal Fortune Montespan Side Table - Ivory
My favorite part about this piece is the intricately carved backsplash. Can you believe someone carved that by hand? Like most pieces from Fabulous and Baroque, this bedside table is carved from mahogany. It is then finished with a gorgeous ivory lacquer. I love the detailing around the top of the legs and on the drawer. The black drawer handle adds just the perfect amount of contrast to this otherwise all white table. This side table is the perfect accompaniment to your baroque bed!
---
4

Micheline 3 Door Mirrored Armoire - Black & Gold Leaf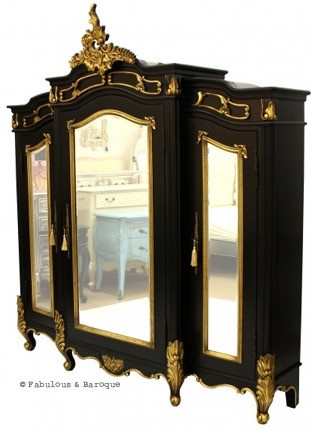 This massive baroque armoire is gorgeous! The solid black, mahogany frame has ornate gold leaf accents. Each door opens up, displaying two shelves. These shelves can be removed to accommodate hanging clothes. This armoire has just the right balance between classic and modern. What girl wouldn't love storing her clothes in this gorgeous armoire?
---
5

Bouquet De Fleur Console - Silver Leaf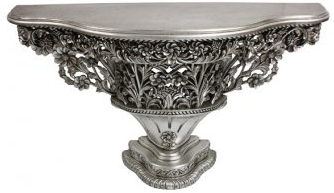 This console table makes the perfect statement piece for your living room, entry way, hallway, or bedroom. This table is made up of hundreds of hand carved leaves and flowers. The detail is absolutely impeccable! This elegant piece of baroque furniture will turn any space from drab to fab.
---
6

Marguerite Chaise - Silver & Royal Iris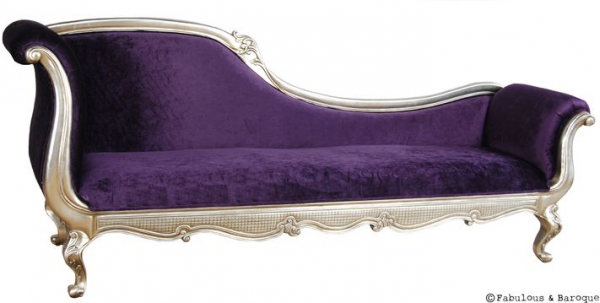 I can't emphasize enough how much I love purple, crushed velvet. That's why I just can't resist this modern baroque chaise lounge. The silver wood frame really makes the purple pop. The chaise lounge sits on cabriole styled legs. For an additional fee, you can upgrade this chaise to have acrylic buttons or Swarovski Elements crystals. This is one way to really lounge in style!
---
7

Belle De Fleur - Gold & Black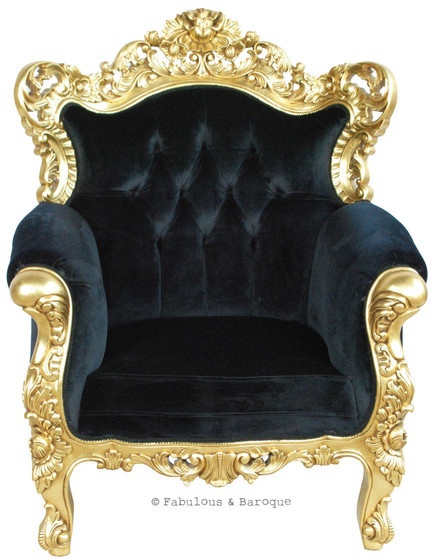 Black and gold is a timeless color combination that looks great on this gorgeous baroque chair. You will feel like royalty sitting upon the black velvet cushion. My favorite part of this chair is that the carvings are 3 dimensional. That way no matter where you choose to set this statement-making sure, it is sure to look grand!
These modern takes on classic baroque furniture are the perfect statements to any home. Fabulous and Baroque has perfected the art of sturdy and breathtakingly beautiful designs. Which of these pieces were your favorites? Would you decorate your home in baroque designs?
---
Comments
Popular
Related
Recent