Now that summer is coming to an end (sniff, sniff), you may be getting yourself geared up for the change of season with some fall decorating ideas. The brilliant colors and the lively holidays provide an array of options that will allow you to spruce up your home and usher in the new season. So, without further ado, here is a look at some fabulous fall decorating ideas that will get you excited about this time of the year.
Table of contents:
1

Autumn Leaves
Since colorful falling leaves are the cornerstone of this season, it only makes sense that they serve as the foundation of fall decorating ideas. There are so many different ways that you can incorporate them into your decor. Purchase garlands of artificial fall leaves and display them around your front door, along your railings and on your mantle. Fill glass bowls or vases with the leaves and display them on your steps or use them as centerpieces. Scatter them along the center of your table as a 3-D runner.
2

Pumpkins
Pumpkins are another quintessential element of the fall season, and they serve as an excellent decorative accessory. Leave them plain, carve them out or draw images on them and display a collection on your exterior or interior steps. Use them to guide visitors to your home and line your walkway with pumpkins. Set small pumpkins on your mantel or set out a platter filled with small pumpkins in the center of your table.
3

Apples
This colorful fruit is at its height of harvest in the fall, which makes them a tasty and festive decorative element. Tie ribbon around the stems and hang them from a curtain rod to make an attention-grabbing garland. If you're hosting an event, use them as place cards for a seating arrangement by printing names on small pieces of paper and tying them around the apples. Core apples right before a dinner party and set candles inside of them to make an interesting centerpiece.
4

Acorns
Gather the kids, go on a nature walk and collect some fallen acorns to use as decorative accents. Glue the acorns you've collected to a plain picture frame and use it to hold a fall photo of you and your family. Glue some acorns around the base of pillar candles. Fill the bottom of mason jars with acorns and set candles on top of them.
5

Cinnamon Sticks
Add an enticing aroma to your home with cinnamon sticks. Create a potpourri by placing a collection of sticks inside a jar, a bowl, a vase or any other vessel. Place the potpourri by your front door, on your table, in your bathroom or any place else you'd like. Another option is to wrap them around the outside of candles; when the candles are lit, the aroma will pour out.
6

Hay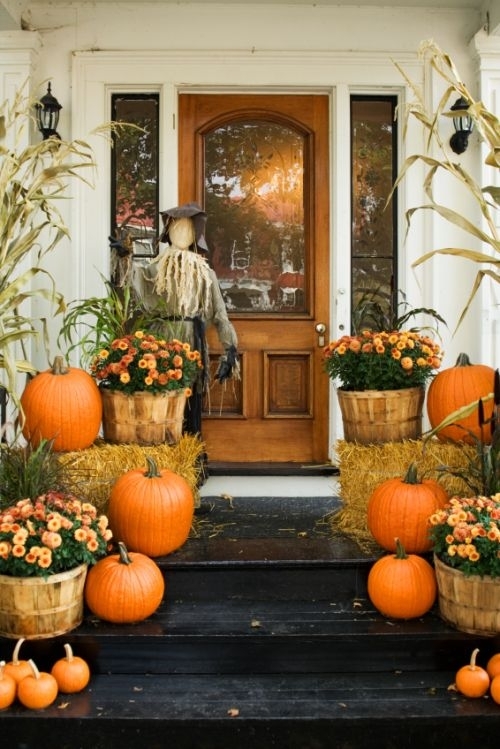 Use bails of hay to create a welcoming scene at your doorstep. Arrange a few bails of hay on your front steps or right next to your door and complete the look by displaying pumpkins, mums and other fall-related items on top of them.
7

Mums
Mums are the flower of the fall and these vibrant blooms serve as an excellent decorative element to welcome in the season. Use these flowers in a number of ways; plant them in your garden, line your walkway with them, place them on your steps, use them to make a centerpiece on your table and so on.
While I'm not looking forward to summer being over, there are many exciting things about the fall season that make the transition a little bit easier to handle - like decorations. How are you planning on decorating for the fall?
Please rate this article