Crafts using old t-shirts, you may ask yourself? What can worn out tees possibly be good for, apart from polishing furniture? Actually, there are some amazing old t-shirt crafts – after all, often only part of the tee wears out. Turning the rest into something great is better than throwing them out, so here are some old t-shirt crafts that will help you create some fun new items …
---
1

Gathered Top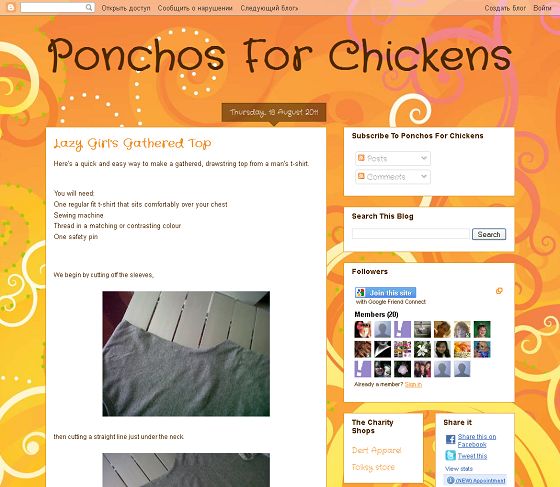 ponchosforchickens.blogspot.com
Men's t-shirts can have some really cool designs on them, but the styling is well, a bit too mannish. This tutorial shows you how to transform it into a more fitted and feminine gathered top. Your boyfriend may wonder where his favourite tee has gone – just point out that it looks much better on you!
---
2

Braided Headband

One of my favourite crafts using old t-shirts is to make headbands from them. So far, I've only made basic ones, but I like this braided version. All you need is two t-shirts of different contrasting colours or tones. If one of the tees is multicoloured, then the headband will be totally unique with a random pattern showing.
---
3

Simple Headband

If you're looking for a more simple headband, this is just the thing. It's a very similar style to one I made myself. I used an old skull print t-shirt that I didn´t much like as a tee, but it worked fantastically as a headband. This sort of style looks amazing if you have curly hair, and of course can be made in any colour, depending on what old tees you have lying around.
---
4

Necklace

You may have thought that jewellery can only be made from beads and metal, but fabric can be used to make some pretty cool items. The key to using an old t-shirt here is to pick one with a great colour. You´ll end up with a totally original necklace that can also be used as a headband.
---
5

Shrug

I'd never have thought of turning an old t-shirt into a shrug! I love shrugs, as they make other tops more versatile – you can wear vest tops or short-sleeved tops when the weather turns cooler. This would be a really good project if you´ve got a tee that doesn´t quite fit any more, or that you´ve just grown bored of.
---
6

Flower T-Shirt

Of course, old t-shirt crafts doesn't have to mean cutting up the tee. If you've got one with stains or holes on the front, covering up with embellishments is an excellent way of giving it a new lease of life. It's also a great technique if the tee is too plain for your taste. All you need is some scraps of contrasting fabric, and you can make this lovely flower tee.
---
7

Ipod Holder

iPod holders can be pretty pricy, so use an old t-shirt and make your own for nothing! This project is recommended for use when exercising, but it's such a clever idea that you could use it at any time. Because a tee is stretchy, the holder will be easy to put on, and yet stay in place on your arm.
---
8

Child´s Dress

If you've got a little girl and a big old t-shirt, you can make a cute dress for her. This project may require slightly more advanced sewing skills than a headband, for example, but the beauty of using an old tee is that you can afford to make mistakes! So don't be afraid to have a go at this dress – your daughter will love to wear it this summer.

There are lots of old t-shirts crafts, so I hope you´ve been inspired. Most of us have tons of tees in our wardrobe, but there's no need to throw them out when they're past their best or you don't like them any more. In fact, these projects will probably make you beg everyone you know for their old tees, so that you can make something from them! What crafts using old t-shirts can you add to this list?

Top Photo Credit: weheartit.com
More
Comments
Popular
Recent