10 Cute Mustache Craft Projects ...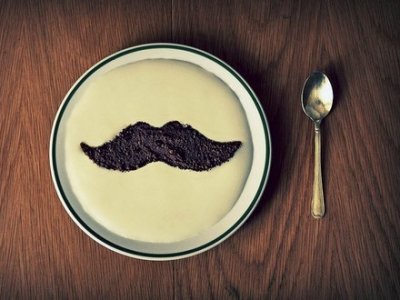 If you're in need of a pick-me-up, I bet these Mustache Craft Projects will do the trick. These will make you smile, I promise. We have here mustache-themed DIYs that are fun and easy to do. They're perfect for random craft adventures, for making gifts, or for decorating a party. Hope you like them!
We start this list of mustache craft projects with something big. This is a fun art piece to paint for a boyfriend or even for your own home. Heather Jean stenciled the mustache on striped canvas but I think you can also do this on printed fabric. I bet a floral background will look wonderful.
I have featured a mustache ring as part of my DIY ring list but the tutorial below offers you a different method. Instead of shrinking plastic, you will be baking the mustache. You will need polymer clay and glitter for this craft project.
How cute is this? This tutorial will show you a way to make a tiny gift card holder. It's a simple sewing project for making a pouch. To print the mustache, you will be needing freezer paper.
Oh man, I wish there is a way for me to use a bookmark this cute on a Kindle. For those who still prefer to read actual books, check out this fun mustache craft project. Not only is this cute, it's also perfect as a back-to-school DIY.
Planning for a party that you want to be all sorts of fun? One way to achieve that is by embellishing straws with mustaches! This DIY is pretty simple, really. You simply cut paper mustache shapes, punch a hole in the center, and then insert a flexible straw.
How adorable! This mustache craft project is only for taking photos, though. After you attach the paper mustache and take the cutest photos in all the land, you will have to "shave" the pacifier.
Here is a fun and cute gift for a boy. You can also make this for a girl, of course, but I thought I'd state that this is a good gift for a boy since they are so hard to buy or make things for. Check out the tutorial below to see how you can make this cute keychain.
I think I will be making pillow cases like these soon. Aren't they funny and fun? This is a simple and quick project, too. You simply trace the mustache pattern and then start filling the shape in with fabric paint. Let dry and enjoy.
I am a dressmaker and I approve of these adorable pins. These would make for wonderful gifts for somebody in your life who loves to craft.
Love to play with wire? Check out the wonderful tutorial after the link to learn how to make this cute mustache paperclip.
Aren't these** mustache craft projects** fun? Got other DIY mustache ideas? We'd love to hear them! Share them with us via the comments section below.
{{#comments_count}} Show Commnents ({{comments_count}}) {{/comments_count}}