Sometimes after being in a **home **for a while we look around and realize how drab it starts to look. Just like life, our **homes **need a little change and **makeover **once in a while too. Perhaps the walls are too bare or you are just tired of looking at the artwork you covered them with five years ago. But what can we do without having to spend too much money on more art and paint? While looking around for ideas for our own home I came across some great ideas about **fabric **and thought what a simple idea! I really love some of these tips and maybe one of these 6 **fabric designs **will help **brighten up your home **and bring it back to life as well...
---
6

Fabric & Frames...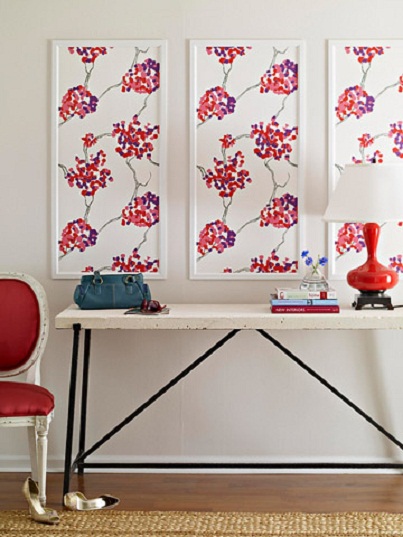 Photo: Better Homes and Gardens
Why buy more artwork when you can let fabric **become your art for the bare walls in your home! Do you have bold, **patterned fabric **that is just lying around from an old project, comforter, or piece of clothing that you would love to see hanging in yourliving room? With just a stop at the store or by making your own **frame **you can put together your own fabric art in an easy three step process. I love the idea of putting three matching fabric frames **on a wall together, it really brightens up a white wall.
---
5

Fabric Cabinet...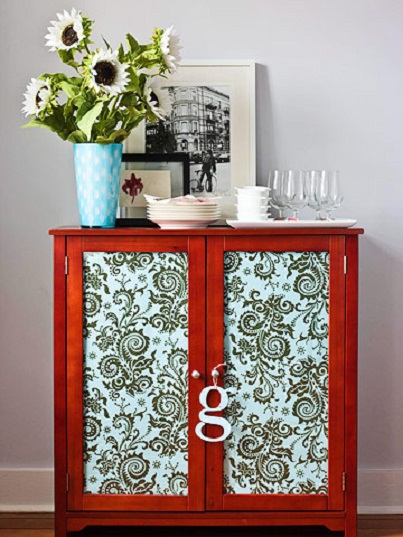 Photo: Better Homes and Gardens
To make a room and a piece of furniturefeel softer and more romantic just add a beautiful print fabric **to a **wooden cabinet, cupboard door, or even a hanging light fixture. The cabinet project can be easier done when using a cabinet with glass panels. Simply stretch the fabric on the back of each glass panel and use a staple gun to adhere it to the back of the wood frame. Glue on matching ribbon to hide the staples and protect your kids from running their fingers over them.
4

Fabric Curtain...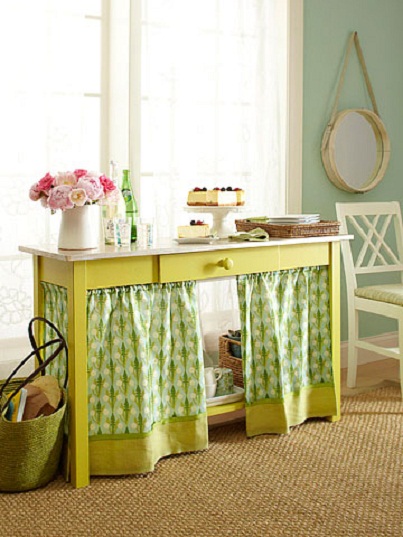 Photo: Better Homes and Gardens
I love this idea of using a fabric curtain **to make use of the space under a desk or a side table in the kitchen. If you have your own craft or scrapbooking space aDIY projectlike this one would really pull together the theme of that room or area. To make the curtains sew a rod pocket **into the top and use tension rods between the table legs to hang your beautiful new fabric curtains. Have you ever put together an idea like this before?
Continue Reading for More Ideas...
---
3

Fabric Centerpieces...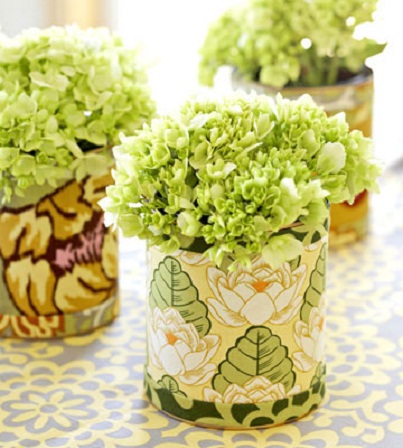 Photo: Better Homes and Gardens
Maybe some of these projectsare too big for the small impact you want to make in your home. Start with something smaller that is still a great idea you and your guests can appreciate. For new coffee table centerpieces, save some paint, juice, or sauce cans, find your favorite **fabric **and adhere with **fabric glue **at the top and bottom of the can sides. To dress them up a bit more, use contrasting fabric to line the bottom and top rims of each can.
---
2

DIY Pillows...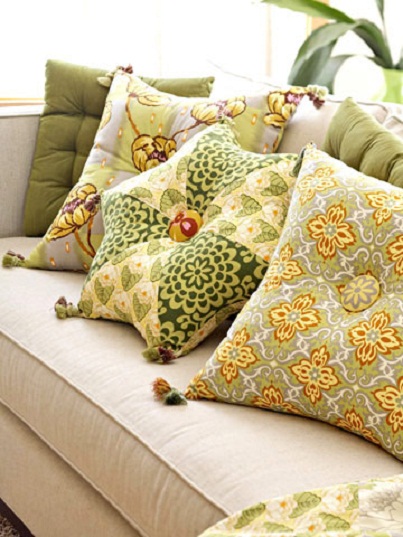 Photo: Better Homes and Gardens
Another small project you can do to brighten up your home is DIY pattern pillows and with the fabricthat is left over you can dress up a lamp or put together a new blanket. I love the shape of the **hexagonal pillow **in the middle; making a shaped pillow like this one will really impress your friends!
---
1

Fabric Headboard...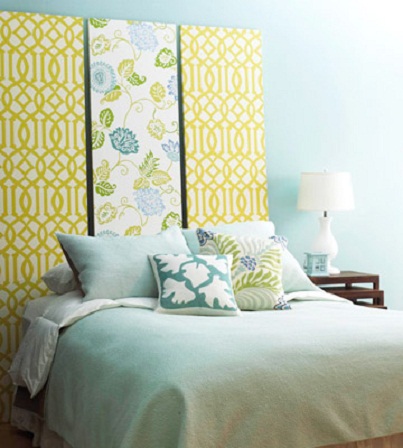 Photo: Better Homes and Gardens
There are so many ways we can brighten up our bedroomsand this** fabric headboard has to be one of my favorite ideas I've seen. Using artist's canvases, plywood, or any boards you may have at home already, just stretch the printed fabric and staple down all sides in the back of each board. Who knew it could be that simple to put together a **beautiful homemade headboard!
What ideas have you put together with fabric?
---
Comments
Popular
Related
Recent