It's always nice to meet and get to know people who are really passionate about what they do, whether it's for a living or for a hobby. Sometimes we don't push ourselves enough to do something we love or put time into doing a hobby. So come along with us to get to know Jennifer and Michelle of Vint Designand be inspired by them to learn a hobby and turn it into a passion and a dream come true...
A Love for Art & Vintage Jewelry...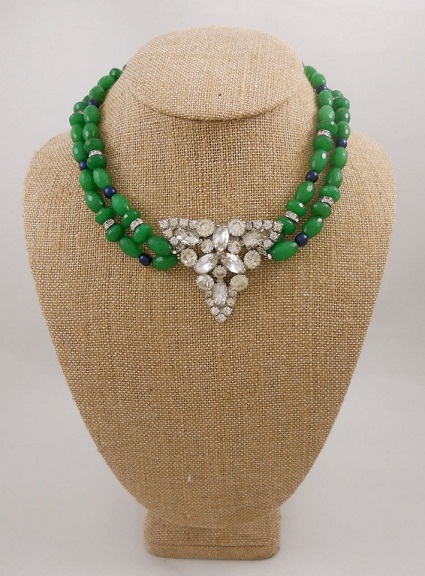 "Vint Design(**Vintage Inspired Notably Timeless**) jewelry is the creative culmination of academic and artistic pursuits from designers Jennifer Neal and** Michelle Conely**. Jennifer holds a BFA in Fashion Design from Savannah College of Art and Design (SCAD), and is currently an Interior Designer in Savannah, GA. Michelle Conely started designing jewelry and children's clothing as a hobby that ultimately turned into a bit of a passion.
While scouring local antique shops, both Jennifer and I have always been drawn to vintage jewelry, especially gorgeous broaches of days gone by. We travel to markets, auctions, and antique shops up and down the east coast searching for unusual vintage and antique pieces to use in our one-of-a-kind timeless designs.
Our inspiration is born from the icons of yesteryear…influences the likes of Audrey Hepburn,** Steve Nicks** with her bohemian flair and the famous jewelry designer Miriam Haskell. Each of our pieces is designed as a work of art, carefully composed with a bit of antique flare, color, and conceptual couture design. Our inspiration is drawn from many forms. Just about anything can become inspirational… from an antique chair, to a gorgeous dress or even an antique chandelier can offer creative inspiration.
We are not limited to just one decade or style as we love everything from the tassels of the seventies to the elegant classic look of the fifties. Sometimes the design starts with the brooch, sometimes with a vintage pair of earrings, or that perfect strand of unusually shaped pearls. Our work is available in local shops and designer market shows, but the easiest way to find us is online at our** Etsy shop **ViNT Design"
Follow their Blog...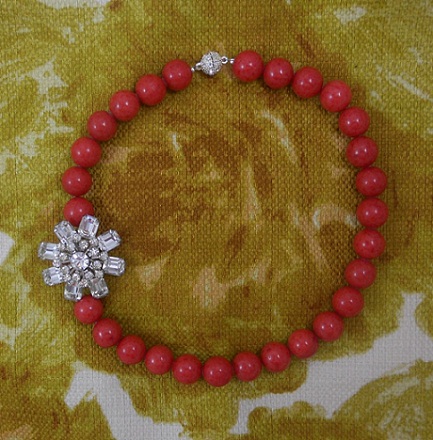 "To celebrate our new blog, we will be giving one lucky girl this beautiful** vintage coral necklace** from ViNT Design! It's the perfect summer statement necklace and the perfect piece to add a pop of color to a wardrobe filled with whites, creams, and beige. The first 200 followers of our new blog, will be entered to win this necklace valued at $155.00! The drawing will not take place until we have reached the 200 mark! So be sure to spread the news to all of your girlfriends.
If you don't want to wait for the sweepstakes to find your perfect summer piece, you can shop with us here: ViNT Design."
Best of luck!
Michelle and Jennifer
We are so happy to share who they are, what they do, and help them reach their goal of 200 followers. Check out their beautiful jewelryand their blog...don't forget to follow to be entered into their giveway!