Coffee Cups should be fun and should express your personality. Who wants to drink their coffee out of a cup that isn't cute and fun? I certainly don't! That's the reason why I came up with a list of 8 coffee cups that are flirty, fun and totally adorable. These are coffee cups that you'll want to drink coffee out in public in!
---
1

Owl Coffee Cup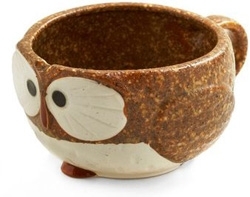 Price: $19.99 at modcloth.com
I have a confession to make – I am obsessed with Harry Potter. What that means is that in turn, I am obsessed with owls. This charming coffee mug is not only a conversation piece but it is actually quite detailed. I love the brown color with flicks of amber and the shape alone is what attracted me. If you are looking for coffee cups that will make you stand out – this is the one that will do it!
---
2

Surprise Mug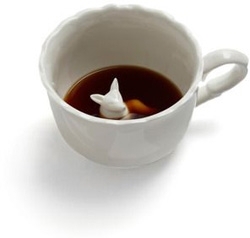 Price: $24.99 at modcloth.com
When I first saw these coffee cups, I had absolutely no idea what a surprise coffee cup was. Tucked away in the bottom of a plain white coffee mug hides a fox, a cat or even an owl (they have a ton of different ones)! This adorable little mug will make you giggle and laugh every time you finish your coffee!
3

Mushroom Mug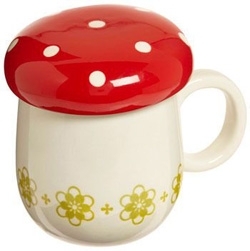 Price: $27.99 at modcloth.com
Mushrooms are something that always remind me of Mario Brothers and I think that is one of the reasons why I love this dainty little coffee cup. Not only does the top keep your beverage cool but I love the detail along the sides of the cup. Trust me, you won't find this beauty in any video game but, I'm sure it'll start up some great conversations if you bring it around in public!
---
4

Donut Coffee Cups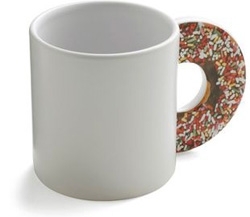 Price: $15.99 at modcloth.com
I think that this coffee cup was made for Homer Simpson – it's a picture of a donut! While the mug itself may seem plain, I love the idea of a half of donut being the handle. Who knows, it might even save you from eating a donut – which means you'll cut down on the calories!
---
5

Quote Coffee Cup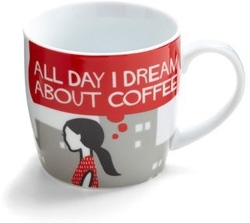 Price: $12.99 at modcloth.com
I am a huge, huge coffee drinker. I could drink it all day and all night and be the happiest person in the world. When I saw this little gem, I knew I found the coffee cup for me. This one states 'All day I dream about coffee' – that is so true! It's done up old school – which is why I love it. The colors are beautiful, the mug looks great and it has a ton of personality – what more can you ask for?
---
6

Enjoy Your Coffee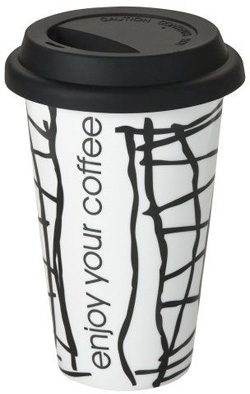 Price: $13.79 at target.com
Since I work in an office, it is a must for me to have coffee cups that have lids on them. When I saw this porcelain mug, I knew it was for me! I love the black on white design and the words I think are so charming. This is a coffee mug that will get commented on at the coffee just because it's so friggin' appealing!
---
7

Penguin Mug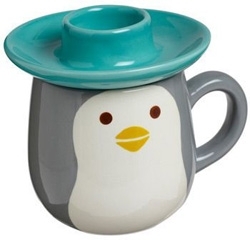 Price: $28.99 at modcloth.com
Are you pretty tired in the morning and constantly forget where you left your coffee and by the time you get to it, it's cold? Well, with this adorable little penguin mug you won't have that problem anymore! This dainty little mug not only is in the shape of a penguin (which is just too cute for words) but it has a hat on it, so that you can set your coffee down anywhere at all and not worry about it getting cold!
---
8

Vintage Nesting Doll Cup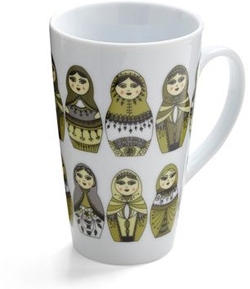 Price: $14.99 at modcloth.com
Do you remember the nesting dolls from way back when? I know they still make them in some vintage shops, but they are pretty rare and hard to find. Personally, I love them, I thought they were interesting and always caught my eye and that is why this coffee mug caught my eye. This nesting doll cup features all of the different dolls and the colors are absolutely beautiful.
Coffee cups should be a way to express yourself, not just something to put your coffee in. I think that all of these coffee cups are on my list for Christmas because all of them are so pretty! What do you put your coffee in now; what is your ideal coffee cup? Come on, share your list with me, I'm on the hunt for new mugs now!
---
Popular
Related
Recent