I can trace my family tree back to the early 1400s, and amongst the branches of that tree, there are generations and generations of tea drinkers. Myself, I love a good Earl Grey or jasmine tea… but almost as important as the leaf is the cup and saucer, right? Presentation matters… and tea sets also make marvelous house-warming gifts! Here are 8 darling tea sets… see what you think, fellow tea lovers!
---
1

Brew Kid on the Block Tea Kit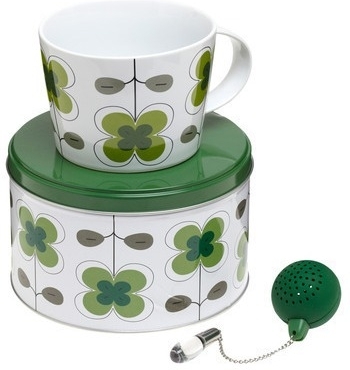 Price: $29.99 at modcloth.com
This darling tea set by Camilla Engdahl is available in green (pictured), red, or blue, and no matter which you choose, you'll be sure to love it. The set includes a tin for loose tea, a tea infusion ball, and of course, a matching ceramic cup.
2

Partners in Tea Time Set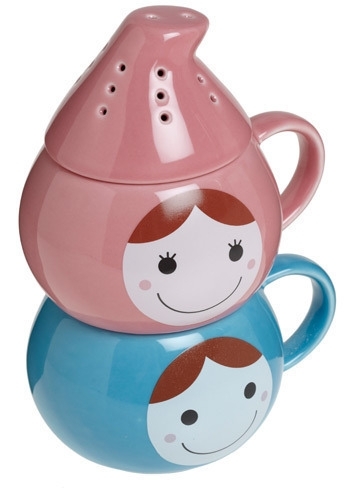 Price: $42.99 at modcloth.com
You and your bestie love your week-night tea parties, perfect for sipping Earl Grey and catching up on gossip. This is your favorite tea set, including two ceramic cups (you use the pink, she prefers blue), a tea strainer, and a lid.
---
3

Tea-total-er Service Set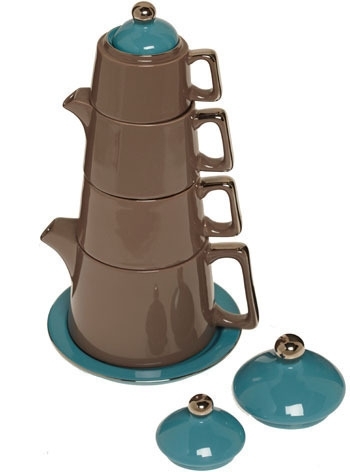 Price: $37.99 at modcloth.com
This clever tea set stacks for storage, and includes everything you could possibly need for hosting tea for one: a tea pot, a tea cup, a saucer, and a sugar bowl and creamer with lids, all in rich brown and royal blue. Wouldn't this make a lovely gift for the tea-lover in your life?
---
4

Café Olé Mug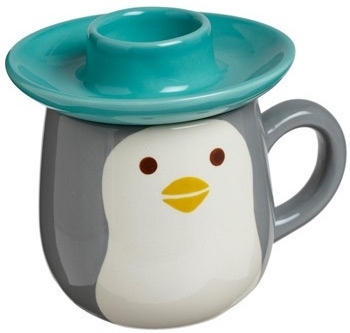 Price: $28.99 at modcloth.com
This perky penguin hails from a clime much warmer than his family and friends, for while they prefer ice and chill, he prefers chips and salsa! His super-cute sombrero holds your sugar cubes while keeping your tea warm, and his sweet expression adds a little much-needed cheer to your morning routine.
---
5

Calm before the Story Tea Set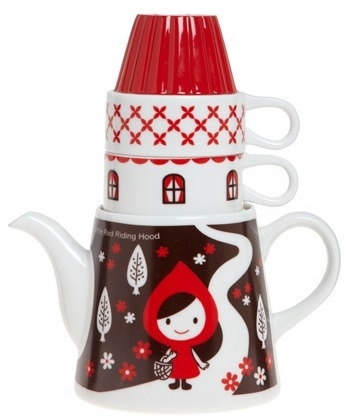 Price: $54.99 at modcloth.com
Little Red Riding Hood is one smart cookie, for look at how cleverly she stacks her two cups atop her teapot and even keeps the wolf at bay, perched on top! I love the bright colors and the adorable graphics… this would make a brilliant house-warming gift for Granny, or anyone else!
---
6

Floral to Ceiling Tea Set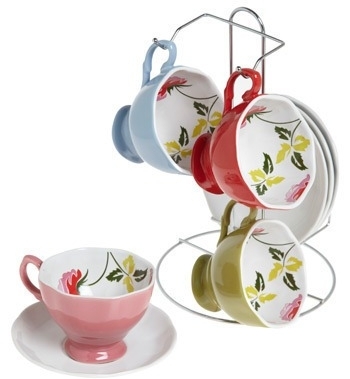 Price: $44.99 at modcloth.com
This retro-inspired but thoroughly modern tea set is made to keep tidy, with a metal rack for storage and display and four ceramic cups and saucers in an array of gorgeous colors, including pink, red, blue, and green. I adore the floral detail in the center of the cups… so pretty!
---
7

Eiffel Tea-wer Set for One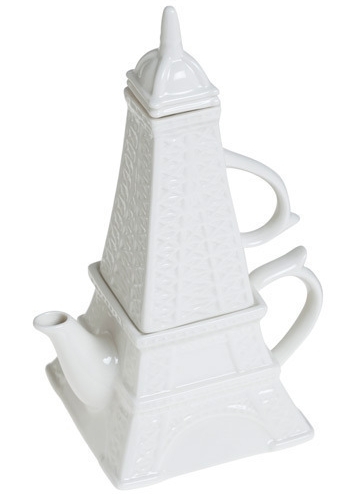 Price: $4.99 at modcloth.com
Commemorate your trip to Paris or just remind yourself that you do indeed intend to go one day, with this pretty white tea set, including a teapot and lid, teacup, tea strainer, and decorative topper. When they're assembled, they create a miniature ceramic Eiffel Tower. C'est jolie!
---
8

Teatime Restrain-t Tea Set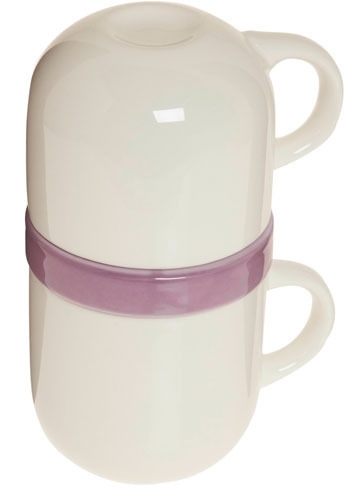 Price: $22.99 at modcloth.com
Choose from violet or lemon, and whichever you decide, you'll love this clever tea set, which store in a capsule shape with a hint of vibrant hue. The strainer sits between the two, providing a band of color matched by the inside of the cups. How cleverly utilitarian, but still so pretty!
With so many darling tea sets to choose from, you'll have housewarming and birthday gifts for your tea-loving friends covered for at least the next year… plus a little something for yourself! I love the one with Red Riding Hood on it… it's so cute! Which of these tea sets do you like best… and would you use it for coffee, tea, or cocoa… or something else?
---
Comments
Popular
Related
Recent