Online Shopping Sites I'm about to share with you today sell some pretty amazing stuff and, since most of us like good deals, designer items, items that are rare, wacky, unique, handmade or even all of the above, I bet you'll have a lot of fun checking them out. After all, adding a few new online shopping sites to your favorites can hurt and having them in this list might save you a lot of trouble later! Right? Well, allow me to skip the big speech then as I believe this list of awesome online shopping sites says it all:
---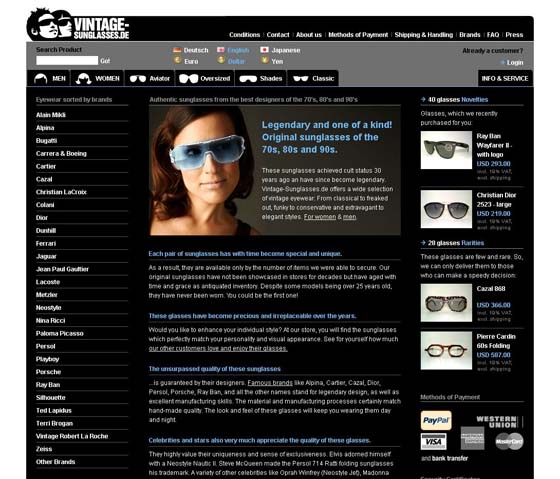 Shopping Site For: Vintage sunglasses
Ideal For: Collectors and fashionistas looking for unworn vintage designer sunglasses.
If you like both collecting and wearing vintage designer stuff but you just can't get yourself to wear something a complete stranger had previously worn, this site is the answer to your prayers! But, let me put it this way – you don't have to feel sad because your mom didn't bother to save the designer sunglasses she might have had before you were born, as you can get them now, brand new, unworn and in their original package! Authenticity is guaranteed, of course!
---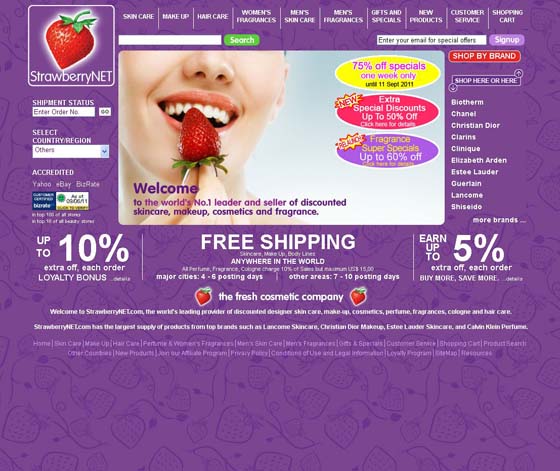 Shopping Site For: Cosmetics and perfumes
Ideal For: People living in countries with high custom duties or areas most other shopping sites won't ship to.
All of your favorite makeup brands, great prices and cool gifts – if you're looking for new online shopping sites to add to your favorites, definitely have strawberrynet in mind. It's a great way to finally get your hands on products, packages or shades that aren't available in your area, country or even continent. Yes, ladies, you heard well – they will send your package virtually anywhere and they might even refund duties and taxes! Refunding these costs is not a must, of course, but sort of a favor so I advise you to be extra polite when asking for a refund.
---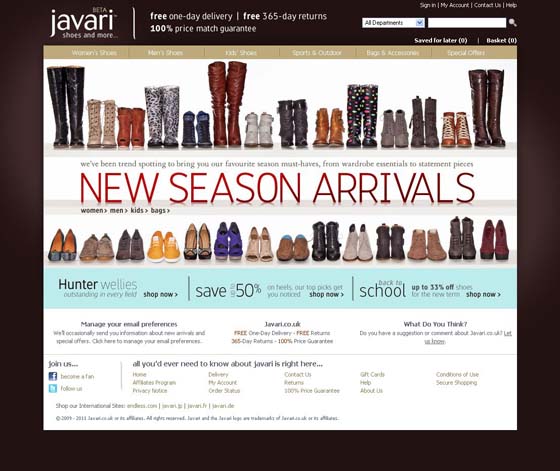 Shopping Site For: Clothes and shoes
Ideal For: Europe-based customers
If shopping at ASOS has become slightly boring and you'd like to take your business elsewhere, definitely check out Javari which certainly is one of my favorite Europe-based online shopping sites. Don't get me wrong, ladies, I love ASOS too, although I must admit I rarely manage to catch any of those great deals. Javari, in the other hand, has waay better sales and I kind of have the feeling they have a bigger stock which means that you can get snag a pair of that gorgeous heels even if you wear one of those standard sizes that go out of stock almost immediately. No PayPal checkout, unfortunately, so you'd have to use your card although it really isn't such a big deal, if you ask me.
---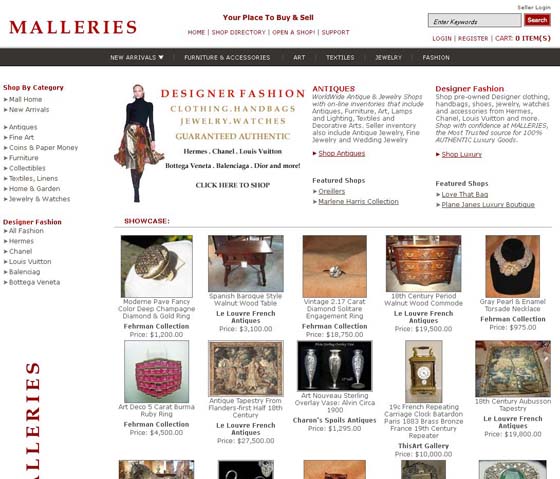 Shopping Site For: Vintage goodies
Ideal For: Collectors and fashionistas
Speaking of those gorgeous vintage goodies, here's a site you must check out! If you like high-end designer brands such as Chanel, Dior or Hermes, I bet you already know you can save quite a bit if you opt for a pre-owned item and since that's still hundreds of dollars we're talking about here, you must be very picky when choosing a site you can trust. Mallaries guarantees authenticity of all sold items and provides a short but very real description about the condition of the item which means you'll always get what you've paid for.
---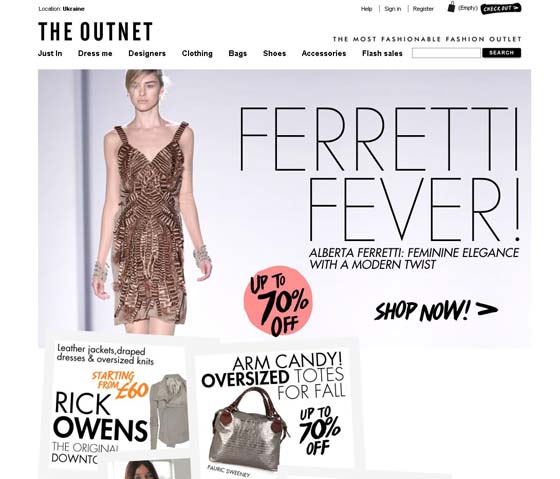 Shopping Site For: Designer goodies
Ideal For: Frugal fashionistas
Have I mentioned this site before? I've been writing about Net-A-Porter quite a lot and I think I've never mentioned its equally glamorous and waaay cheaper sister-site Outnet! Well, since missing out on this one would be a crime I'm not willing to commit, I'm definitely including it in my list of cool online shopping sites! I love, love, looove it and, if thinking about Prada, Marc Jacobs, Charlotte Olympia, Alexander McQueen goodies on sale can make your heart skip a beat, I bet you'll love it too!
---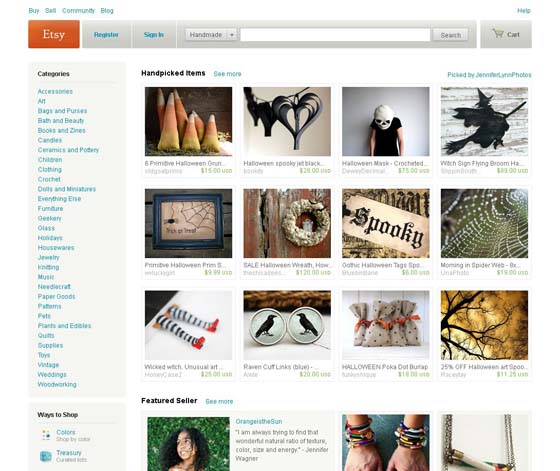 Shopping Site For: Various cool vintage and handmade items
Ideal For: Everyone, all around the globe.
Etsy is a fast-growing, interesting community of people who sell some pretty cool stuff – kind of like eBay, only without obvious scams and hundreds of fake listings. You can find great designer and no-name vintage stuff, handmade jewelry, clothes, home décor items, accessories, rare items, collectibles and a whole bunch of other, equally interesting items. The prices are quite rational, most of the sellers are very nice people and the information about the countries the seller will ship to is clearly visible. Now, I can't promise you that you'll find something amazing, but I can't deny it either which means this is one of those online shopping sites you'll just have to check out and figure out on your own.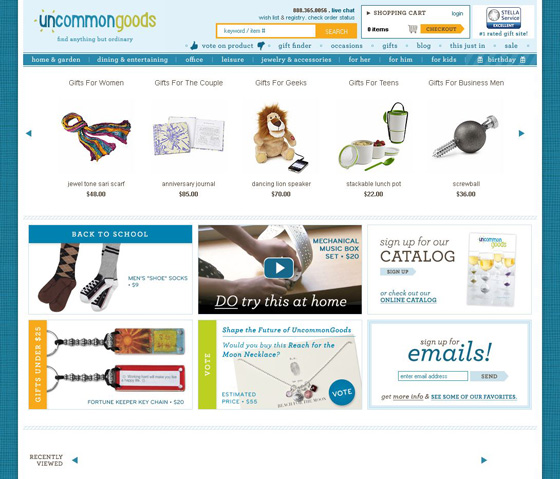 Shopping Site For: Cool gifts
Ideal For: Creative individuals
Looking for a perfect present for a totally unique person? Something that says more than just words, something that shows how much you appreciate the fact that a person in question stands out? Well, take a look at this colorful online shop and I'm sure you'll find many interesting presents for weddings, birthdays, baby showers, kids, men, women and just anybody who appreciates this type of gifts! Affordable prices and gifts you probably won't find anywhere else – those are two great reasons to check it out and, once you do, I bet it will become one of your favorite online shopping sites.
These awesome online shopping sites have something for everybody, everything for somebody! Some of these online shopping sites are quite expensive while others will give you a chance to save quite a bit so the next time you feel the need to shop online, check them out as well. But wait, don't leave just yet! What are your favorite online shopping sites?
Top Image Source: 1.bp.blogspot.com
---
Comments
Popular
Related
Recent