The Ultimate Guide📕 to the Most Indulgent Lazy Day🐌 You Deserve🛋 ...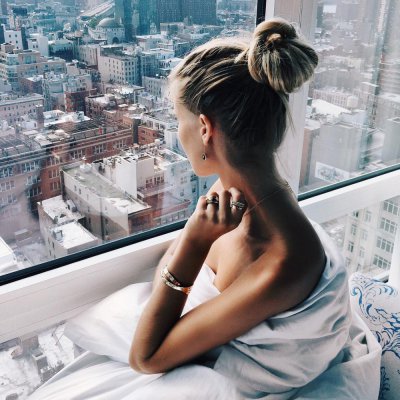 You've been working hard, and your mind and body are just exhausted. You could drown your sorrows in a quad-shot of espresso and push on with your life, but I think what you need instead is an entire day of pampering, a 24-hour period of nothing but the lazy. How should you spend those precious pamper-yourself hours? Here's a list.
1.

Nix the Alarm ⏰

This is your lazy day - so no alarm clock! Let your body wake up on its own, without that annoying MEEP-MEEP-MEEP.
2.

Breakfast 🥓

If you're usually really busy in the morning, you might not have time for a breakfast. Today? Today you have time. Enjoy.
3.

Pore Strip and Mask

Now it's time to get your mini spa on. Apply a pore strip and/or your favorite mask.
4.

Long, Steamy Shower

Now it's time to rinse off the mask and get squeaky clean while you're at it. Don't want a shower? Try a bath instead, and add a Lush bath bomb.
5.

Hydrate X 2 ☕

While you're in the tub, why not enjoy a cup of tea, or cocoa, or a mimosa? When you're done in the tub, make sure to hydrate your skin, as well, by using your favorite body butter.
6.

Fly Solo

Relieve some stress and get the endorphins going with a little on-your-own self-love. Take your time and if you want, nap a little after.
7.

Comfy Clothes

When you do get dressed, choose your favorite comfy outfit. Bra? No. Pants? Why bother? Be comfy.
8.

Netflix

Grab your tablet and binge-watch Stranger Things (so good!) or The Little Prince (the feels!) on Netflix. Or both? Netflix and chill by yourself.
9.

Snacks! 🍿

Wait! Before you get comfy on the couch, gather all of your favorite snacks. There you go! Now Netflix.
10.

Pinterest and Stuff

Netflix doesn't require all of your attention, so why not do a little online shopping, wishlist-making, or pinning? Play a game app? Scroll through Instagram? Watch a makeup tutorial on YouTube? All of the above?

What would you add to this list? Which of these is your fave lazy-day passtime?

{{#comments_count}} Show Commnents ({{comments_count}}) {{/comments_count}}