These days, people seem to be spending much more money on technology, especially items such as laptops. It's important then to keep such valuables protected. Neoprene is a synthetic rubber which is flexible and sturdy. These properties make it a popular material in the construction of laptop cases. Below are just a few examples of some nifty neoprene laptop cases.
---
1

Marc by Marc Jacobs Jumble-Embossed Neoprene Laptop Case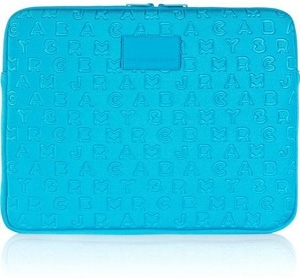 Price: $50.00 at net-a-porter.com
This turquoise laptop case has a funky, playful design. It features a designer stamped rubber patch and an all-over embossed jumbled letter pattern. It has a double zip opening and white faux fur lining. If you're after a designer laptop case, then look no further.
---
2

Built 15" Laptop Sleeve – French Bull Mosaic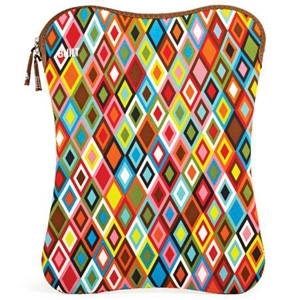 Price: $19.95 at adorama.com
This is one bright laptop case. The multicoloured mosaic pattern is fun and funky. The hourglass design of this case stretches to provide a custom fit. The unique bone shape is also stated to provide extra protection for your laptop.
---
3

Incase Designs Neoprene Macbook Sleeve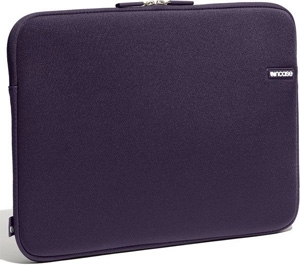 Price: $39.95 at shop.nordstrom.com
This neoprene sleeve is created with Macbooks in mind. It has a slim, form fitting design. It features a zip around closure, protective interior border, and faux fur lining. The dark purple color is unassuming yet stylish.
---
4

Upcycled Wetsuit Laptop Sleeves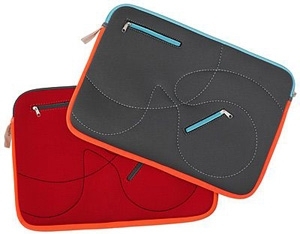 Price: $30.00 at uncommongoods.com
One of neoprene's more common uses is for wetsuits. These nifty laptop cases are actually made, or 'upcycled', from excess wetsuit materials. They feature a zip top closure and come in a range of colours and designs. These are a great choice for the environmentally conscious.
---
5

Built 15" Bumper Laptop Sleeve – Nolita Stripe Neoprene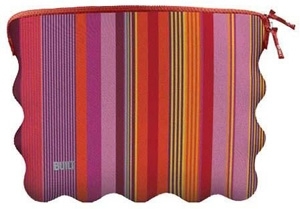 Price: $24.95 at adorama.com
This bright, striped laptop sleeve is bound to be a head turner. The scalloped edges create the appearance of waves. This particular design feature, however, is intended to diffuse impacts and increase protection for your laptop. Nifty, huh?
---
6

Digitrade Pink Neoprene Soft Carry Case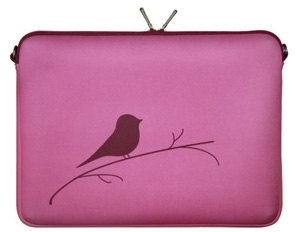 Price: $17.90 at amazon.com
This pink laptop sleeves features a delicate bird on a branch motif. It features a double zip opening as well as eyelets for hanging accessories from. The neoprene material is designed to protect your laptop from excess moisture as well as scratches and shocks. It's great for those wanting a feminine looking laptop case.
---
7

LaCie ForMoa Carrying Case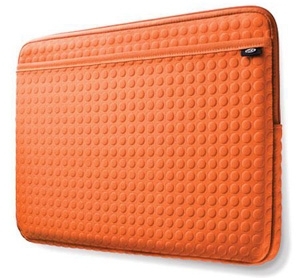 Price: $19.99 at adorama.com
The shocking orange colour of this case will be the only kind of shock for your laptop. The protective bubbles on the outside of this case are an ingenious design feature. The sueded lining also helps to protect laptops from bumps and scratches. This case features three pockets and comes with an optional handle.
---
8

Digitrade Old School Neoprene Laptop Carry Case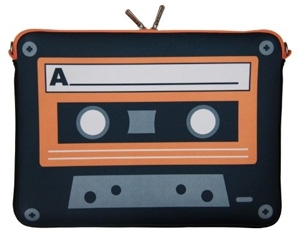 Price: $18.90 at amazon.com
This laptop sleeve is designed in the likeness of an old-school cassette tape. It's perfect for the retro revivalist. It features a high quality zipper and anti-shock system. Add a whole lot of personality to your laptop with this case.
---
9

Loungefly Hello Komputer Laptop Case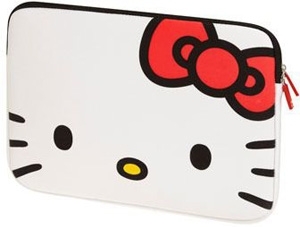 Price: $44.99 at modcloth.com
This Hello Kitty inspired case is super kawaii! The front of the case is designed in the likeness of Hello Kitty's face. It has a faux fur lining and comes with contrasting top zippers. It is made specifically for 13" Macbook and Macbook Pros.
Neoprene is sturdy material and its uses are varied. These are just a few examples of nifty neoprene laptop cases. Which of the above are your favourites?
More
Comments
Popular
Recent