I find that as I get older and although I love Christmas, I'm quite sad that my family has no specific Christmas traditions. Don't get me wrong, we are a loving family and we all enjoy Christmas very much but it's a pretty generic festival for us - eat and drink loads, be merry and exchange tons of gifts. As we have a new baby in the family this year, it's got me thinking about how we can make it magical for her this year and every year. Maybe I'll be able to persuade my family to start some of these Christmas traditions.
---
1

Christmas Eve Box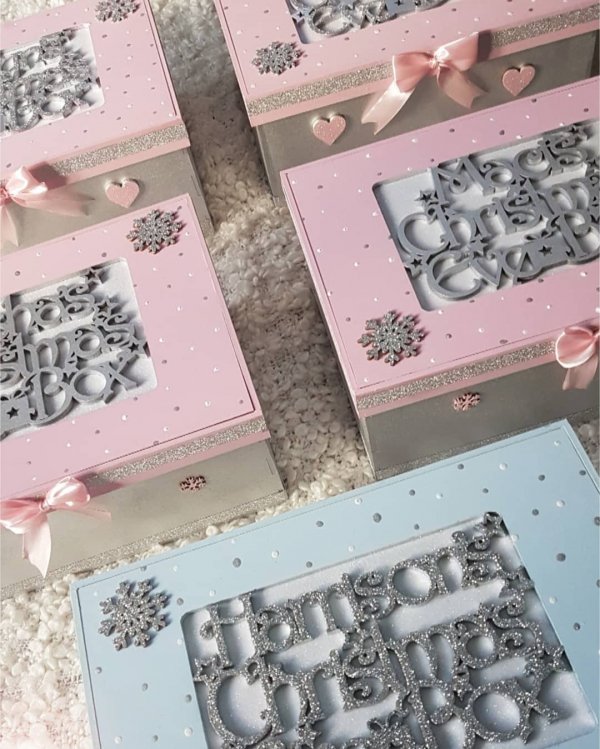 This is one of the cutest Christmas traditions for families with kids. Christmas starts on Christmas Eve so get the holiday kicked off with a box of magic that includes new pajamas, a story book for bedtime, reindeer food and a Santa Key (see next point!).
---
2

Santa's Key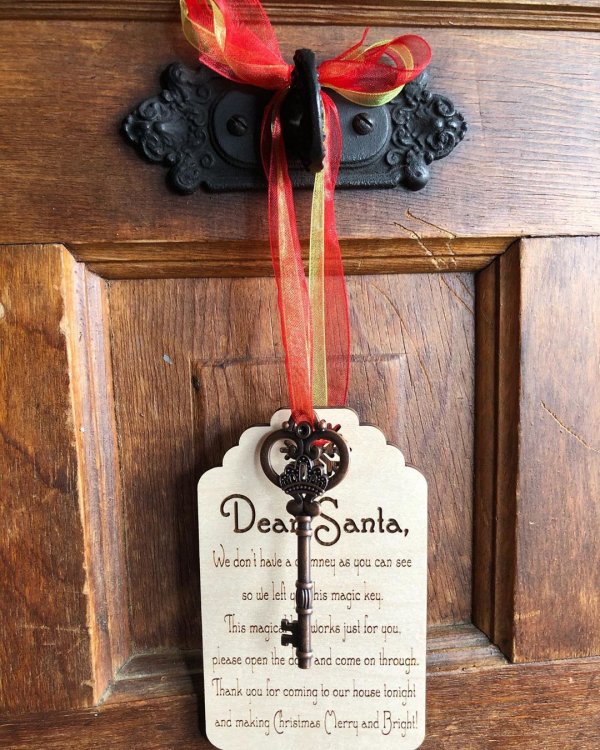 Put the key in the Christmas Eve box or simply present it to your kids at bedtime for them to hang on their bedroom door. Sample message - Dear Santa, This magic key works just for you, Please open the door and come on through. Thank you for coming to our house tonight. Thank you Santa for the gifts you bring.
---
3

Jar of Acts of Kindness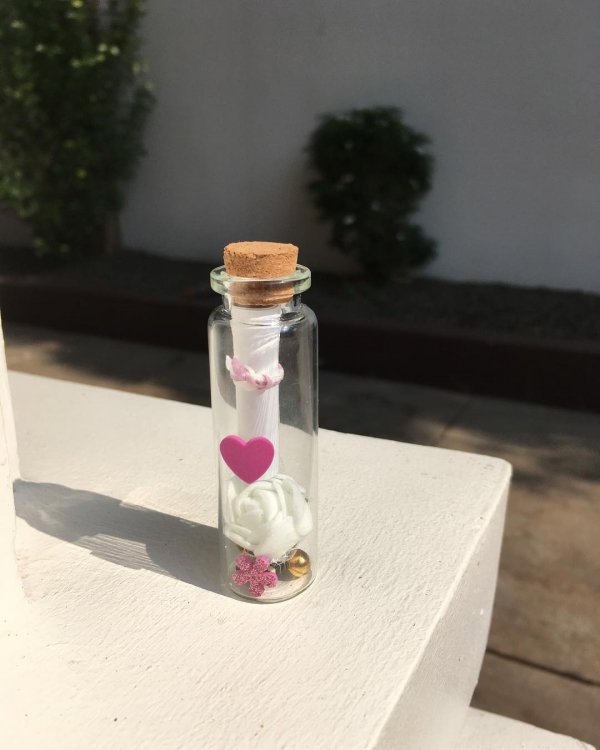 This is a great way to teach kids about giving and not just receiving.
---
4

Christmas Bucket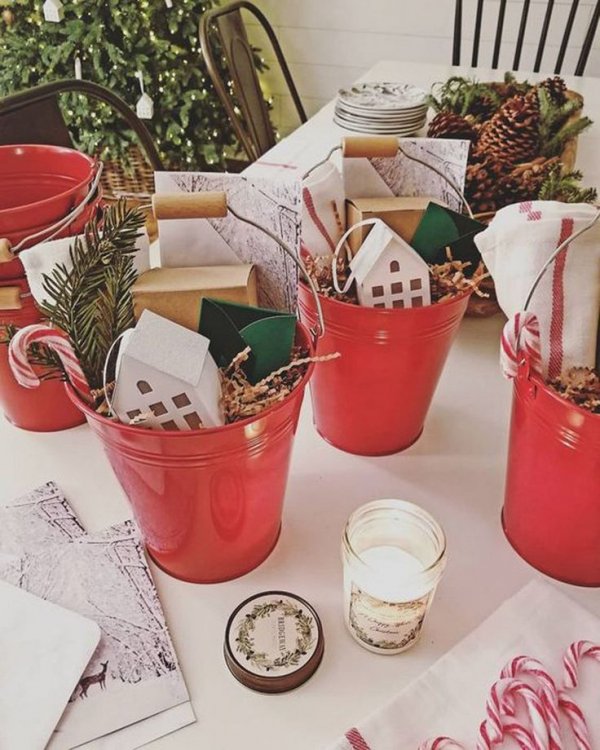 The Christmas Bucket is a fun way to count down the days in December until Christmas instead of a traditional advent calendar. The bucket is filled with 25 numbered gifts and envelopes, each containing a small item or activity. Gifts can be new or old, big or small. The fun is in the unwrapping and excitement, not how big the gift is inside.
---
5

Advent Blessing Jar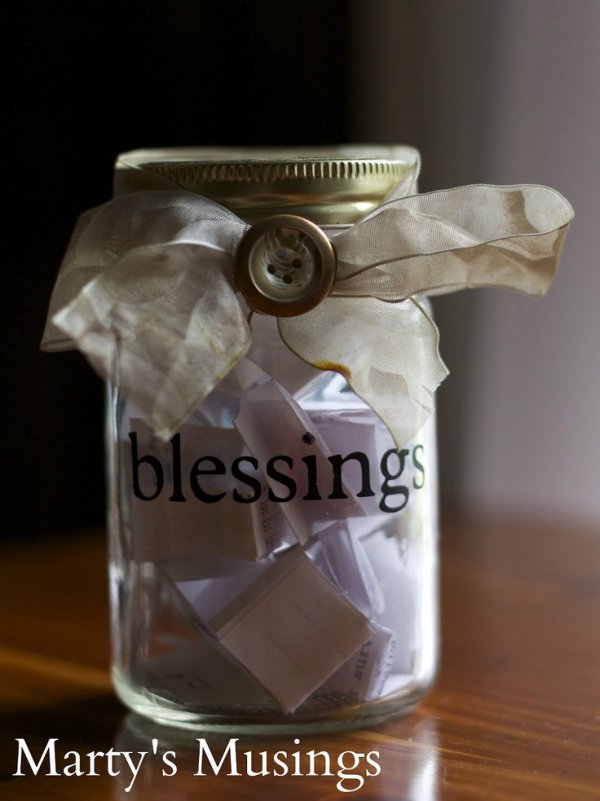 An alternative to the traditional advent calendar.
---
6

The Christmas Giving Jar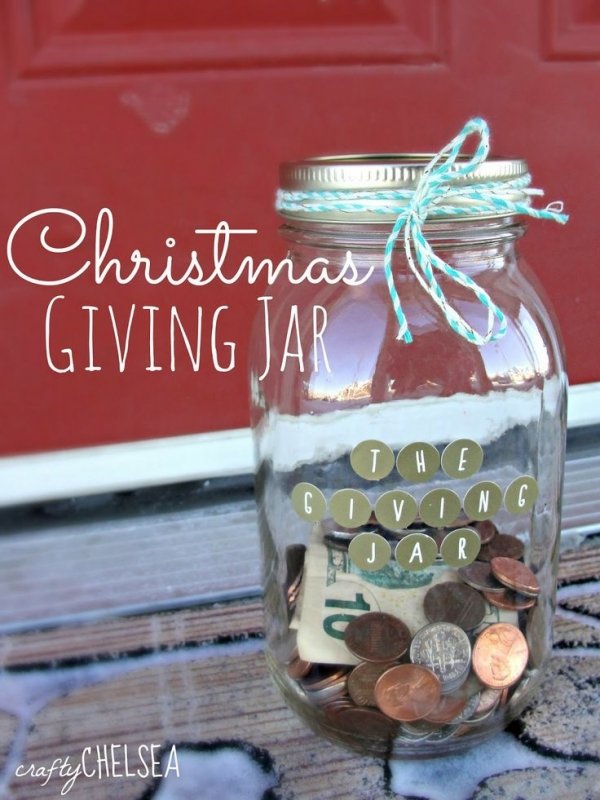 This is a Christmas tradition that starts at the beginning of the year. Save your pennies all year and decide who is deserving of it at Christmas.
7

Keepsake Ornament Album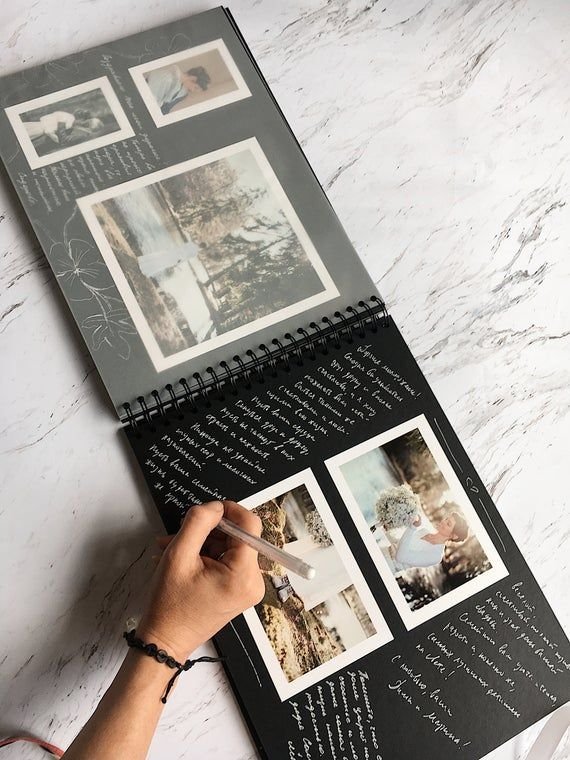 The best way to understand this is to click on the source and read Kelly's awesome little story.
---
8

Candy Cane Hunt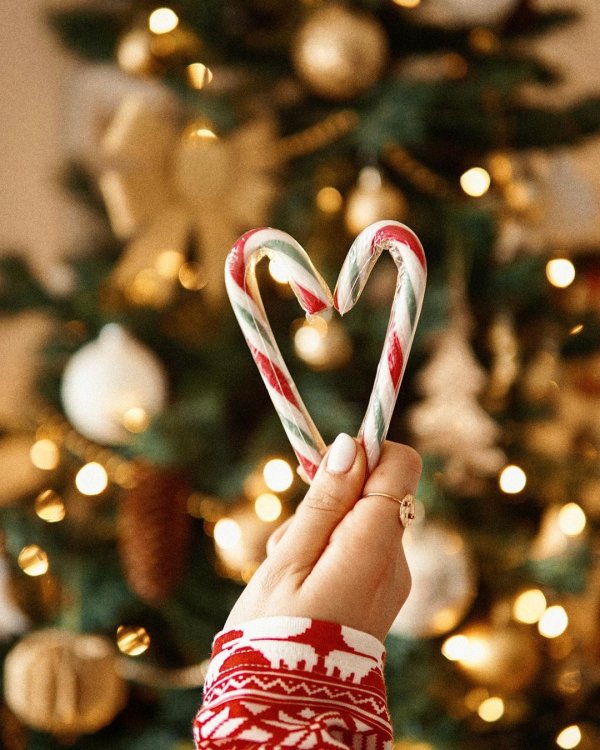 A perfect Christmas tradition kids and adults can enjoy together.
---
9

Date Night Stockings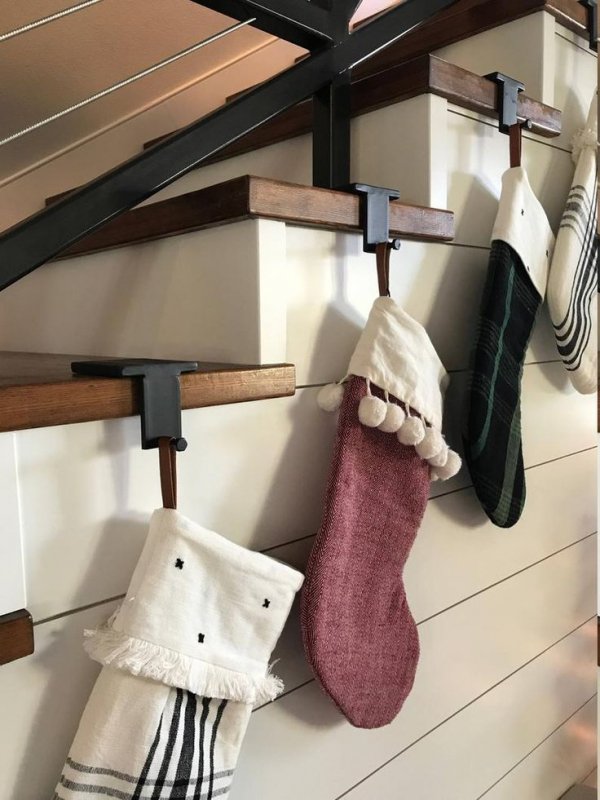 Some Christmas traditions can be enjoyed without the kids. This is an easy way to strengthen your marriage all year long, and can be as thrifty or as extravagant as you want to make it!
---
10

Christmas Scavenger Hunt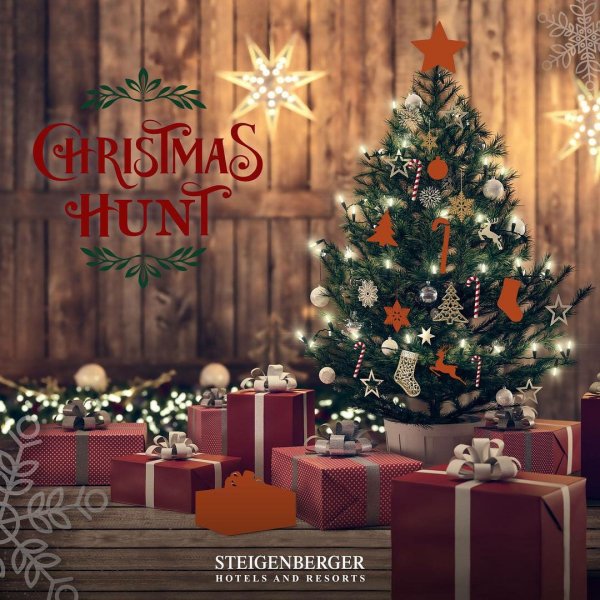 Keep everybody occupied while the Christmas dinner is cooking.
---
11

Meaningful Christ-Centered Christmas Traditions for Families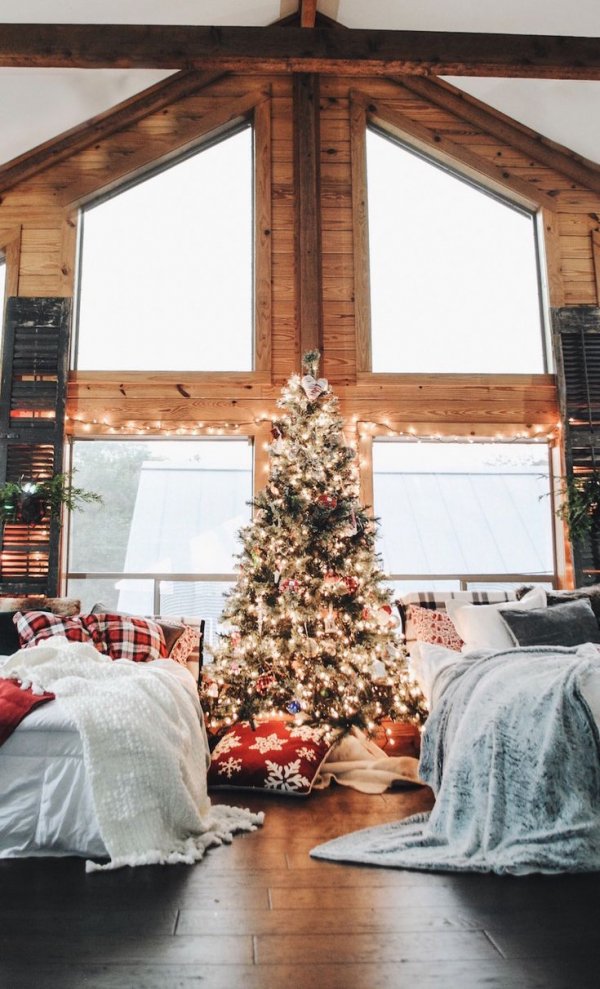 Click on the source for ideas if you want your Christmas traditions to reflect the original meaning of the holiday.
---
12

Christmas Light Scavenger Hunt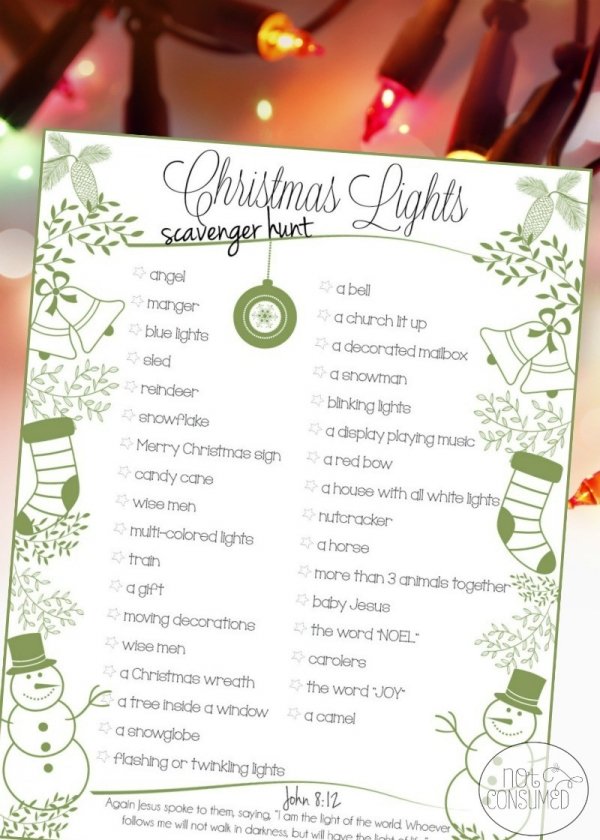 Source: Christmas Lights Scavenger Hunt Printable ...
A variation on the scavenger hunt. Ideal if your street has a wealth of houses decorated for the holidays. Even get the neighbors involved!
---
13

Snowman Pizza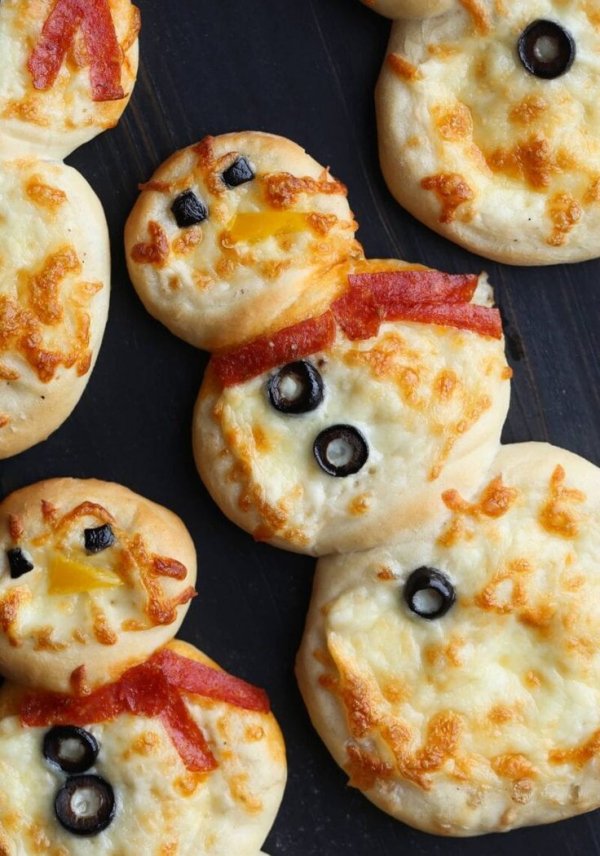 If you already have a Christmas movie night, pimp it up with snowman pizzas. And if you don't already have a Christmas movie night - why not?
---
14

Trim the Tree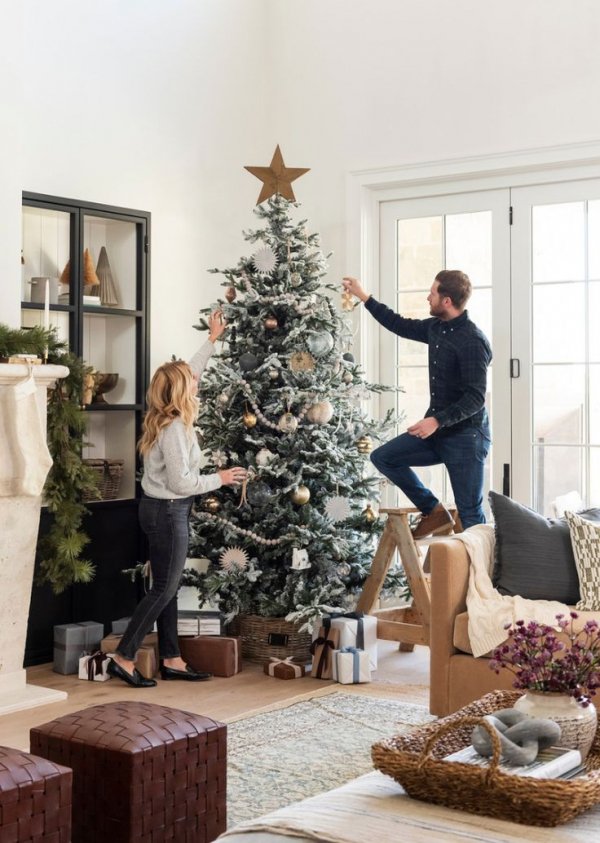 Of course, some of the most well-beloved Christmas traditions will never grow old. But how about some new ideas? Check them out here: 27 Stunning Christmas Trees You Can Create at Home.
---
15

The Christmas Game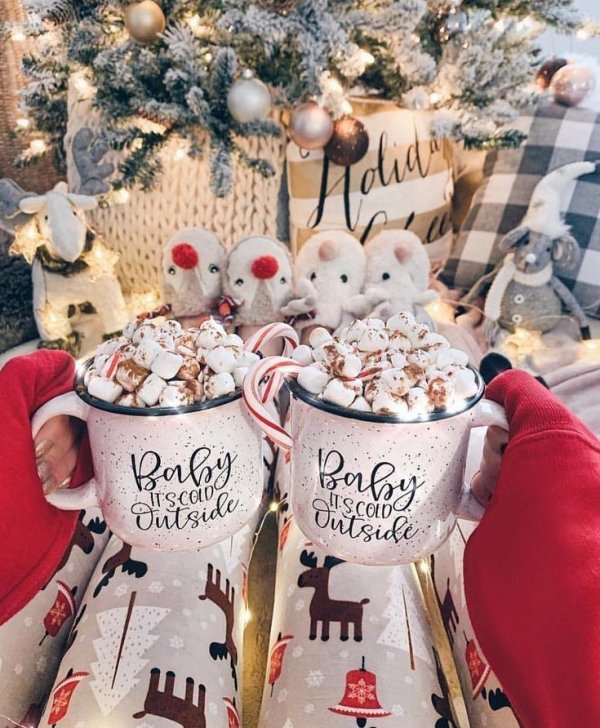 Click on the source and Vickycat will explain it all.
---
16

Divinity Recipe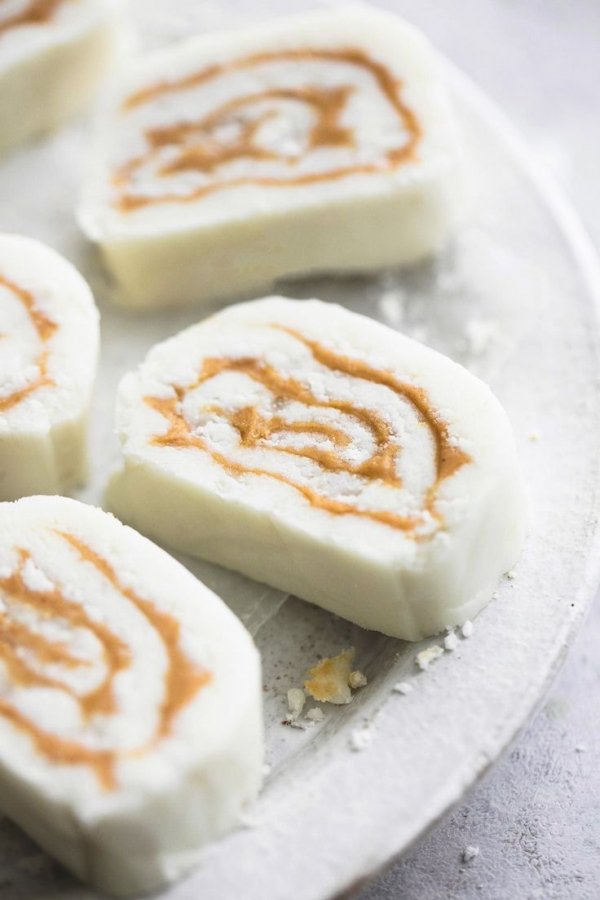 Why not find or develop a new recipe that you can all indulge in on Christmas Eve?
---
17

Santa's Beard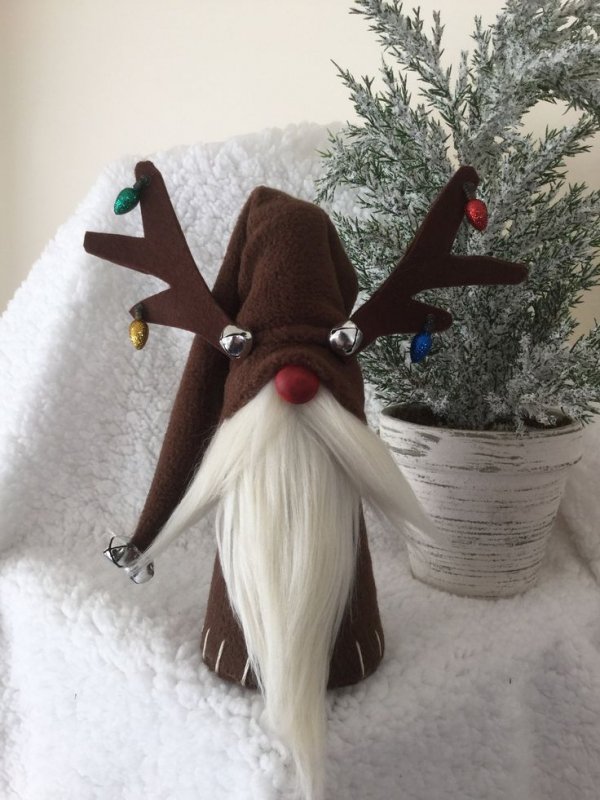 This is so unbelievably cute.
---
18

Play "You've Been Jingled"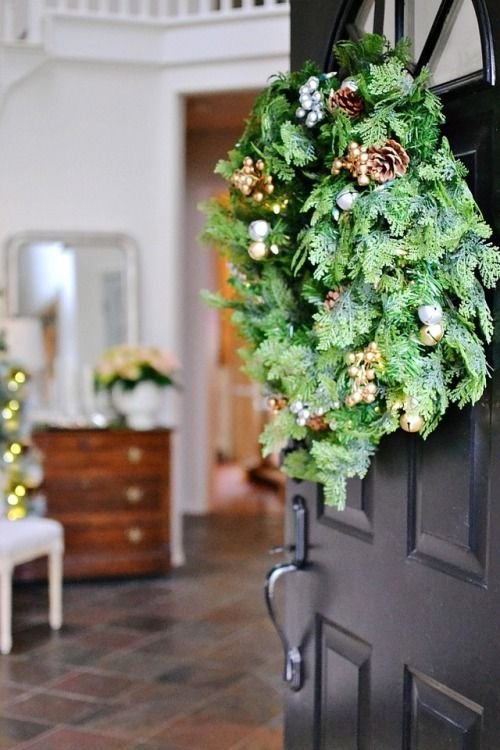 Source: You've Been Jingled
This is such a fabulous way to get your neighbors involved in your Christmas. Again, the source will take you to a page where you can get all you need to start this as one of your new Christmas traditions.
---
19

Preserve Your Child's Christmas List in an Ornament Every Year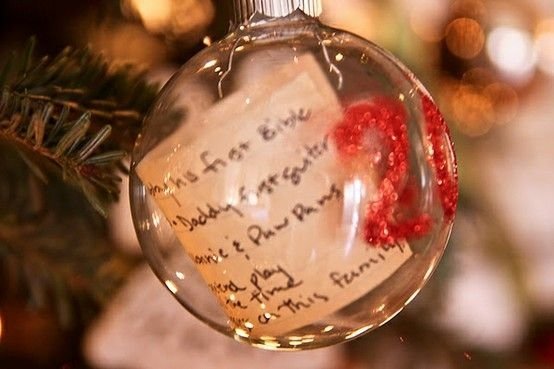 Source: Fifteen Homemade Christmas Ornaments - ...
What a charming idea!
---
20

Indoor Snowball Fight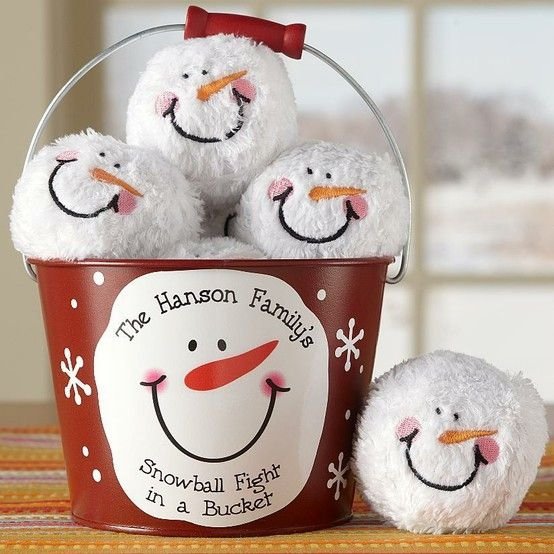 Source: DIY Snowball Fight
Now you don't need to worry if you don't have a white Christmas.
---
21

Reindeer Food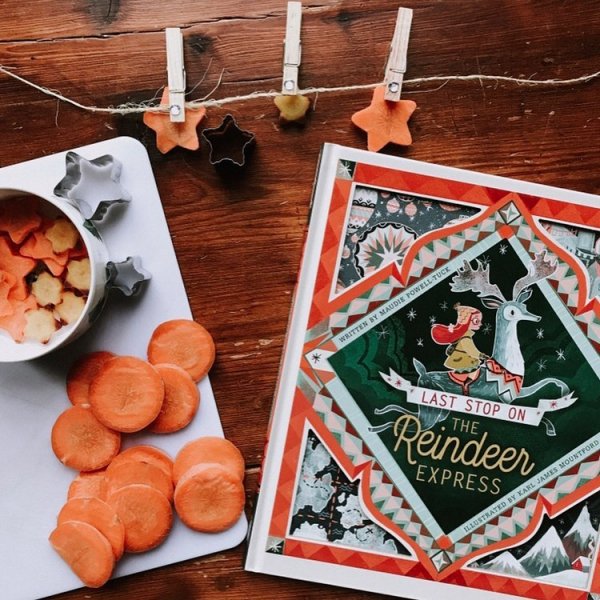 Source: Magic Reindeer food with FREE ...
Make a new tradition of taking the kids out to sprinkle magic reindeer food on the lawn on Christmas Eve.
---
22

Light a Candle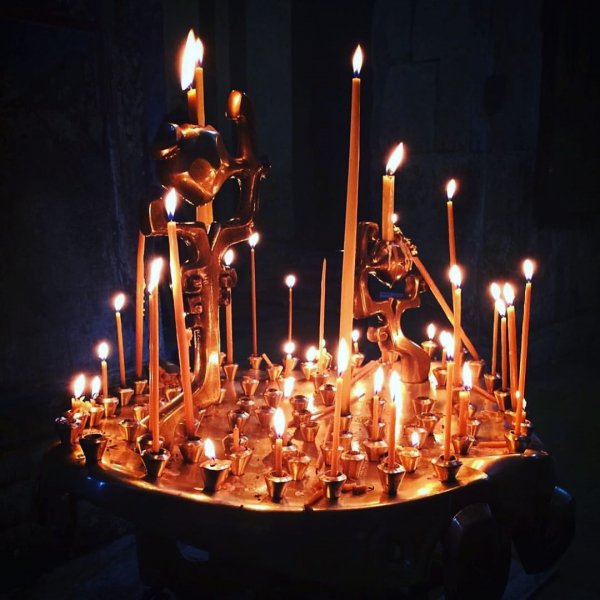 Source: Celtic Christmas Traditions
The placing of a lighted candle in the window of a house on Christmas Eve has a number of purposes but primarily it is a symbol of welcome to Mary and Joseph as they traveled looking for shelter.
---
23

Photo-books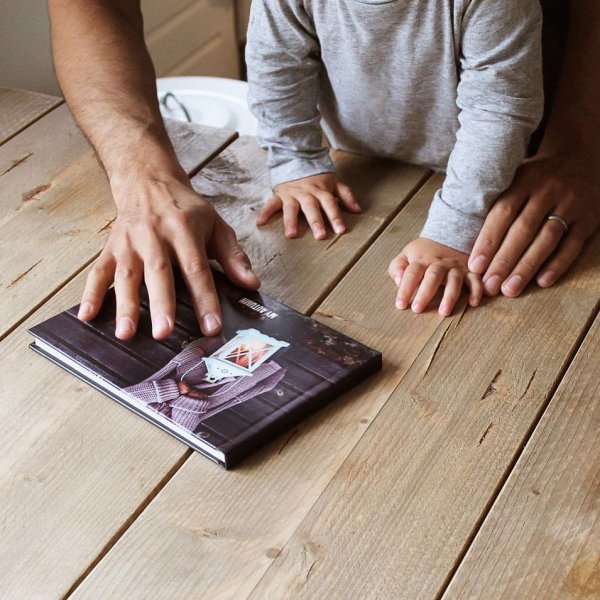 Source: Self Esteem Gift Books from ...
Give your children photo-books every year about themselves and the year they've had and the people they are becoming! A great self-esteem boost and a wonderful keepsake.
---
24

Write a Letter to Your Child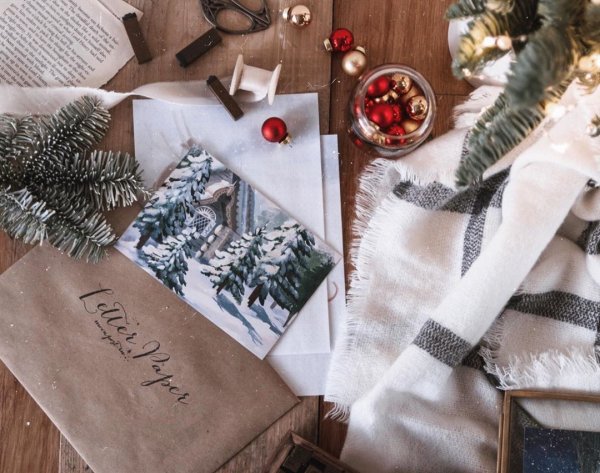 Source: Christmas Traditions- Write a Letter ...
Say all those things you never find time to say throughout the year.
---
25

Matching PJs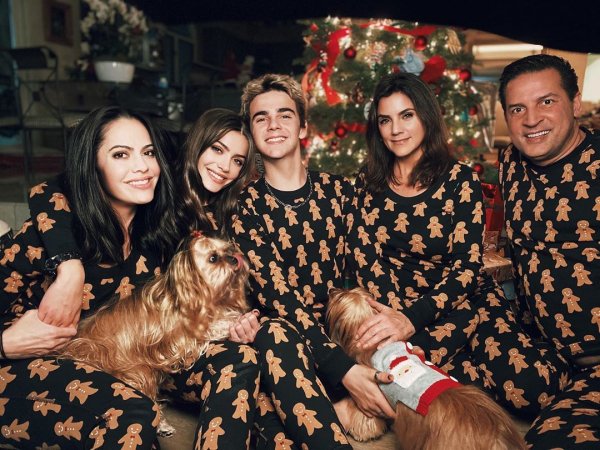 Source: Family Christmas Pajamas: Matching PJs ...
Is anything cuter than you all looking the same on Christmas morning?
---
26

Busting through Gift Wrapped Doorway to Get to the Tree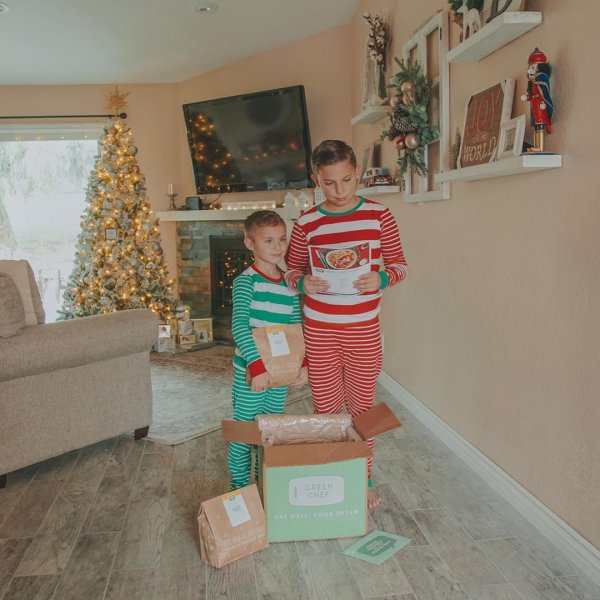 Source: Christmas Traditions: Gift Wrapped Doorway ...
Not much can match the excitement of children on Christmas morning.
---
27

Christmas Gingerbread House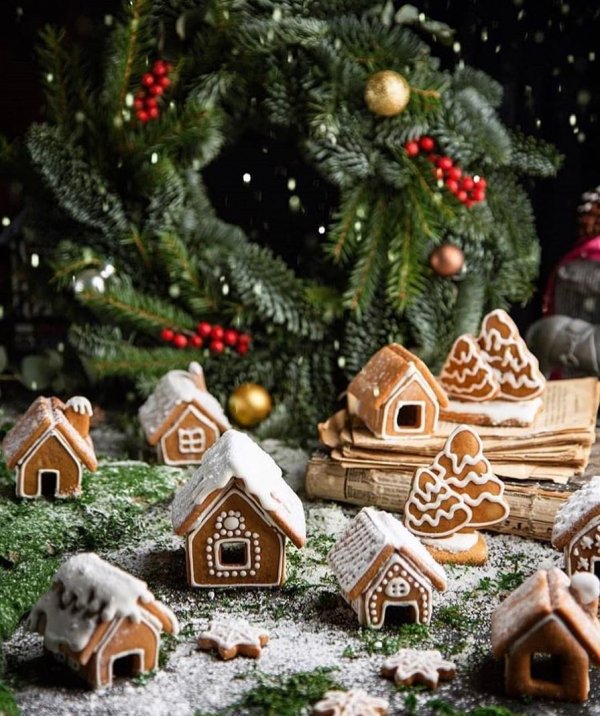 Source: Unavailable Listing on Etsy
If you've never made a gingerbread house, maybe this year is the year to start.
Any of these appeal to you? If not, don't worry. Search Pinterest for Christmas traditions and you'll be overwhelmed with ideas. Or if our readers tell us of their own traditions there might be one there you want to adopt. Please share!
---
Comments
Popular
Related
Recent