There is nothing like photographs and pictures to transform a house into a home. Framed or not, photographs bring a special kind of warmth and love to any space. Personally, I can never have enough photos around the house and am constantly looking for ideas and inspiration for my walls. Here are 13 photo walls that I think are absolutely perfect and will definitely inspire you!
---
1

Eclectic Wall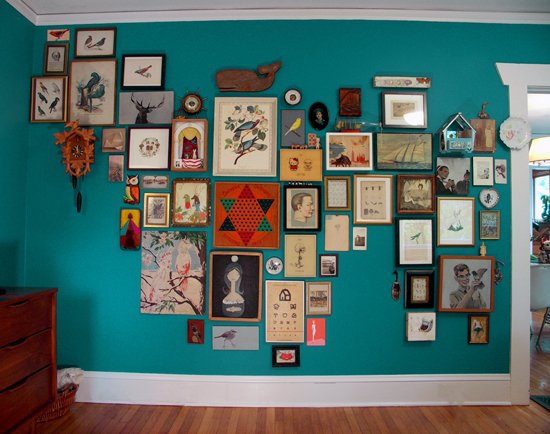 This is different than your usual photo walls, but I love the idea of having more than photographs up. Along with photos, you can have favorite art prints, souvenirs from travels etc, and make it a focal point of your home.
Source: poppytalk.com
---
2

Square Frames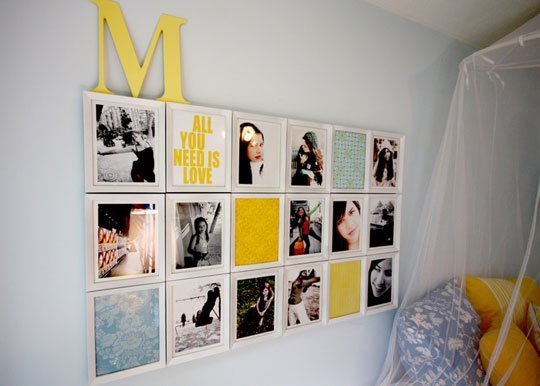 Photos, prints, quotes and color. Customize your photo wall using frames of the same size to bring a pleasing symmetry to your room.
Source: apartmenttherapy.com
---
3

Symmetrical Photo Wall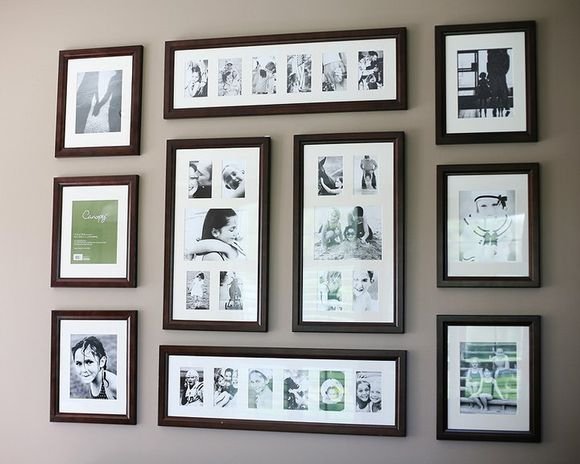 There is something old school and classically pretty about a photo wall that has photo frames organized in a symmetrical pattern.
Source: abowlfulloflemons.net
---
4

Squares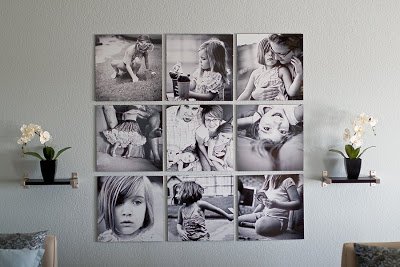 Another classic photo arrangement, this style never ceases to look good. You can do black and white or color and you'll always create a stunning photo wall.
Source: myhomeinspiration.blogspot.in
---
5

Colorful Mini Picture Frames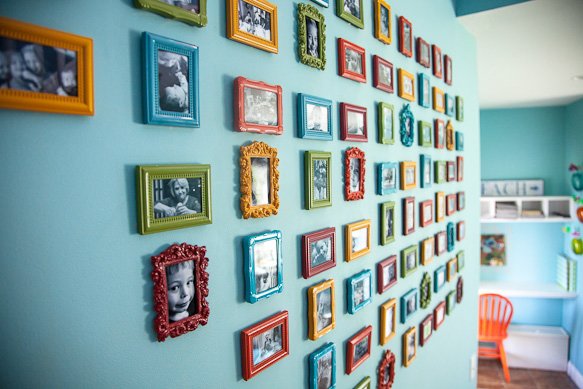 How delightful is this photo wall? You can DIY this wall by painting small frames in any color you want and hanging as many as you want! Absolute love, this is!
Source: craftionary.net
---
6

Stacked Photos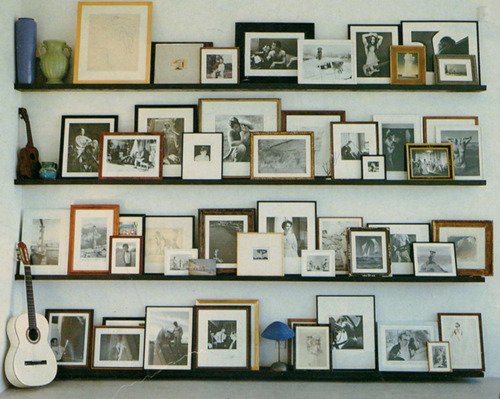 Instead of hanging frames on the wall, stacking them up on shelves (artistically, of course) also works very well. You can create quite a striking photo wall that is different from the usual.
Source: homedit.com
---
7

Going Pastel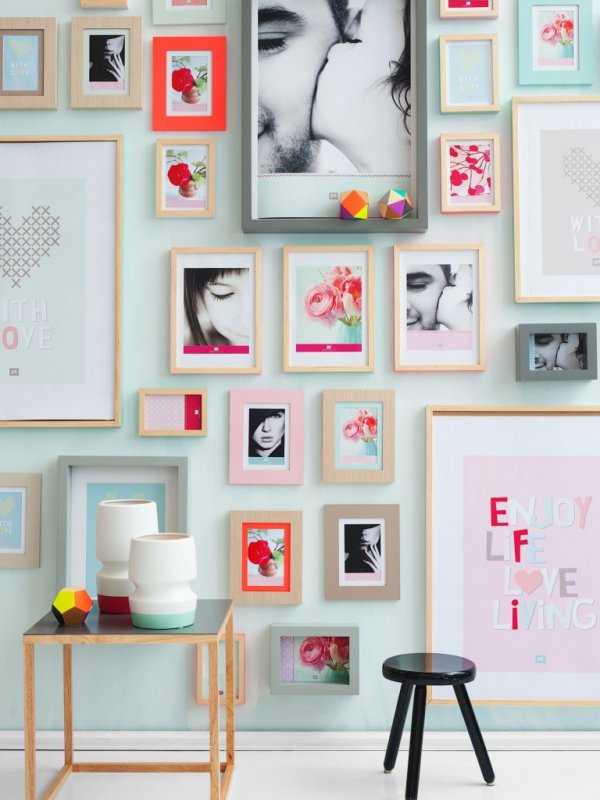 How beautiful is this photo wall? I simply love the combination of light wood frames and pastel colors. Lends a delicate touch, don't you think?
Source: kenayhome.com
---
8

Gold Frame Wall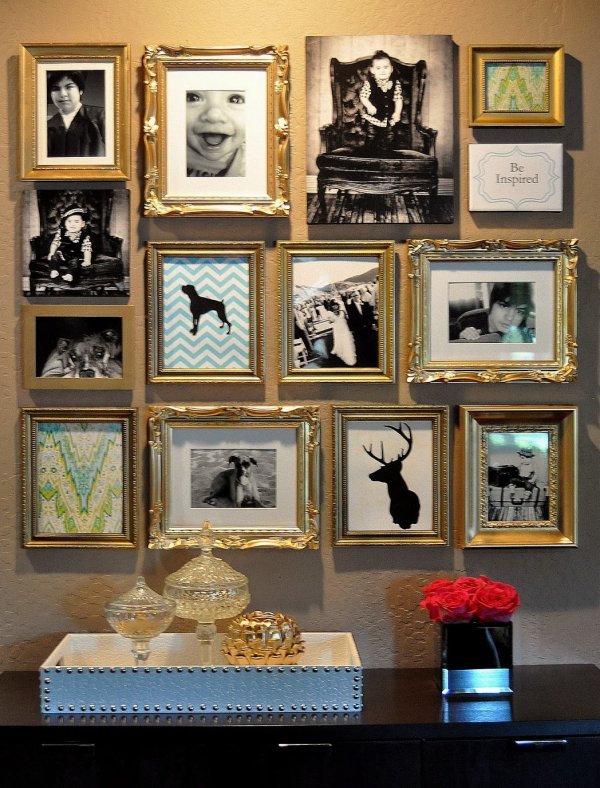 I love how all the various gold photo frames come together to create this gorgeous photo wall! And that little rectangle with "be inspired" is a fun touch to this otherwise elegant wall.
Source: mjginteriors.com
---
9

Instagram Inspired Wall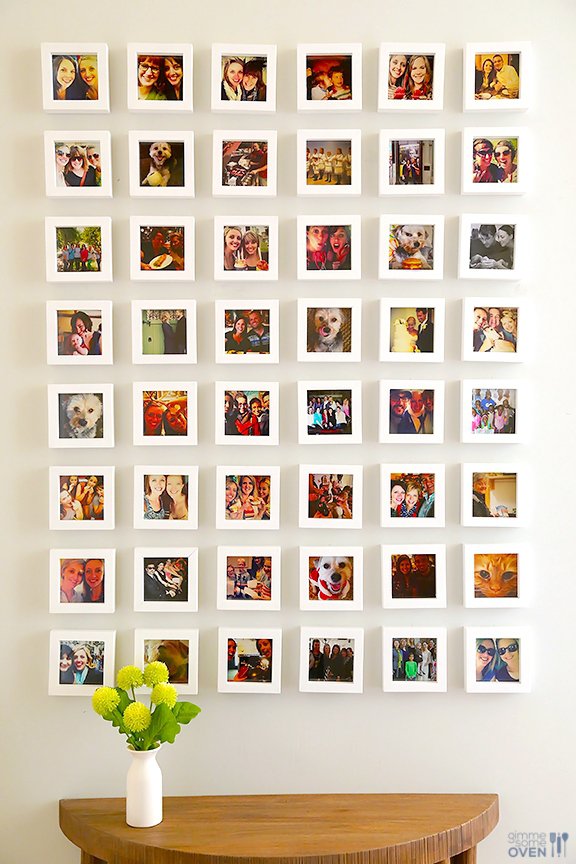 Since Instagram is so popular, it makes sense to have prints of your favorite Instagram photos and dedicate a wall in your house to these. I think the effect of small square frames is quite relaxing, don't you?
Source: gimmesomeoven.com
---
10

Corner Photo Wall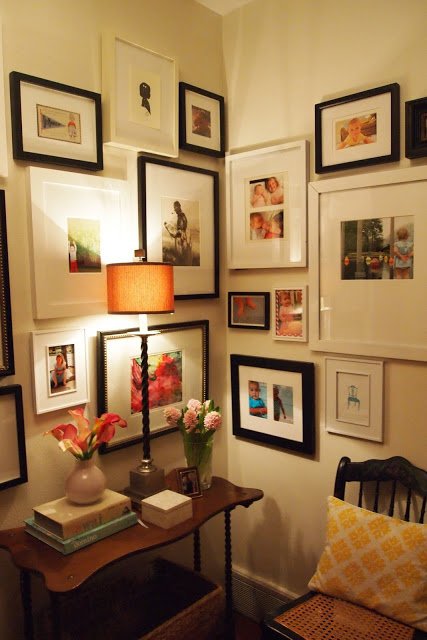 This kind of photo wall is perfect for those small alcoves in your home. It makes for a lovely family corner, don't you think?
Source: thelittleblackdoor.blogspot.in
---
11

Unframed Corner Photo Wall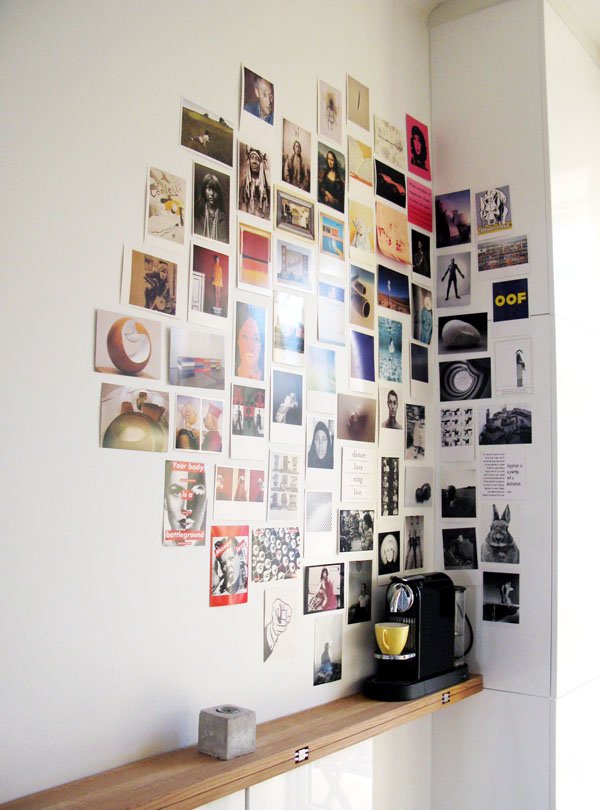 Another lovely photo wall, this time with unframed photos – as pretty looking as any other style, don't you think? And the advantage with this is that you can add photos as and when you want without worrying about positioning the frame right and hanging stuff up.
Source: homedit.com
---
12

Black and White Wall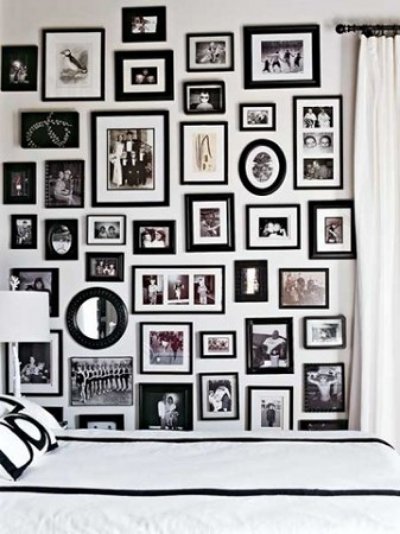 There is something so striking about black and white, yes? And this particular photo wall has been done so beautifully – the combination of a variety of frame shapes, all framing black and white photos.
Source: fromtherightbank.com
---
13

Canvas Cluster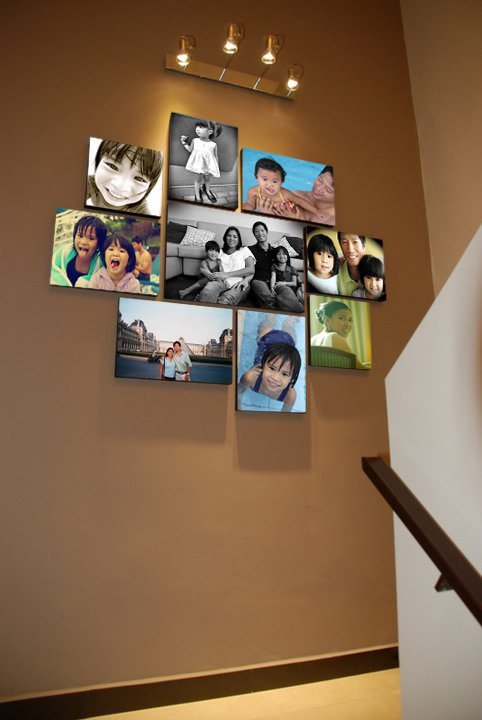 Another attractive way of displaying photos is to put together canvas prints of your photos and bunch them together on your favorite wall.
Source: gallery7.wordpress.com
There are so many different styles in which you can display photos in your home. And with all our photos being digital now, it becomes even more necessary that we take the time to get prints of our favorite photos and surround ourselves with them. Do you have any special photo walls that work for you and your photos?
More
---
Comments
Popular
Recent