Are you looking for ways to brighten up your home? It's that time of year that is all about updating your interiors, and giving your home a fresh new feel. And whether you fancy a whole new décor or just want to make a few quick changes to alter your look a little, there's plenty of trends and styles that you'll adore! Here are my top choices for ways to brighten up your home…
---
1

Just Add Green…

Green is THE color of 2013, and that's great news for interiors! As well as being a very fresh and natural color, green is calming yet eye-catching, which makes it a great choice for walls. For walls, aloe is the best shade of green to go for: it's youthful, sophisticated and breezy, and it looks amazing in a room with some emerald green accent pieces such as throws, glassware and vases! Giving a room a brand new paint job, or even just painting a feature wall green, are both great ways to brighten up your home.
---
2

Go on Safari…

I'm loving all the animal prints and patterns that are around at the moment! African prints have definitely taken over from floral this season, and these bold colors and textures are an ideal way to freshen up a room. Choose a few quality accessories such as paintings, curtains, pillows, blankets or sculptures to create a really statement look, and go for a blend of rich rainforest shades, vibrant sunrises and soft savanna inspirations. Versatile and very chic.
---
3

Metallics…

Give your accessories some extra pop by opting for metallic colors. To really own the look, opt for gold and brass pieces with a really warm, golden feel. From vases to clocks and photo frames, the shimmering, warming feeling of these pieces is enough to give your room a whole new personality without changing that much at all. Pillows will metallic embellishing are another great way to get the look.
---
4

Geometric Contrasts…

Geometric patterns might have been big in 2012, but the trend is still going strong. Patterns with a particularly retro feel are perfect for adding a touch of this season to your home, so try using a high-contrast rug, or investing in some gorgeous geometric lampshades. For a bolder look, choose a striking geometric wallpaper and create an accent wall.
---
5

Rock Your Flowers…

Make like an interior designer, and use carefully created accessories to brighten up your home and show off your personality. An African-inspired bowl filled with bright lemons or tangerines is inexpensive and cute, and fresh flowers around your room will give instant illumination. I've got a few big colorful flower heads resting on a bowl of pot pourri at the moment – an accident, but it makes a lovely display!
---
6

Renew Your Shelving…

Give boring shelves a boost by wallpapering the back using a bold wallpaper. Big floral prints are perfect for this, but using a bold shade can also work well: bright pink behind black shelves is timeless yet modern. It's much easier and quicker than you'd imagine, and it can make a big impact on your room. To draw attention to the new pattern, position lamps to illuminate the back of the shelf and work as side lights.
7

Don't Shy Away from Color…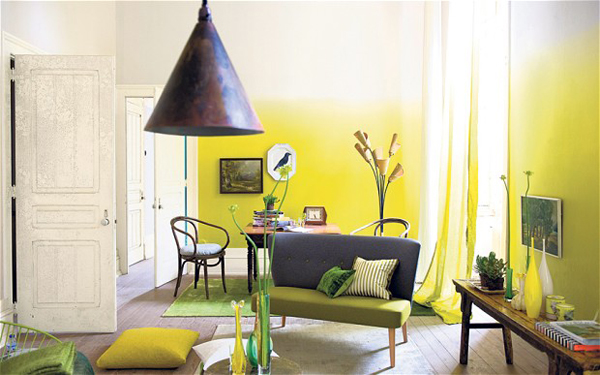 How gorgeous is this room!? I love the yellow-washed walls, the green rug and sofa, and the yellow and green accenting around the room. The exotic flower in the corner and bird-print plate on the wall are great finishing touches, and a mix of pillows and cushions makes any home welcoming. Copy the style by opting for accessories and furniture in bright shades – neutral colored furniture can be constantly updated with brightly colored accessories to match your mood and the season. It's one of the easiest ways to brighten up your home.
Finally, make sure you've got plenty of light. If your room could do with a boost in light, try adding big mirrors to create the illusion of a bigger space, and positioning them opposite a window to reflect the light around the room. Brightly colored curtains in a light fabric are ideal for making the most of light, and really showing off the other ways to brighten your home, too. Have you given your home a bright new makeover? I'd love to hear your tips!
---
Comments
Popular
Related
Recent