Do you need some help thinking up some ways to make over your home office? Having a home office can be challenging because it's part of your home, and your workspace might not be thought of as an office like it would be at a workplace. Whether you occupy a small space or have a whole room to work in, I've found seven simple and sensible ways to make over your home office to make your work area much more enjoyable and functional!
1

Install Shelves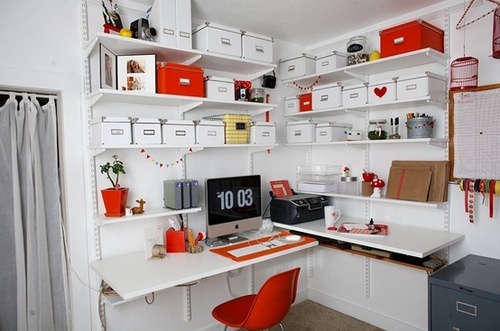 One of the best ways to make over your home office is to install some shelving. Installing shelves also creates more space for those working in cramped quarters and can help keep your organized. Shelves also help create more storage up and away so it doesn't accidentally get mixed up with family members' things or things for your home. Browse hardware stores to get basic, affordable shelves. If you're looking for more decorative shelves, check out home furnishing stores. If you don't want to install shelves, look into floating shelves!
2

Buy Multi-purpose Furniture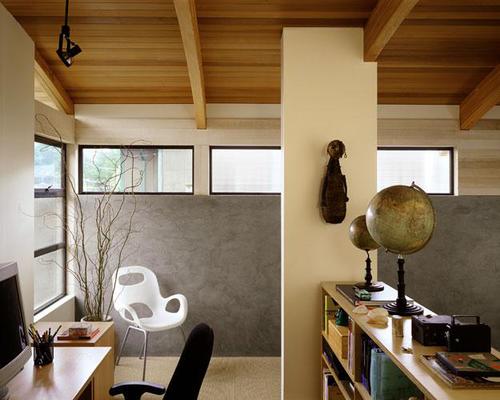 When you're looking for ideas on decorating a home office, look for furniture that multi-tasks. Look for a bookshelf that'll double as a wall or boundary or a decorative trunk that you can store work items in and you can use to display items on top. Buying multi-purpose furniture helps you get more storage space and work space. It also helps your office look less office-like and creates an attractive yet functional space to work in.
3

Add Lights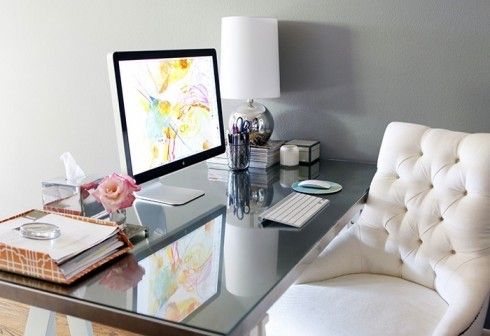 Sometimes the lighting in our homes is sufficient for leisure activities but it's far from adequate when you want to get work done! If the overhead lighting is insufficient, think about adding a bright desk lamp. Also, think about the placement of your desk so that you're not bothered by glare from the lights or windows.
4

Add Some Cork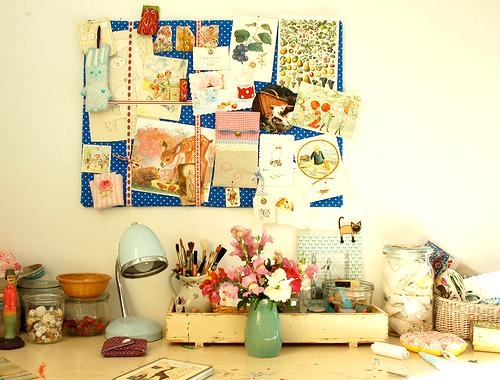 Another home office tip to think about is to consider adding cork to some of your wall. Adding cork to the wall creates more space to keep important phone numbers and reminders nearby or you can use it as an inspiration board to keep your creative juices flowing throughout the day. This is another way to create a boundary to differentiate your workspace from the rest of your home.
5

Invest in a Good Chair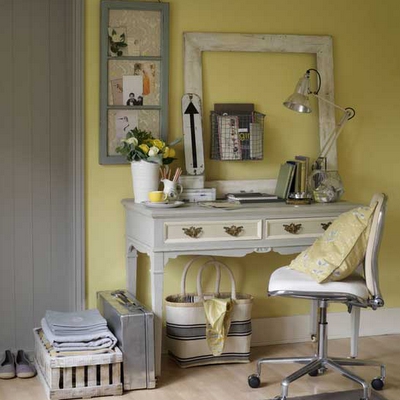 Office chairs can be on the pricey side but there's a reason why corporations invest in them. Good quality office chairs offer proper padding, support for your back and help keep you comfortable, which can keep you productive. Chairs in your home might be comfy for a couple of hours but they aren't appropriate or comfortable for long hours of work.
6

Bundle up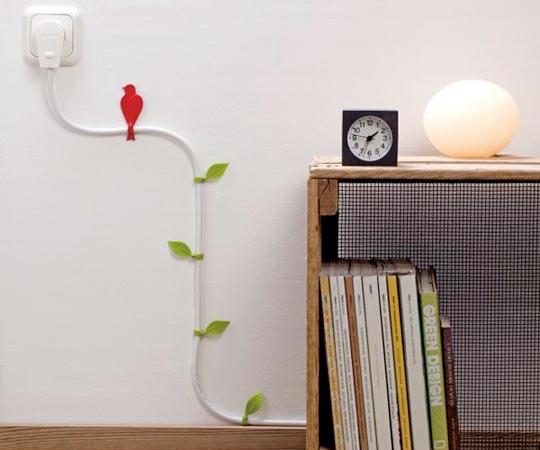 If you have a lot of electrical cords around your workspace, try bundling them, camouflaging them with a cord organizing product or tucking them behind a piece of furniture to keep them out of your way. If you don't really have the option to hide the cords and you have the wall space, another option is to use them as decoration! Embrace your electrical cords and create a design!
7

Add Some Color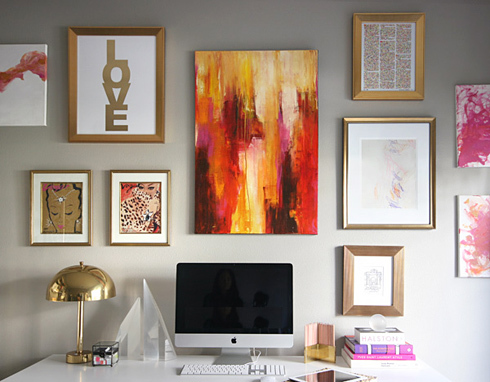 Lastly, when you're decorating your home office, don't be afraid to add some color! You have the luxury of not having to work in a boring old cubicle, so why not take advantage and add some art or other fun décor that showcases your personal style and tastes? So long as the item isn't distracting or in your way, have fun with your home office!
If you work from home, these simple ideas on making over your office can help create a more comfortable, attractive space to make working much more pleasant! The biggest challenge in decorating a home office is being able to strike the perfect balance between functional and stylish. Do you have any home office decorating tips?