I love learning about** handmade products** and people who love what they do for a living. When you make something by hand and you share that gift you bring happiness to others and inspire the rest of us. It might be difficult at first to open a shop, get your feet off the ground, and start earning some money, but when you have that gut feeling that you are doing the right thing by following your dreams and passion, the money comes second to mind. I'm so excited today to share with you the whimsical and adorable Etsy ShopRed Marionette...every item is handmade with love and thoughtfulness from Kelli. So continue reading for 10 things to learn about Etsy Shop Red Marionette, I promise you'll be inspired too...
Getting to know Red Marionette...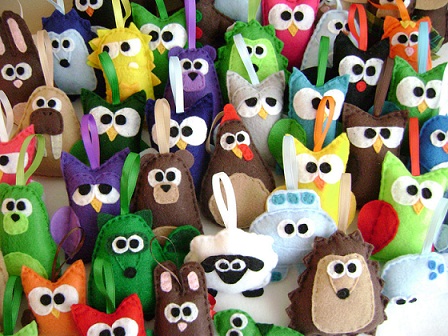 **1. When did your adorable characters begin, how did you come up with the pattern? **
"I started sewing finger puppets and ornaments in 2008 and they evolved from there to the items in my shop today. I wanted to use basic shapes and keep it simple yet communicate a personality in each one."
2. I see you have different designs, from wreaths and ornaments to fabric wall art and holiday stockings, where do you think your characters will take you next?
"I am developing new ideas for home decor all the time that are more year round items. I have some more mobile ideas I would like to flesh out next year and constantly adding to the menagerie of critters I have in stock."
Where Her Inspiration Began...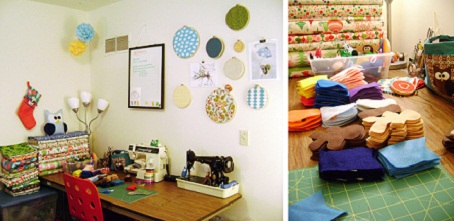 **3. Did you always love to sew or did you learn to get into it after you were inspired to create your designs? **
"I had always machine sewn items growing up. One year I got ambitious to make a Halloween costume and didn't have my own sewing machine at the time. I hand stitched nearly 90% of it. The repetitive motion and seeing progress from my own hands was addictive for me. I discovered that hand sewing the felt critters was a stress relieving, tactile, and creative experience that I really enjoyed."
**4. What inspires you to create these sweet little creatures? **
"I love all aspects of the animal kingdom and I think it is such fun to bring bits of it in to a home in a whimsical way. Growing up I remember my grandparents had ornaments that were felt and hand stitched that had been passed down. I wanted that keepsake feel to these items as well, yet with modern colors and quirkiness."
A Few of Her Favorite Things...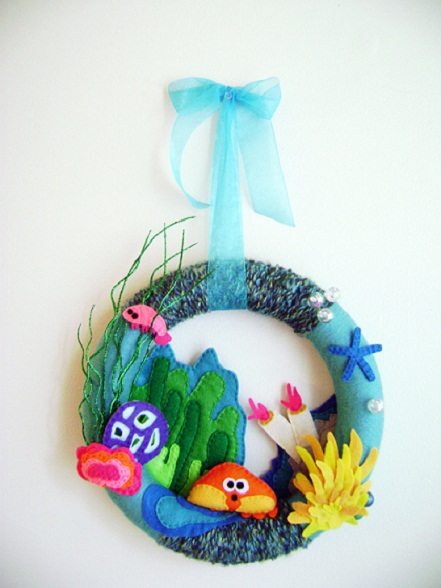 5. What are some of your favorite pieces?
"I really enjoy the background wreaths that I introduced this year. I haven't seen anything like it before and I get to put my characters in to a little scene they can be a part of. I intend to design many more styles over the next year such as a forest one, a wintery scene and another autumn version."
6. What are some of your most popular pieces?
"The ornaments and tree skirts have always been the best sellers."
Continue Reading...
Designs for Parents, Children, and Everyone to Enjoy...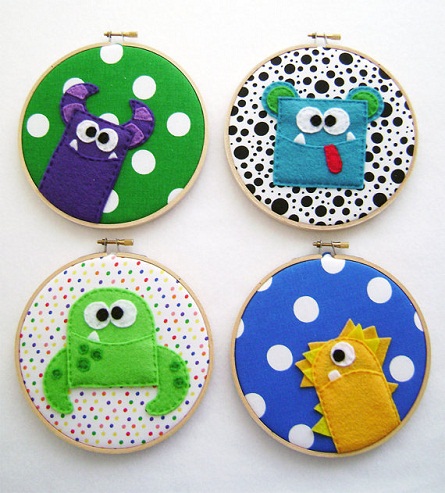 7. I see you have a lot of kid and baby friendly items, did you start out with the idea of reaching out to moms and designing for them or did that come later?
**"** I designed all items with parents in mind. Something that the children and the adult would enjoy. The descriptions and personalities of each critter lean towards pop culture references and most would be best understood by the parent, but the actual item is designed for all ages to use for many years."
8. Is this your full time love or is it more of a hobby that you fell in love with?
"For many years it was my second full time job. This year it has become my only full time job. As many people know working for yourself is well over the traditional 40 hours a week though, Its worth every minute!"
Starting and Growing a Business...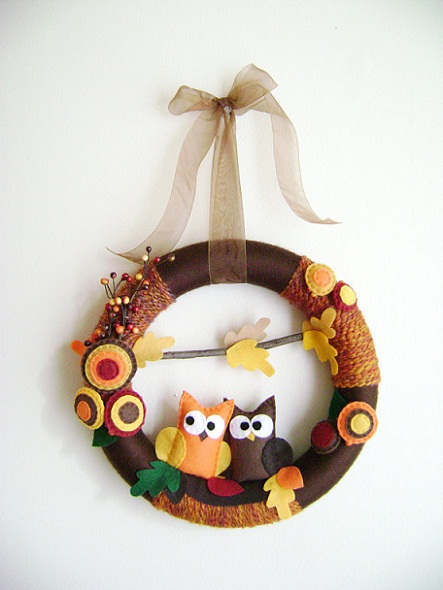 9. When you first started how did you get the word out about your shop and your designs?
"How has business grown for you? I did so much research when I first startedRed Marionetteabout advertising and branding. Growing slowly was the best thing for me. I couldn't afford a big advertising budget at first, so I determined a blog would be worth my time. People love the behind the scenes feel of a blog. Getting to know the person behind the handmade goodies. As time has progressed Facebook has taken a bit more of that role. More importantly than the blog or Facebook, I branded myself. I keep my product look similar throughout my shop, photos are all taken the same way and everything looks like it belongs together. I send a business card in every purchase so word can spread. Word of mouth is a powerful thing. I have been lucky to double my business growth every year."
Standing out and Being Unqiue...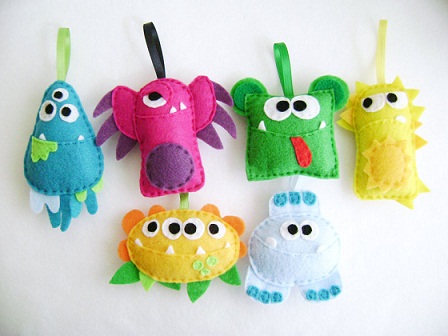 10. There are many character designs on Etsy with owls, birds, etc, how do you aspire to be different, to stand out?
"The overall look of Red Marionette helps with that. I know that if someone wanted to purchase five different things from my shop they would all go together and look like they belong together. I maintain a high standard of quality with my products. Every little piece on each animal is hand stitched, no gluing or machine stitching, which gives it a specific look."
11. What advice would you give to someone hoping to design and sell handmade products?
"Make sure you really truly love what you make. It is a labor of love to be your own boss, marketing agent, designer, accountant, etc. Be prepared with a business plan. Research all options and step forward with your eyes wide open."
We just love the adorable faces on Red Marionette'sadorable characters and want to thank Kelli for sharing with us a look into her shop and how things work. We hope you will stop by her shop to take a look and say hello, you can also find her onfacebook and blogger! So readers, do you make anything handmade or get to go to your** dream job** every day? Share your story with us at All Women Stalk, we would love to hear it!
Photo Credit: Red Marionette