If you're searching for an unusual but fun way to give your home's look an update, we suggest looking into Staircase Makeovers. The great thing about staircase makeovers is that you can go crazy with colors or prints but they would not be as distracting as they would on a proper wall. The DIY staircase ideas below will show you that giving your home a new look is as easy as choosing fun paints, stencils, or wallpaper. So go ahead and turn your stairs into a work of art; you'll love your home even more after you do!
Table of contents:
1

Ombre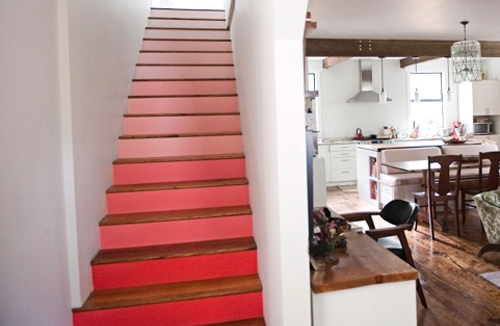 I have had a chance to feature several ombre projects for the home here on All Women Stalk but this particular pink** staircase makeover** may be my ultimate favorite. Why? Because I love the colors and they look truly lovely with the white walls.
2

Stamped Crates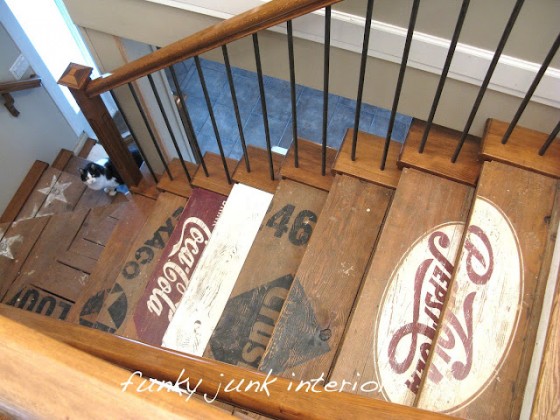 This staircase makeover idea is brought to us by Donna, the genius behind Funky Junk Interiors. Don't you just love her blog? For this project, she transformed her carpeted staircase into something vintage crate-inspired. The AFTER look is truly impressive.
3

Positive Colors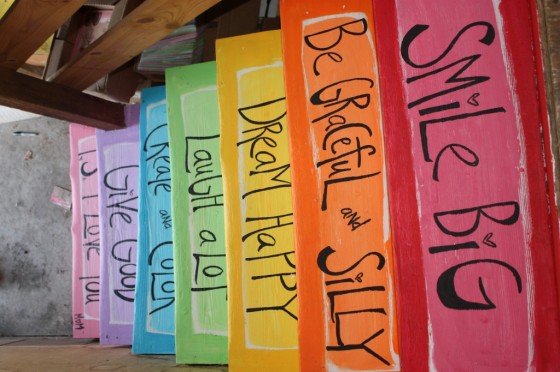 I'm sure you're very familiar with staircases that have positive messages. I'm not referring to staircases that give pep talks; I'm talking about written messages. You can go for this concept if you're thinking of a truly unique stair makeover. I recommend this idea if the stairs are for your kids' rooms or lounging area.
4

Chalkboard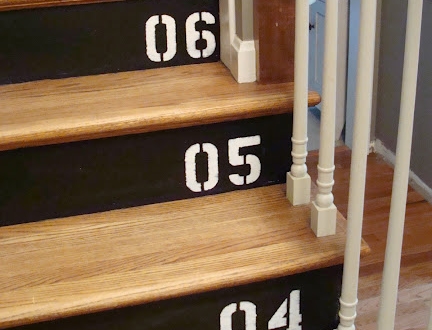 Don't you just love chalkboard paint? I love that it has a multitude of uses and can help you decorate your home in fun ways. For giving your stairs a makeover, for instance, you can paint the risers with chalkboard paint. You can then stencil numbers like what Michelle and Justin did here. Or write messages!
5

Stamps and Stripes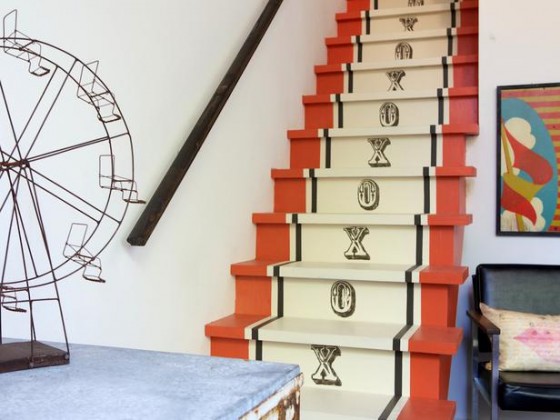 The following staircase DIY tutorial will show you several methods for updating your home's look. If you're thinking of painting stripes on your staircase, this tutorial has fantastic tips. And if you're leaning towards stamps, you'll get great help, too.
6

Wallpaper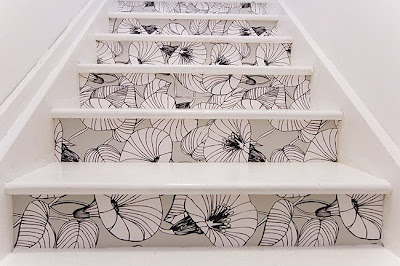 Using wallpaper is probably one of the easiest ways to do a staircase makeover. You simply slap the paper onto the rises and then call it a day.
7

Stencil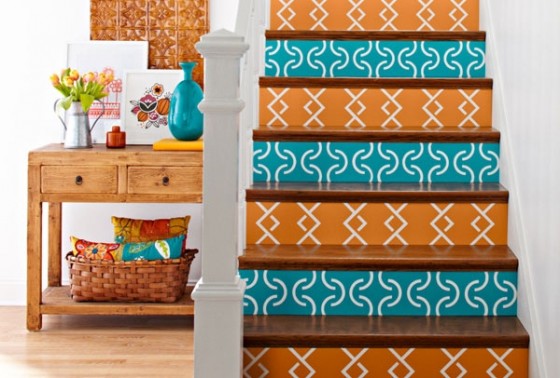 How beautiful! Truly, using patterns and different paint colors can make a narrow or often neglected part of your home pop. Check out Lowe's to see how you can use these stencils on your house's staircase.
8

Tiles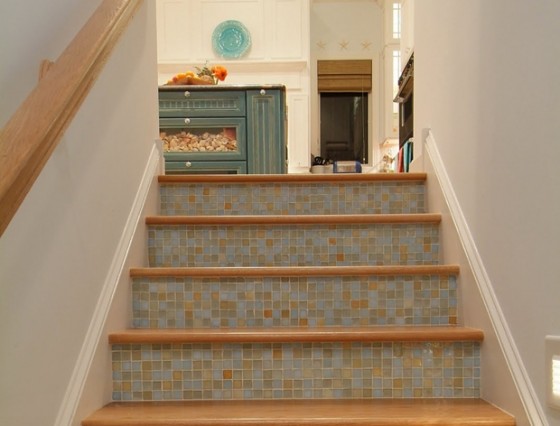 Using tiles on the risers of staircases is not only a fabulous idea, it's also quite affordable. Bonus: you pretty much have endless of options when it comes to the design, pattern, and colors.
9

Candy Stripes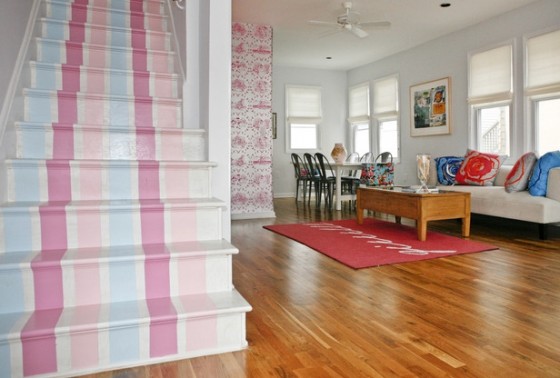 This style is not for everyone but it is no doubt creative. If you don't want to use girly colors, you can opt for shades of gray. The look would be similar to the ombre style but in vertical orientation.
So there you have unique and fun** staircase makeovers**. I hope that these staircase DIYs give you plenty of inspiration for giving your home a quirky (but easy and affordable) new look. Enjoy!
Please rate this article