Do you spend hours looking for stuff around your house? Cut the time in 2, nah, 10, with these mind-blowing home organizing hacks!
We've searched high and low and found these life-changing (literary) home organizing tips from BuzzFeed.com - all added in one place here (minus the hacks with super-blurry photos) for your easy browsing.
Once you are done with these, your house will be the most organized house of them all, srsly, see for yourself, ladies!
Table of contents:
1

Add Extra Bins to Your Fridge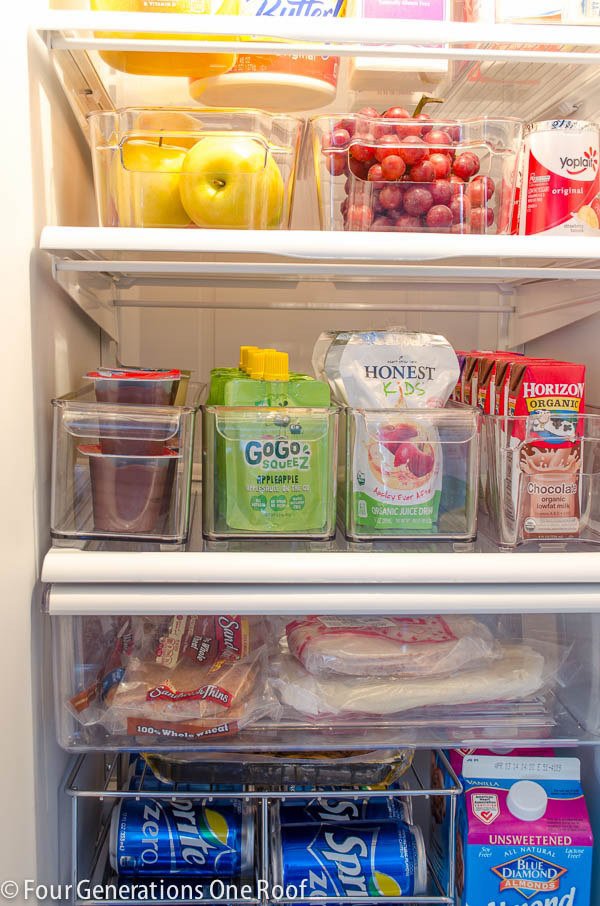 Look at how nice and contained everything is! Get more information at Four Generations One Roof.
2

Make a List Pad and Hang It in the Kitchen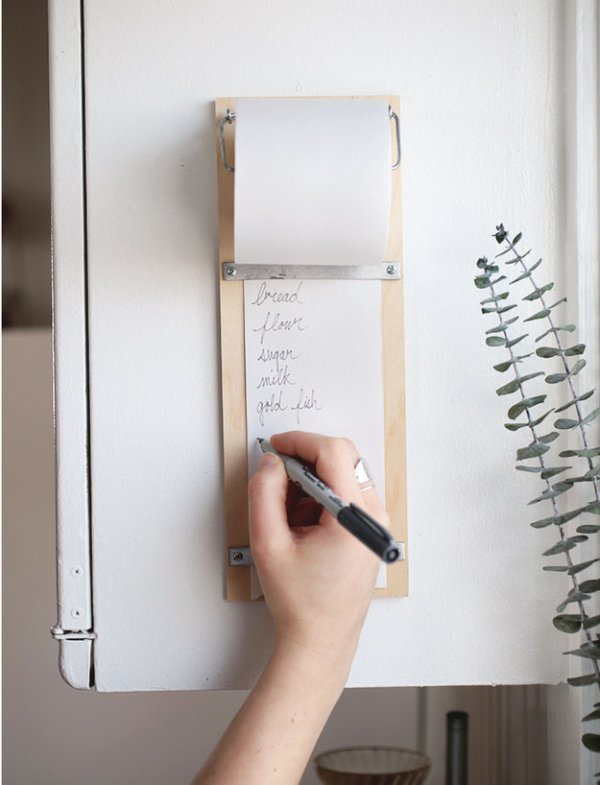 Installing it right beside the fridge is ideal, so everyone (young and old) will remember to add things to the shopping list as they run out or expire. Full tutorial at The Merry Thought.
3

Declutter Your Counter and Move All of Your Utensils over to the Wall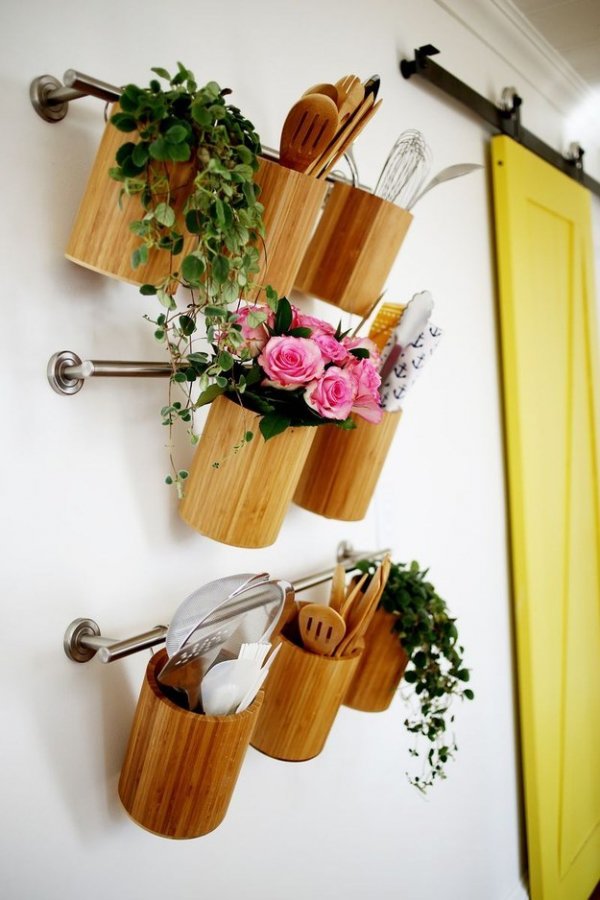 Add a few extra containers for plants (just because they're pretty). Find the full tutorial at A Beautiful Mess.
4

Keep Adult, Child, and Pet Medications in Separate Containers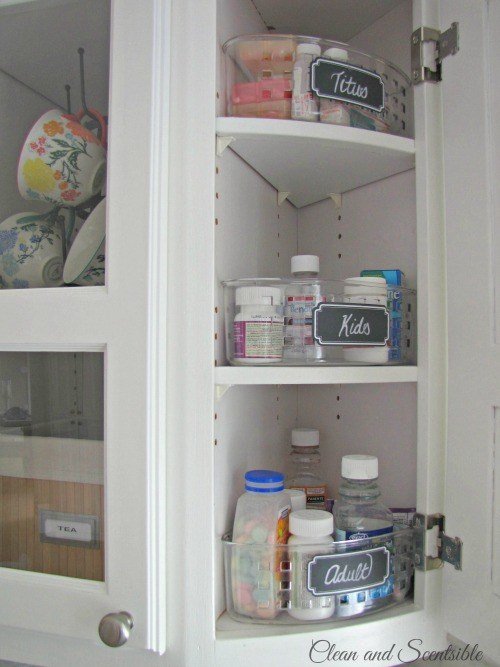 You wouldn't want to mix up your dog's medication with your daughter's. Now you just need to remember to periodically weed out the expired stuff. Learn more at Clean and Scentsible.
5

Store Your Trash Bags on a Roll so They're Easier to Grab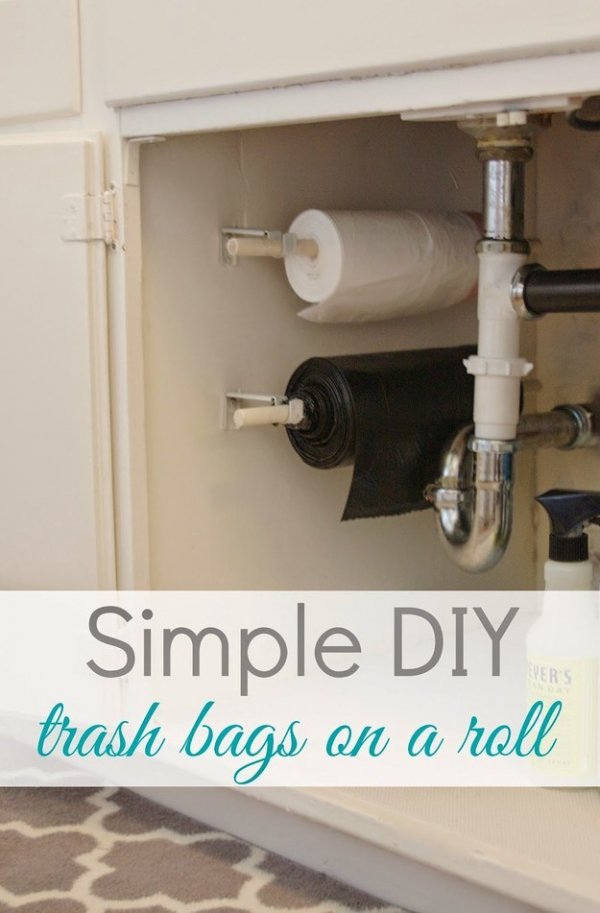 Maybe now your family will remember to take out the garbage. It's worth a shot! Full tutorial at Simply Organized.
6

Put the Cleaning Supplies You Use Most Frequently into an Easily Transportable Toolbox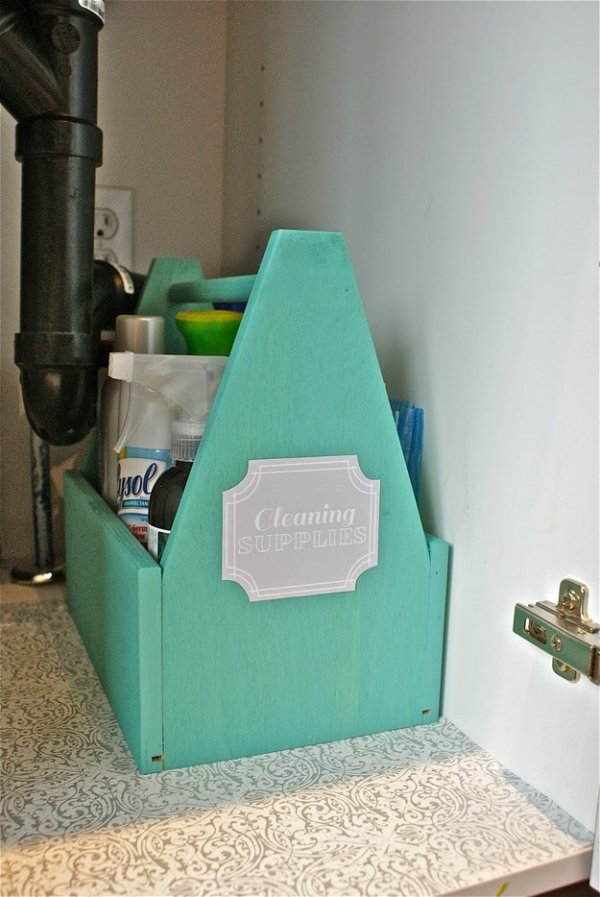 Whenever someone decides to clean, they just have to grab the box and they're good to go. Get more information at The Social Home.
7

Convert a Bread Box into a Charging Station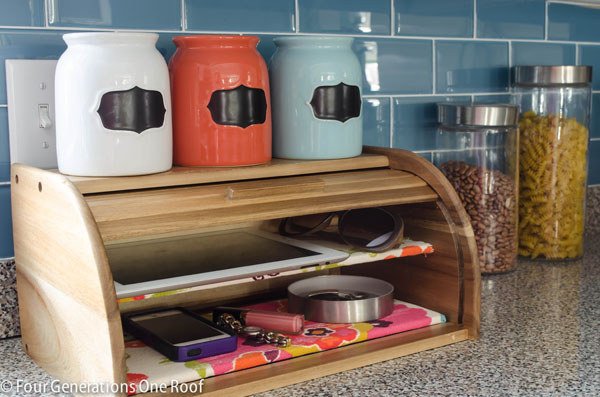 Simply drill holes through the back to thread the charging cords through. Full tutorial at Four Generations One Roof.
8

Organize Your Movies Alphabetically with Plastic Sleeves and Small Tubs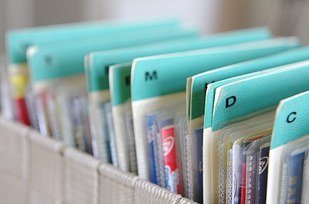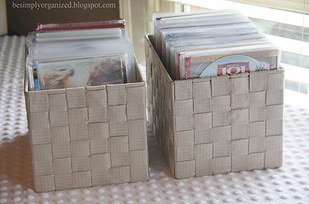 The boxes take up so much space! You'll free up so many shelves and—if you prefer—you could organize your movies by genre instead of title (holiday movies, musicals, cartoons, etc.). Learn more at Simply Organized.
9

Don't Have the Space for a Designated Homework Station? Make an Easily Transportable One Instead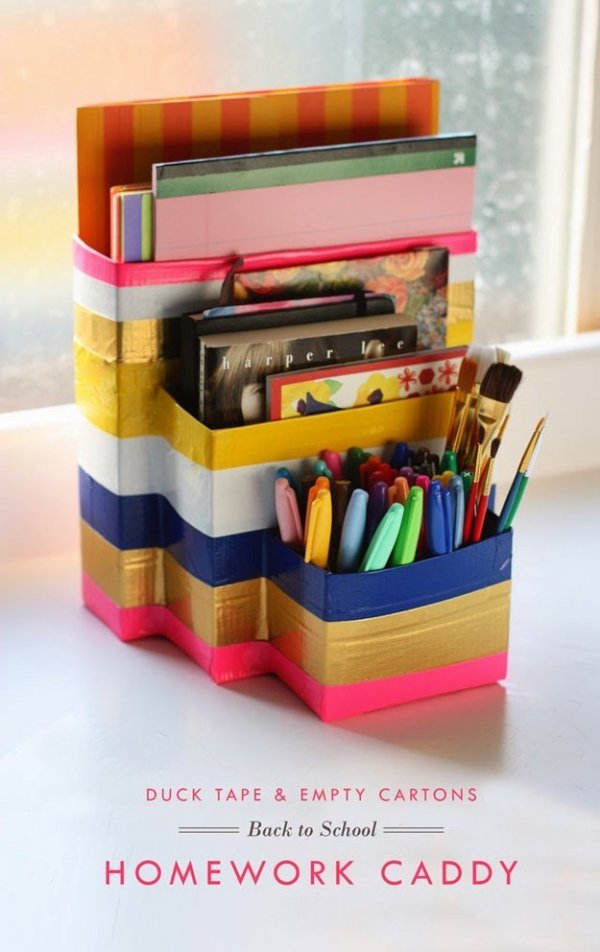 Just the necessities. Learn how to make your own at at Aunt Peaches.
10

Organize the Greeting Cards You Can't Bear to Throw Away Chronologically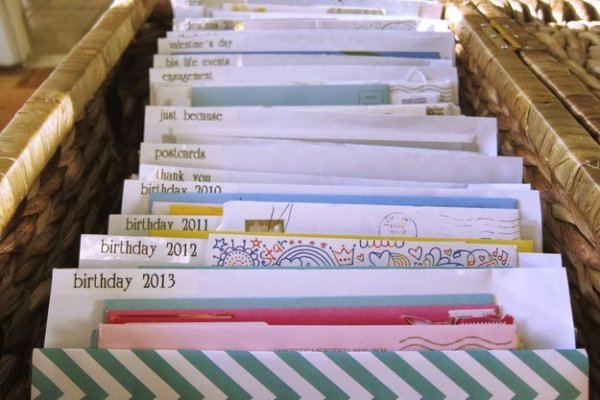 It's easy to keep your sentimental snail mail under control without becoming a hoarder and you can learn how to at The Realistic Organizer.
11

Use Picture Frames to Make Wipe Boards That'll Keep You Organized *and* Actually Look Good Hanging on Your Wall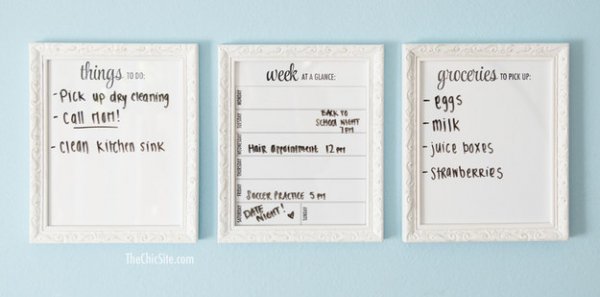 Print out the free templates at The Chic Site and then add them to any 8×10 frames. Hang them in your entryway (so you'll remember what you need to do after heading out the door).
12

Add Storage to Your Entryway with Drawer Knobs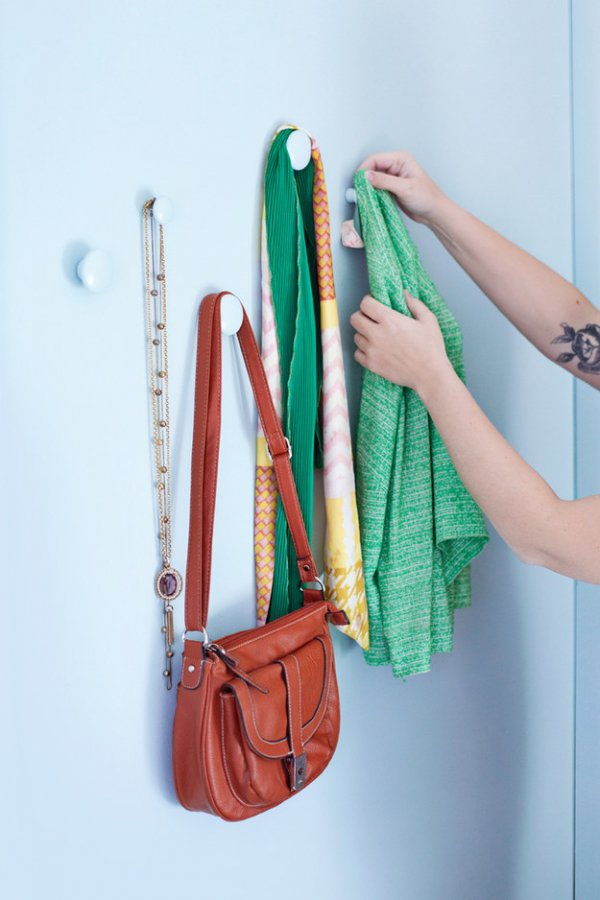 Just add more (and more, and more) as you need to. Bonus: you can paint them to match the wall. Get the tutorial at A Beautiful Mess.
13

Transfer Board Games into Plastic Drawers to save Space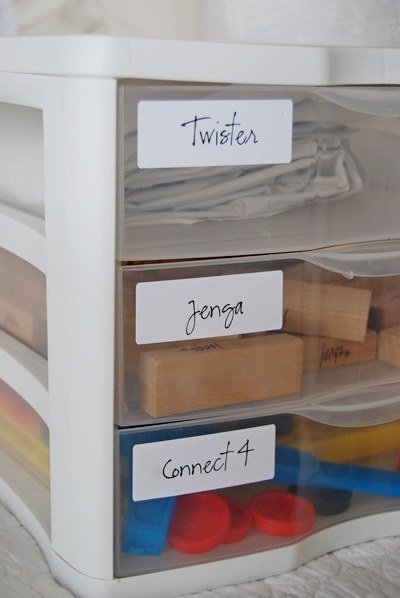 Now you don't have to figure out the best way to stack up dozens of boxes of varying dimensions…plus: you have room to buy more games! Find out more at Raising Lemons.
14

Keep Your Collection of Wrapping Paper Contained in a Garment Bag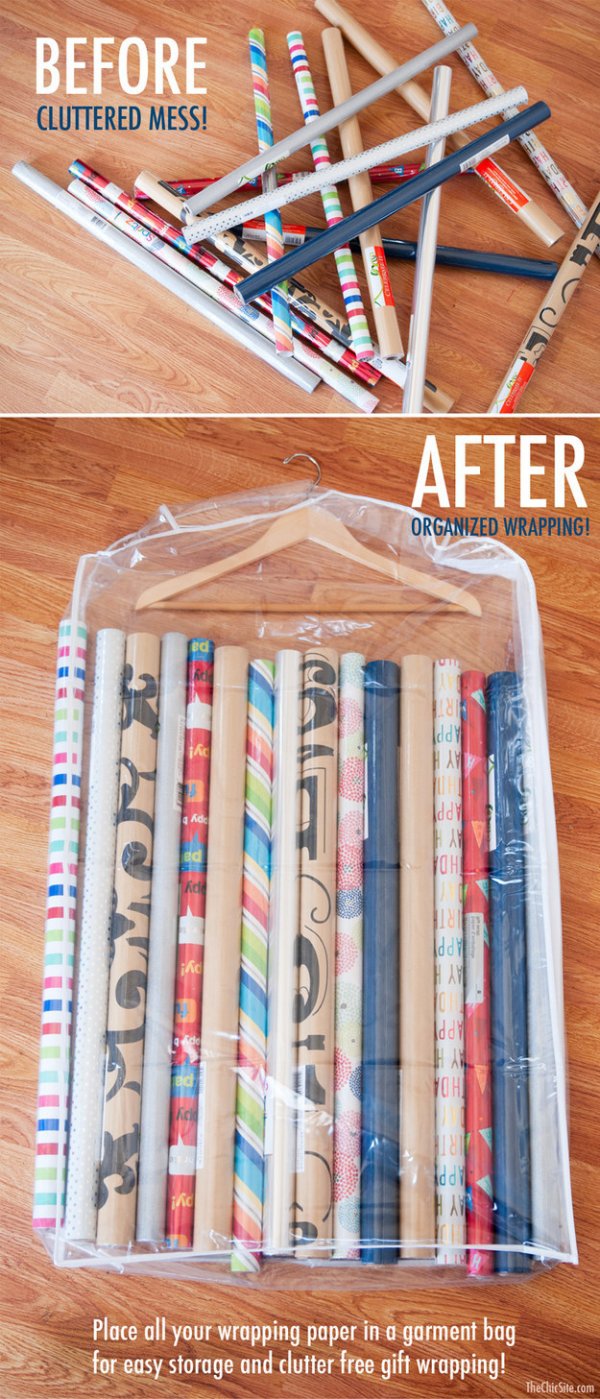 Hang it in a closet (out of sight, out of mind) until you need to wrap something. Learn more at The Chic Site.
15

Add Some "crap Buckets" to Your Stairway to Keep Track of All the Stray Things Family Members Leave around the House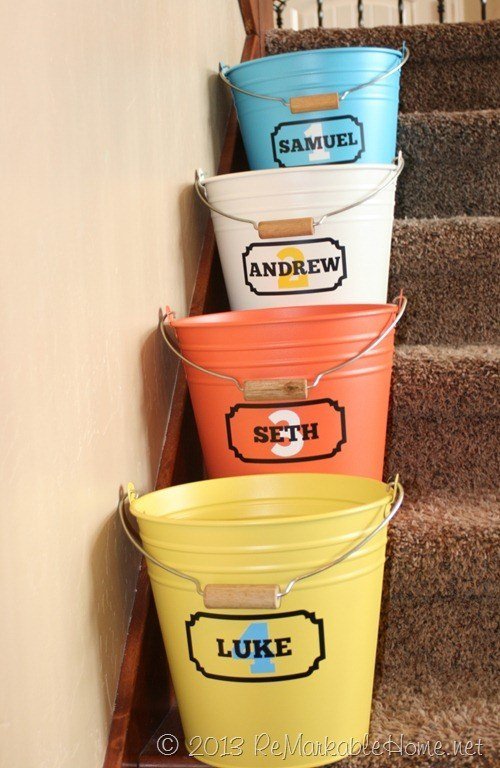 Even good ol' mom and dad could probably use one of these. Empty them out on a daily (or—let's be real—weekly) basis. Get more information at ReMarkable Home.
16

Put Together Outfits over the Weekend and Use Tags by Day of the Week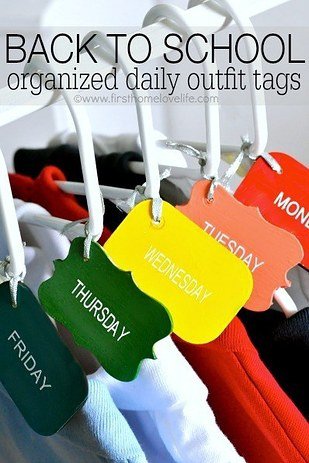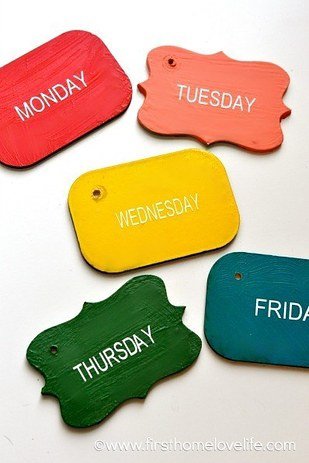 Learn how to make these snazzy wooden daily labels at First Home Love Life.
17

It Doesn't Matter if You Lose a Sock when They're *all* White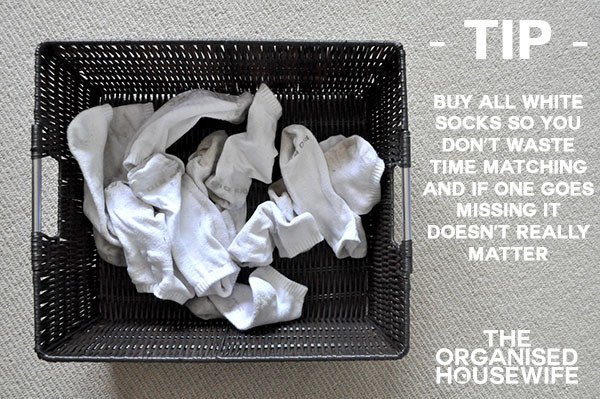 It also makes sorting laundry a whole lot easier. Learn more at The Organised Housewife.
18

An Easy Way to Organize Your Garage = Covering a Wall with Peg Boards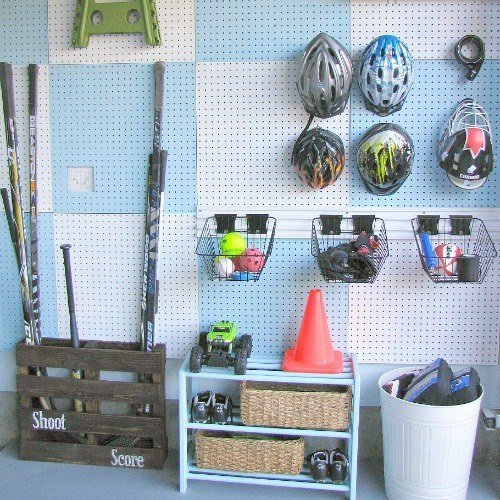 Add some pegs and hang up EVERYTHING! Find out more at Clean and Scentsible.
19

Set up an Outdoor Shelf Stocked with Labeled Buckets to Store the Things You Use in Your Yard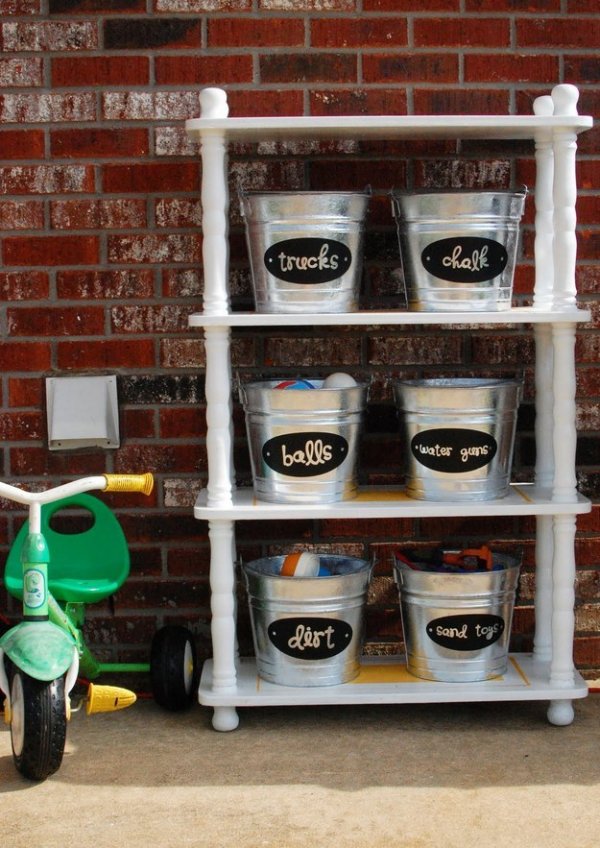 Sand toys, balls, water guns: everything you need to have a good time. Find out more at Random Thoughts of a Supermom.
20

Use a Rail in Your Sink Cabinet for Cleaning Products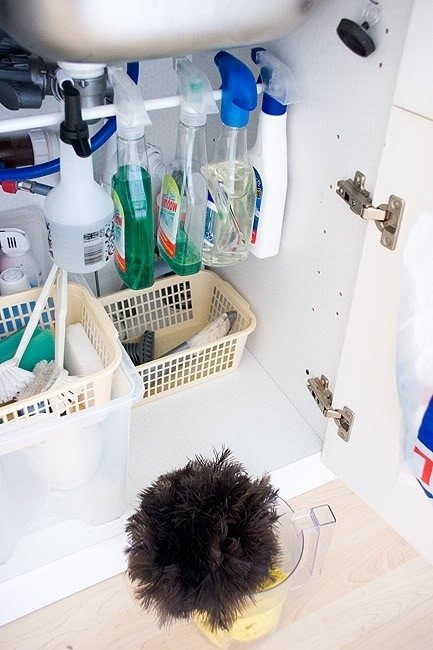 21

Use a Magnetic Rack to Store Knives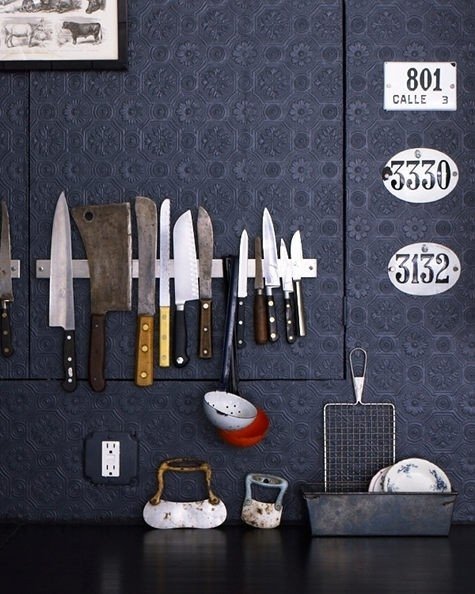 designsponge.com
22

Use Tension Curtain Rods as a Divider for Cupboards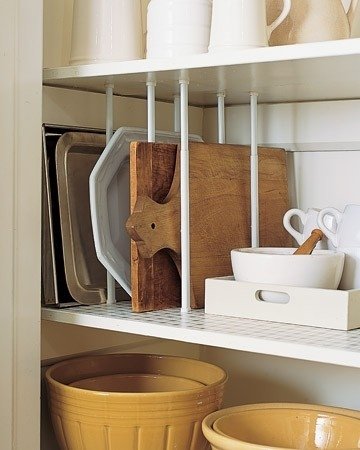 marthastewart.com
23

Store Foil, Saran Wrap, and Wax Paper Rolls inside of a Magazine Rack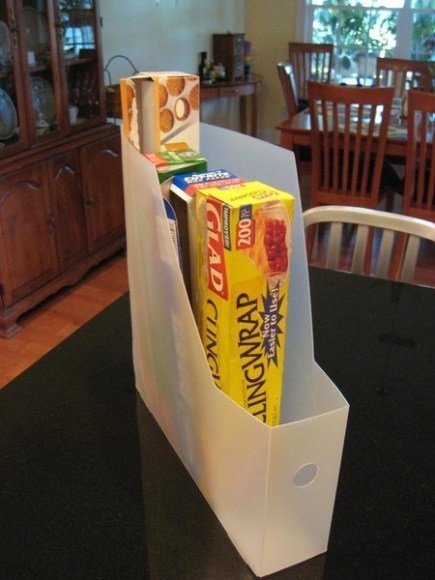 24

Use a Magazine Rack to Store Pot Lids

Short curtain rods work, too.
25

Hang Pots and Pans on the Ceiling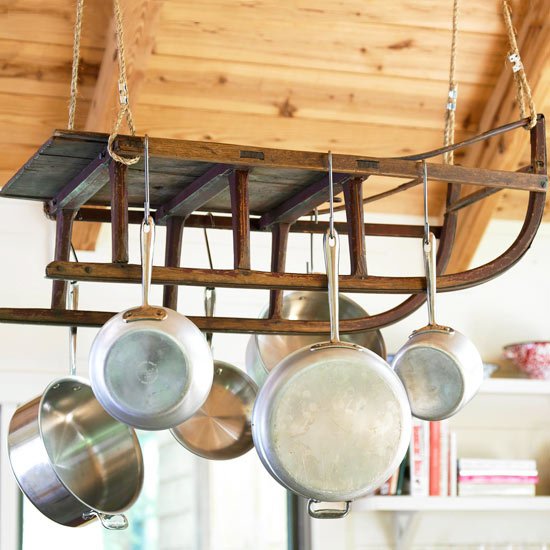 Pictured: a salvaged sled.
26

Attach Magnetic Spice Racks to the Side of Your Fridge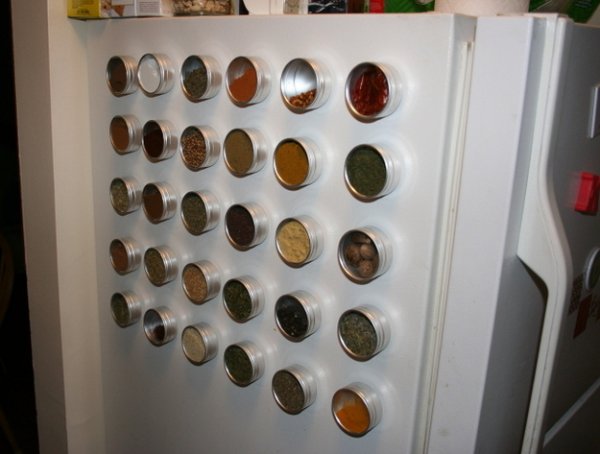 Aaron Williamson
27

Utilize Wall Space to Hang Utensils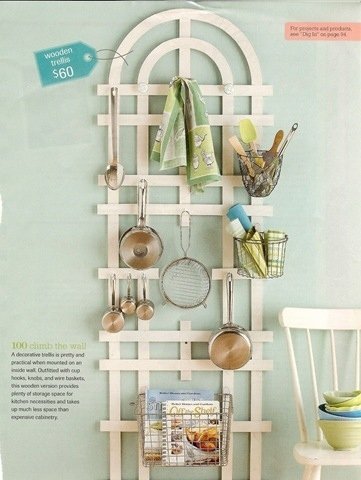 28

Use a Deep Kitchen Drawer to Store Utensils Vertically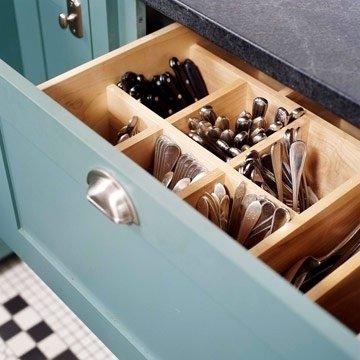 pinterest.com
29

Supplement Your Fridge Storage

You could also use these pull-out baskets to group things together, like fruits.
30

Attach Undershelves in a Cabinet to Take Advantage of Vertical Space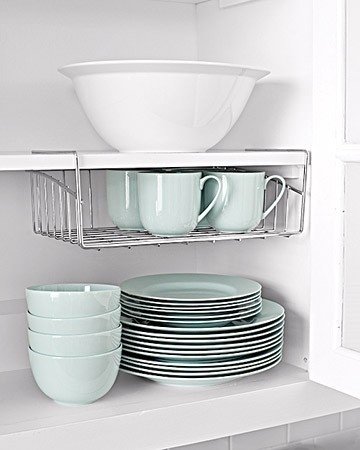 31

Hang Boots with Pants Hangers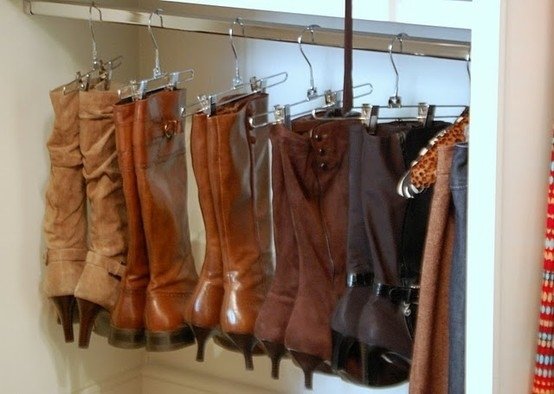 browneidgirl.blogspot.com
32

Hang Shoes on the Wall Using Crown Molding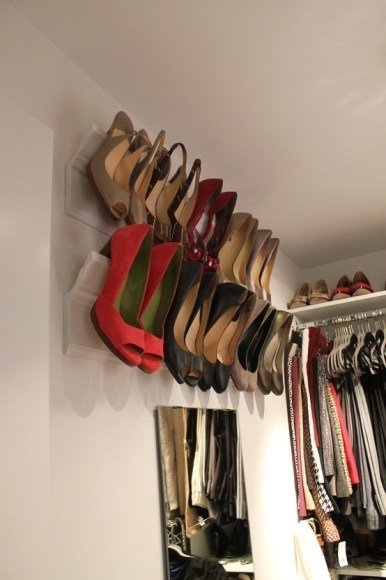 lovelyish.com
33

Label Your Hangers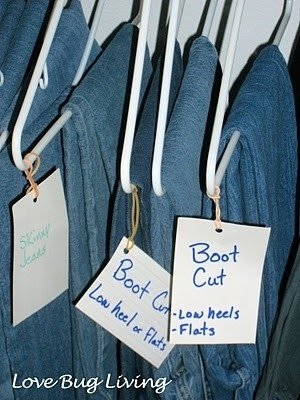 indulgy.com
A good idea if you have multiple items of similar-looking clothing.
34

Use Divider Shelves to Store Sweaters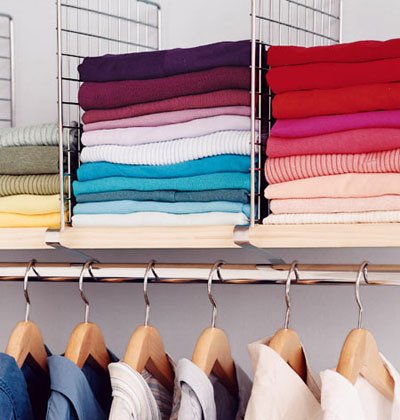 35

Hang Eyewear on a Hanger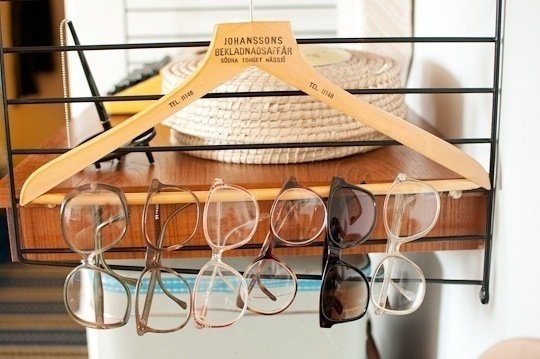 apartmenttherapy.com
36

Use Shower Curtain Hooks to Hang Handbags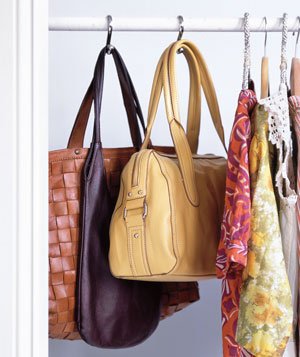 realsimple.com
37

Use Command Hooks to Hang Jewelry on the inside of a Closet Door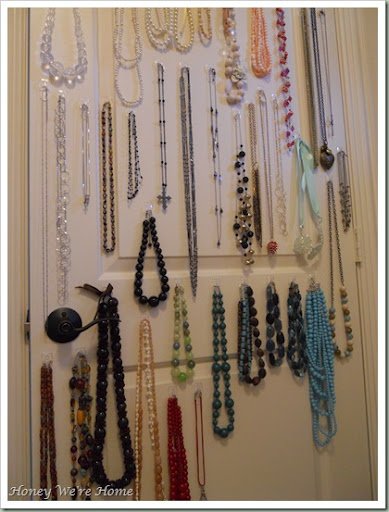 honeywerehome.blogspot.com
Command hooks are sticky adhesive hooks that require no screws or nails.
38

Store Shoes with One Facing Forwards and the Other Facing Backwards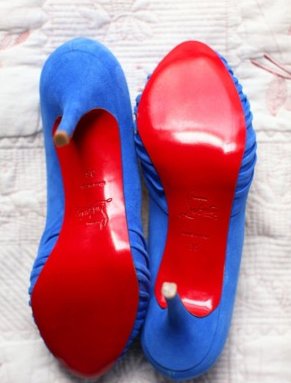 bhg.com
You'll use less space this way. This works most efficiently when the forward toe is the right shoe and the backward toe, the left.
39

Cut up a Pool Noodle and Place in Boots to Keep Them Upright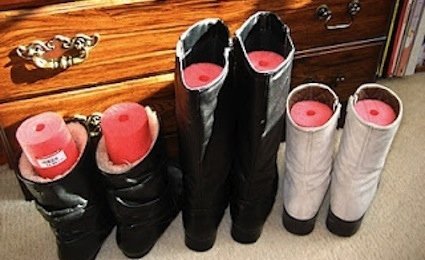 getbuttonedup.com
Keep your boots from falling over in your closet and taking up valuable floor space.
40

Store Matching Sheets inside of Their Pillowcases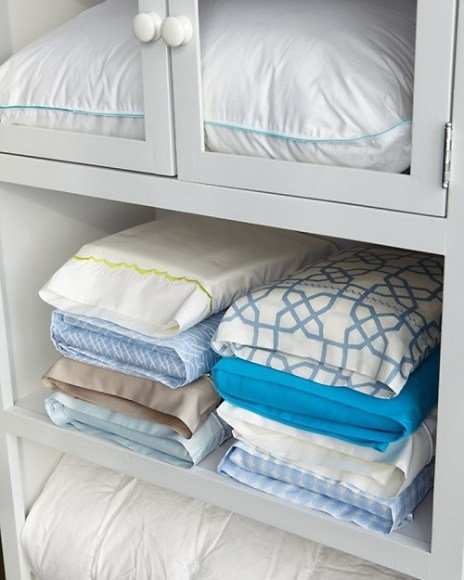 lovelyish.com
41

Attach Tweezers to the inside of a Bathroom Cabinet with a Magnet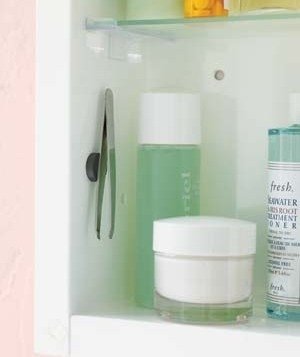 lovelyish.com
42

Use a Magnetic Rack to Store Hygiene Tools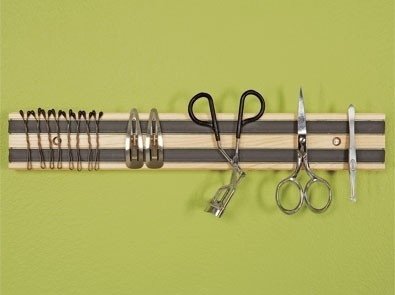 quickandsimple.com
43

Store Your Hair Appliances with PVC Pipe Attached to the inside of a Cabinet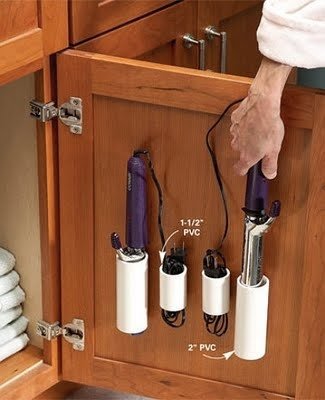 familyhandyman.com
44

Make Bathroom Wall Storage out of Mason Jars and Picture Hangers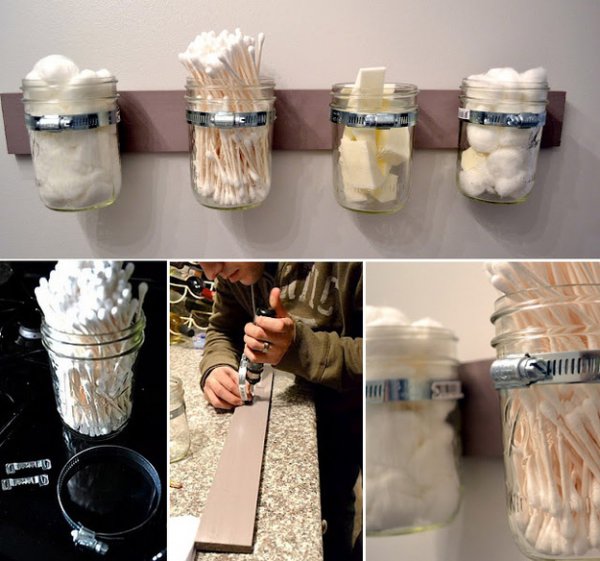 buzzfeed.com
45

Use Glass Bottles to Store Bracelets and Ponytail Holders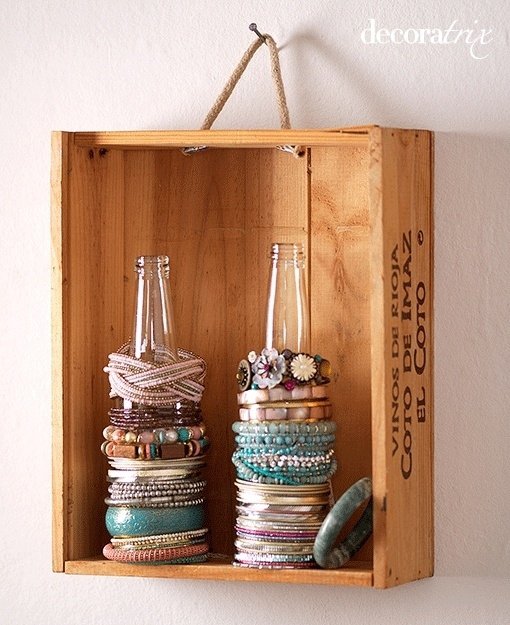 decoratrix.com
Or you could use a paper towel holder if you're paranoid about glass falling and breaking.
46

Put a Shelf over Your Bathroom Door for the Stuff You Don't Need Regular Access to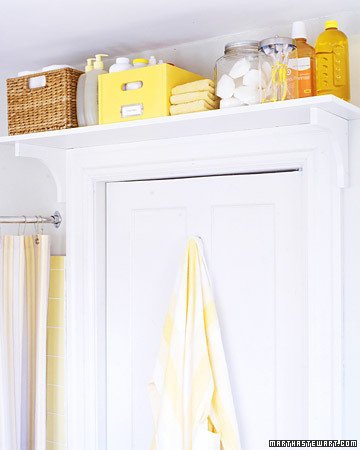 Cleaning supplies, extra towels, bulk items, etc.
47

Hang Baskets on Rails to Store Towels and Shower Supplies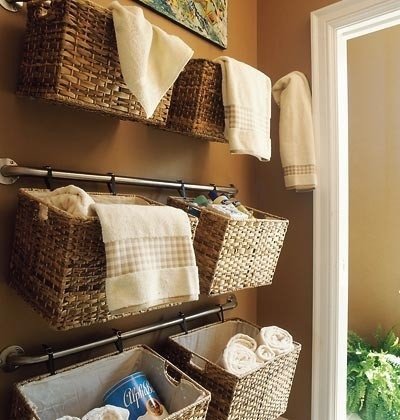 simplydiy2.blogspot.com
48

DIY Magnetic Makeup Board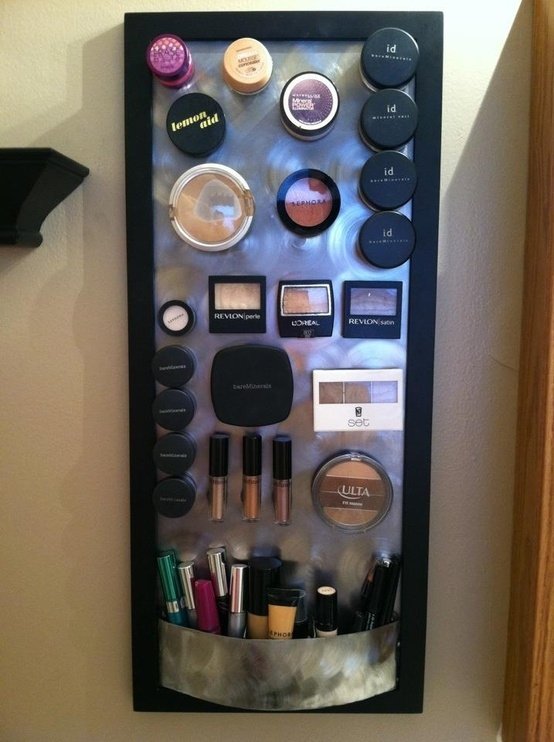 laurathoughts81.blogspot.com
Get the directions here.
49

Make a Pressing Surface to Replace Your Ironing Board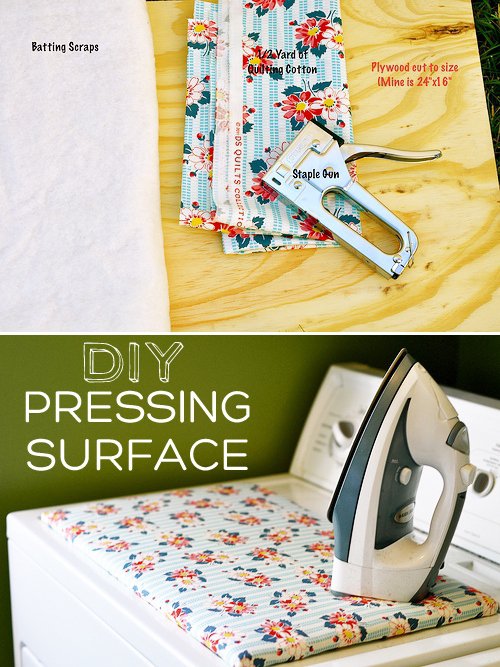 acraftyfox.net
No more unruly ironing board! Get the instructions here.
50

Use a Shoe Organizer to Store Cleaning Supplies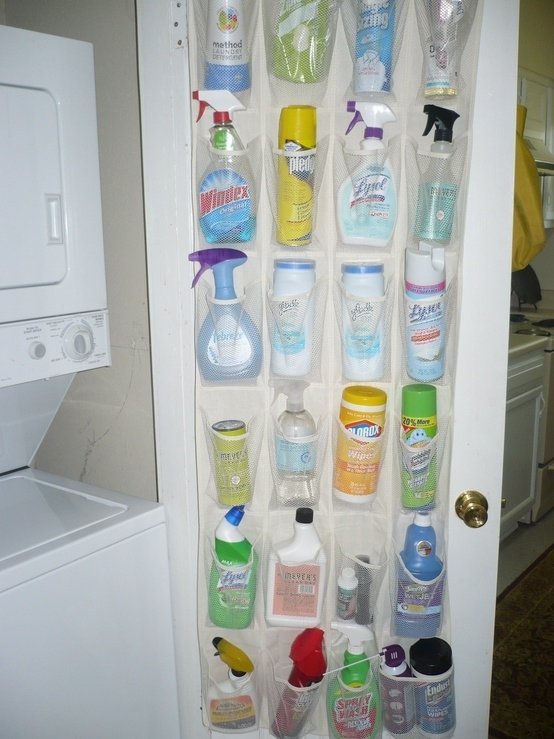 51

Put Washer and Dryer on a Shelf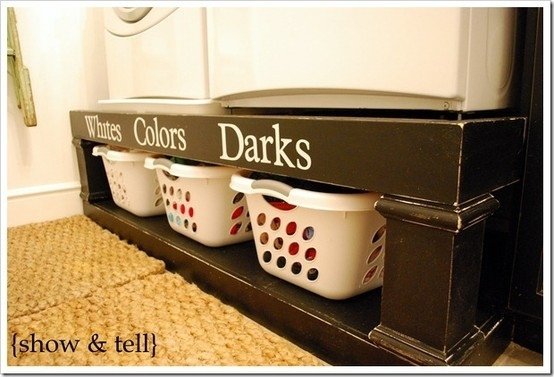 sweetpickinsfurniture.com
Take advantage of vertical storage by using the space BELOW the washer and dryer. You could also install drawers.
52

Hang a Ladder from the Ceiling for Air Drying Clothes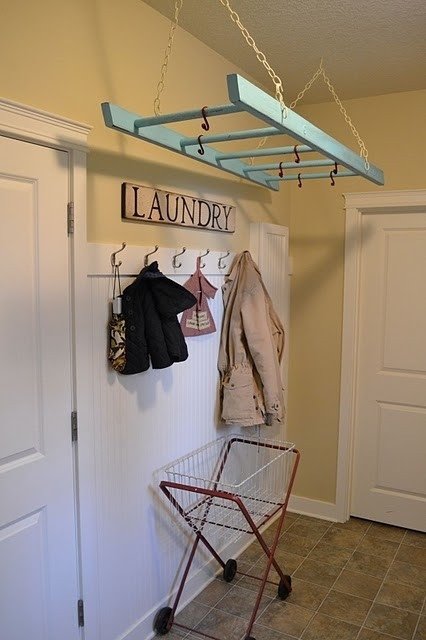 littlelucylu.com
Get the full directions here.
53

Use Cables to Store Balls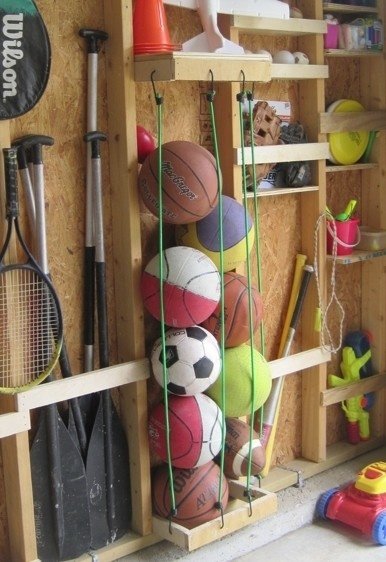 pinterest.com
54

Store Bins on the Ceiling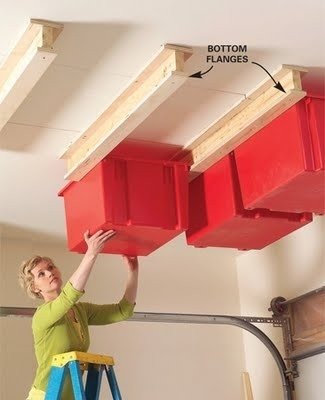 familyhandyman.com
These tips also work for art supplies, toys, or tools.
55

Coffee Canisters to Store Yarn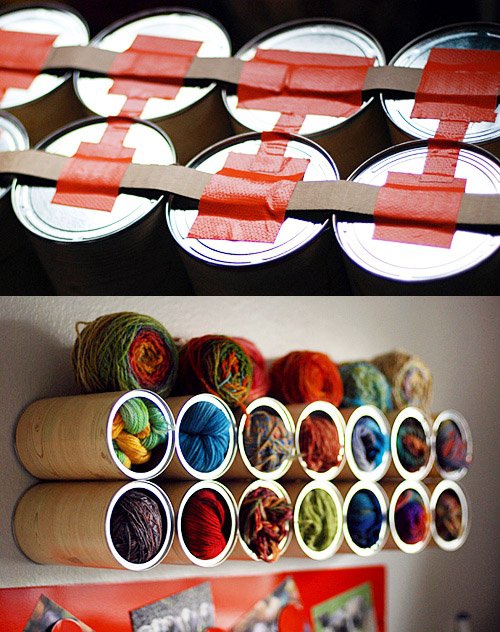 leethal.net
This crafter cemented the cans together, and then reinforced them by taping strips of cardboard to the back. The structure is then nailed to the wall.
56

Use the IKEA Grundtal System to Organize Crafts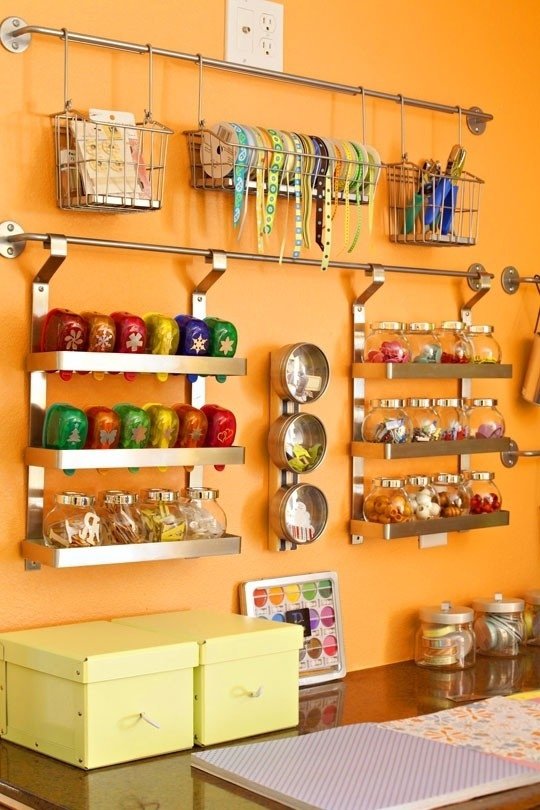 indulgy.com
This IKEA series is normally reserved for kitchenware, but it looks modern and can store ribbons and jars for art supplies as well.
57

Put Unsightly DVDs in Boxes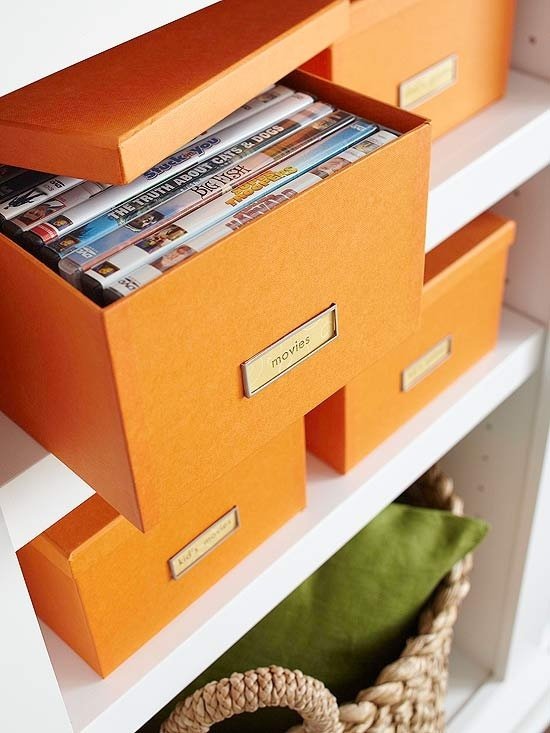 iheartorganizing.blogspot.com
A DVD is 8"x6" so choose a box with the right dimensions.
58

Label Your Cords
59

Store Vinyl in a Bench or Window Seat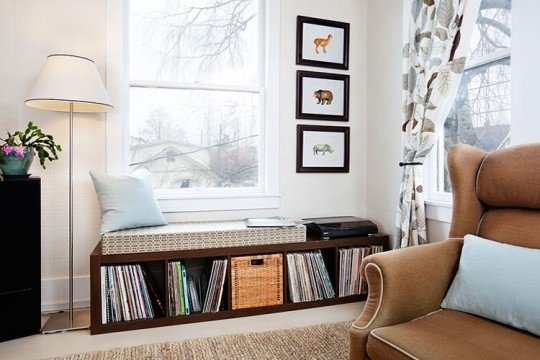 apartmenttherapy.com
60

Get a Cable Organizer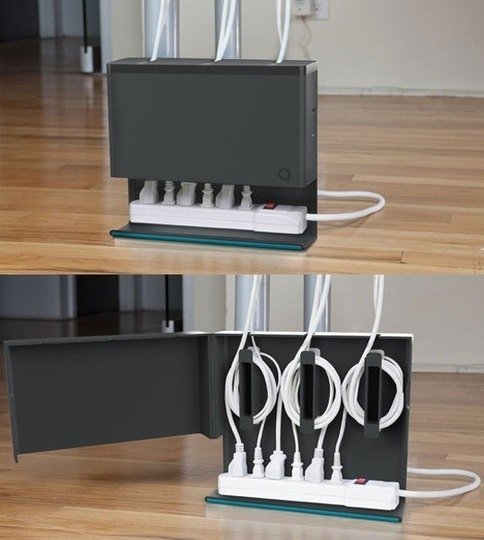 indulgy.com
This one is $24.99 from Quirky.com.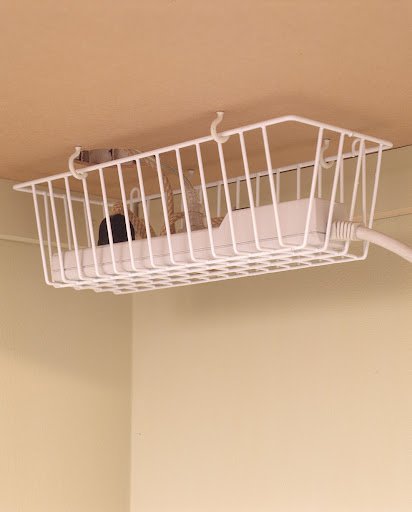 You could also hang a kitchen basket under a shelf or a desk.
61

Mark and Label Everything!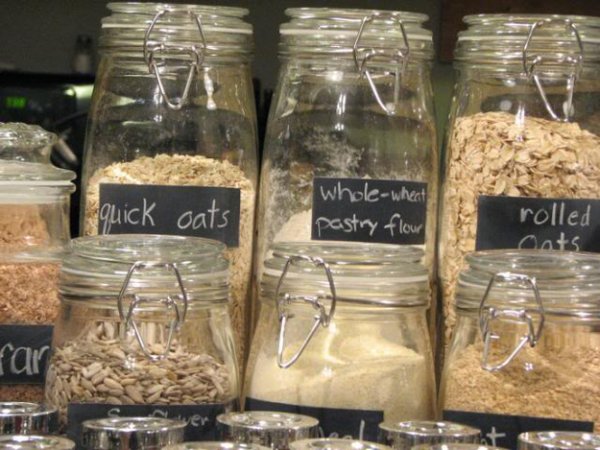 infarrantlycreative.net
Use chalkboard paint labels to mark reusable containers.
62

Cut up Shoe Holders and Attach to the inside of Cabinets for Extra Organization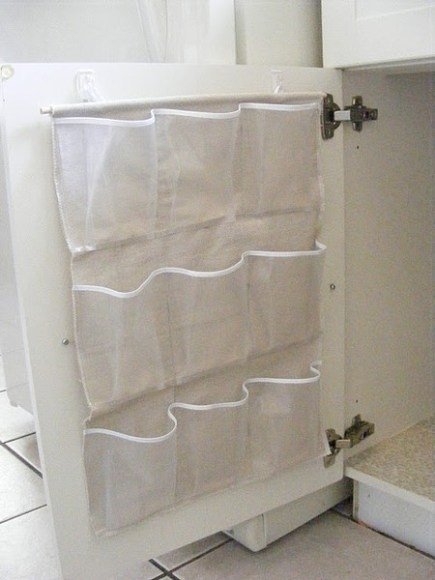 lovelyish.com
Not the most attractive solution, but it's out of plain view. And you can label them with a sharpie or stickers.
63

Organize a Junk Drawer with Altoid Tins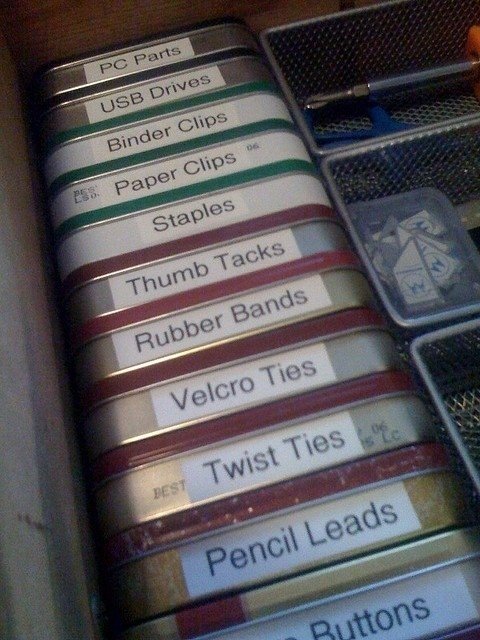 iheartnaptime.net
64

Repurpose!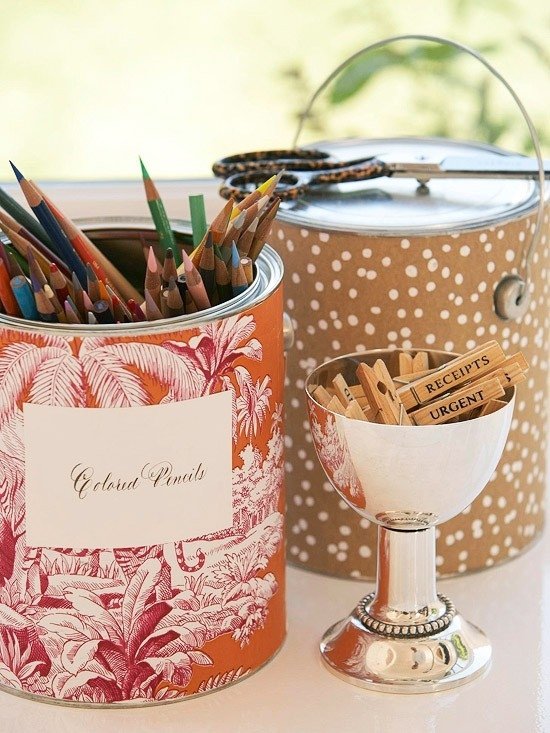 blogs.babble.com
Reuse paint cans, tins, Mason jars, and plastic containers to store small things. There are so many creative ways to repurpose them. Shown: paint cans covered in fabric.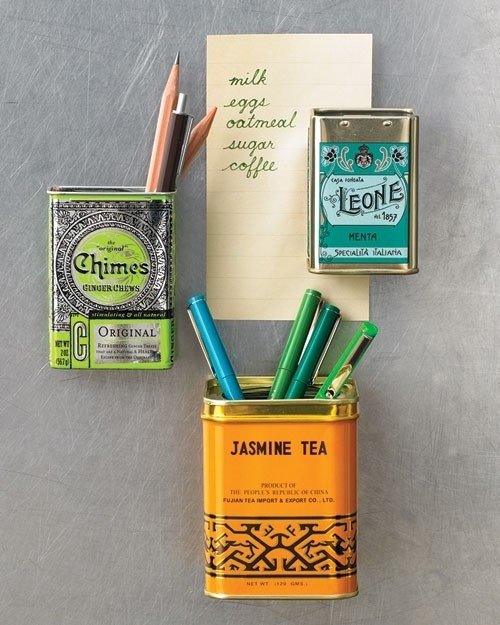 blogs.babble.com
65

Repurpose a Shutter into a Magazine Rack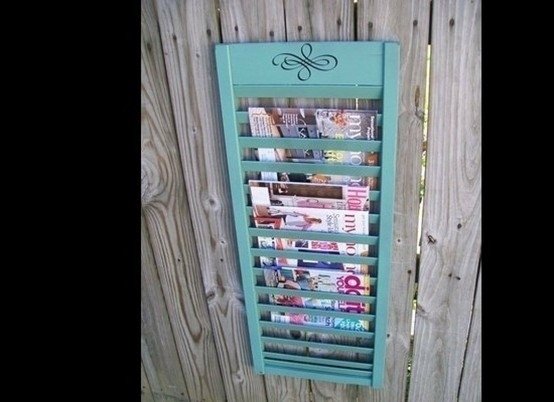 myrepurposedlife.com
66

Instead of Stuffing Your Plastic Bags into Some Sort of Receptable, Fold Them into Tiny Neat Triangles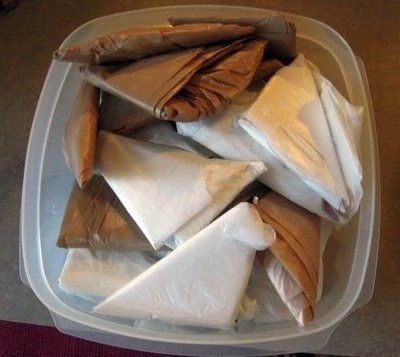 alilbird.blogspot.com
Get the directions here.
67

Use Shelf Risers so You Can Keep Two Nice, Neat Tiers in Any Cubby-sized Hole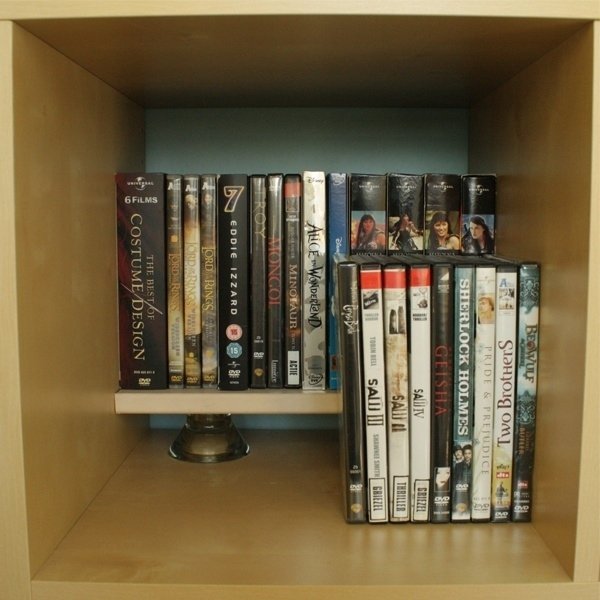 ikeahackers.net
Of course, your DVDs would be alphabetical.
68

Hang Your Shelves Upside down so That the Brackets Automatically Create Built-in Compartments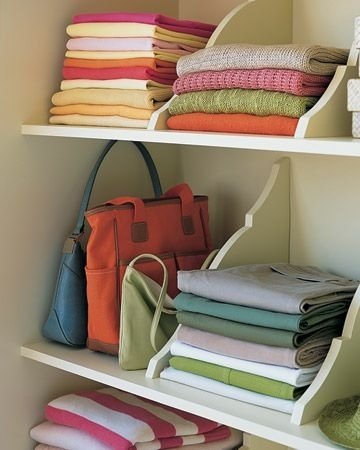 marthastewart.com
69

Get a Purse Organizer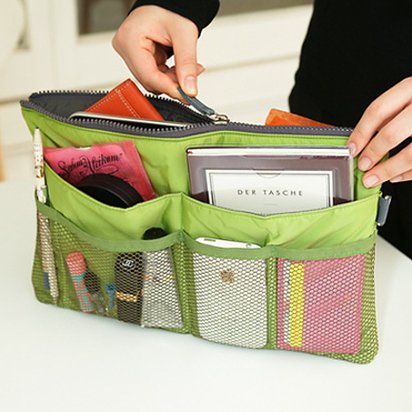 The best way to stay organized on the go. Get this one here for $26.
70

Keep Junk Drawers Neat with Bins Velcroed to the Bottom

The velcro will keep the bins from moving around.
71

Use Wire CD Racks to Organize Tupperware Lids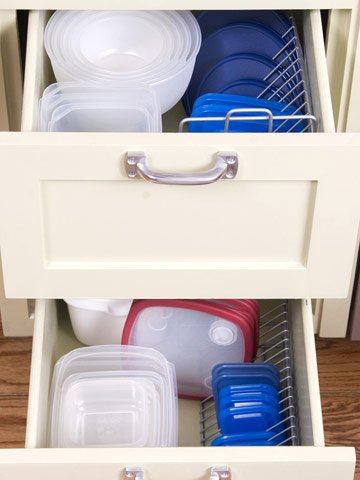 bhg.com
72

Use a Pegboard to Keep Dishes Neat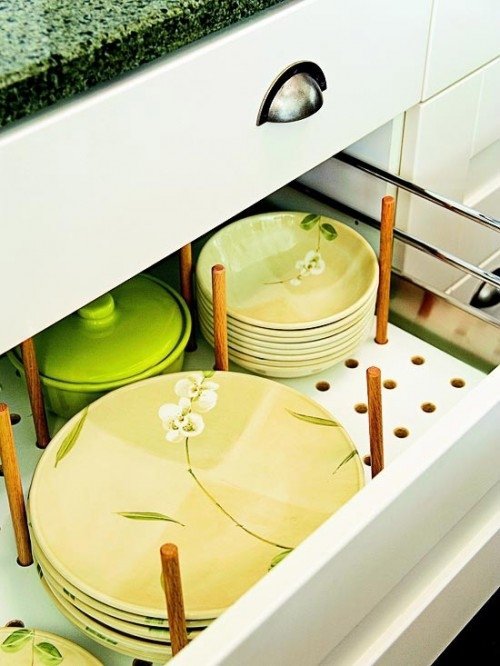 bhg.com
Outfit them with pegboard inserts and you can customize them to your plate and bowl size.
73

THIS is How You Can Organize Your Measuring Spoons and Cups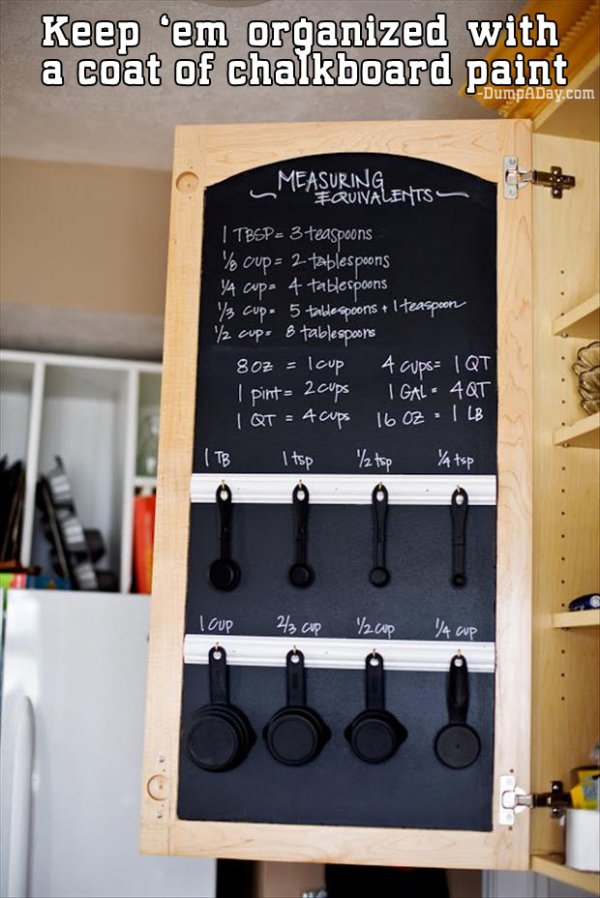 dumpaday.com
74

Attach a Command Hook to the Side of Food Canisters for Easy Scooping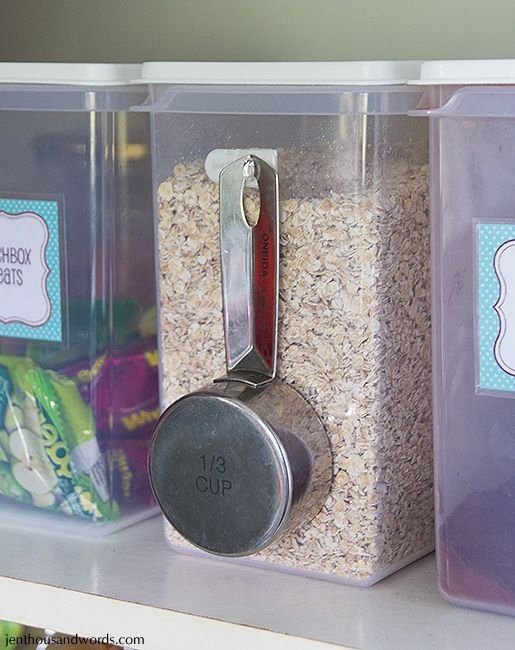 jenthousandwords.com
75

Put All the Stuff That is Cluttering up the Front of Your Fridge on the inside of Your Cupboard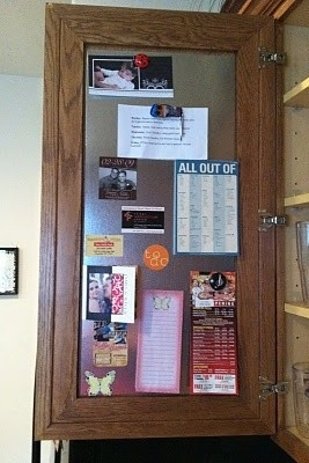 kandjstaats.blogspot.com
76

Use Pipe Straps from Your Local Hardware Store to Make a Cheap and Easy Utensil Holder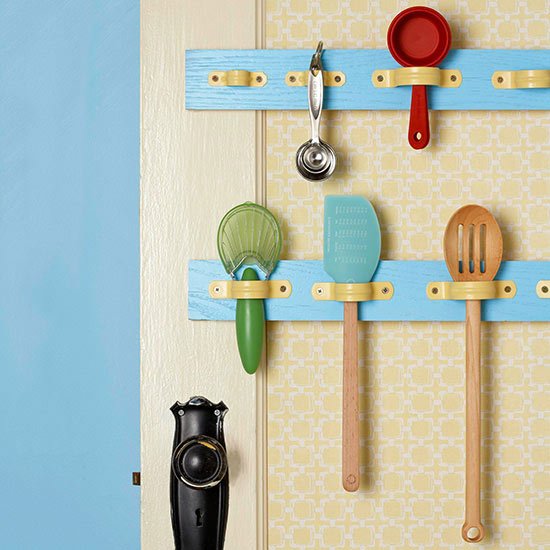 bhg.com
77

Use a Utensil Divider to Store Toothbrushes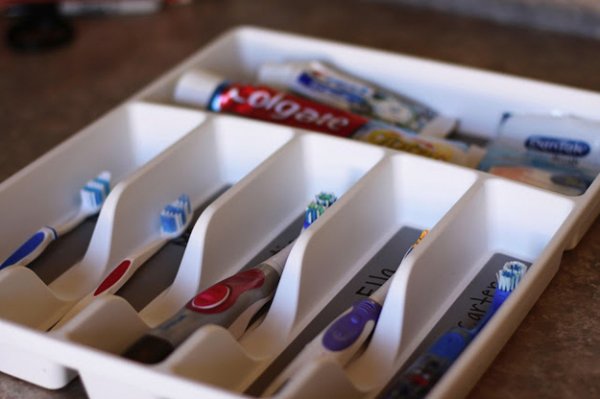 littlepenelopelane.blogspot.com
Instead of keeping them out in the open where they can get all germy.
78

Replacing Your Weirdly Sized Shampoo and Body Wash Bottles with Uniform Bottles Will Give an Appearance of Neatness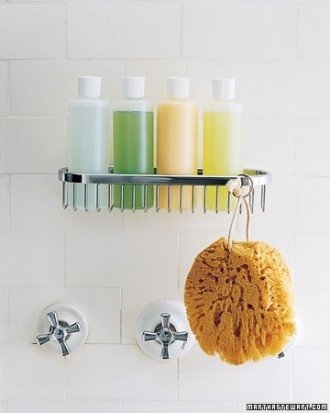 marthastewart.com
Just be sure to label what they are.
79

For Your Drawers, Use Thick Sheets of Posterboard to Create Compartments for All Your Makeup Needs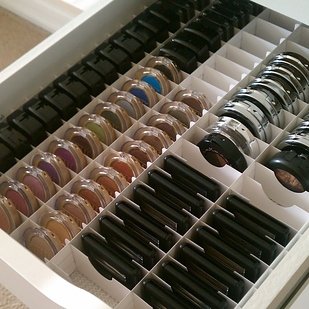 thefrugalcloset.blogspot.ca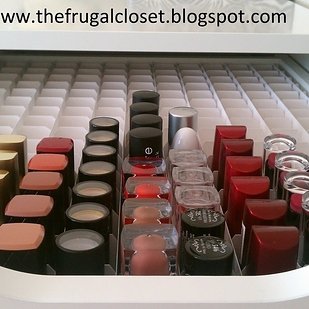 It'll cost you, like, $2 from the dollar store. Get the instructions here.
80

A Metal Tiered Caddy is a Great Way to Organize Bath Toys or Shower Supplies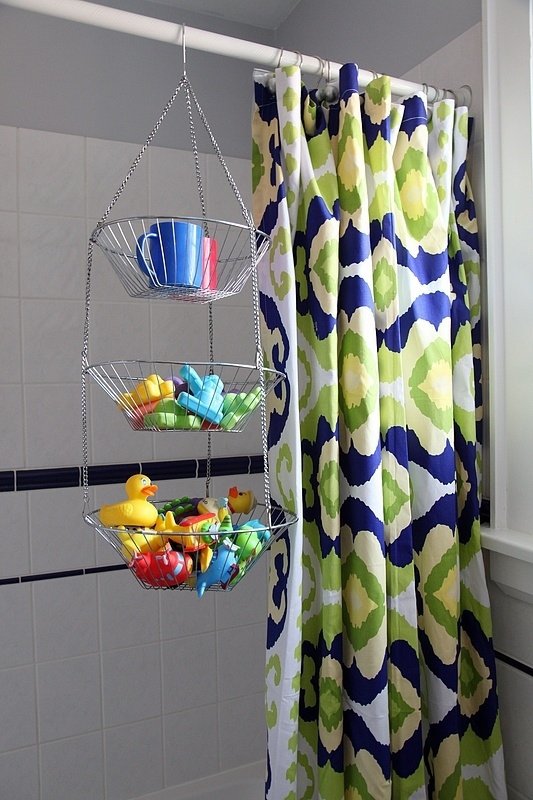 8footsix.com
Rather than keeping stuff littered around the rim of the bathtub.
81

Hang Glasses and Sunglasses on a Chain Suspended between Two Hooks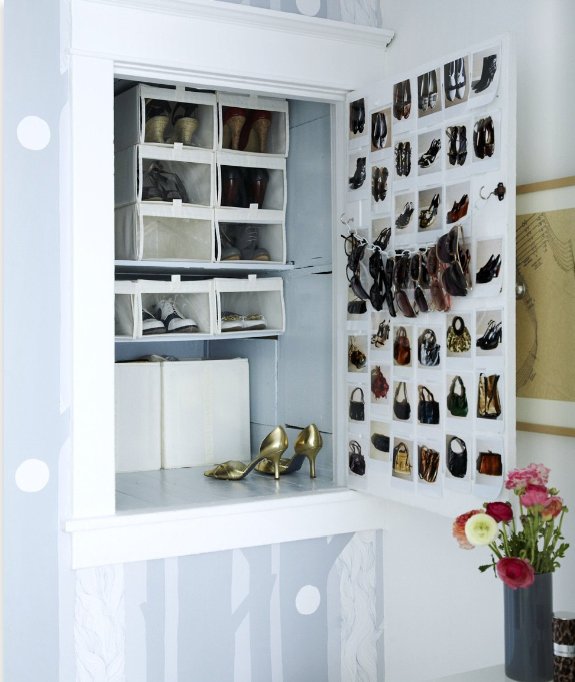 covetgarden.com
You'll be able to see them splayed out right in front of you.
82

Use a Shoe Organizer to Organize Socks and Underwear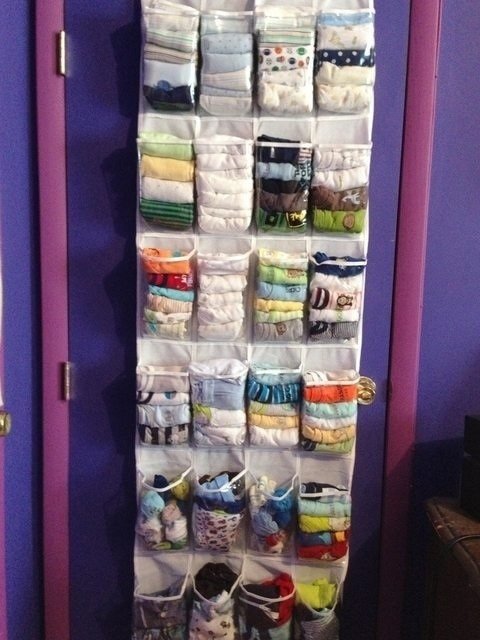 imgur.com
Also a great idea for baby clothes if you don't have much dresser space.
83

Use Cutlery Trays and Command Hooks to Organize Your Jewelry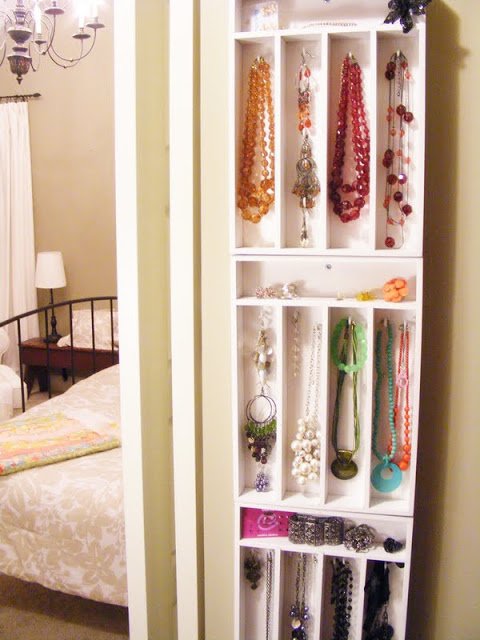 maillardvillemanor.com
You could use the dead space in your closet or the back of the door.
84

Use Ice Cube Trays to Organize Tiny Things, like Earrings and Other Jewelry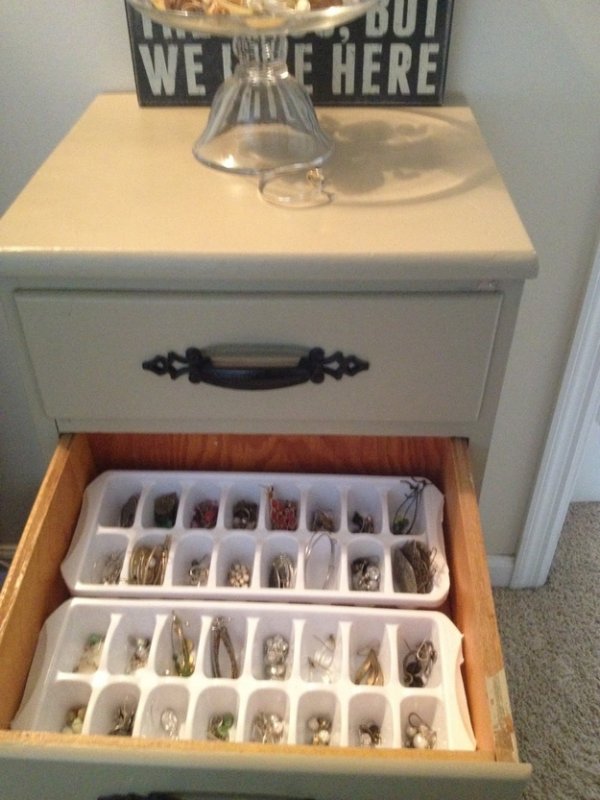 nickandcaeli.blogspot.com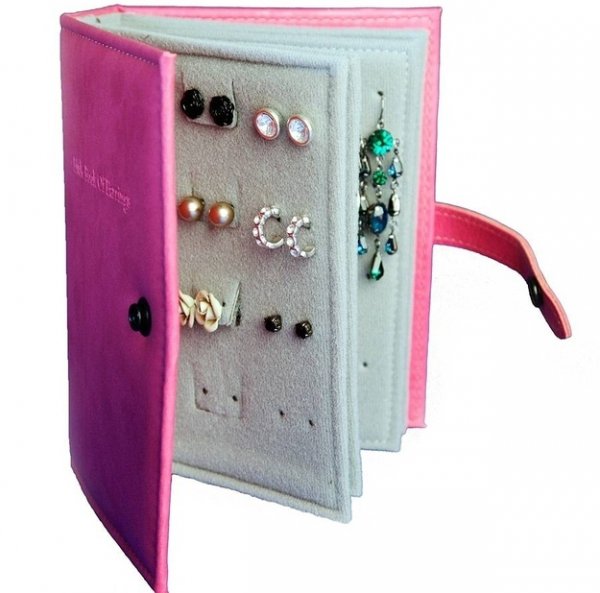 notonthehighstreet.com
If you have a LOT of earrings, may as well invest in an earring book.
85

Put up a Wire Shelf in the Dead Space of a Closet to Corral Wrapping Paper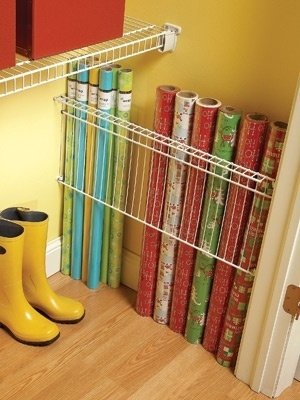 community.familyhandyman.com
86

Need Shelving for Your Desk? Use Shoe Racks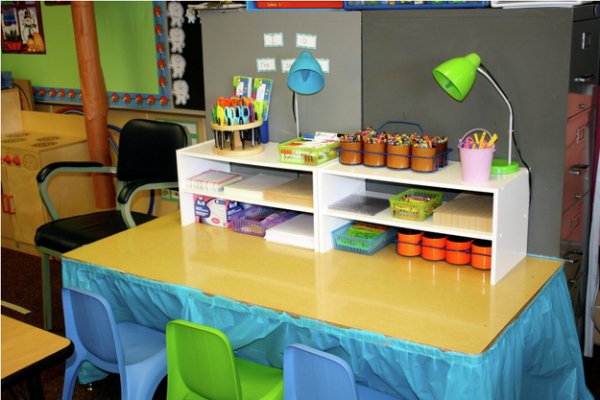 buzzfeed.com
It's a cheap and easy solution.
87

Use Magnetic Strips to Organize Your Bobbins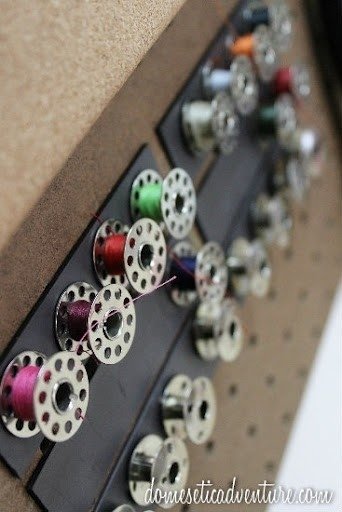 domesticadventure.com
88

Use Tic Tac Containers to Organize and Dispense Ribbon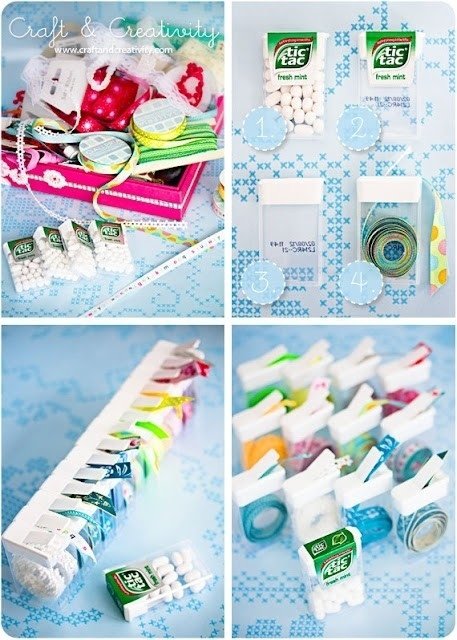 craftandcreativity.com
89

Use a Magnetic Knife Strip to Organize Tools and Scissors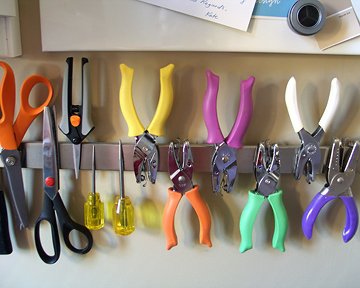 blog.makingmemories.com
90

Another Clever Magnetic Strip Idea: Glue Washers to the Bottom of Plastic Containers and Stick Them to a Magnetic Strip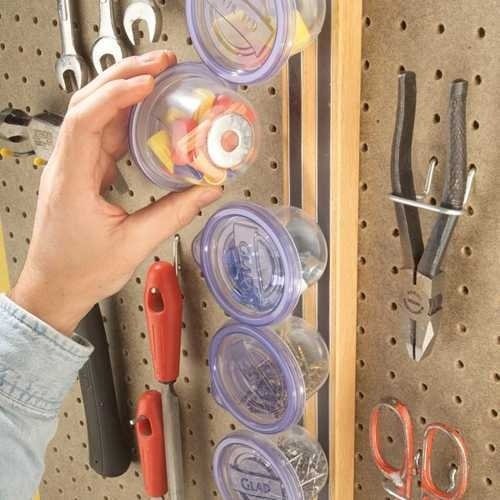 familyhandyman.com
You can use the cheap plastic containers from Glad for an inexpensive way to organize your little bits and bobs.
91

Use Nails and Binder Clips to Store Paint Tubes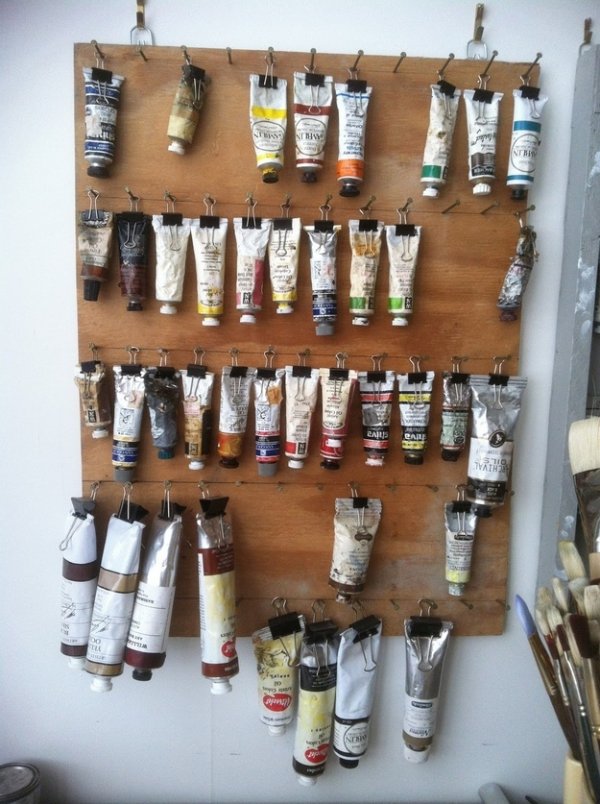 njainschigg.blogspot.com
This would also work on the inside of a cabinet.
92

Keep the Thread and Buttons from Your Clothing in a Binder or Photo Album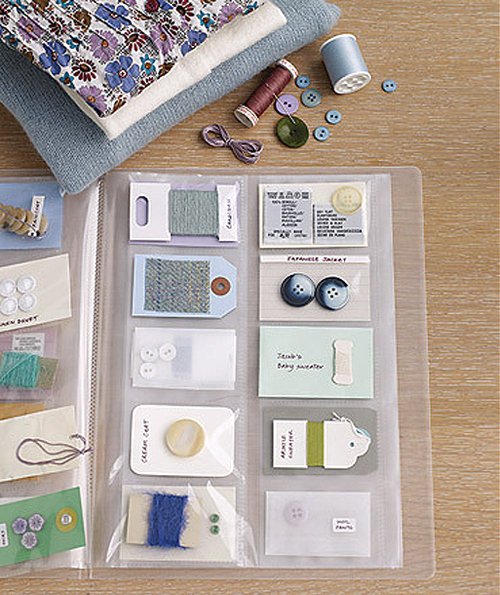 marthastewart.com
93

Use a Shower Caddy to Make a Gift Wrapping Station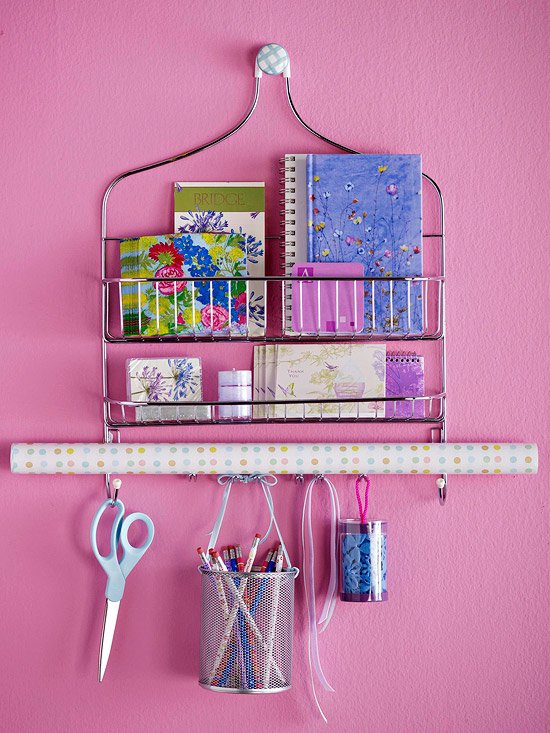 bhg.com
You could also use it as a sewing, crafting, or tool station.
94

Use PVC Pipes to Organize Your Garden Tools in the Shed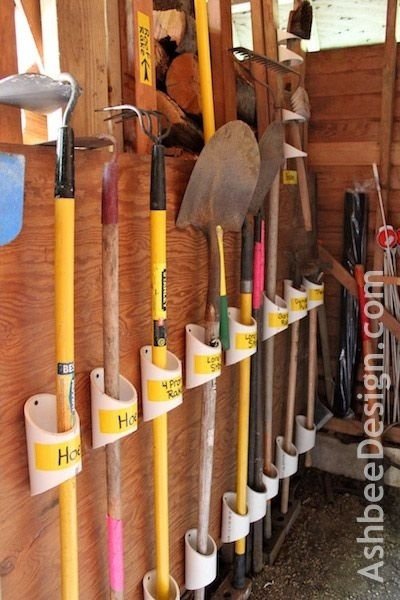 ashbeedesign.com
Label them, obvs.
95

Cut up a Shoe Organizer to Create an over-the-seat Caddy for Your Car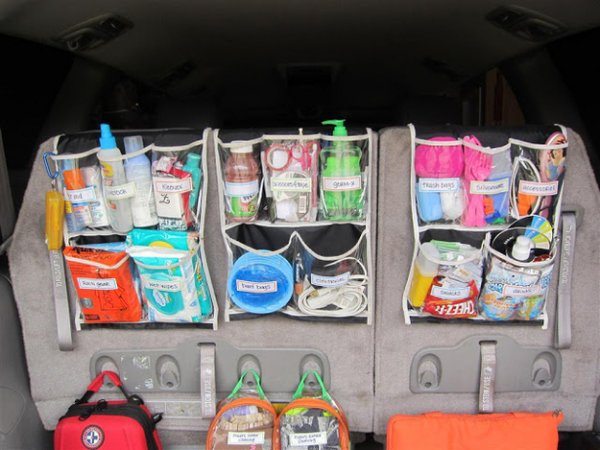 emcx3.blogspot.com
Imperative if you've got kids.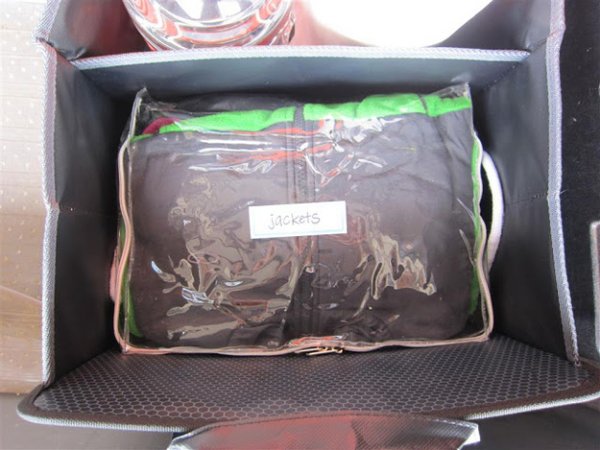 And don't forget to store extra jackets.
96

A Simple and Inexpensive Paper Envelope Holder Can Be Used to Organize Receipts or Coupons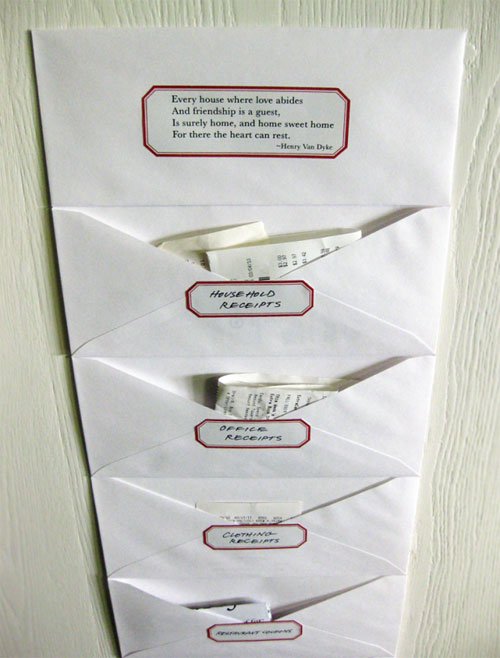 scjohnson.com
They're held together by labels, making this DIY super easy. Get the directions here.
97

Keep Your Games and Cards in Uniform Boxes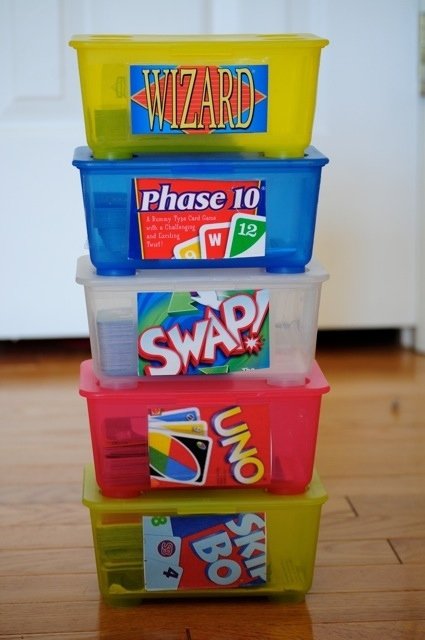 jazzieandtahlia.typepad.com
98

Create a Makeshift Bar by Putting Your Liquor and Cocktail Supplies on Shelves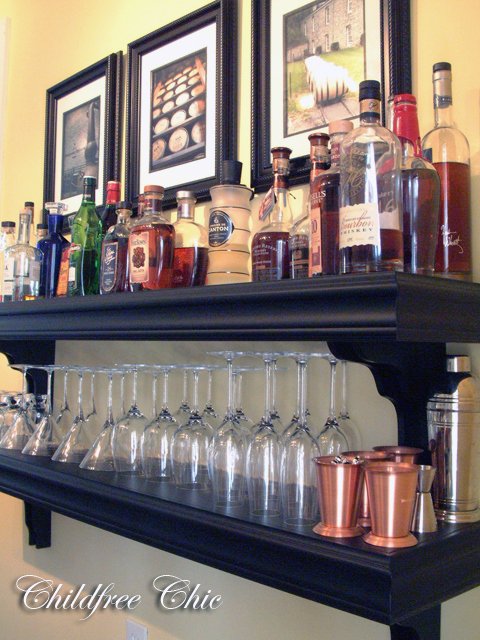 childfreechic.com
99

If You Don't Have Much Nightstand Space, Keep Magazines and Remote Controls in a Bedside Pocket Caddy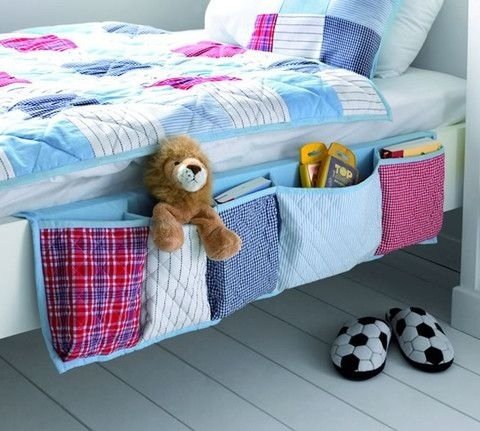 mamuky.com
A bed shoe pocket organizer works well for this purpose.
100

Use a Pegboard to Get Your Cleaning Supplies off the Floor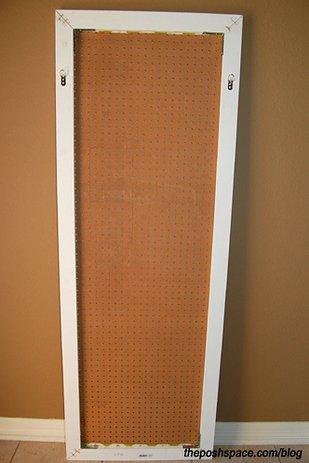 theposhspace.com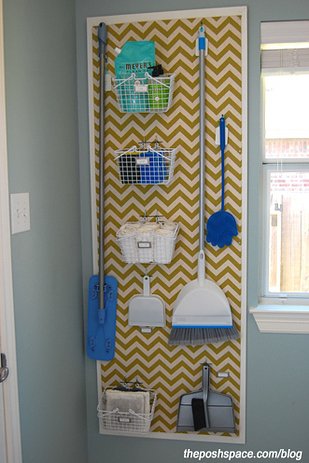 theposhspace.com
It's a great idea if you've got some extra wall space in your laundry room.
101

Luggage Tags Are an Easy Way to Label Baskets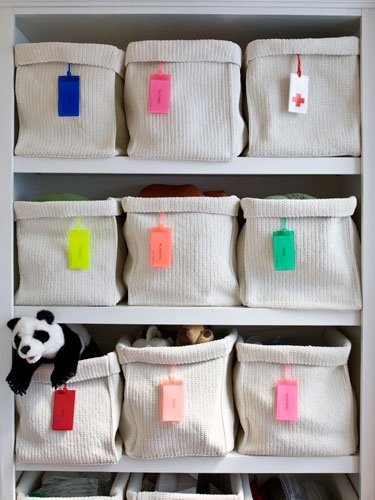 goodhousekeeping.com
And you can color-code them and make them all pretty and rainbow-colored if you want.
102

Use a Wooden Pallet to Corral Pool Supplies outside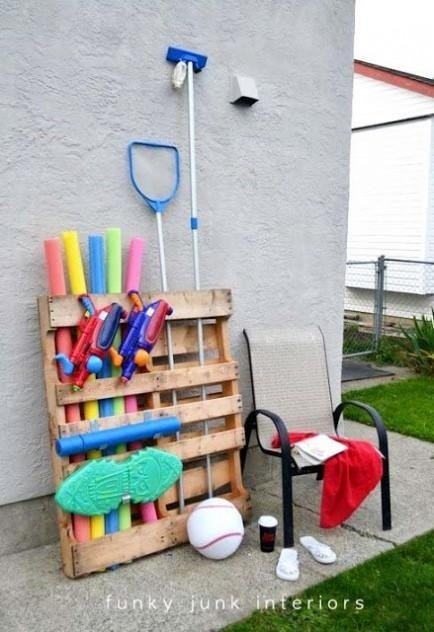 funkyjunkinteriors.net
Everything in its place.
103

Use Skubb boxes to organize baby clothes for a nursery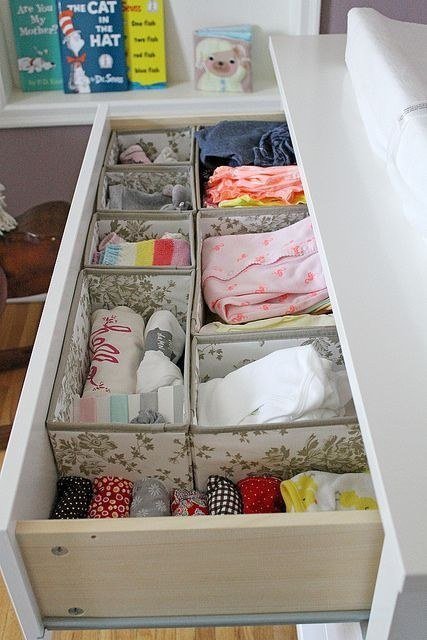 girlversusdough.com
All those tiny clothing items can get mixed up real fast.
104

Use a Picture Frame as a Slide-out Shoe Tray underneath a Dresser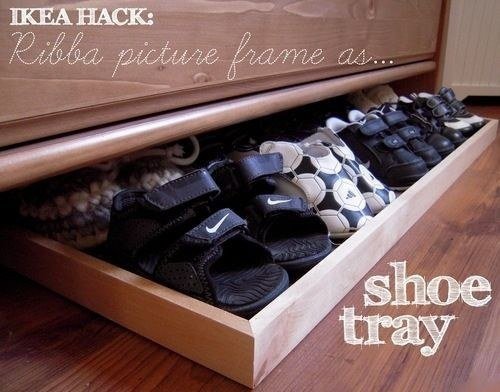 justinetaylor.tumblr.com
105

Use a Rollinf Stand for Cleaning Supplies That You Can Wheel from Room to Room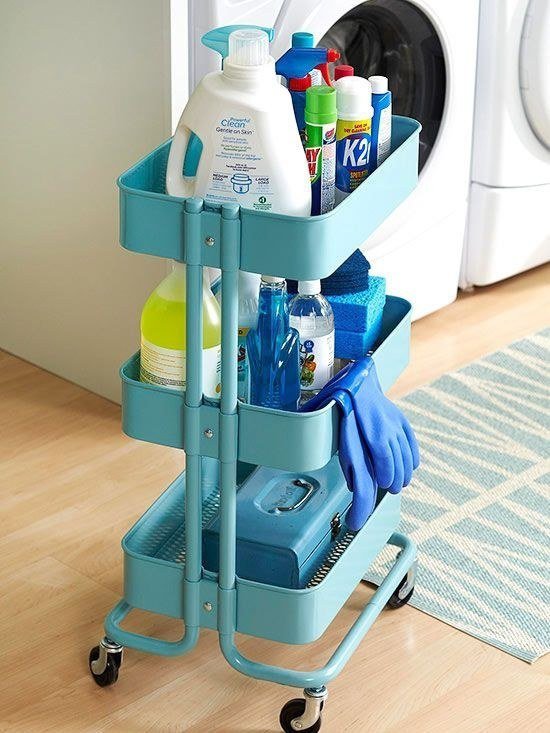 bhg.com
Anything that makes cleaning easier and faster is a huge plus in my book.
106

Use a Spice Rack to Hold Books You Want to Display in a Kids' Room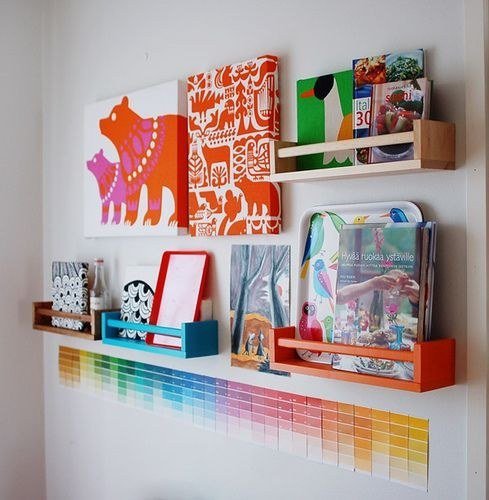 Flickr: heathashli
107

They Also Hold Two Rows of Nail Polish Perfectly, if You've Got an Overflowing Collection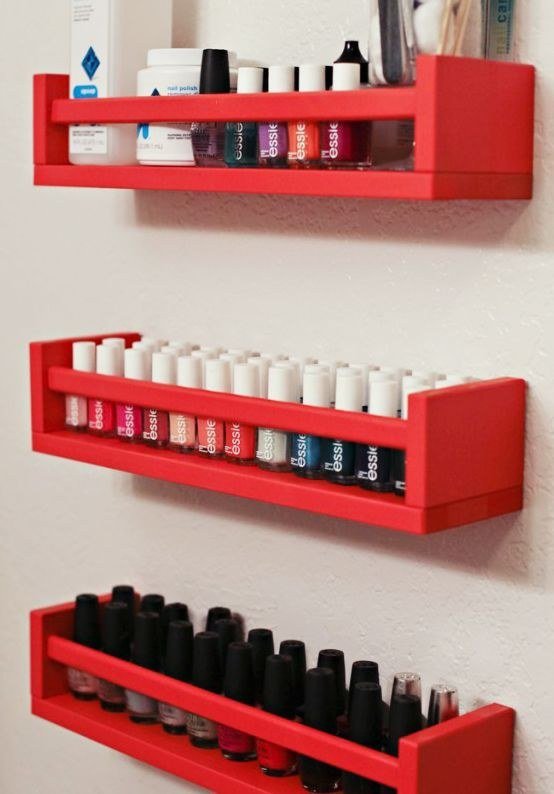 diytutors.tumblr.com
108

Stack Bookcases behind a Couch to Visually Divide Your Space While Also Providing Tons of Storage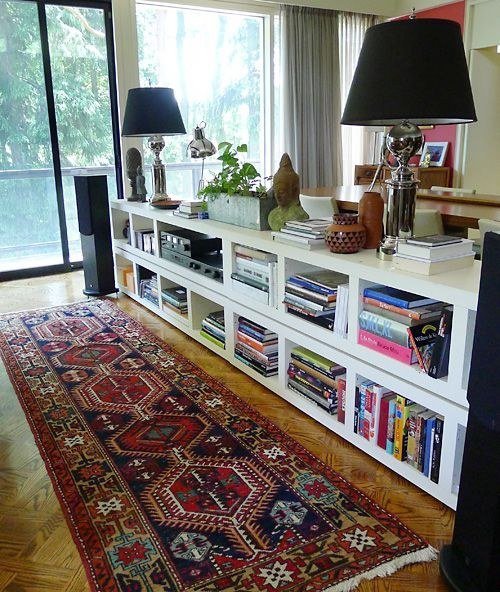 stylenorth.ca
109

Use a Remote Holder in the Car for All Your Kids' Stuff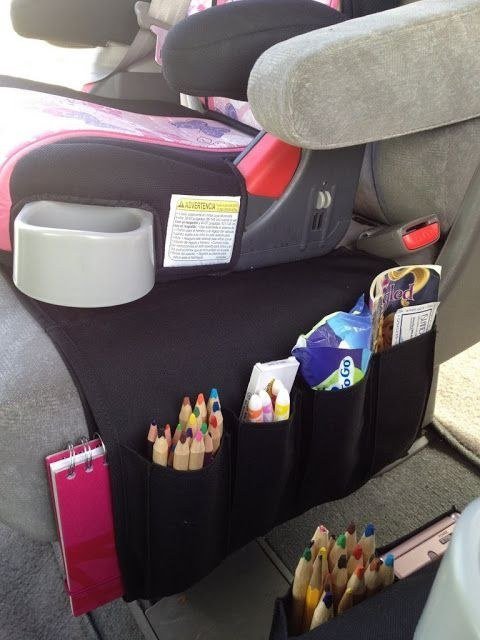 ikeahackers.net
110

Those magnetic spice canister thingies can be used in the bathroom to hold tiny things like bobby pins and hair ties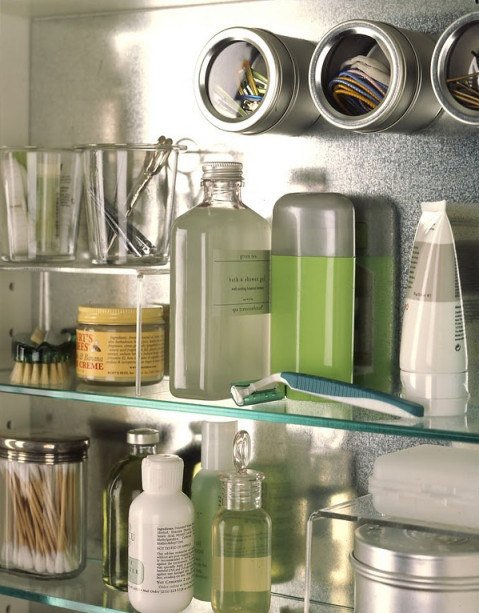 intothegloss.com
111

Corral those stuffed animals with Ikea's Komplement's multi-use hanger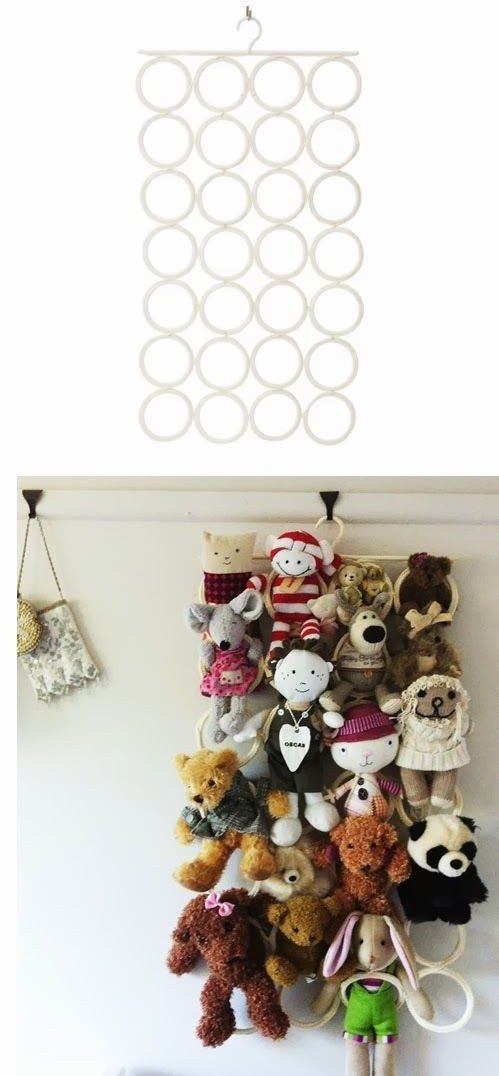 livecre8ive.com
112

A Magazine Rack Will Reign in Your Clutter as a Mail Center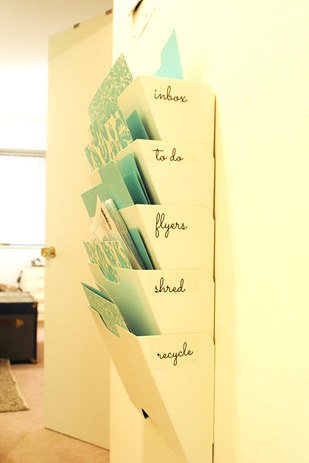 lamourcheznous.com
113

A Magazine Holder Perfectly Fits Rolls of Aluminum Foil and Saran Wrap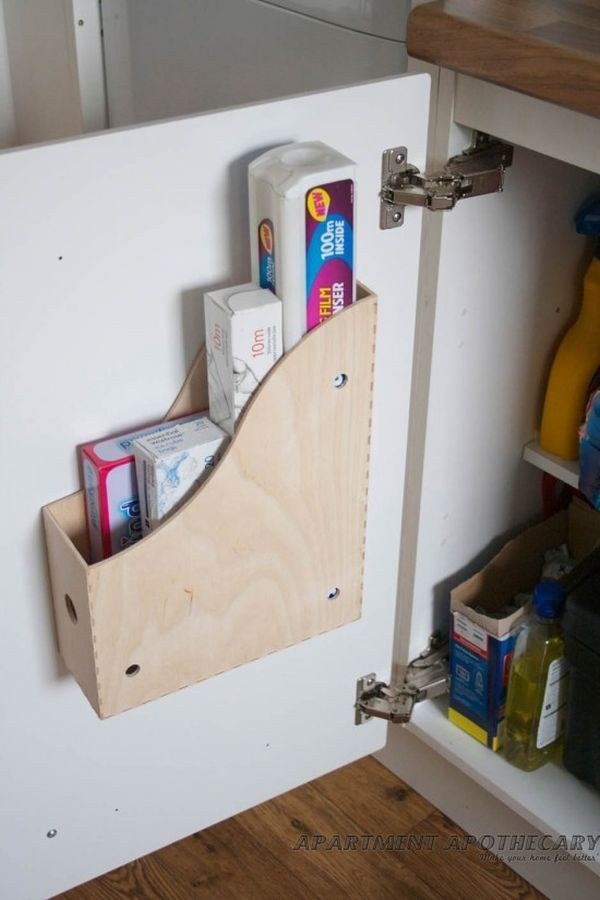 apartmentapothecary.com
114

Cute Planters Are an Exceedingly Adorable Way to Hold Your Makeup Brushes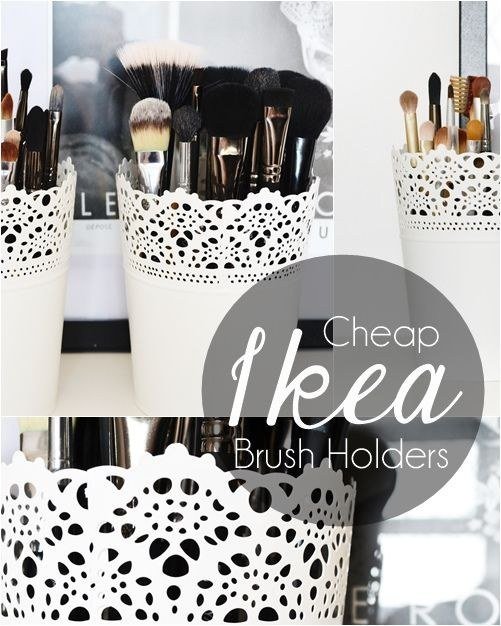 makeupsavvy.co.uk
115

Arrange Short Shelves in a V Shape for an Interesting Way to Display Shoes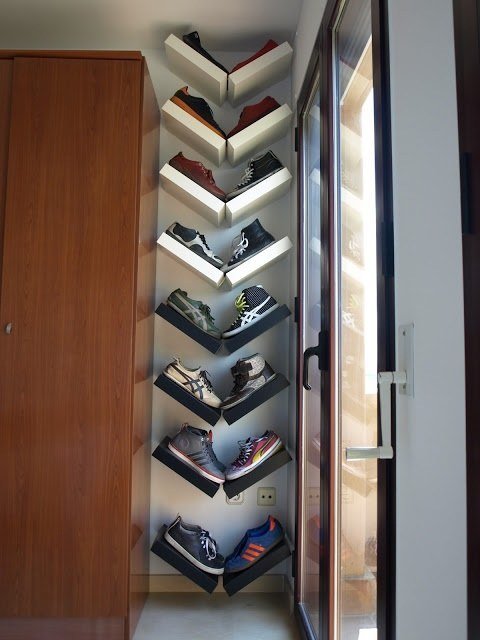 piratasdeikea.blogspot.ca
116

Hang up a Change Jar to Collect All the Spare Coins You Find in Your Pockets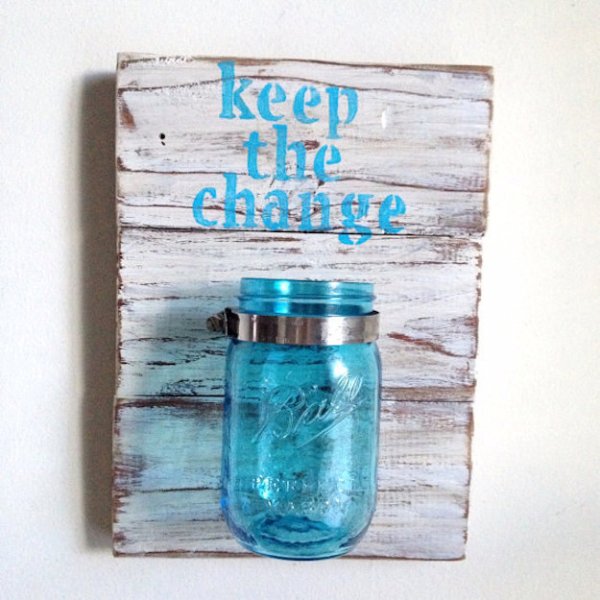 etsy.com
This one is $34 here, or you learn how to make one yourself here.
117

Or, Enlist a Piggy Bank to Help Turn That Spare Change into Savings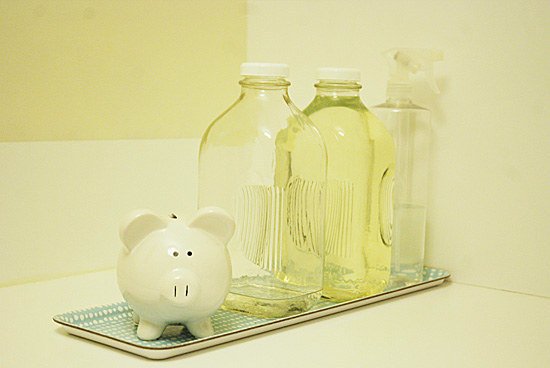 maillardvillemanor.com
From here. Get a similar one here for $14.99.
118

Turn an Outdoor Box into a Mini Trash Can for Lint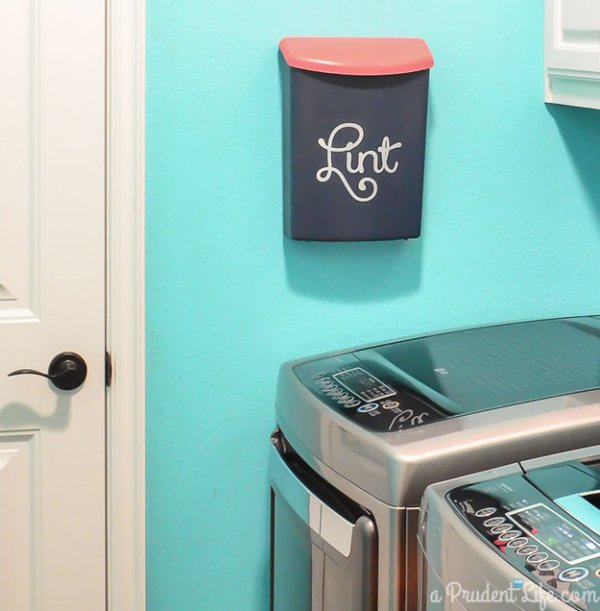 aprudentlife.com
Also great if you're a frequent camper or BBQ-er, because lint makes a great fire starter. See how to make your own lint catcher here.
119

Pin Your Socks Together Right before You Toss Them in the Hamper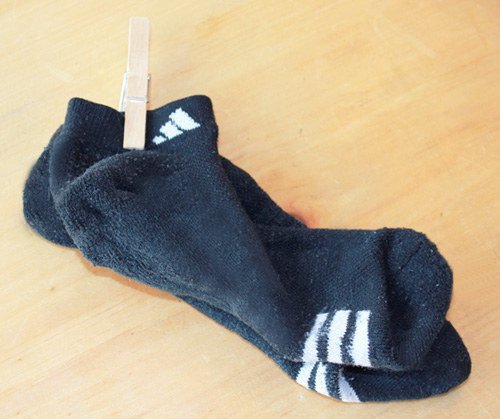 onegoodt
Use rust-proof safety pins (like these, $3.99), because they'll bang around less than this clothespin would. From here.
120

Still Losing Socks? Make a "save Dobby" Lost Sock Jar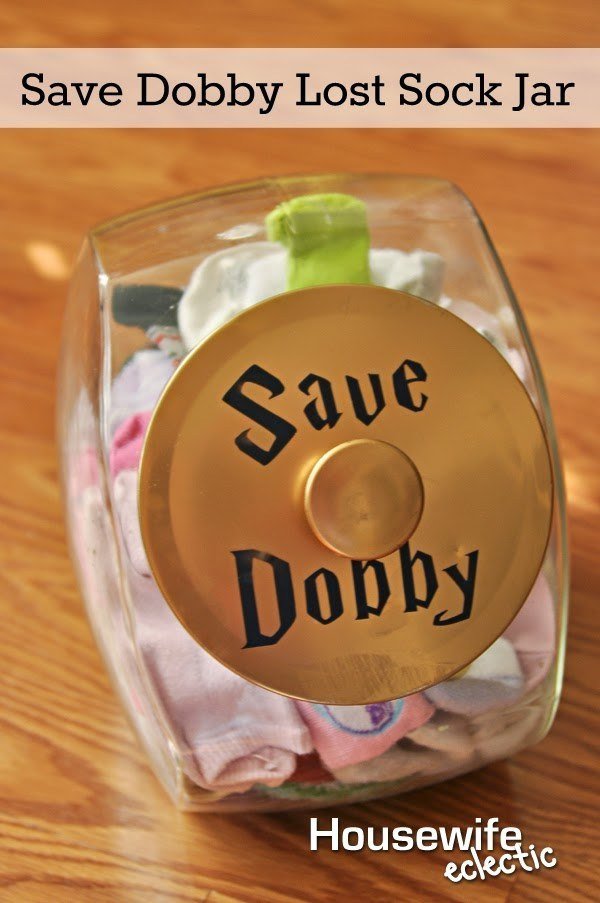 If it doesn't find it's match, at least it can free an elf. Get the instructions for painting and stenciling the lid here.
121

You Can Also Hang up a Little Lost-sock Clothes Line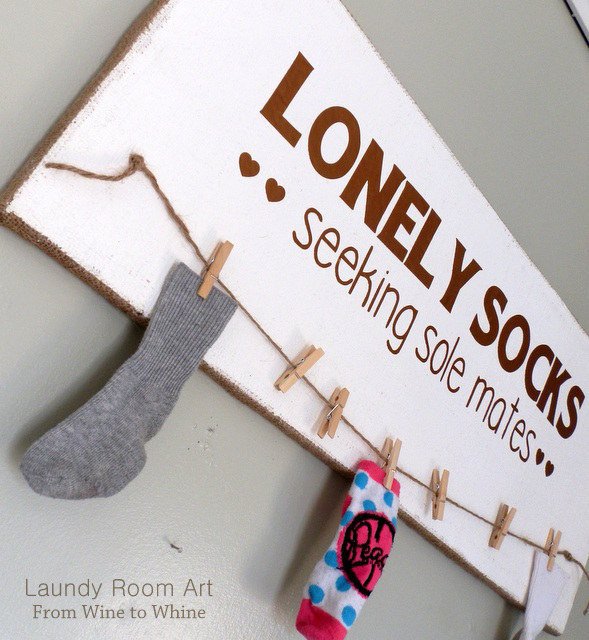 fromwinetowhine.com
Get the tutorial here.
122

Hang Your Ironing Board on Two Attractive Hooks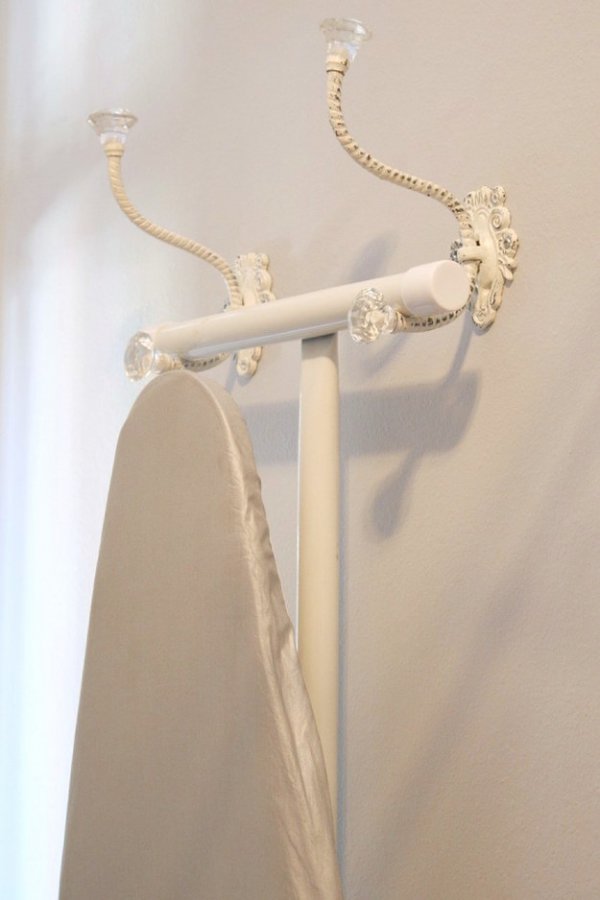 adiamondinthestuff.com
Find two sturdy hooks that are your style, and hang them near each other (measure the length of your ironing board's foot, so you know what distance will work). From here.
123

If Your Room is Too Small for an Ironing Board, Make a DIY Version That Fits on Top of the Dryer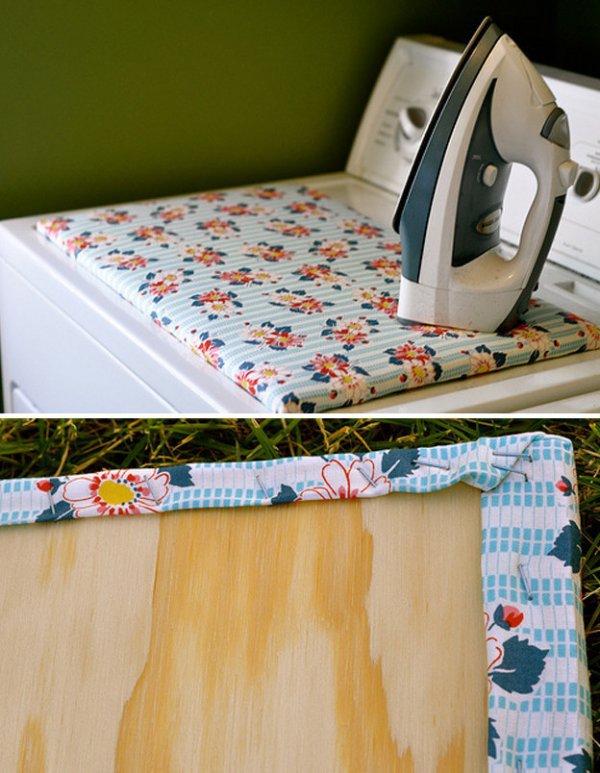 acraftyfox.net
See the tutorial here. Alternatively, you can buy a tabletop ironing board, like this one, $4.99.
124

Slide a Slim Cart into the Tiny Space between Your Washer and the Wall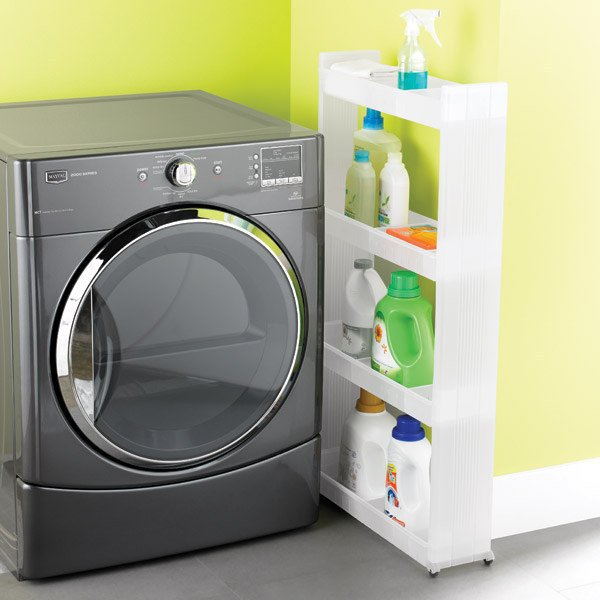 containerstore.com
Tiny laundry room struggle. Get this one for $29.99 here
125

Hang an over-the-door Rack on the inside of Your Laundry Room Door to Store Laundry and Other Cleaning Supplies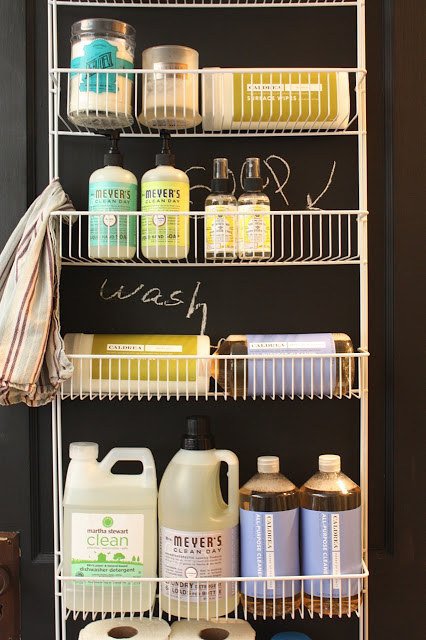 mysweetsavannahblog.com
Bonus points if you paint the door with chalkboard paint, first. From here.
126

Decant Your Detergent into a Beverage Dispenser and Avoid Heavy Lifting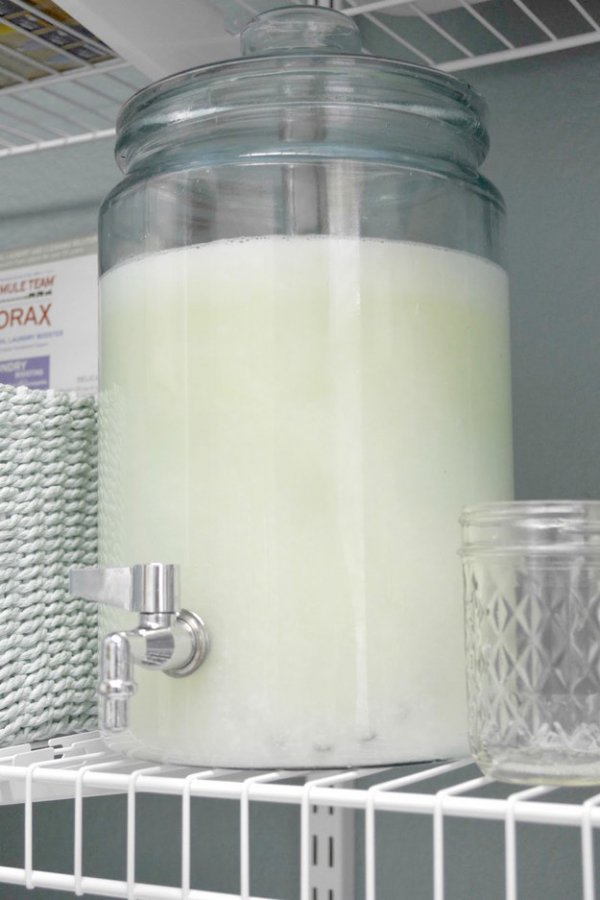 yourlittlebirdie.blogspot.ca
For store-bought detergent, you'll want a dispenser that can handle thicker liquids. Or, make your own detergent. See more here.
127

You Can Also Decant Your Fabric Softener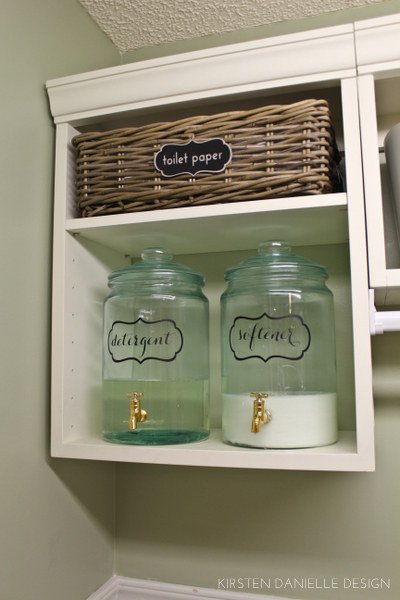 blog.kirstendanielle.com
And put pretty labels on them, natch. From here.
128

Store Pods and Powder Detergents in Glass Penny Candy Jars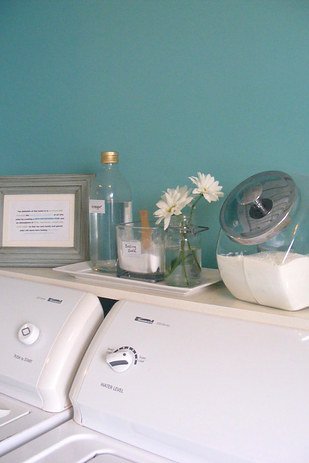 imperfecthomemaking.com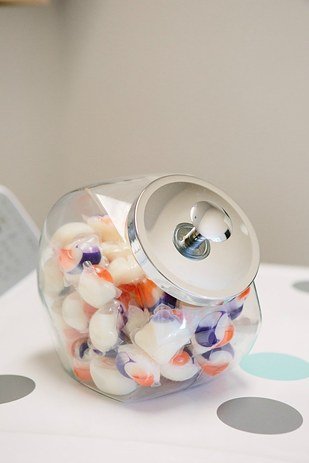 designimprovised.com
If you have little kids, though, make sure they're stationed well out of reach (you don't want them thinking those colorful pods are ACTUALLY candy). Get a similar jar here for $9.99. From here and here.
129

Keep Socks and Other Top-of-the-washer Clothes from Falling off with One of These Laundry Guards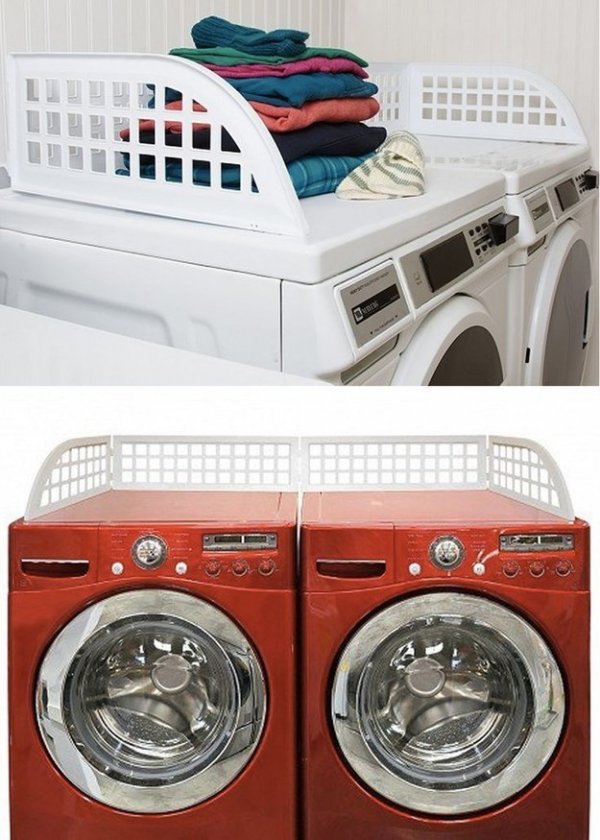 thegrommet.com
Useful if you have a similar front-loader setup (they're also adjustable to fit just one machine). Available here for $29.95.
130

~Helpful~ Roommate or Partner Always Changing out Laundry for You? Write down Any Line-dry Items with a Dry Erase Marker on the Washer Lid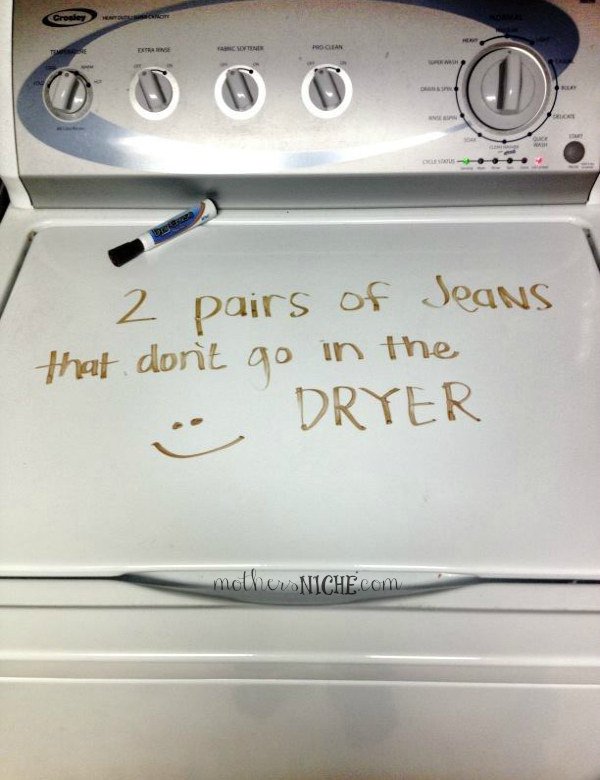 mothersniche.com
Smiley face optional. From here.
131

Print out and Frame This Laundry Guide so You Always Know What the Symbols on Your Tags Mean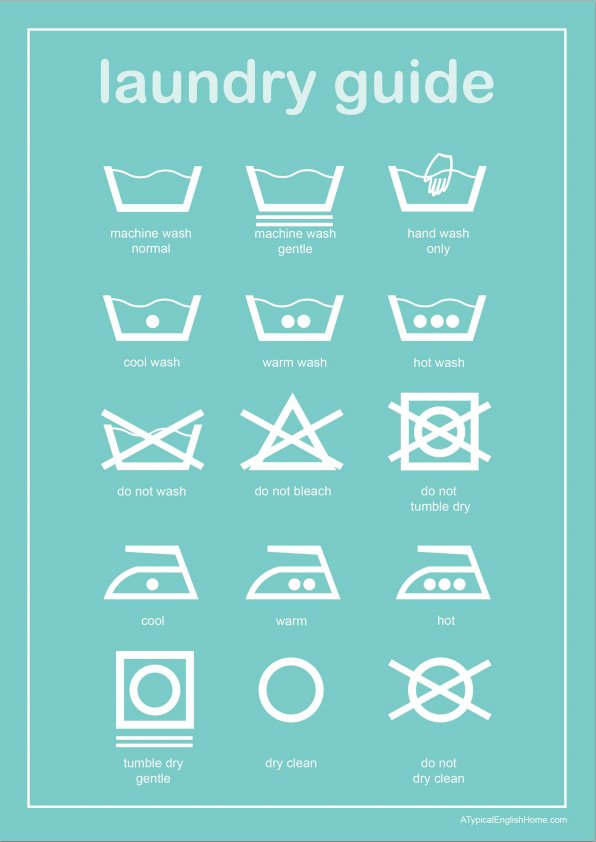 atypicalenglishhome.com
Available for free in several colors here, based on this guide.
132

Speaking of Line Dry: Hide Retractable Clothes Lines in a Cabinet, then Stretch Them across to the opposite Wall when You Need Them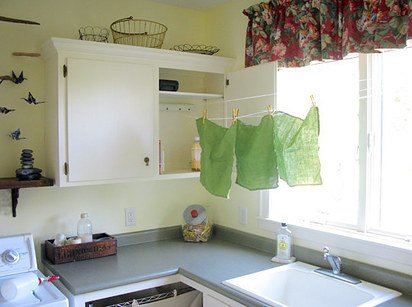 justabouthome.wordpress.com
Also tucked in a corner: a glass penny candy jar, this time holding clothespins. From here.
133

Spruce up a Basement Laundry Room by Staining the Concrete Floor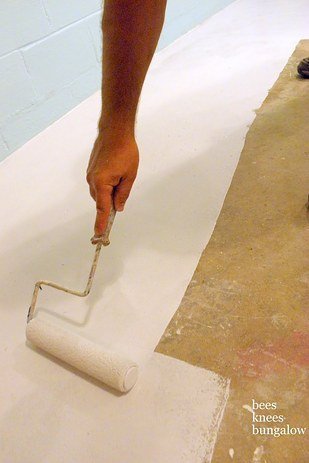 beeskneesbungalow.com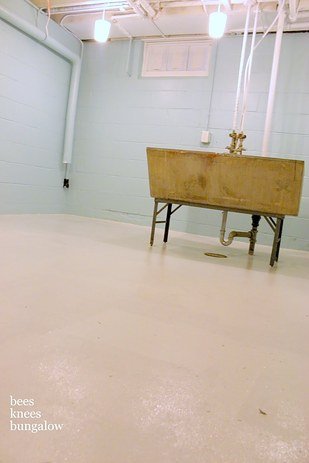 beeskneesbungalow.com
See how they did this here.
134

Build Yourself Some Industrial Shelving, if You're Feeling up for a Challenge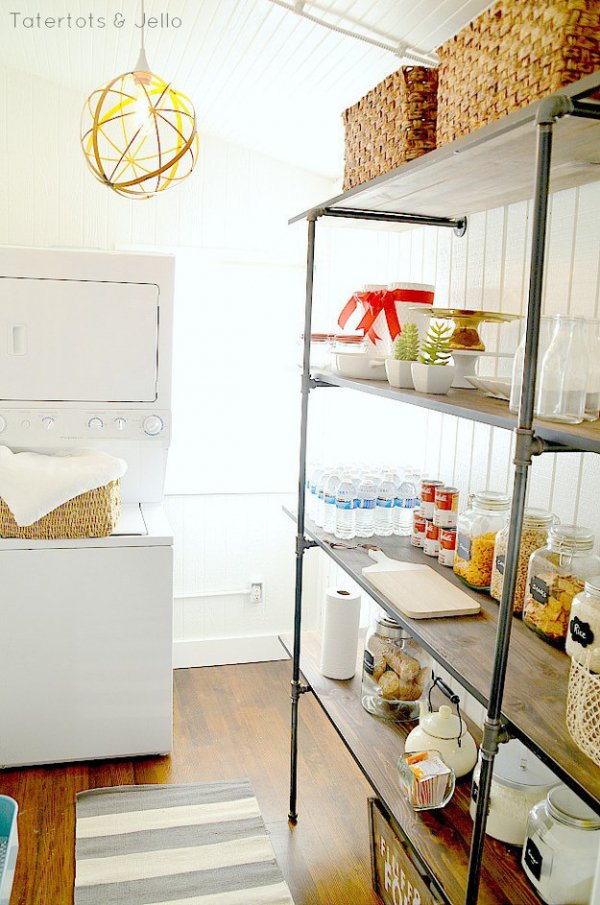 tatertotsandjello.com
It's certainly a weekend's worth of project, but it could really make your laundry room look more ~sophisticated~, even if you're not staging it for your blog. Get the step-by-step here.
135

Put Together a Stain Station, with All the Tools You Need to Get out Every Possible Stain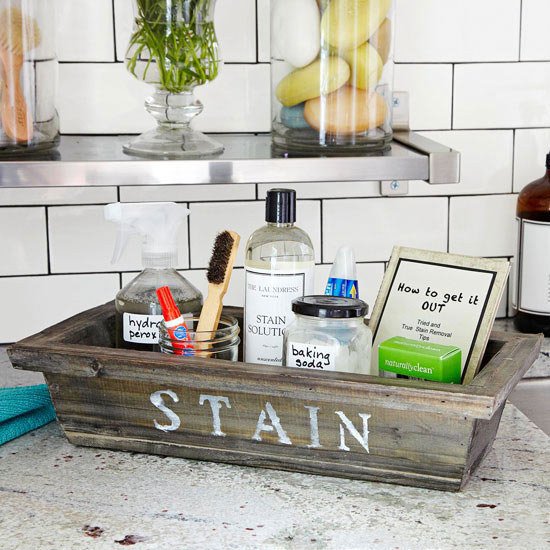 bhg.com
Find this and other laundry room ideas at Better Homes and Gardens. Learn more about stain removal tricks over here.
136

Separate Your Colors Well Ahead of Time by Using Designated Hampers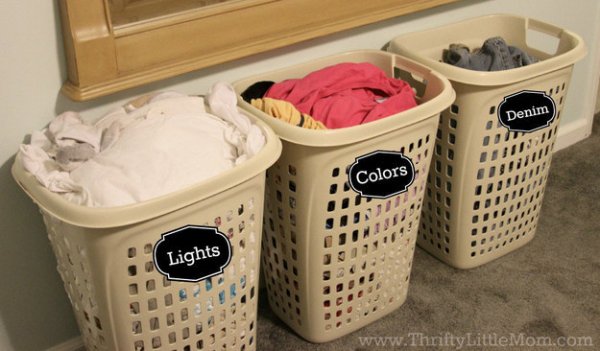 thriftylittlemom.com
This will work best for grown-ups. Parents, you're doing a stellar job if your kids remember to put their laundry in the hamper at all. From here.
137

Take the Basket Organization System One Step Further and Label Each Basket with a Name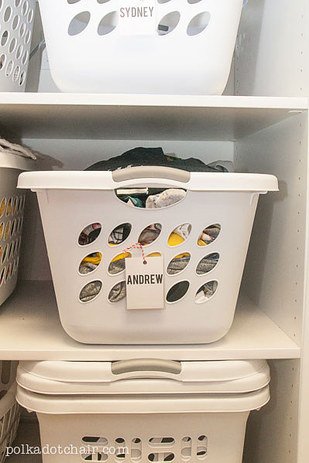 polkadotchair.com
Read more about this mom's laundry system here.
138

Lack Shelf Space for Your Baskets or a Rolling Cart? Mount a Wire Shelf Upside-down above Your Machines to Make Them Easy to Reach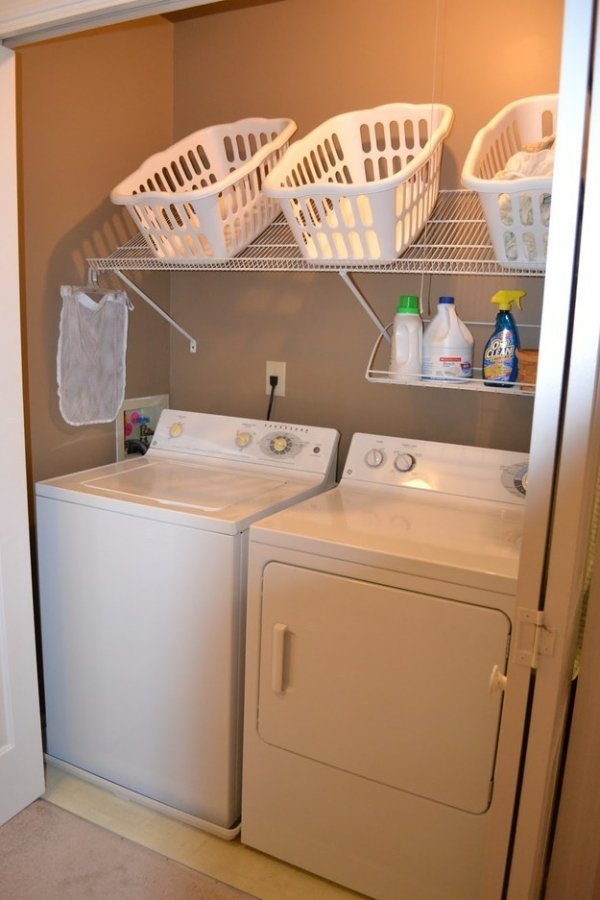 holdontoyourhatsblog.blogspot.com
Learn more about it here.
139

Keep an over-the-sink Cutting Board Handy to Temporarily Expand Your Counter Space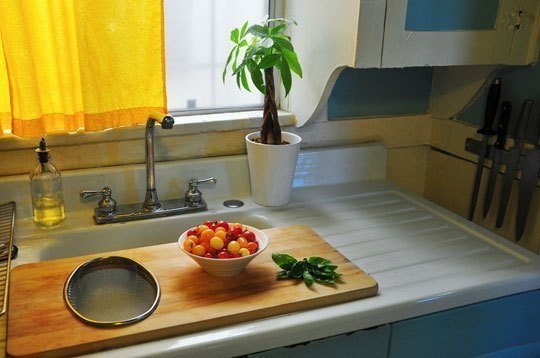 If you have a tiny kitchen, you know that counter space comes at a premium. Get this one for $39.73 here, or one without a colander here.
140

Create Extra Counter Space by Buying an over-the-sink Shelf
This one is $29.99, here.
141

Use Screw-hooks in the Top of an Awkward Corner Cabinet to Turn It into a Pot Rack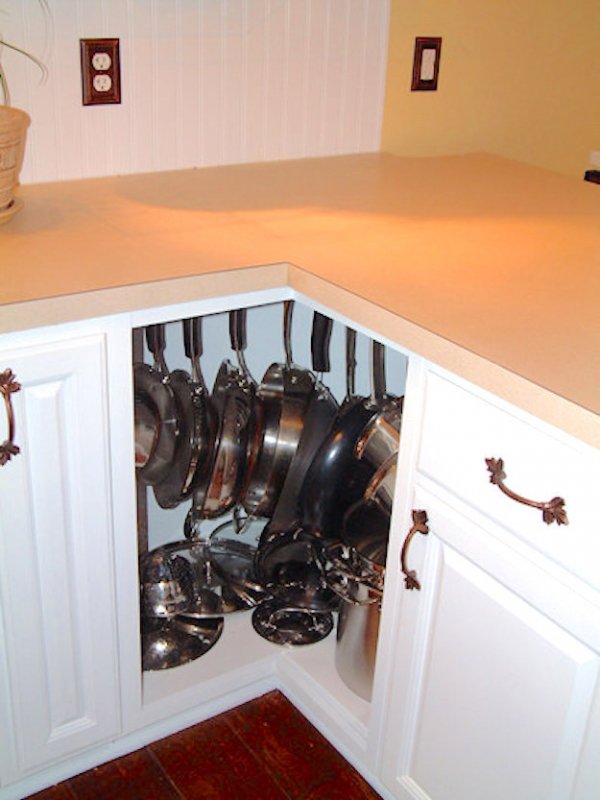 From here. Screw hooks are a little over $6 for a pack of 25, here.
142

Use Sugru (a Moldable Glue) to Make Customized Pot Lid Holders on the inside of Your Cabinets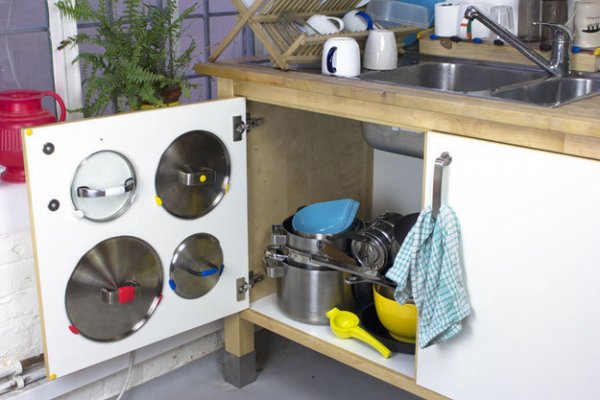 Get some here, $22 for a pack of 8, and find the tutorial here.
143

The Insides of Cabinets Are Also Great Places to Put Hooks for Rags, Gloves, and Pot Holders

Get similar hooks here, $9.58 for a pack of 18.
144

Even a Small, Narrow Rolling Cart Can Majorly up Your Storage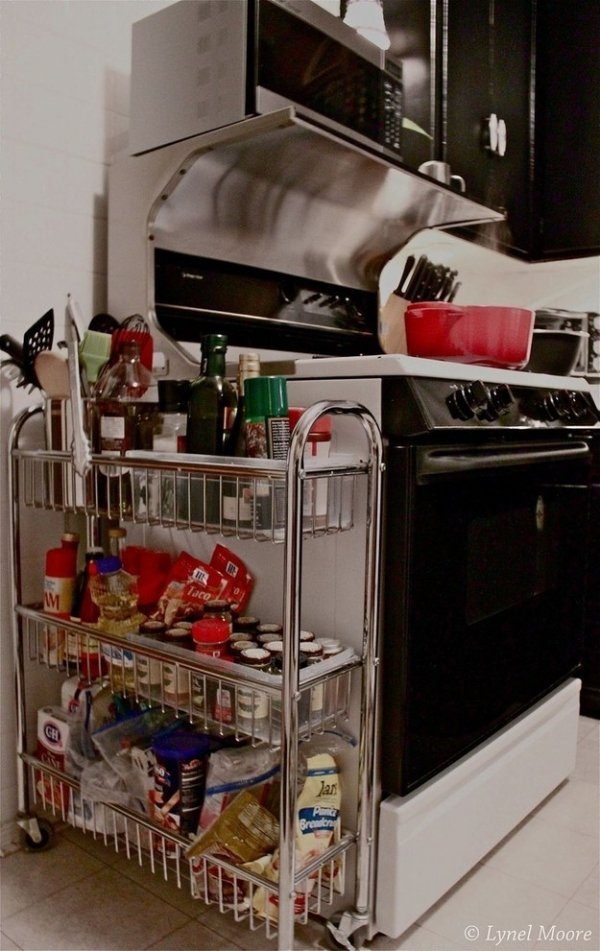 Stick it in a tiny awkward space that wouldn't serve any use anyway. Get a similar one for $24.99 here.
145

Store Your Pans on These Genius Slide-out Racks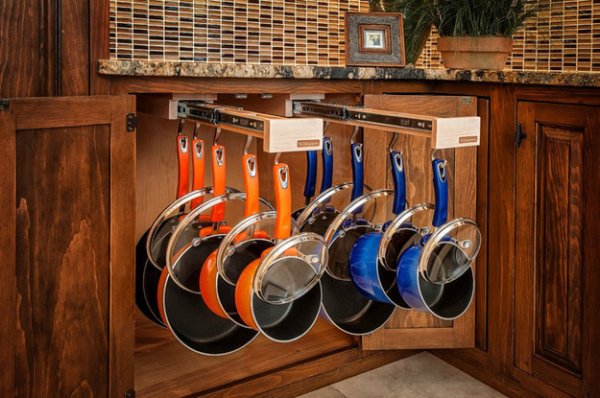 Get it here.
146

Use Pull-out Drawers for All Your Bread and Root Veggies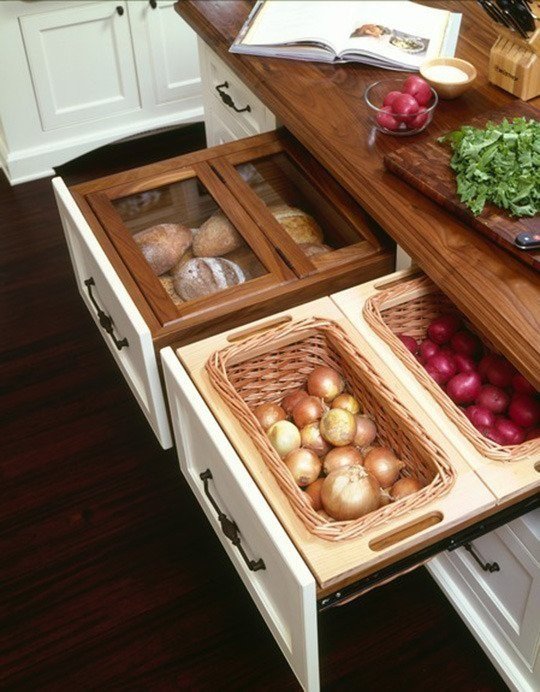 See more here.
147

Keep All Your Heavy-duty Tapes in This DIY Dispenser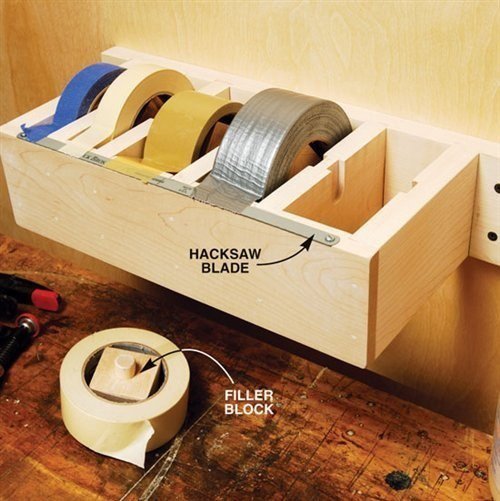 See how to make it here.
148

Use a Picture Ledge Next to or behind Your Bed for Phones and Glasses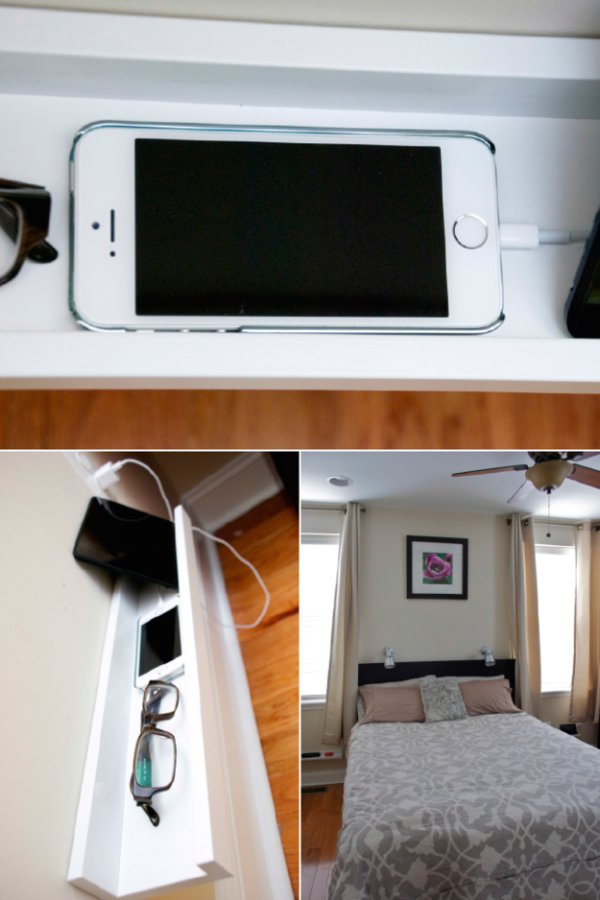 Perfect for tiny spaces. See how here.
149

Turn a Chest or Bench into an Elaborate Filing Cabinet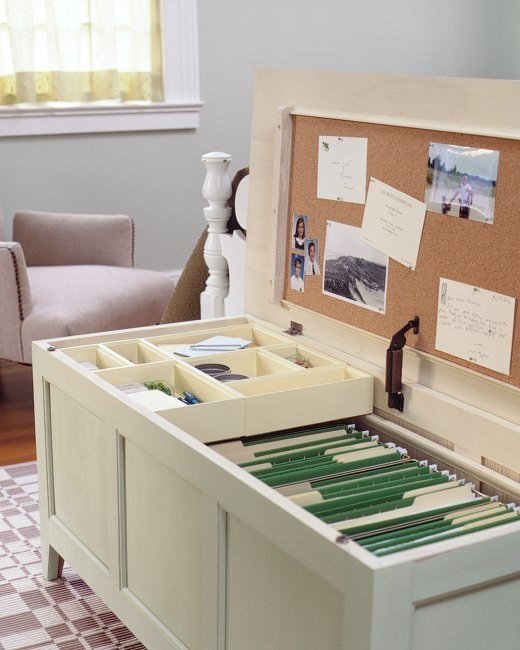 Directions here.
I hope you enjoyed it as much as I did! These are all you need to get your home organized and perfect, just the way you always wanted! Thanks for reading, and let me know if we missed on any awesome hacks in the comments!
Source: buzzfeed.com
Please rate this article