It's already October and the holiday seasons are upon us, can you believe it's a little over two months till Christmas! I'm so excited to bring a joyful giveaway today from Townsend Custom Gifts, where Barbara creates her beautiful customized holiday ornaments **and gifts. Are you already shopping and searching for the perfect ornaments for your Christmas tree? Well if you are the lucky winner of this adorable Santa and Mrs. Clause **ornament set you won't need to search any more...
Getting to know Townsend Custom Gifts...
We have a winner!!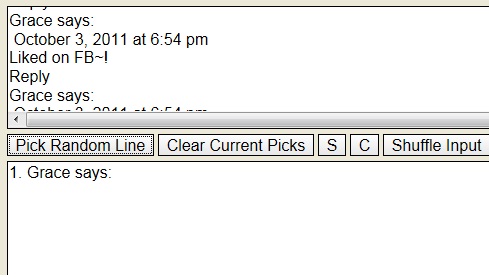 Congratulations to Grace who said, "My fav. holiday tradition is just hanging out with friends and family...", well now you will get to share these wonderful Santa and Mrs. Clause ornaments with your family and friends this Christmas! Thank you again to the lovely Barbara from Townsend Custom Giftsand to everyone who entered. Please check out the other giveaways at AllWomenStalk for more chances to win great prizes, be sure to check that the giveaways are still running. Have a great week everyone.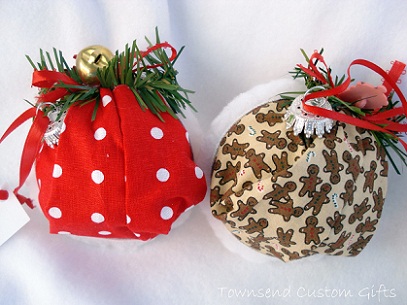 (adorable caps of the ornaments)
"About me...I have always loved art. When I was small I spent hours coloring in my coloring books and being so very careful to stay in all of the lines. My pictures had to be perfect. I had the most awesome mom and I remember her telling all of her friends how nicely I could draw. That made me feel so good about myself and made me all the more determined to be good.Through school my favorite classes were always the art classes. I went on to learn all of the art mediums. I have drawn and painted in watercolors, oils, and acrylics.
When my children were small I was lucky enough to be able to stay at home. I was looking for a way to earn a little extra money so my sister and I started doing craft shows. I started painting on the ornaments and selling at craft shows. It was fun to be doing something that I loved and spending time with my sister. When I heard about Etsy I thought it was a great way to get more exposure for my ornaments. It turned out to be my best decision! I have been on Etsy for just over a year and I love it! My store is called Townsend Custom Gifts.
I specialize in themed and personalized ornaments. I theme many different ornaments such as Santa, Mrs. Clause, Rudolph, Elf, Snowballs, and more. My shop is a custom shop so I interact with my customers. There is a feature on Etsy to contact me so customers can ask me any questions. I can help them by designing a custom ornament or just offer suggestions to them so that they can find exactly what they are looking for. If I don't have what they are looking for I will find it for them and make it! I makes me happy to provide, as I have heard many times 'the perfect gift'."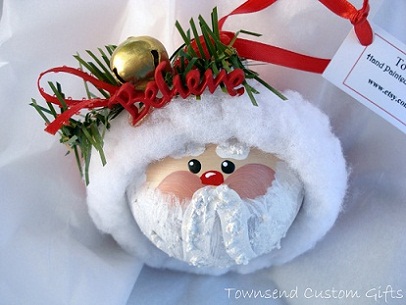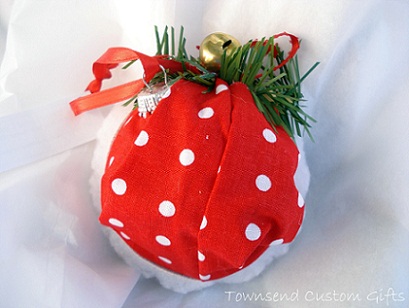 "It would be hard for me to pick my favorite ornament but if I had to I guess it would be the Santa with the jingle bell and the word "Believe". My most popular is the Santa and Mrs. Clause set. They are just the cutest couple. So if you have the time browse through my shop and drop me a "convo" at my Etsy, Townsend Custom Gifts. I also have a facebook page for my business that I update with all of my new ornament and activity. I would love it if you could "Like" my page at Townsend Custom Gifts Facebook. Enjoy looking through my shop and I wish everyone a very merry Christmas and a happy Hanukkah!"
How to Enter...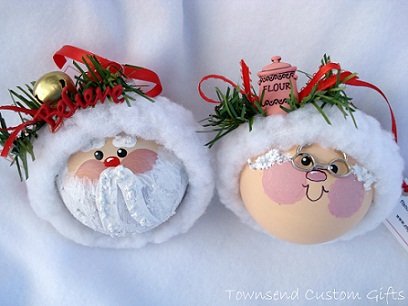 To have a chance at winning this cheerful Santa and Mrs. Clause ornament set fromTownsend Custom Giftsplease tell us what your favorite holiday traditions are as well as your favorite ornament from Barbara's Etsy shop. For a 2nd comment "Like" Townsend Custom Giftsand AllWomenStalkon facebook and for a 3rd comment let us know that you have posted this on Twitter and follow AllWomenStalkon twitter! Good luck to everyone and thank you to the wonderful Barbara for this lovely giveaway! Come back next Monday to see if you are our lucky winner!