Some toddlers, kids, and teens can be picky eaters when it comes to fruits, vegetables, and anything that might be healthy **for them. I know this to be true for my stepdaughters who would rather eat cookies or ice cream over a salad or an apple! You go grocery shopping and when you come home with food items they don't like or want they complain that there is, "Nothing to Eat!" Well maybe with these **fun and **creative food recipes **we might get our kids to eat something we think is better for them...
---
6

Orange You Glad...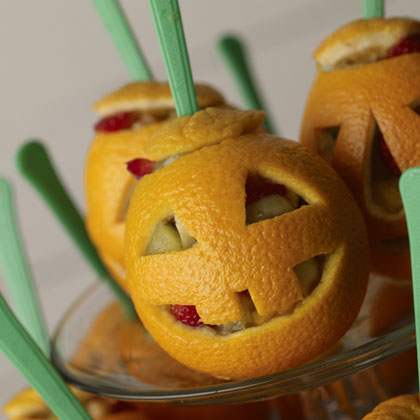 Photo:FamilyFun.Go.com
With this little guy reminding your kids of the fun they have carving out halloweenpumpkins how could they resist eating a healthy snack **like this! Just take your **oranges **and do the same you would with a pumpkin; cut around the top to make a lid, carve out the center and get creative with their little smiles! Don't forget to use the orange pieces to mix in with the fruit salad that will fill the center of your "Snack o' Lantern". This makes a great snack for all year and an even better snack for your kid's **halloween party! Check out the link for more ideas.
5

Garden of Veggies...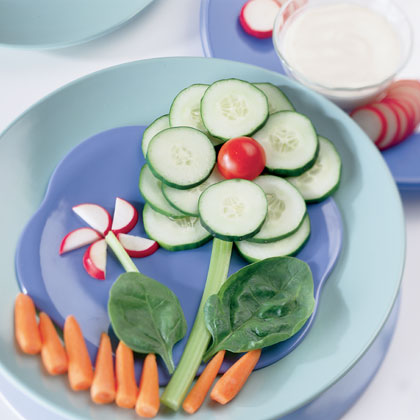 Photo: FamilyFun.Go.com
When your kids come home from school they love showing you all of their art work to display on the fridge, so why not have them** create art with their **vegetables! Just cut up some cucumbers, carrots, and other veggies you may have, along with some lettuce for the leaves and let your kids get creative making flowers, faces, and all types of works of art. After they are done with their creations take some photos before they dip them in some homemade vegetable dip.
---
4

Swimming with Tuna Fish...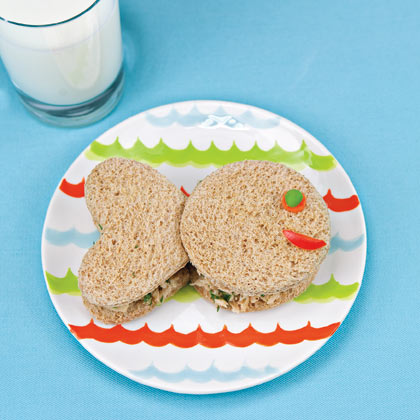 Photo:FamilyFun.Go.com
Tuna can be a very good source of protein **and **Omega-3s for a child's heathly diet. It may not always be easy to get your kids to eat foods like tuna but when you make healthy foodsfun they might be willing to give it a try. With a few different cookie cutters, vegetable eyes and a cute red pepper smile, your children might just fall in love with this little fish. Try out the recipe on the link for a healthy no-mayo tuna salad.
Continue Reading...
---
3

Creature from the Deep Sea...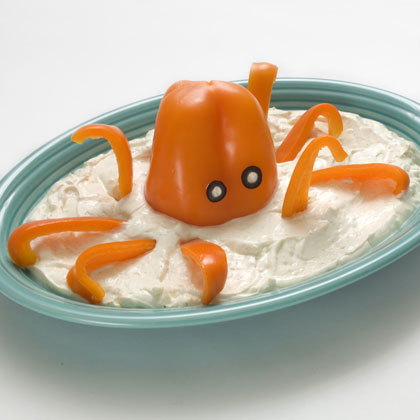 Photo: FamilyFun.Go.com
Kids who love sea creatures, going to the beach, or fishing will love this cool looking octopus pepper. I'm sure with foodthat looks like this funny creature your children will love to make up a deep sea adventure story to tell all their friends about! Remember to be just as healthy when you are making or buying the veggie dip, try one that is low in calories and fat.
---
2

Three Strawberry Mice...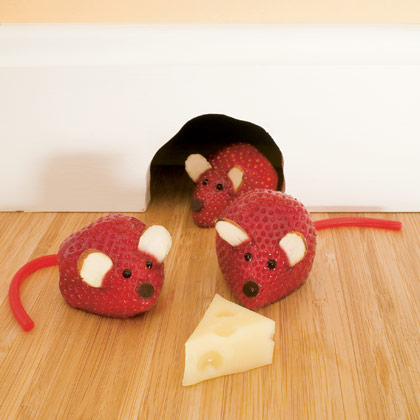 Photo: FamilyFun.Go.com
How adorable are these strawberry mice! If your kids love the mice from Cinderellathey will love making these little fruity friends. They are so easy to put together and really make such cute little critters, ones I'm sure even my mom won't be afraid of! Just remind your childrenthat these mice are to be eaten and are not our friends to keep in our rooms under the bed!
---
1

Mr. Crabby Sandwich...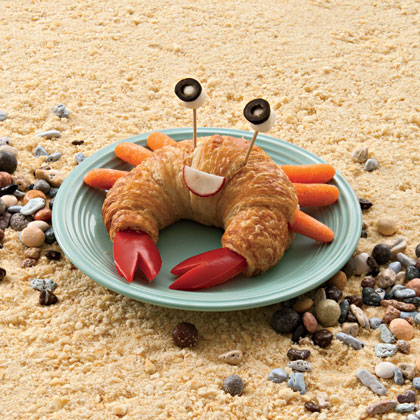 Photo: FamilyFun.Go.com
So many kids and teens who love watching SpongeBob SquarePantswill love making this little guy who reminds me of Mr. Krabs from the hit Nickelodeonshow. I just love this **crab sandwich's **cute radish smile and red bell pepper claws! You can fill the croissant with crab, tuna, or even chicken salad for a healthy lunch they will love taking pictures of to put on facebook!
What fun and creative ideas help your kids eat their food?
---
Comments
Popular
Related
Recent