Your dorm room is a vital part of your life at college. Adding homesickness to your list of burdens as a student is best avoided. As is putting up with a soulless dorm room you don't feel at home in. Just like your room at home, your dorm room should be as much a sanctuary as a place to work and play. And you don't need to spend a week on a makeover to make your dorm room feel like home.
1

Make Your Bed More Familiar
A predominant piece of furniture for any dorm room is your bed, so to make your dorm room feel like home, you should make your bed feel like home too. If comfort is an issue, put egg-crate foam topper on your bed so you can sink in and fall asleep quickly. Bring a pillow, pillowcase, blanket or comforter from home, preferable freshly washed in the laundry detergent scent you're used to. You could even make a pillow out of an old shirt you loved.
2

Photographs
One sure way to feel like your family and friends (and even pets!) are with you in your new dorm room is to have their photographs close by so you can see their faces any time you want. You can be as creative as you want, from the traditional framed photograph on a desk or wall all the way to large photography mosaics you create on your wall or door. If your walls are already full, try putting some of your favorite photographs on a digital frame that rotates through your photographs. If lighted, it can also serve as a calming night light.
"My ladies, we know that moving to a new place can be both exciting and daunting all at the same time. After the hustle and bustle of packing and moving, now comes a new challenge - unpacking. You might be wondering 'how long does it take to unpack after moving'? Well, that varies depending on several factors. Let's help you demystify this process and make it a fun experience."
3

Decorate with Mementos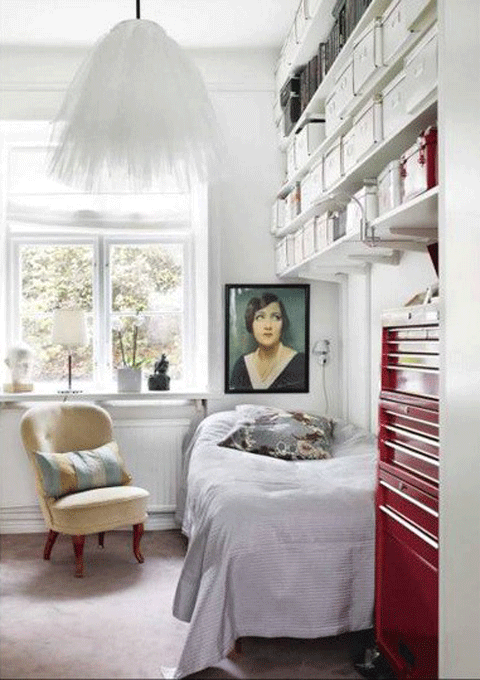 Decorate your walls with a flag or posters from your home state or country. Small items from your everyday home life can be a big comfort when you're in a new dorm room, such as a trophy, jewelry case, vase or even a small plant. Bring a poster or picture you had in your room at home, or put up pics of family, friends, or familiar places.
4

Engage All the Senses
There is more to creating a comfortable room than simply altering the way it looks. Don't forget how the room feels. Bring candles or potpourri that smell like home. Bring a soft rug from home and put it next to your bed. Listen to a compilation of songs you or your friends like. Adjust the lighting so you can avoid the harsh fluorescent lighting present in most residence halls - a small desk lamp with softer light can do wonders to change your mood.
5

Books for Every Reason
Not only should you bring a few of your old favorites from your bedroom just to keep you grounded and give you a feeling of home, but you should also invest in a few. Books or magazines about organizing in small places could be helpful, or guidebooks on getting that perfect study/life balance might help you learn to study but also enjoy your time at college.
6

Make Your Room Feel Less Cramped
Mirrors, when used correctly, can give the illusion of a larger room. Using floor-length mirrors, group mirrors together, or create a fake window with a mirror by placing it so that it reflects an already-existing window. If you are allowed to, create a loft out of your bed to free up floor space. Bookshelves, a small desk, or even a relaxation nook could be put in the newly found space. Keep any furniture you bring small and compact, and keep colors in the lighter shades to reflect more light.
7

Decorate for the Holidays
For many college students living in dorms, it will be the first time they've been away from their friends and families for the holidays. Even if it's not your first time being apart for the holidays, there's hardly anything more festive and uplifting that bringing out the holiday decorations. Add a sting of lights, a little holiday color, and you're already feeling cheery. Bring a few decorations from home if you can, but if you don't have any from home you can get decorations from a dollar store or second-hand store for cheap, or make your own! Lacy snowflakes or fat pumpkins can easily be cut from paper, and you'll have a lot of fun making them! And don't just stick to Christmas – there are plenty other holidays to celebrate too.
It's important to feel comfortable in your dorm room to ensure your focus is on studying and enjoying college life. For freshers especially, leaving for college could be the first major upheaval in your life so make it as easy on yourself as you can.
What's the one thing from home you couldn't leave behind?
Want news and updates about this topic?
Sign up for updates
Kranti:
Good ideas but all photos look very nonattractive.
Mellissa:
Love Love Love😍😍😍
Splashhhh:
No. 6 and 7😍😇😍
Elly:
I live off campus this year--but the bed thing totally worked for me!