7 Stylish Etsy Shops for Geeks ...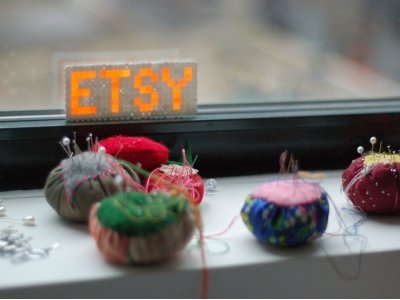 Oh how I love Etsy, and oh how I especially love all the fantastic Etsy shops for geeks. Whatever geekery you like, you are sure to find something related to it that fits your geek fancy but is stylish enough to not hide in a closet (I'm looking at you, lightsaber). If you have never heard of Etsy, it is an online conglomeration of crafters who are able to open a retail shop for their hand-made goods. This means that all those Etsy shops for geeks were created by geeks who, almost always, are into the same quotes and gadgets and jewelry as you! Here are just a few of my favorite Etsy shops related to all things geek.
The Geekerie is one of the larger Etsy shops for geeks. This place is a one-stop-shop for all your geeky poster needs. This place seriously has it all. You want awesome and non-stereotypical movie posters? They have it. Minimalist scotches of Storm Troopers that do not leave you hanging your head in embarrassment? Yep, they have that too. The Geekerie even has all those references to shows, animes, manga, books, and movies from other countries for those who are Dr. Who and Totoro obsessed. Which I am. Completely.
Ok, so this shop is not usually a place for all things geek, but there is one pretty massive exception. Do you remember that awesome cowl shawl that Katniss wears at the beginning of the second Hunger Games movie? Well, it has been re-made by about fifty different Etsy shops, but theLOVEStitch's is, by far, the best. I ordered mine two days after seeing the movie, sent her all my measurements (she makes them to order), and was wearing it three weeks later! The shawl is wonderful and soft and looks sooo good with everything. Actually, people who have never seen The Hunger Games have commented on how gorgeous it is. They may not know, but I am totally channeling that Katniss fierceness with it on!
This little guy is just in time for Valentine's Day and will be perfect for almost any child of the '80s or '90s. Bronwen's Art makes one product, a Zelda themed card complete with Rupee shaped confetti and a message that will make any gamer's heart melt. Be sure to order yours soon though; mine took about a week to make before it shipped!
Is being a fan of your favorite books/movies/games not enough? Have you ever felt the need to literally wear your love on your sleeve? I have as well, but only when something is cute enough and fan-tastic enough to don this bod when visiting the real world. Enter UnicornTees. This place has sweatshirts and tees with all those GoT, HP, and video game quotes we love. It also takes it a step farther and reaches out a hand to all the math and science geeks out there. Just be sure to only buy a few… T-shirts quickly become uncool when a closet is full of them.
Finally, we are to the accessories, one of my favorite ways to wear that geek love. There are many great geek related accessory shops out there depending on your needs. I think we all know that the Hunger Games Mocking Jay pin is simply a Google search away, along with almost any piece of jewelry from HP. This shop is a great place to find the less popular geek jewelry, like quotes from Disney movies, GoT, Howl's Moving Castle (swoon), and Dr. Who.
It's pretty jewelry that also shows the structures of chemicals! Yes. Please. These could be worn with almost anything and be a statement piece all on their own. If you like this, than you man may also like CyberOptix awesome science and math filled bow ties and neck ties.
Ok, this might just be the coolest Etsy shop ever. HippieLand is a shop completely comprised of smell goods for your home that smell like our most beloved characters/stories/places. The not-so-great part about this is my computer does not yet have smell-o-vision compatibility so there is no way to know if the smell is good before getting it. I will stay away from the Dementor's Kiss candle for that reason alone.
These are some of my favorite and less seen Etsy shops for all things geek. What are some of you favorite Etsy shops and geek loves?
{{#comments_count}} Show Commnents ({{comments_count}}) {{/comments_count}}