Skyscrapers and tall buildings have been part of the human landscape for centuries. The World's great builders and architects - even since ancient times - have pushed their art and design further and further in an effort to touch the sky with their buildings. In the modern world, it has resulted in some amazing skyscrapers and other tall buildings.
Table of contents:
1

Inntel Hotel, Amsterdam, the Netherlands
Via ARCH4150_Pemberton
To me this looks like a number of Lego houses piled together. It's certainly one of the most interesting tall buildings in Europe.
2

The Ostankino Tower, Moscow, Russia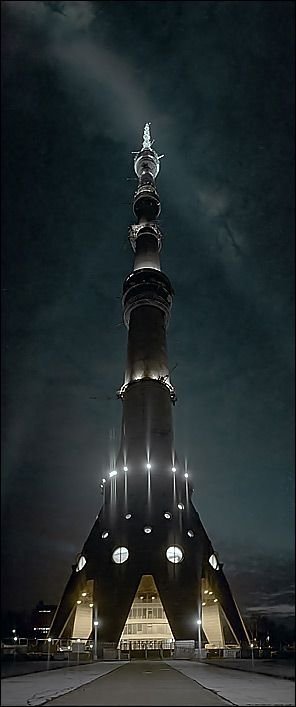 Via Soviet Architecture - SkyscraperCity
The radio and television tower is currently the tallest free-standing tower in Europe.
3

Sheraton Hotel, Huzhou, China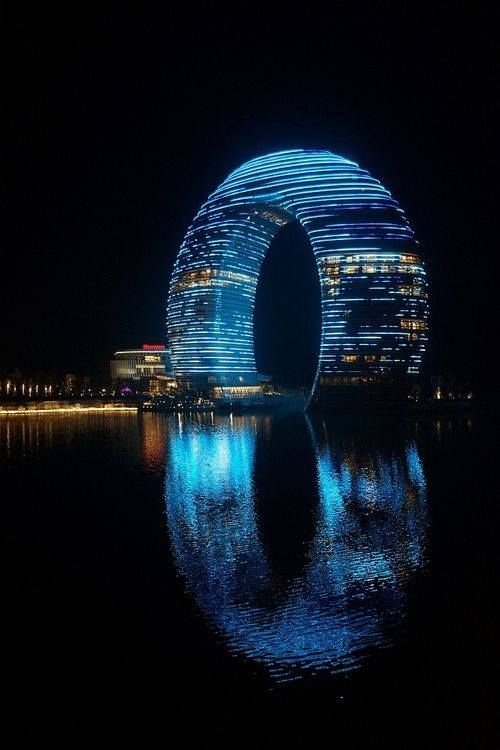 Via Mr. moon
Clever use of lighting make the hotel a spectacular sight at night.
4

Market Hall, Ghent, Belgium
Via Amazing Architecture
The perspective doesn't show that this is a long narrow building with plenty of space for market stalls. And it looks completely different from another angle, as seen below.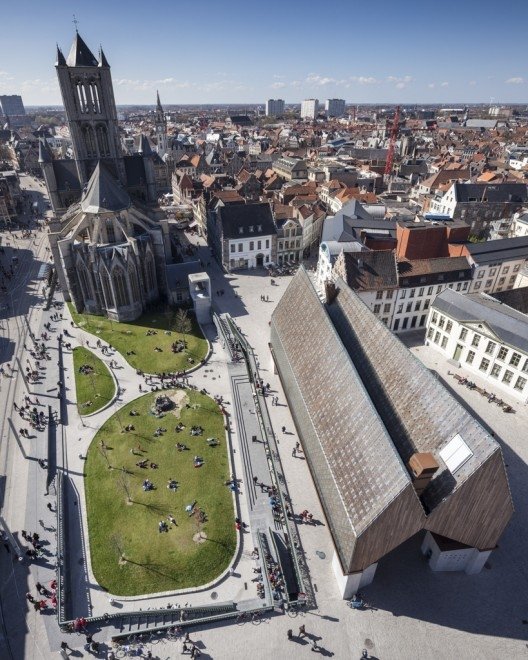 5

The Walter Towers, Prague, Czech Republic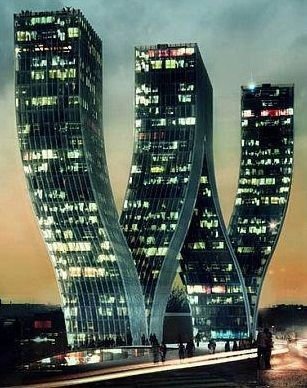 Via LOL Laffs
Love the W shape.
6

L'Agora, Valencia, Spain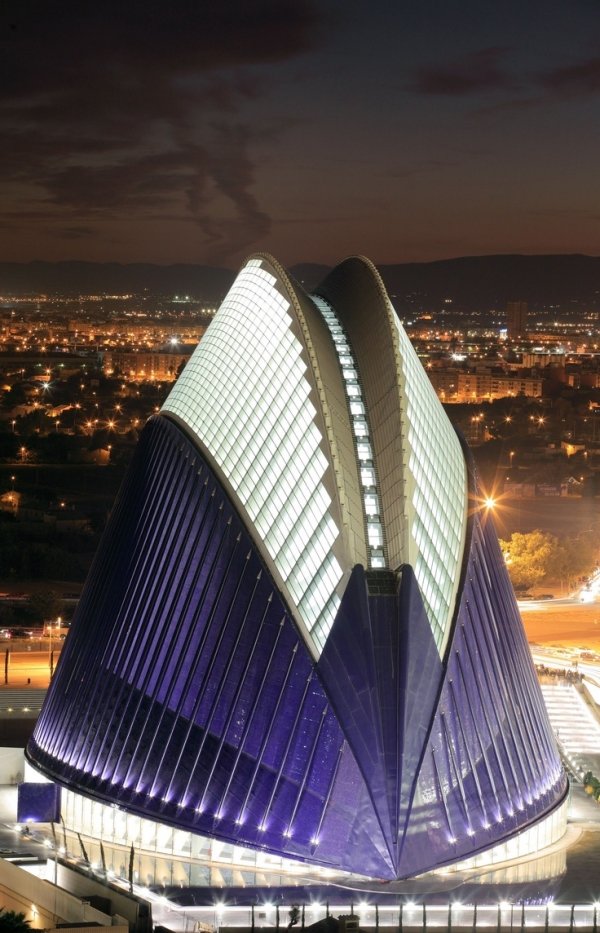 Via Official site of the City ...
One of the main buildings of The City of Arts and Sciences.
7

Menara Airport, Marrakech, Morocco
Via travelandleisure.com
It's always a bonus if the airport is architecturally outstanding.
8

Jean-Marie Tjibaou Cultural Center, Noumea, New Caledonia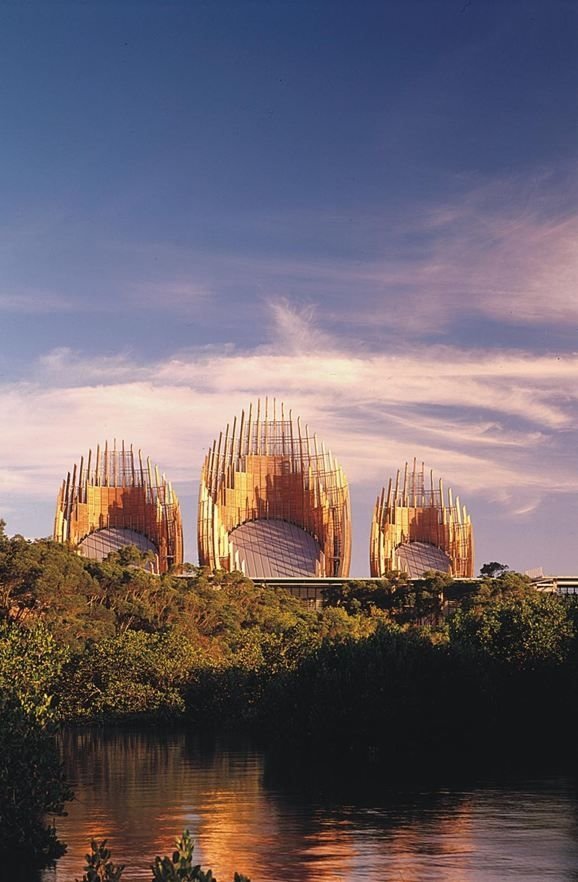 Via Jean-Marie Tjibaou Cultural Center - ...
Not what usually comes to mind when you think of South Pacific architecture.
9

The National Library Building, Prague, Czech Republic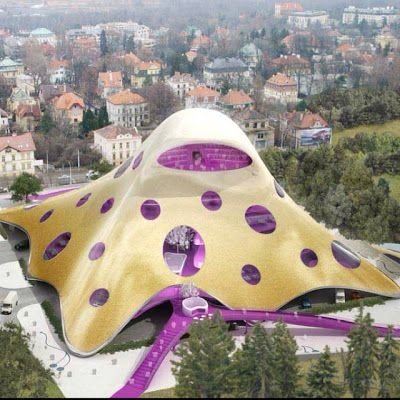 Via Homes Out Of The Ordinary
It really stands out amongst the medieval buildings of the Old Town.
10

The Dancing House, Prague, Czech Republic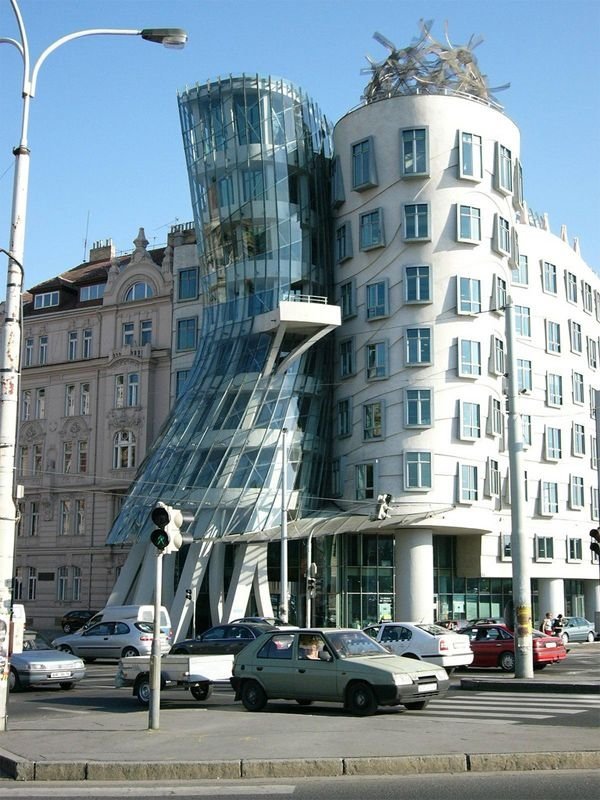 Via Popular post: 10 glass buildings ...
Fondly known as the "Fred and Ginger" house.
11

Orbis Apartments Melbourne, Australia
Via AUSTRALIA
One of the most iconic residential blocks in Melbourne.
12

Doors, Seoul, South Korea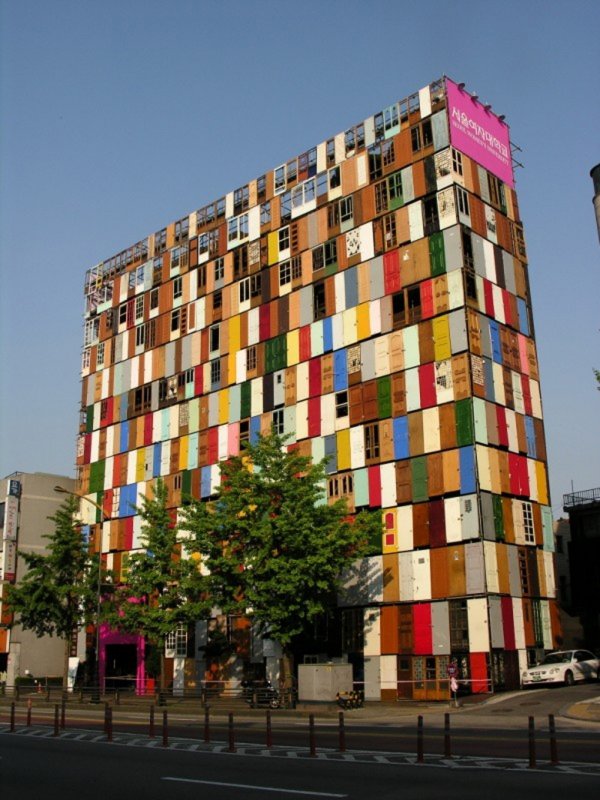 Via Unusual 1,000 Door Building,South Korea ...
South Korean artist and designer Choi Jeong-Hwa used 1,000 old doors on the outside of his building.
13

Folkart Towers, Izmir, Turkey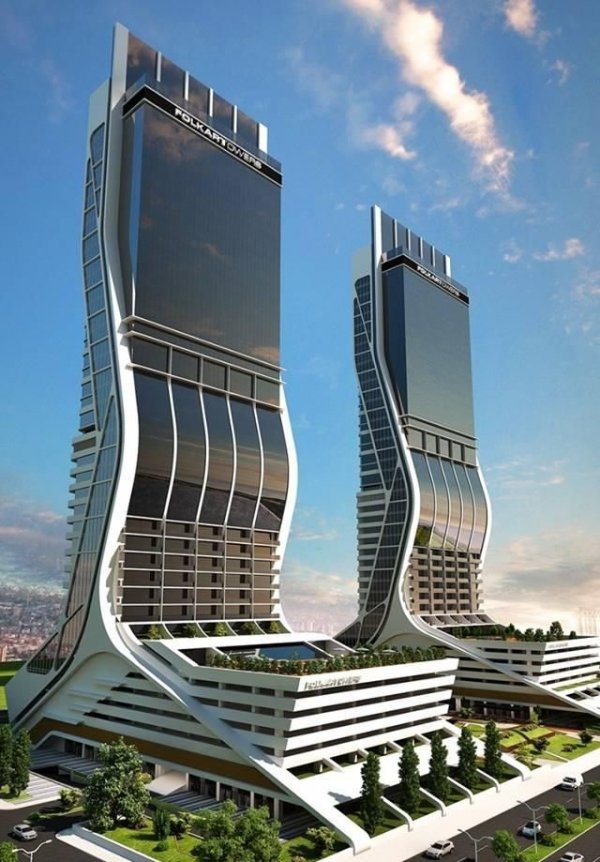 Via tsbids.com.au
The towers are the third and fourth tallest buildings in Turkey. One is slightly taller.
14

Azadi Tower, Tehran, Iran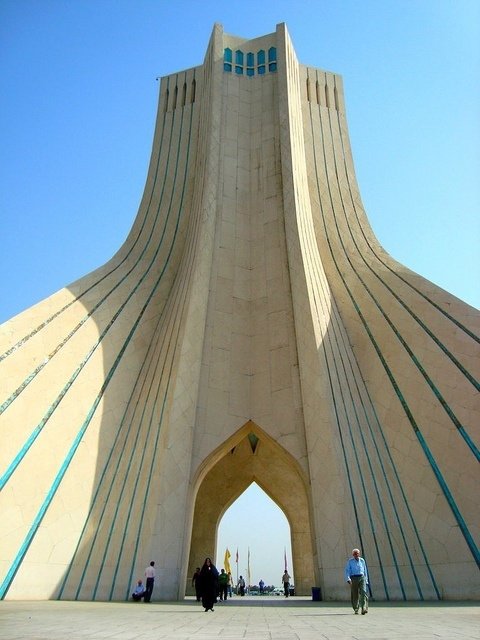 Via Azadi Tower, Tehran, Iran
Its name translates to "Liberty Tower" in English and it marks the western entrance to the Iranian capital.
15

Solomon R. Guggenheim Museum, New York, USA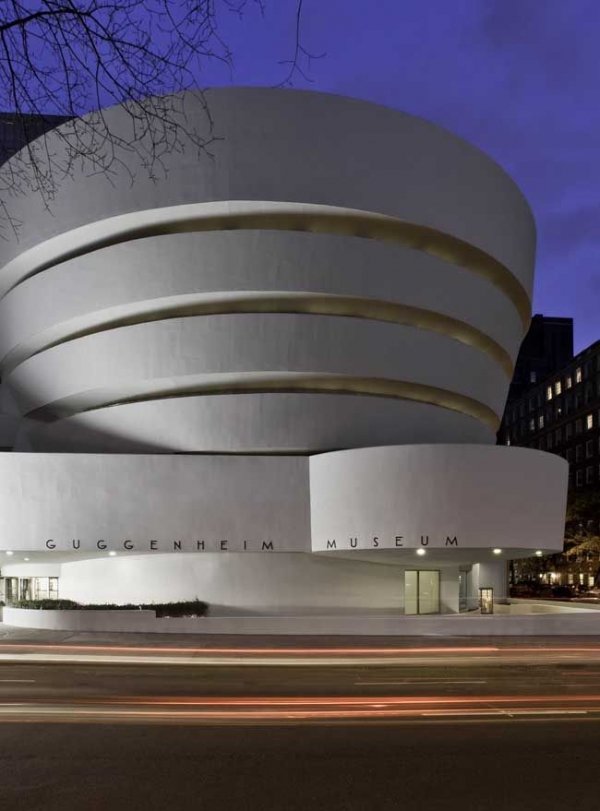 Via Guggenheim New York – Museum, ...
One of the many fantastic buildings designed by Frank Lloyd Wright.
16

Floating Towers, Singapore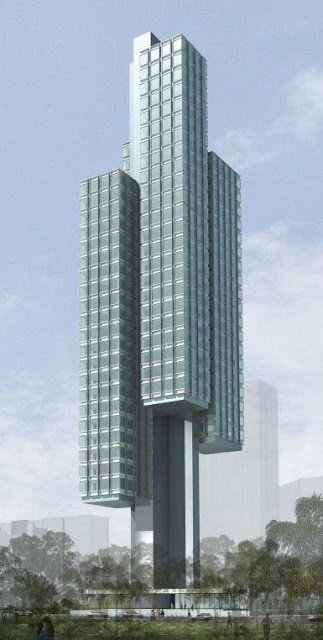 Via VogueResorts.com: The Leading Vogue Resort ...
One of the many tall skyscrapers currently under construction - it will be a residential block when complete.
17

KUNSTHOFPASSAGE, Dresden, Germany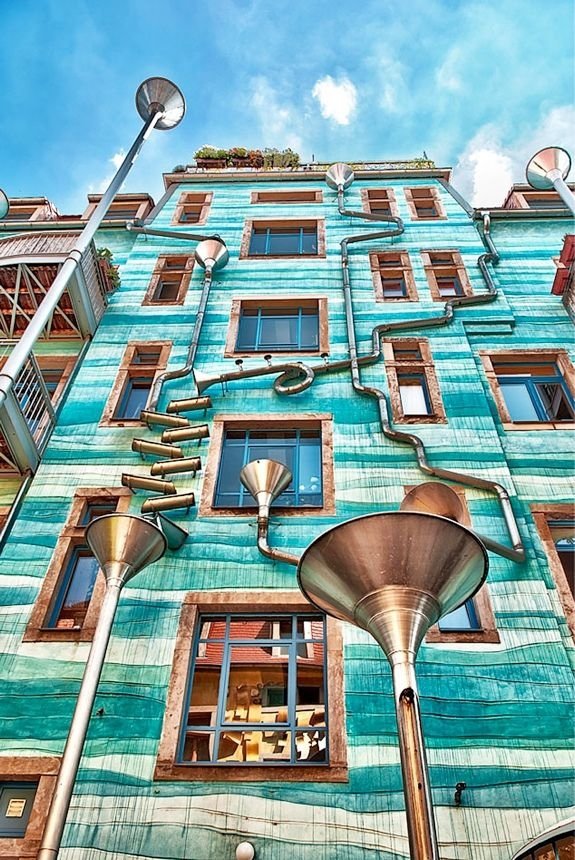 Via For a Chuckle
When it rains, water is channeled down the front of the building in a way to make melodic notes that can be called "music."
18

The Kuchlbauer Tower, ABENSBERG, Germany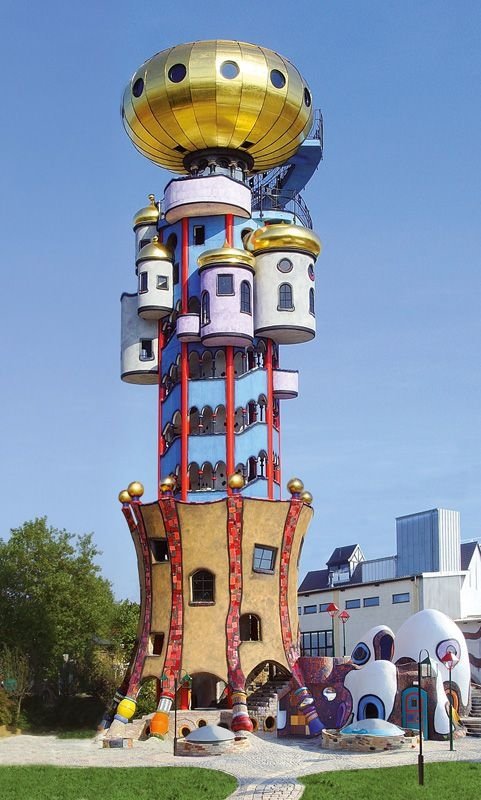 Via The Hundertwasser tower, designed by ...
The tower is a museum in the grounds of the Kuchlbauer Brewery. It is home to a huge collection of weissbier glasses and an exhibition explaining the Bavaria Purity Law (a governance covering beer production).
19

Casa Batlló, Barcelona, Spain
Via Amazing Architecture Of Antoni Gaudi ...
A masterpiece of Antoni Gaudi architecture.
20

Water Towers, Kuwait City, Kuwait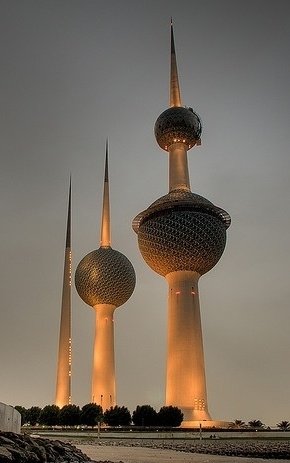 Via Places. Middle East
If you've got to have water towers, you might as well make them beautiful.
21

The Montjuïc Communications Tower, Barcelona, Spain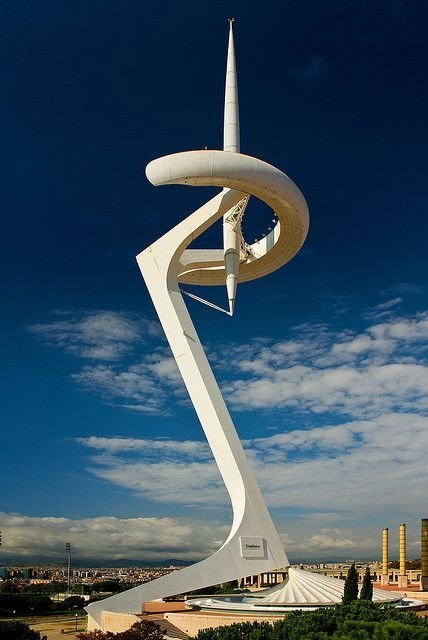 Via TORRE CALATRAVA, SPAIN
One of the world's most striking communication towers.
22

Flat Iron Building, New York, USA
Via Flatiron Building, New York City, ...
One of the first tall buildings to achieve iconic status.
23

Guggenheim Museum, Bilbao, Spain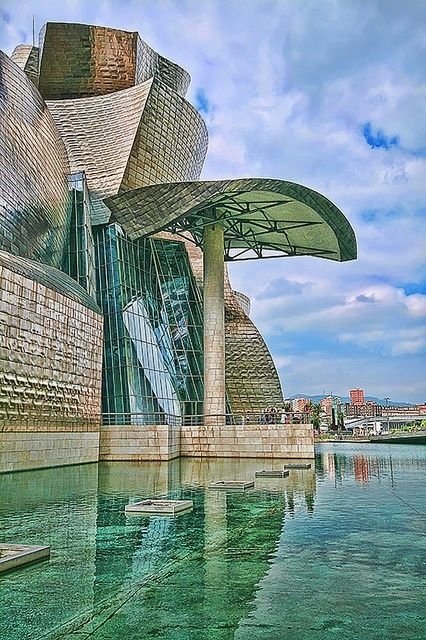 Via Guggenheim Museum (Bilbao, Spain) | ...
This branch of the Guggenheim opened in 1997 and was designed by the renowned Frank Gehry.
24

The Absolute World, Ontario, Canada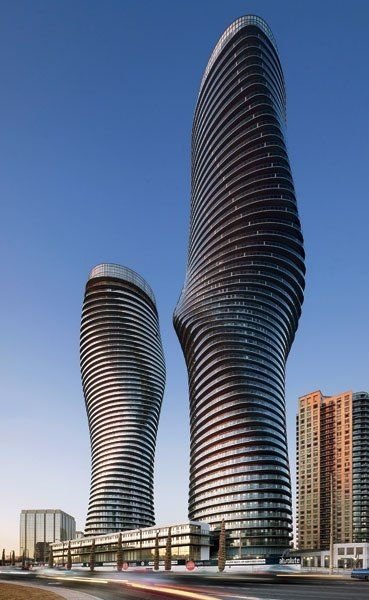 Via HARPA Concert Hall and Conference ...
These are fondly known as the "Marilyn Monroe" towers because of their sexy curves.
25

Namaste Hotel, Mumbai, India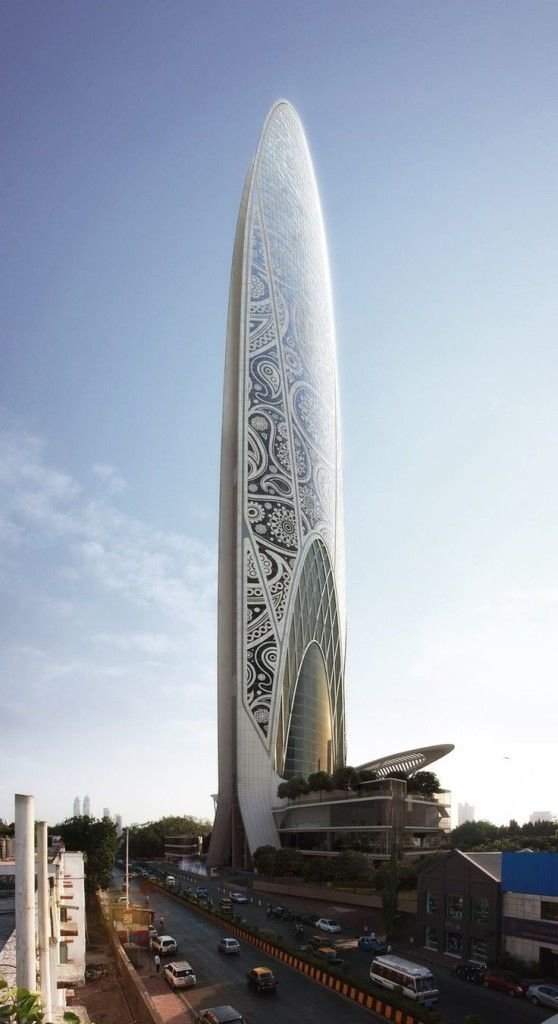 Via spectacularplaces.org
The hotel is currently under construction in Mumbai, which has some of the most fabulous tall buildings in India.
26

NCDC Building, New Delhi, India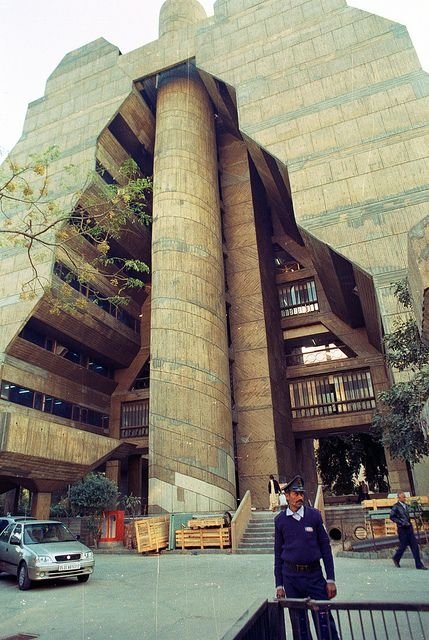 Via delhi - NCDC building 1
Nicknamed the "Pajama Building," but I'm not sure why!
27

Emporia, Malmö in Sweden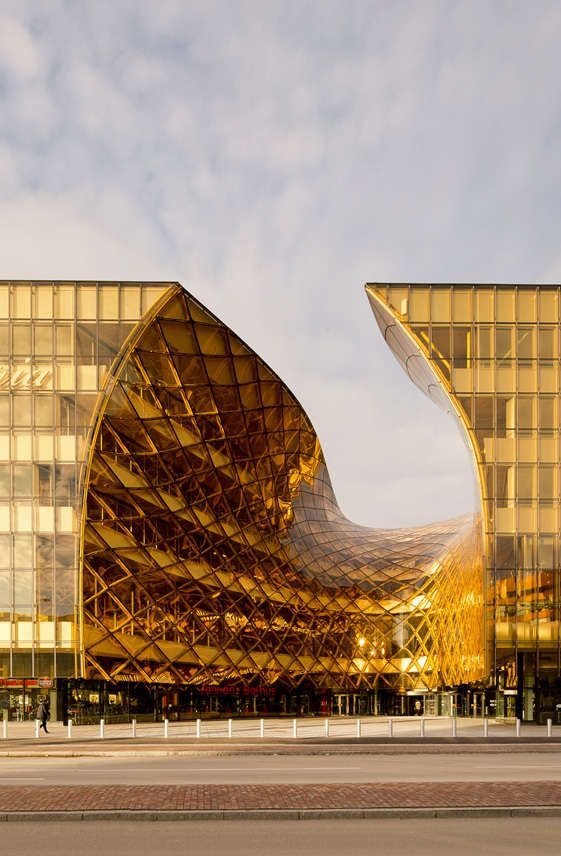 Via Chevron-Patterned Buildings : 520 West ...
Emporia is one of the largest shopping malls in Sweden.
28

Ryugyong, Pyongyang, North Korea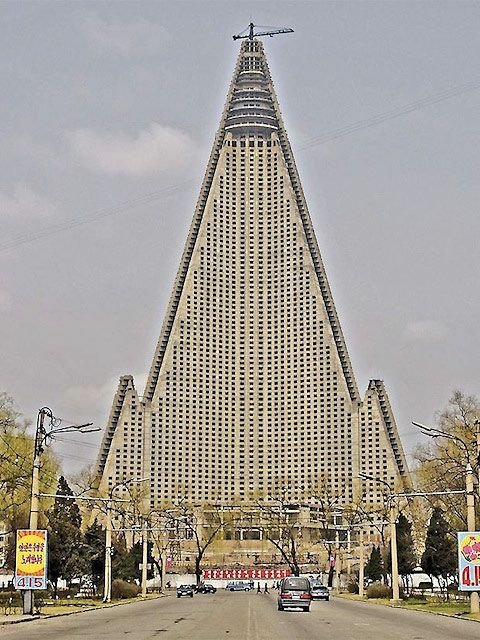 Via North Korea's bizarre buildings and ...
Once one of the world's tallest hotels in the planning phase, construction began back in 1987 and is still unfinished. Being in North Korea we can only imagine the reasons why.
29

One Park West, Liverpool, England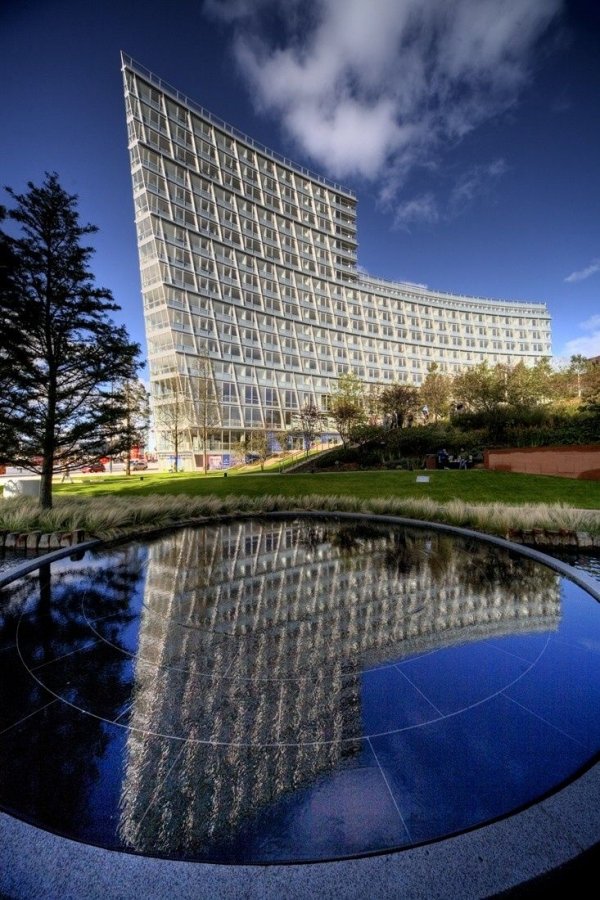 Via Incredible Photos – Amazing Pictures ...
We have skyscrapers in the UK but I was surprised by this one. It was designed by César Pelli, the same architect who designed the Petronas Towers in Kuala Lumpur and the World Financial Center in NYC.
30

The F&F Tower, Panama City, Panama

Via PANAMA CITY | F&F Tower ...
The 7th tallest building in Panama City is affectionately known as "The Screw."
31

The HAUSSMANNIAN Building, Paris, France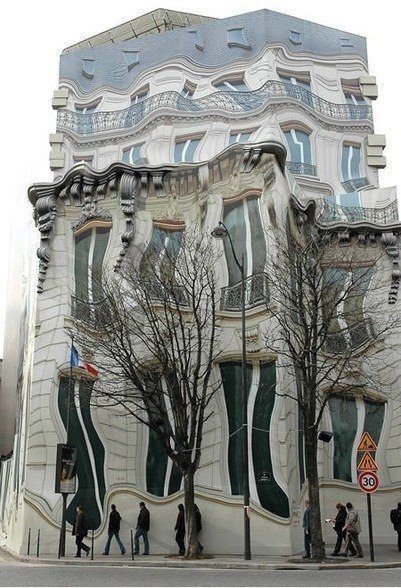 Via 39GeorgeV wrapped building
The fantastic mural makes it look like the house is melting.
32

Bosco Verticale, Milan, Italy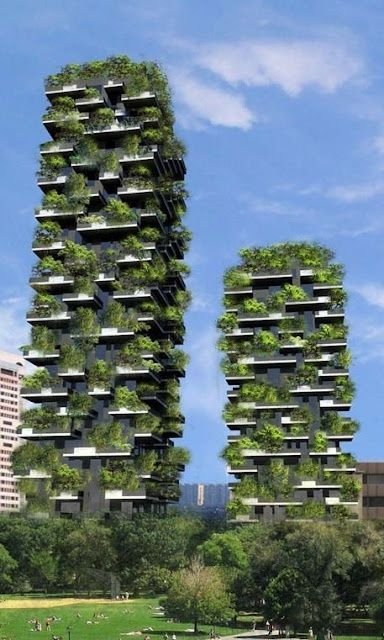 Via Bosco verticale in Italy | ...
The World's first vertical forest.
What do you think of skyscrapers? Are they a thing of beauty or do you think skylines are better without them?
Please rate this article