I have four fish tanks in my house - one in each of my kids' room and an extra in one of them. My scientist son has a big tank and a Betta tank while my other two each have a Betta tank. The thing I love about fish tanks is that they are soothing to watch so they help my kids fall asleep at night. Plus it teaches them responsibility as they care for their swimming pets. No matter why you want one, these are some to strive for.
Table of contents:
1

Totally Different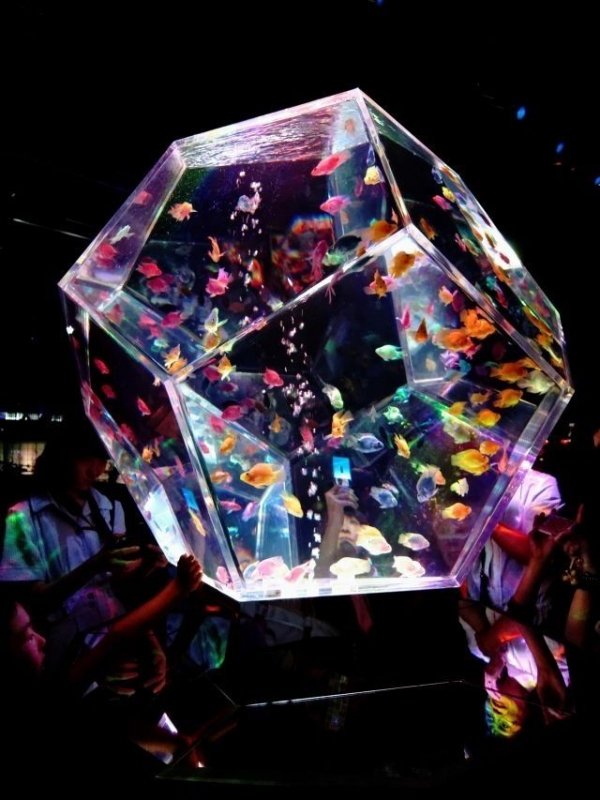 Via Wishful Thinking.✨
This has to be one of the coolest fish tanks out there. It has a unique and fun shape, but you'll need to be sure you buy fish that don't need plants to live.
2

Fish Tank Tables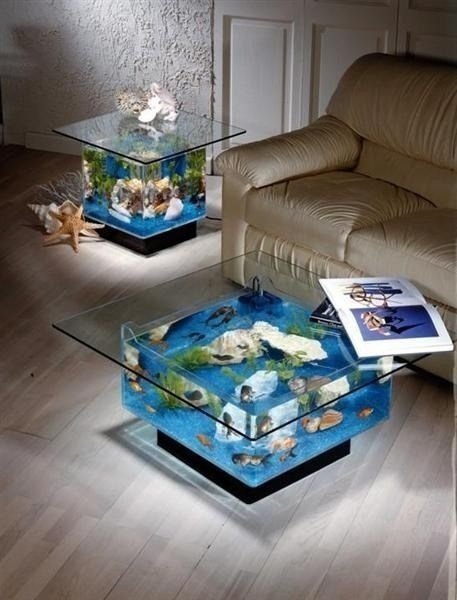 Via Bedroom
Probably not the best thing for a house with kids, but really awesome for your living room.
3

Shower Wall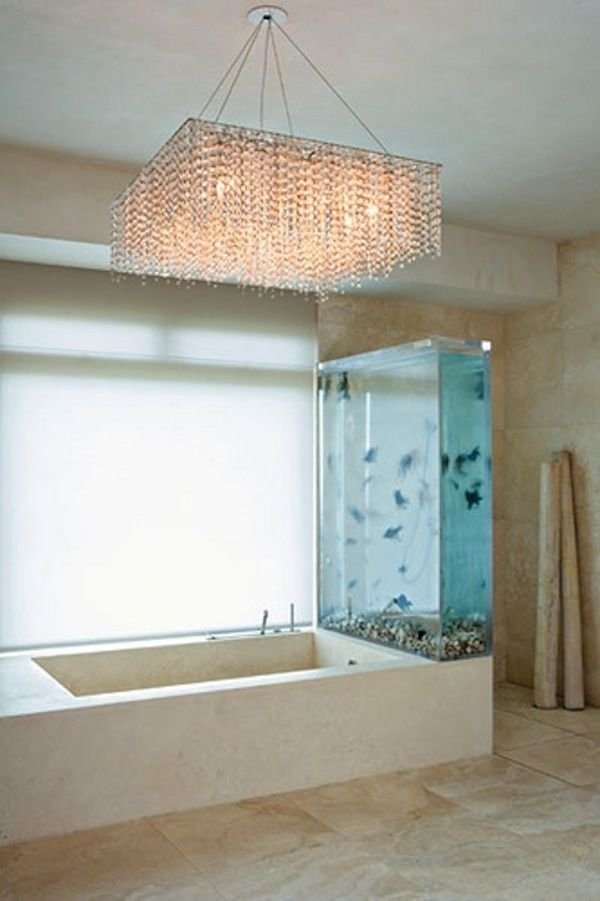 Via Celebrities With Amazing Fish Tanks
You could lounge in a bath and watch your fish or hang a shower curtain and create an aquatic retreat.
4

Random Jars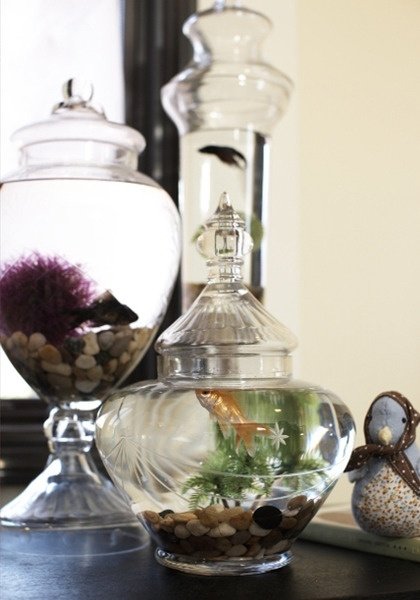 Via Play Room for Ali Landry's ...
If you have any random vases or glass containers lying around, they make perfect tanks for Bettas or goldfish.
5

For Your Dog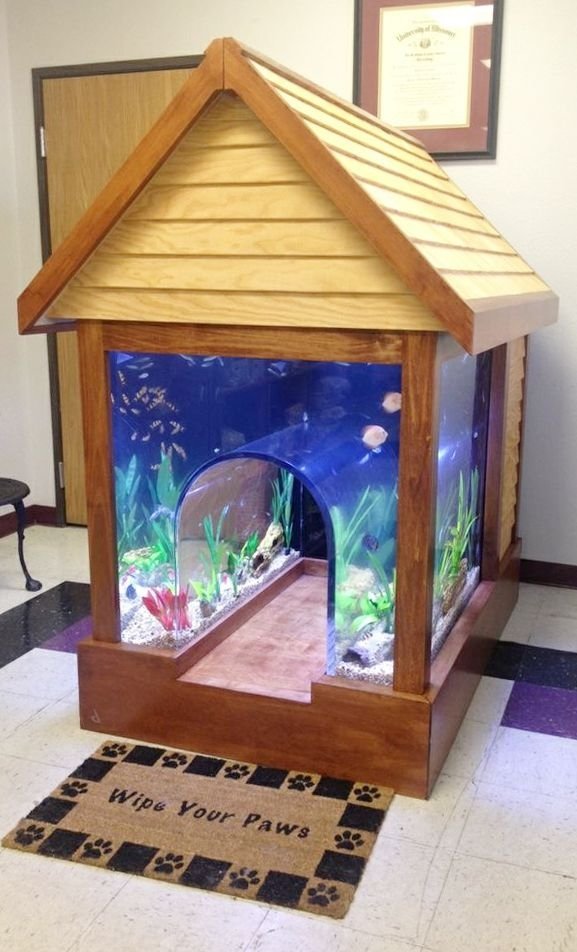 Via Went to my local vet ...
Who says your dog can't enjoy his own fish tank. Build him this dream doghouse and he'll love you forever.
6

Wall Tanks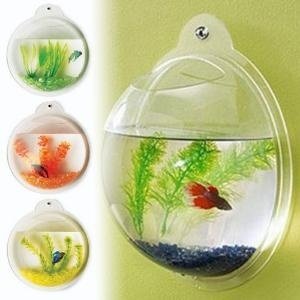 Via NEW! WALL MOUNTED FISH TANK ...
Hang these cute little tanks on the wall to keep kids and pets away from your fish and to save space.
7

Headboard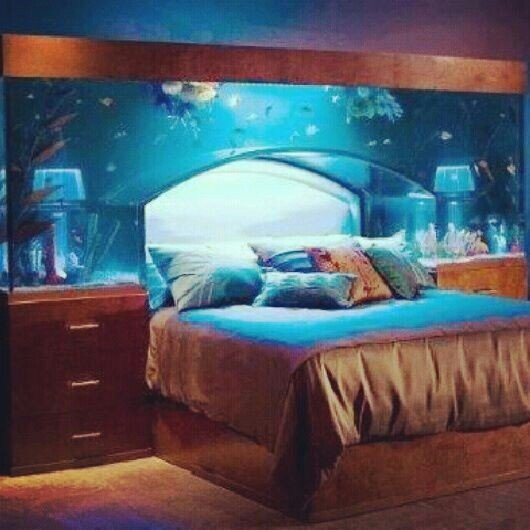 Via pinterest.com
Instead of the same old headboard, install this beauty and you'll never want to get out of bed.
8

What Time is It?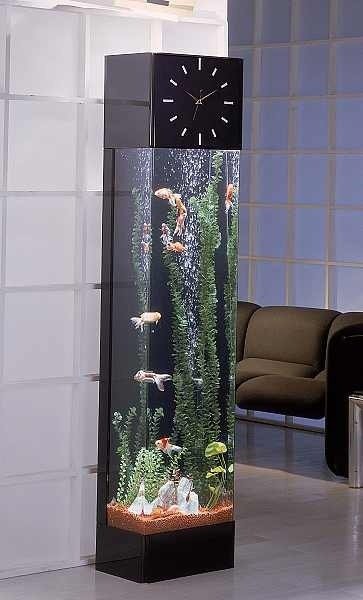 Via Mia camera da letto ideale
Instead of just having a clock, get a clock that has a fish tank underneath.
9

My Hanging Goldfish Bowl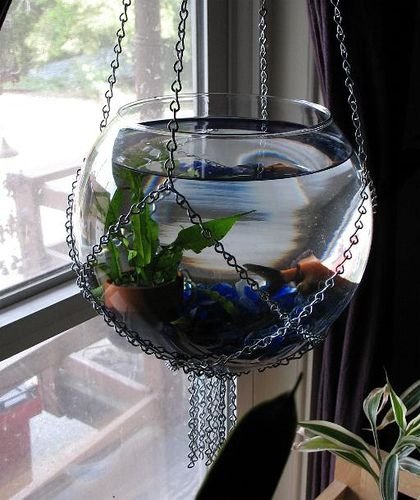 Via My Hanging Goldfish Bowl
What a cute idea for a bathroom or kitchen where you don't have tons of space.
10

Themed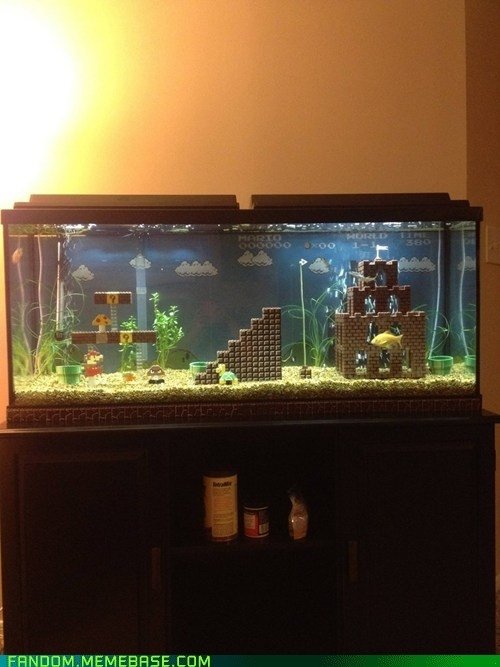 Via Video Games
No matter what your thing is, you can likely theme a fish tank around it.
11

Dividing Wall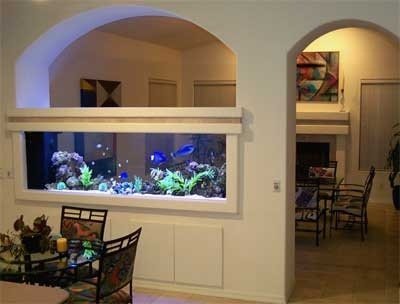 Via otterine.com
This half wall tank is a good way to separate a room while still leaving it a bit open.
12

Treasure Chest Fish Tank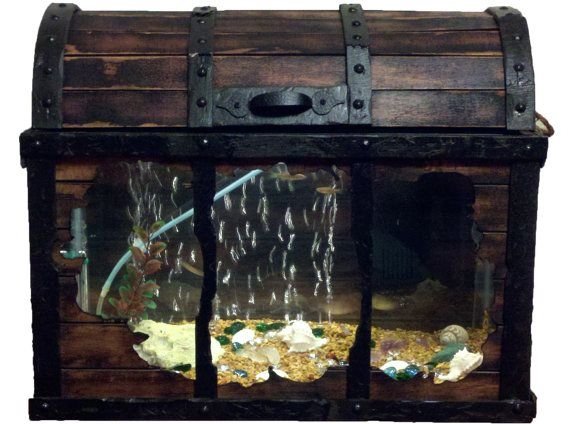 Via YEAR END CLEARANCE --"Little Treasures" ...
This would be a fun tank for a child's bedroom or a basement game room.
13

Built in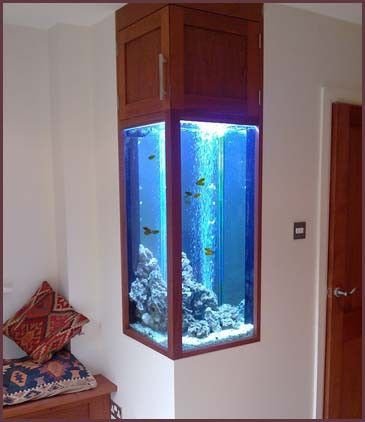 Via 37100 | Postris
If you don't have room for a big tank, think about having one installed in a wall. Cool, right?
14

Giant Salt Water Fish Tank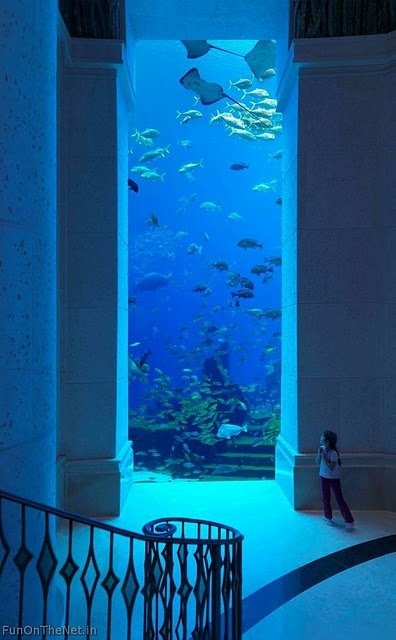 Via Airows
I don't have the house for this, but wouldn't be awesome if you lived in a mansion?
15

GumBall Fish Tank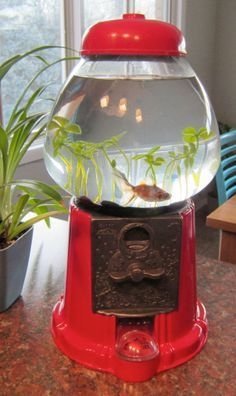 Via fab.hardpin.com
A thrift store find can be a great receptacle for your fishy friend.
16

Exploding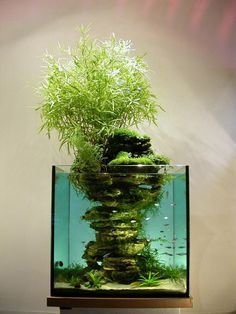 Via Geeky : Home/Office/Work space/Bathroom decore ...
I love how the plants are growing right out of the tank.
17

Bar Tank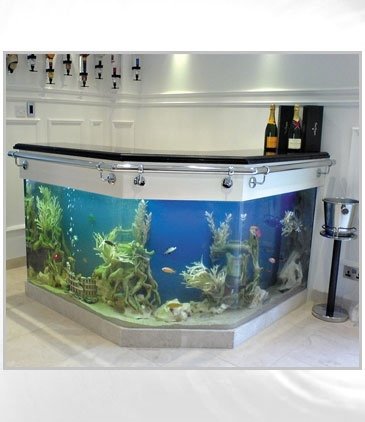 Via aquariumgroup.co.uk
If you have a bar in your house, what could be cooler than a fish tank bar?
18

River House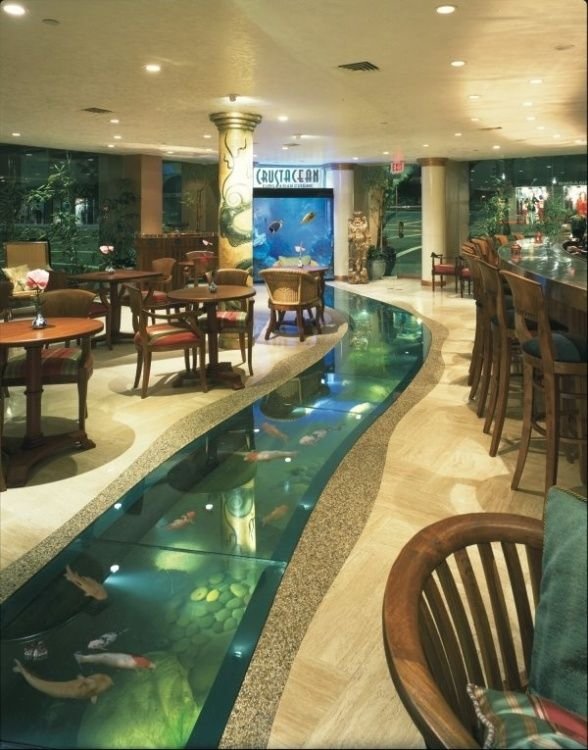 Via Fish Tank in Floor
I can't say I'd be able to create this in my house, but I would love to have it!
19

Car Front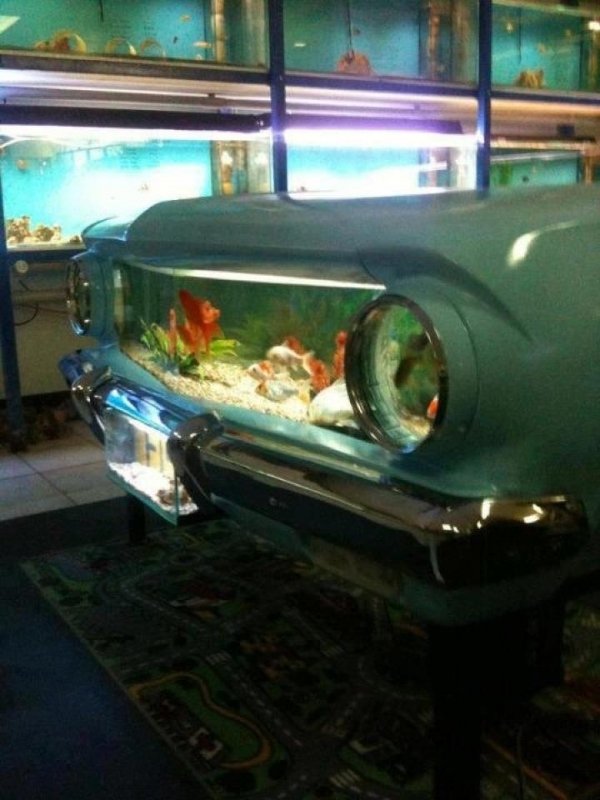 Via BIG BOY & GIRL TOYS ...
I don't think you could drive this car anymore, but what a cool way to hang on to it if it stops working.
20

Huge Fish Tank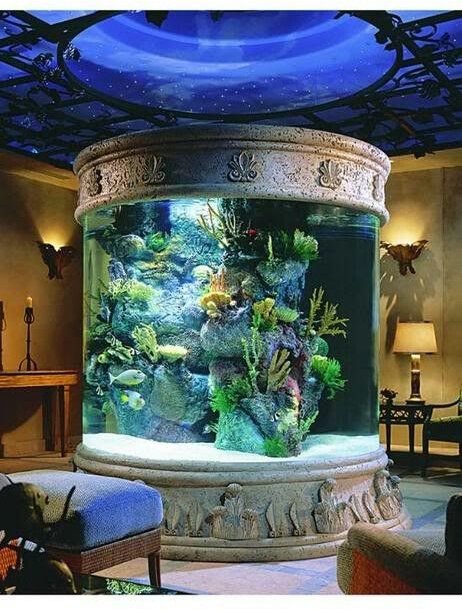 Via Amazon.com: Online Shopping for Electronics, ...
If you have a huge house, this would be a perfect accessory. It reminds me of something I'd see in a restaurant.
21

Bird Cage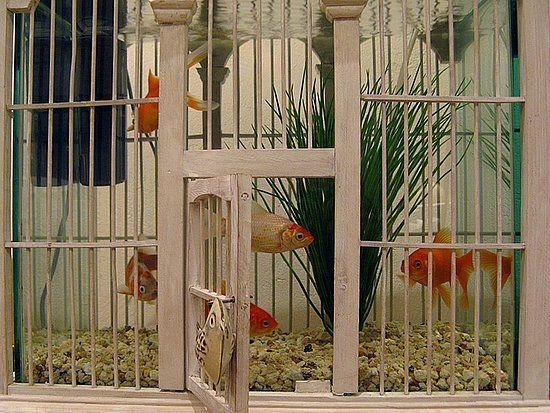 Via 11 Alternative Uses For Birdcages
Nestle an old bird cage in your fish tank for a fun new place for your pets to play.
22

Huge Glass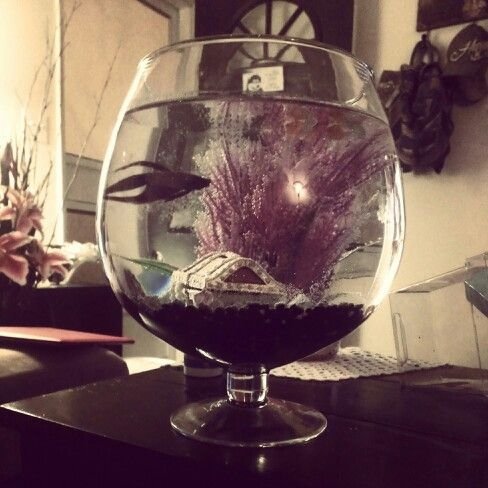 Via Animals
You can sometimes find these huge glasses at home goods stores, and what better home for your Betta?
23

Water Slide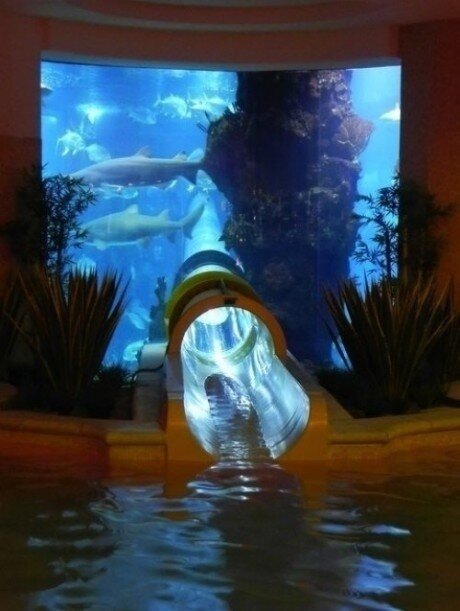 Via Ella's Animal Pictures
I'd like to know where this is so I can take a few rides down it.
24

Wedding Cake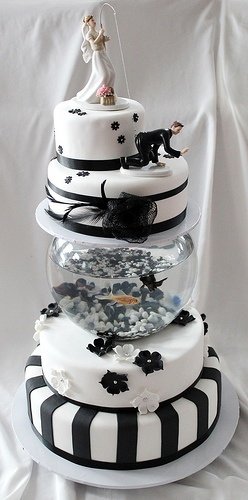 Via Fish Tank Cake_02
For fish lovers, a tiny fish tank on your wedding cake is a fun idea to share your passion.
25

Awesome Presentation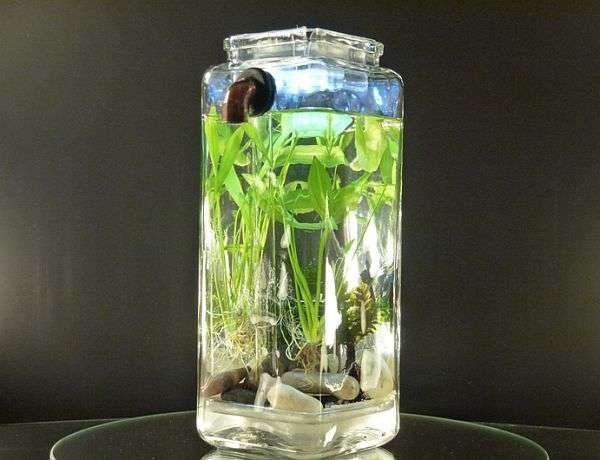 Via Self-Washing Fish Tanks : NoClean ...
This tank is different, but so classy!
26

Kids Tank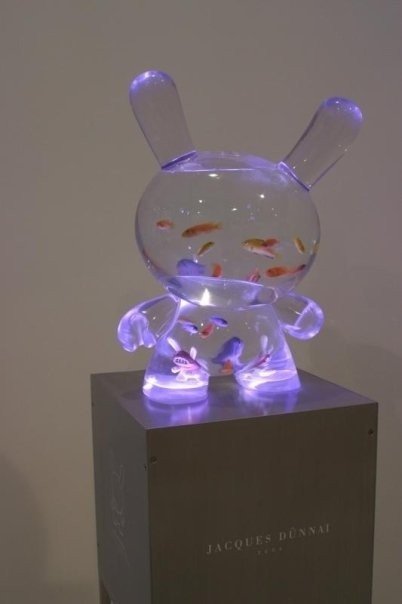 Via Interior Design
What kid wouldn't love having this tank in their bedroom?
27

Bathroom Wall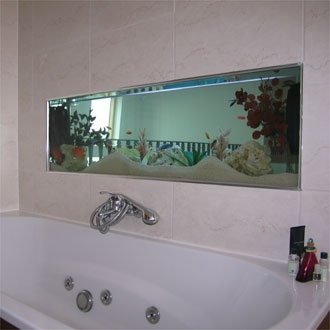 Via freshwater/saltwater fish & aquariums
This tiny tank is perfect for adding personality to your bathroom.
28

Reused Liquor Bottles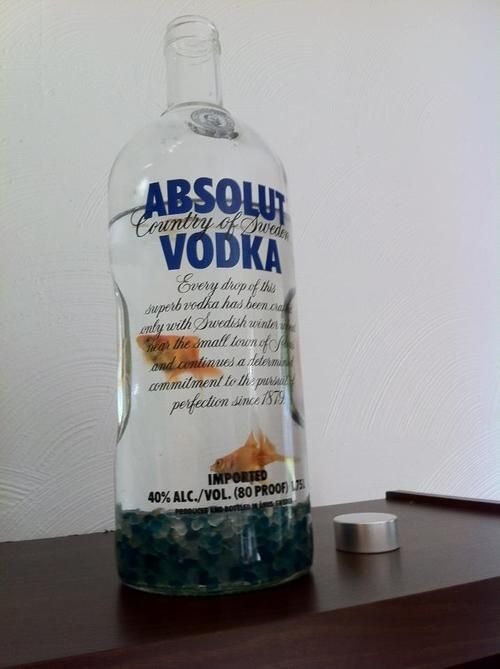 Via Fish tank
Repurpose empty liquor bottles as a tank for small fish.
29

Outdoor Fish Tank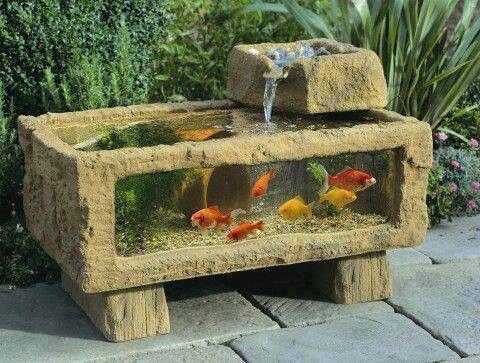 Via Aquariums & Fish tanks
Wouldn't this look awesome in the garden? Of course it would have to come in during the winter.
30

Sink Tank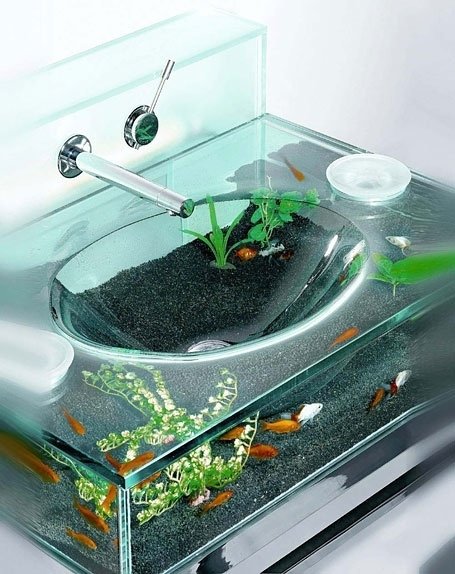 Via July 2008 - Super Cool ...
What a totally awesome idea for a bathroom that isn't like anyone else's.
31

In the Shower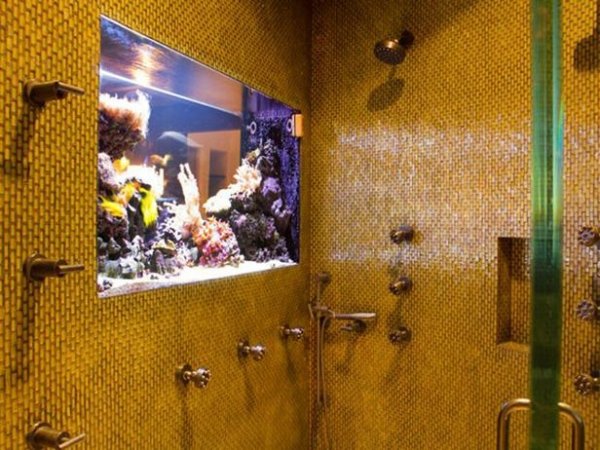 Via unique iron headboard in guest ...
Installing fish tank in the shower would be a sure fire way for me to never get out.
32

Fish Tank Shoes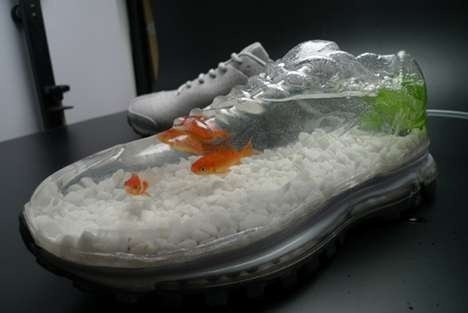 Via Fish Tank Table: Eye Catching ...
This would be a fun tank for a teen boy's bedroom.
33

Bar Decor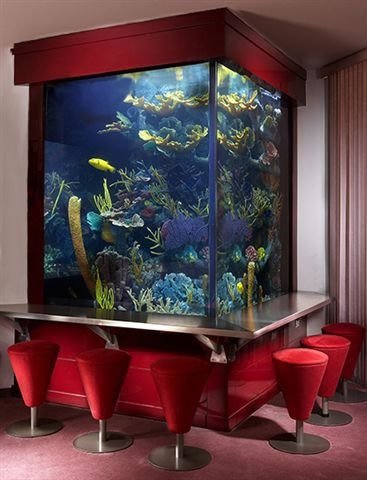 Via Custom Aquariums for Your Crib ...
Whether you're opening a bar or putting one in your house, this is a totally fun idea.
34

Stairwell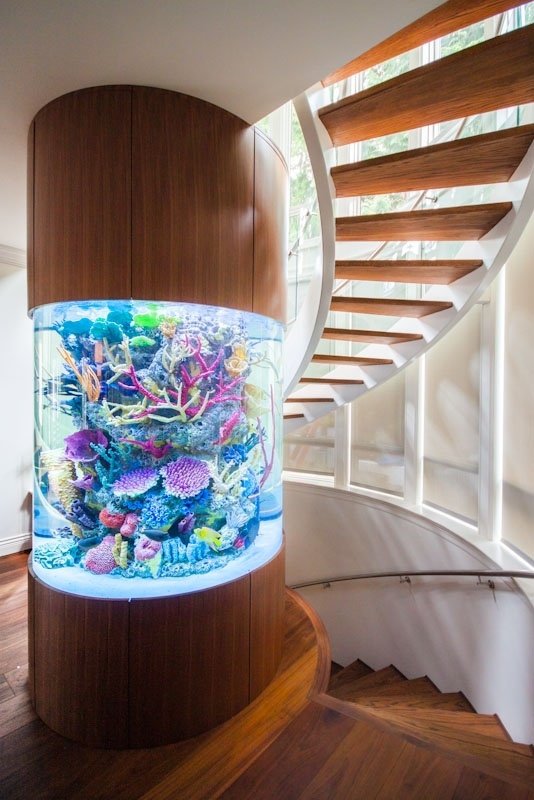 Via trishknight.com
A tank in your stairwell is sure to get all your guests talking.
35

Bubbles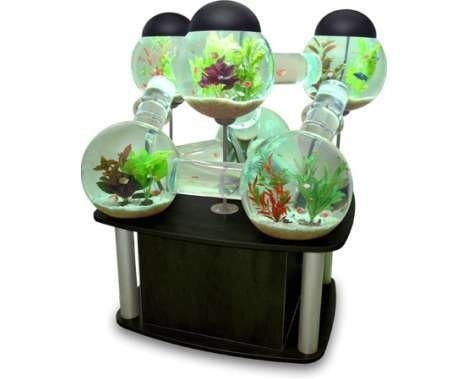 Via Fish Tank Table: Eye Catching ...
This is essentially a playground for fish and yours are going to love it.
36

Archway Tank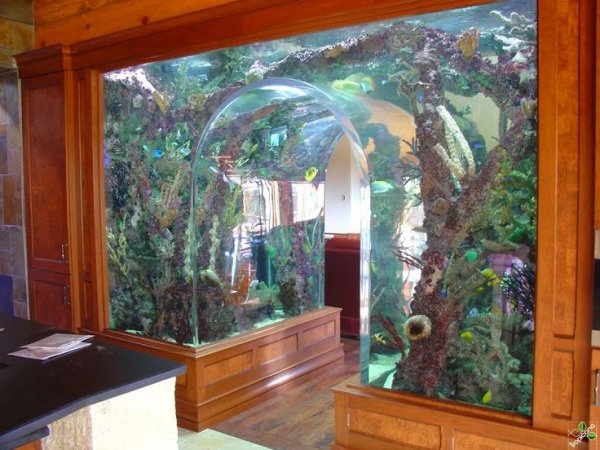 Via Picasa Web Albums - Tropicana ...
Could there be a more magnificent entrance than this arched tank?
37

FISH TANK Toilet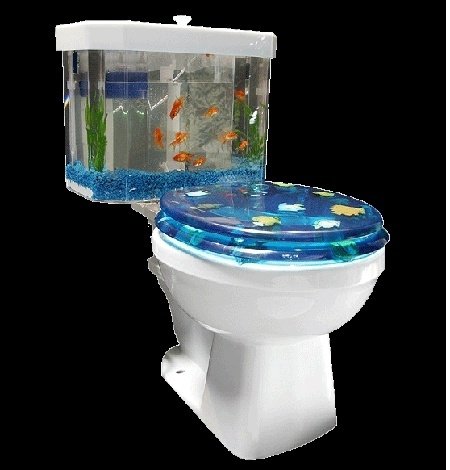 Via 1 APRIL
I don't know where you'd get this tank, but it's really cool.
38

Guitar Fish Tank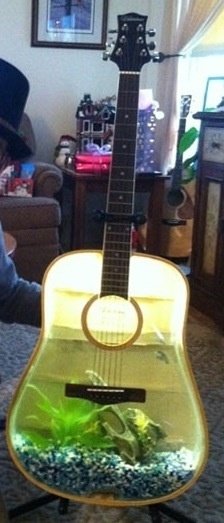 Via Macho macho man
I like how it leans on the stand, but you'd have to be really careful not to kick it or tip it over.
39

Gigantic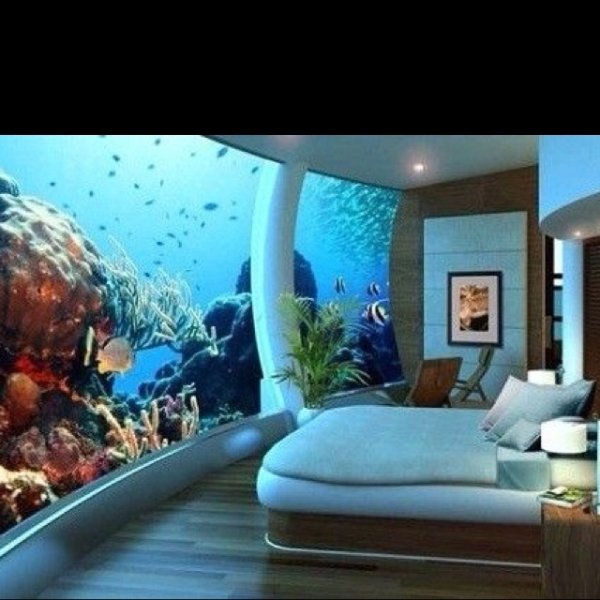 Via Dare to Dream
I think it would be so relaxing to have this in my bedroom.
40

A Little Bit Hidden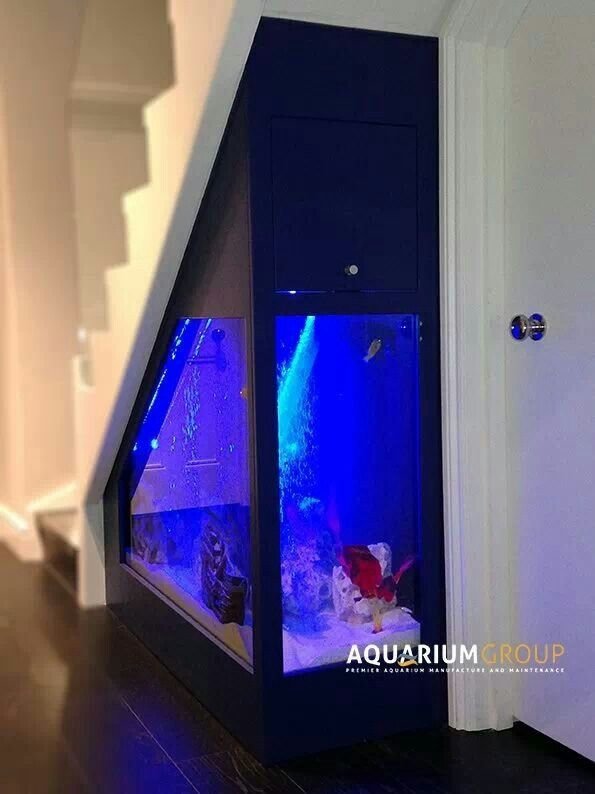 Via Fish tanks
Tucking a fish tank under the stairs is a fun idea for smaller spaces or for a little surprise.
41

In the Ceiling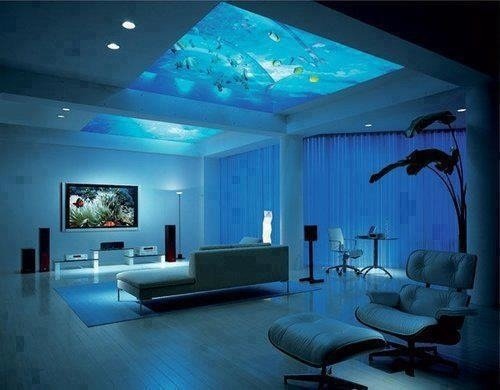 Via pinterest.com
I have no idea how this works, but I love it. What do you think?
42

All Glass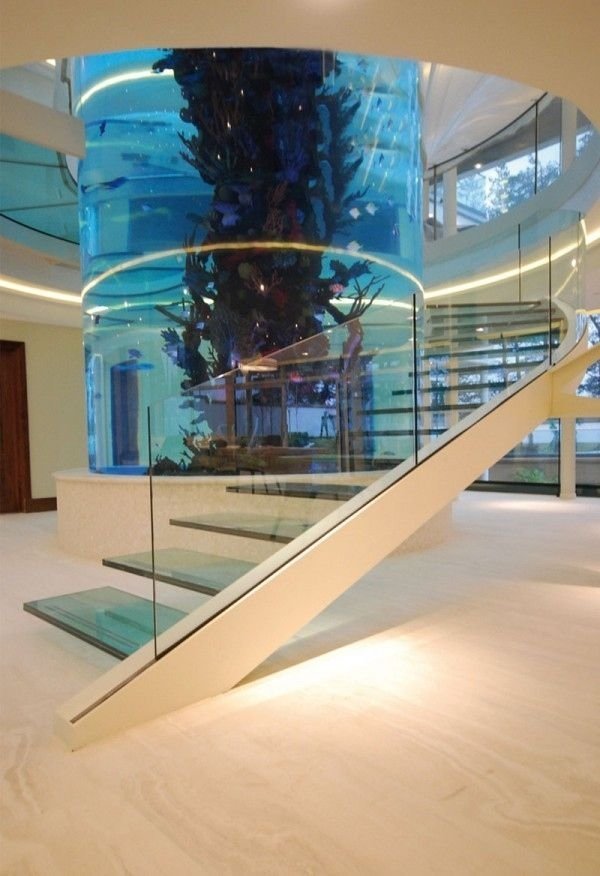 Via 10 Crazy And Outrageous Aquariums
This tank really enhances the glass look of the space.
43

Barrel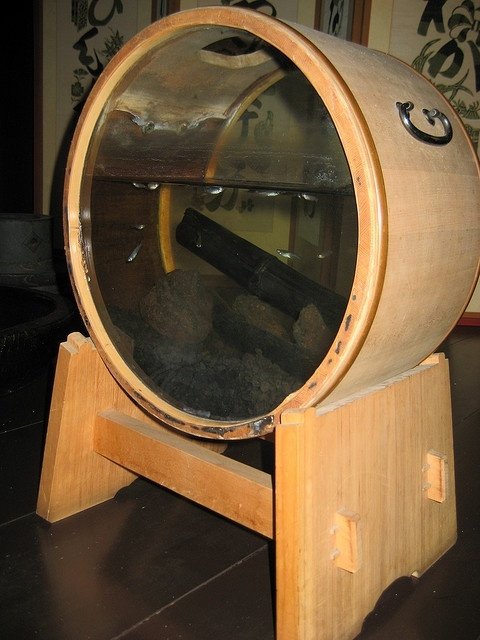 Via Funny Fish Tank
An old barrel and some glass come together to create this cool looking fish tank.
44

Blender Base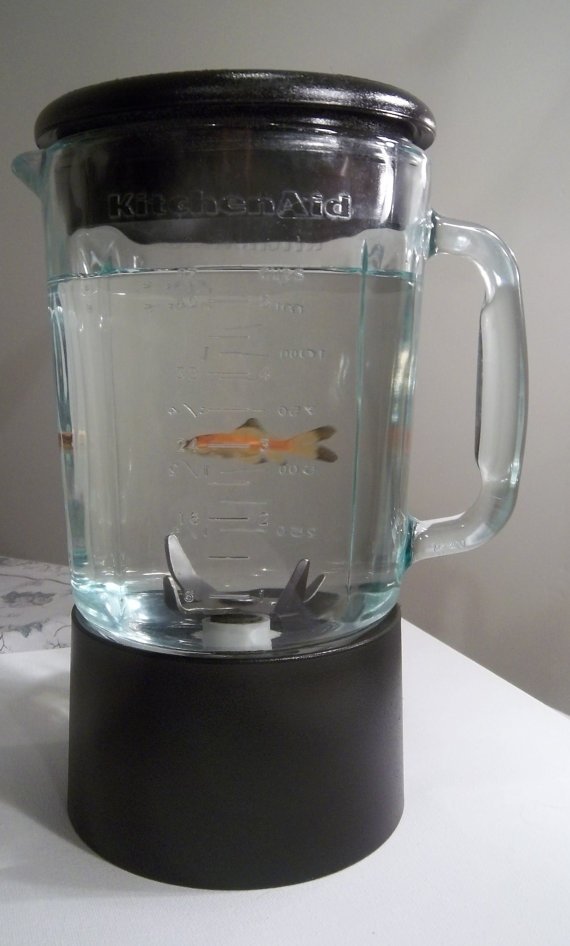 Via Items similar to Fish Bowl ...
As you can see, you can pretty much use any glass receptacle as a home for your fish.
45

Mason Jar Fish Tank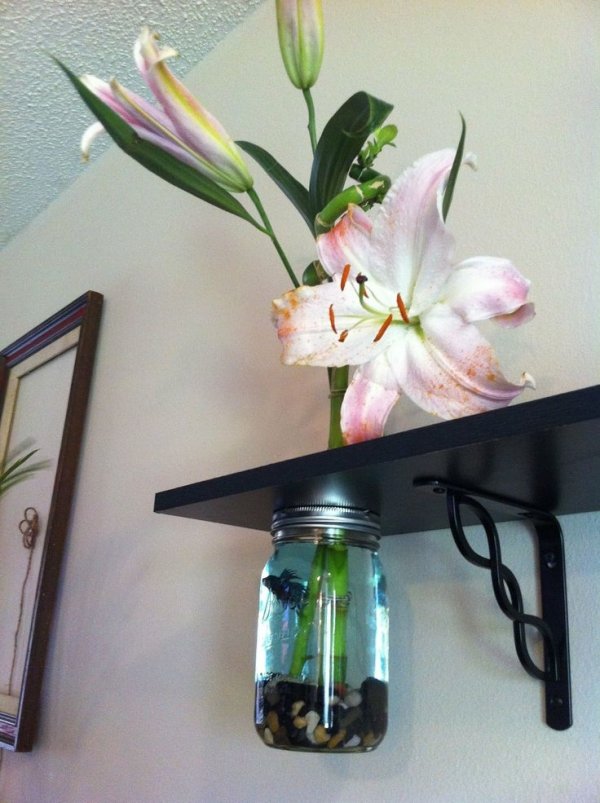 Via Etsy :: Your place to ...
It looks like it would be pain to feed this guy, but the unique presentation can't be beat.
46

Cute Bubble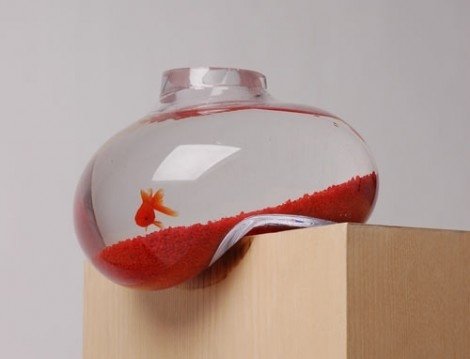 Via InteriorDesign-Center.com: The Leading Interior Design ...
It looks likes it about to roll off the shelf. These unique tanks are some of the best kinds.
Do you have a fish tank? Did these pictures make you want one? I am inspired to put one in my basement game room!
Please rate this article