Halloween Accessories can be anything from fake blood all the way to Halloween themed jewelry. Halloween is my favorite holiday, so of course I know all of the best Halloween accessories to get you through the holiday. Below, I'm going to give you the low-down on all of the must-have Halloween accessories that you'll need in order to make this Halloween the best one!
---
1

Wizard of Oz Toto in a Basket
Price: $15.08 at amazon.com
If you are looking to dress up as Dorothy, who do you think is going to be your little Toto? You can't forget about that little black Scotty! This is one of the must-have Halloween accessories for any Dorothy!
---
2

Black Costume Gloves

Price: $$4.88 at amazon.com
Black costume gloves are so universal, they really can be used for any type of costume. Are you looking to dress up as a flapper this year? Elbow-length gloves are the best addition! Thinking about dressing up as a princess? These would look great with any princess get-up! These are totally one of the few must-have Halloween accessories that work with any costume!
---
3

Harry Potter Golden Snitch

Price: $5.66 at amazon.com
Harry Potter is definitely going to be so popular this year because of the Deathly Hallows Part 2 coming out, so of course all of the little Harry's running around need to have their Golden Snitch! This is the ideal accessory for any and all Harry Potter themed parties/costumes – and it's inexpensive!
---
4

Wizard of Oz Wicked Witch of the East Legs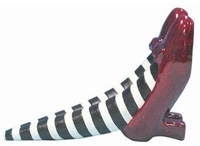 Price: $29.23 at amazon.com
If you are going with the Wizard of Oz theme, these are the perfect addition for you! You can place them right against your house and actually pretend that your house is the house that fell on the Wicked Witch. It's a great prop and totally a cute idea!
---
5

Coppery Glittery Tree

Price: $8.99 at amazon.com
If you are thinking about decorating your home, inside or out, this would be one of the few awesome Halloween accessories for you to use! It's copper in color, bare and completely glittery! It'll make your lawn look a little spooky and very Halloween-themed!
---
6

Lady Gaga Hair Bow

Price: $12.99 at amazon.com
If you are planning on taking a page out of Lady Gaga's book, you might want to make sure that you are investing in some of the best Halloween accessories to complete her wild looks. This Lady Gaga hair bow is the ideal addition to any LG costume! It also comes in different colors, so you can pick which one would look best in your hair!
7

Fake Blood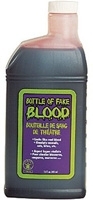 Price: $5.19 at amazon.com
You can't have Halloween without fake blood – seriously, it just doesn't work! Whether you are spreading the fake blood on yourself for your costume or you are throwing it around your house, this is the best fake blood out there. It's scary, cool and one of the must-have Halloween items out there!
There are some Halloween accessories that you can't live without. Fake blood, Toto and LG's hair bow are a few of them for me (I like to mix and match Halloween accessories, shoot me). What are some of the accessories that you must have for Halloween? Oh – and what are you ladies gonna be this year? Share your ideas!
Top image souce: data.whicdn.com
---
Popular
Related
Recent