Now some of you may come across this article of problems busty girls have and feel no sympathy, especially if you've always wanted bigger breasts but never got them. But let me tell you, being busty has its drawbacks! There is even a popular online meme that was created called "Busty Girl Problems" that is dedicated to letting people know the cons of being busty. Being a size 34C/32D I've experienced my own problems being busty even though there are plenty of girls who are even bigger than that. So let's go through 9 common problems busty girls have to either show you what we go through or to help you feel like you're not alone!
---
1

Built-in Bra Shirts Never Work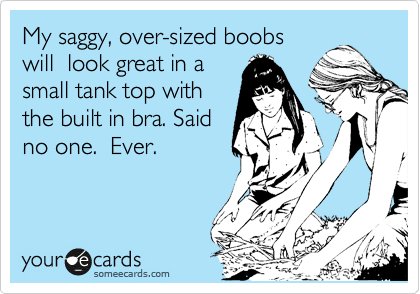 I have never, ever worn a shirt that had a supposed built-in bra without wearing a regular bra as well. They have absolutely no support! They do make some built-in bra shirts with under-wire now which helps a little, but still not enough for me to put my faith in being solely supported by that. If anything, I use built-in bra camisoles as a way to add EVEN MORE support to my chest by combining it with my bra. This is why I usually wear a built-in bra camisole under almost all of my outfits that need a little extra layering. My drawer is filled with every single color of built-in bra camisoles that you can think of! That's the thing about being busty, you can never have enough support!
---
2

Shoulder Straps Are Awkward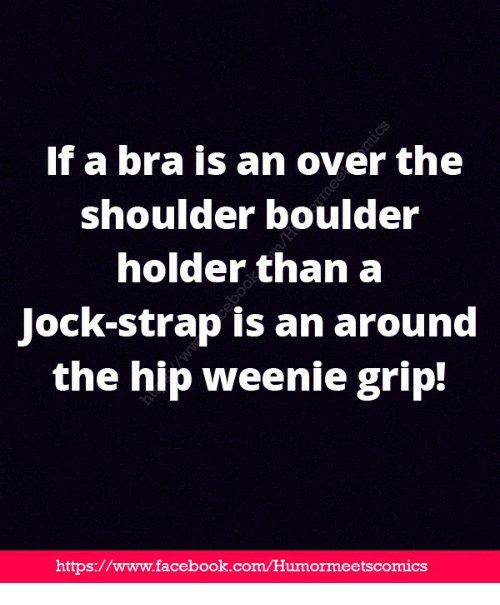 In high school, I remember going through a phase with my friends where we thought shoulder bags were the cooler way to carry our books around instead of backpacks. However, I quickly learned that I couldn't wear the strap diagonally across my chest like you're supposed to without it falling between my boobs and making me look really awkward. So instead, I was forced to carry my shoulder strapped backpack over one arm which inevitably caused my shoulders to be sore. Thus, nowadays, I don't own any kind of "messenger" bags so I can avoid looking like my boobs are trying to eat my bag's strap. This is also the case when I wear seat belts.
---
3

Low Cut Shirts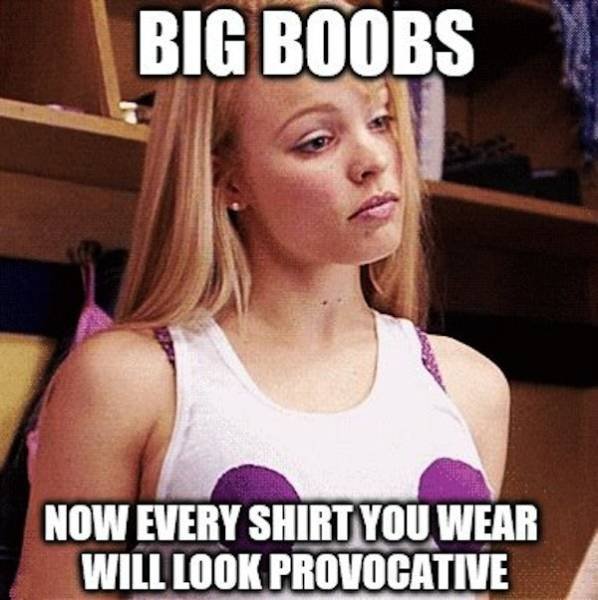 This is one of those problems busty girls have that can be viewed as both a good and bad thing. It's great when you're looking for an outfit to wear on a date or out to the bar, but when put into situations where you need to look more conservative like work, it can become a problem. I will never forget that once in high school, I got pulled into the principal's office because my shirt was considered "too low cut." What made this moment especially memorable was that it was "twin" day and my best friend was wearing the same exact shirt! However, I got in trouble that day and she didn't. We were wearing matching tank tops and I guess my chest stretched the material out a little too much while hers didn't. I have tons of shirts that I can't wear to work because they show too much boob but if someone not as chesty as me wore the same shirt, it would look fine!
---
4

Bathing Suit Shopping is a Nightmare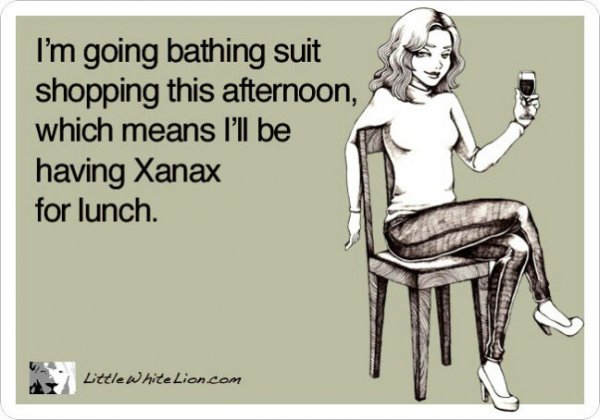 Summer comes with its own set of problems busty girls have. Still to this day, I am rarely able to find a bathing suit top that fits me right. String bikinis are an absolute no-no for me as they tend to cause the dreaded "under-boob" and not to mention they have little to no support. Halter bathing suit tops tend to give you better support, however they will end up hurting your neck from holding up the weight of your chest. And forget about trying to wear strapless bathing suit tops unless you want gravity to take over where it shouldn't in public. I've now learned to buy or order bathing suits from Victoria's Secret as they are usually made like bras with underwire!
---
5

Wearing Necklaces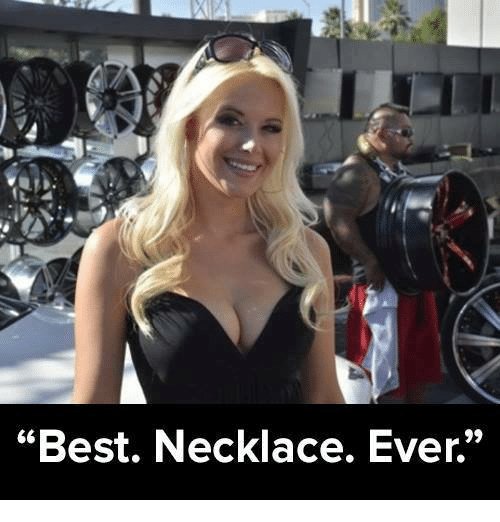 When buying a necklace, I always try to see where it is going to sit on my neckline. If you're busty, and your necklace is at a weird length, it will usually keep falling in your cleavage or end up bouncing on top of it as you walk. Neither of these are fashionable looks that I want. So I make sure to find necklaces that sit right above my chest or below them. I can't tell you how many cute necklaces I've had that people could never see because they were playing hide and seek in "the ladies."
---
6

Constantly Pulling Your Shirt up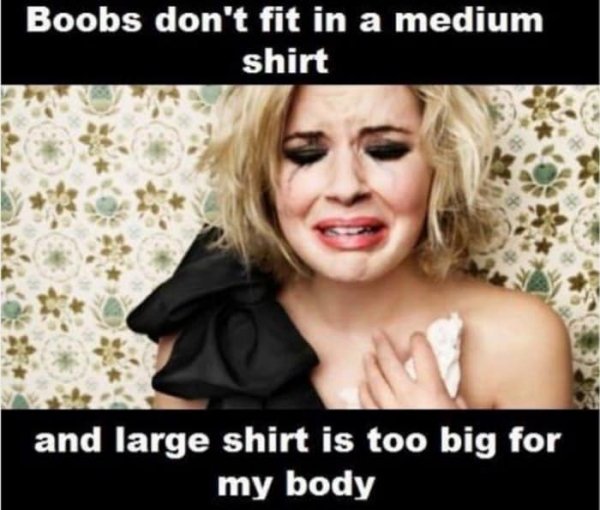 For me, this is one of the most annoying problems busty girls have. I always have to be aware of how low my shirt is sitting. Especially tighter clothes such as layering camisoles. I feel like when I wear certain shirts, all day I am constantly pulling them up. As I breath, walk, or make any other every day movements, my shirt seems to drop lower and lower. A few times the only reason I noticed was from stares I was getting from men around me. Talk about feeling gross! And having to bend over for anything I need to make sure I put a hand over my chest to make sure no one can see down it. I just want to remind everyone that I don't dress sexy at all on a day to day basis! My shirts just get stretched out or sit lower sometimes thanks to "my girls."
---
7

Real or Fake?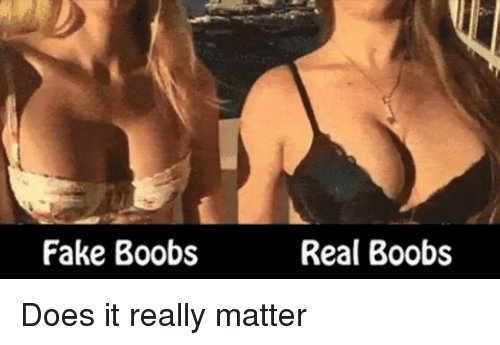 Even if people you meet don't ask you, that doesn't mean they won't be wondering if your busty gift is real or fake. There have been occasions where I've worn special bras or outfits that make my "girls" look particularly perfect to where I even think they look fake. If for some reason you are a target of bullying due to your larger chest, just remember that most girls would kill for them! Whether your boobs are real or fake, show them proudly, don't be ashamed of them. ESPECIALLY if they are fake, because those things are expensive!
---
8

Fear of Turbulence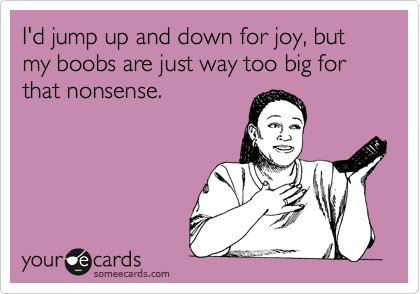 Whether it's on an airplane, roller coaster, or bus, busty girls will always fear hitting some sort of "turbulence." Especially when there are a bunch of men around who will gladly watch and enjoy your moment of bouncing horror. Fortunately there are easy ways to hide this like crossing your arms over your chest or holding something in front of you. However, that doesn't mean that there won't always be the fear that it will happen unexpectedly. If you are nervous, try wearing a sports bra during activities that will inevitably cause a lot of up and down motion to avoid getting videoed or stared at by some perv near you.
---
9

Fishing Stuff out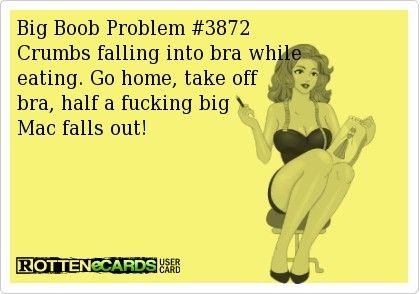 A lot of times I'm trying to eat something and some of it falls between my chest. Could there be a more awkward moment? Especially when you are out in public! Then I get to play a little game called "fishing out the food" as fast as I can so no one notices! Plus a couple times my friends have taken it upon themselves to try and throw something into my cleavage as some kind of funny game. Thanks guys! On the flip side of this, your larger boobs come in handy when trying to hold something when you have no pockets (such as money). I have totally done this a couple of times when going out to a bar.
Gem
yep! I'd not give my (very REAL) 38 KK's up for th...
---
10

Knocking Things over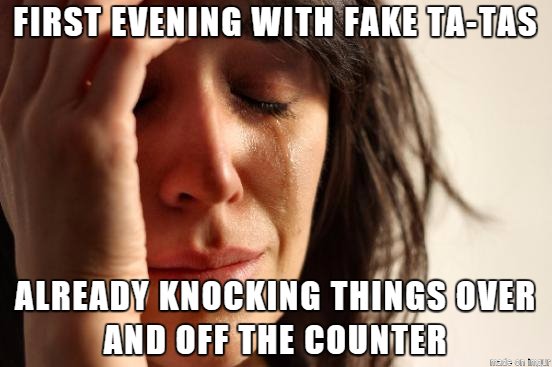 Try not to reach to get anything because your chest will follow and most likely knock something over. This also includes getting stains on your chest, losing at games like beer pong because the ball bounces off your chest into the cup, and also not being able to see stains that are under your chest. Make sure you try to be aware of how far out your chest goes to avoid creating messes at the dinner table or getting stains on your shirt! It feels like being a dog with a tail that they don't know is part of their body!
Most of you already know that being busty can cause serious back problems as you get older so be sure to talk to your doctor if your "ladies" are causing you more problems than you should have. Also remember that being busty is something many girls wish they were, so embrace it as much as you can! What problems have you experienced being busty? Do you ever wish you were not so "well endowed" because of it?
More
---
Comments
Popular
Recent