Disney has always been something that has sent smiles to countless of children's faces, and getting Disney tattoos is one way that adults can remember the amazing feeling it gave them. Whether your favorite was Beauty and the Beast, or you were more of a Cinderella kind of gal, a Disney tattoo is a great way to always remember the magic. So if you want to be reminded of why you believed, check out some of these Disney tattoos and maybe get one for yourself!
---
1

Beauty and the Beast Tattoo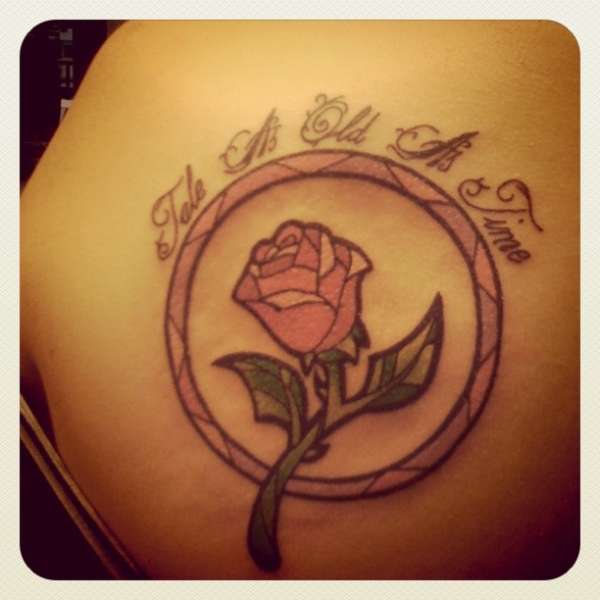 How many of you absolutely adored Beauty and the Beast when you were younger? Well I still adore it! I always thought that the Beast's rose was so mysterious and beautiful that I just wanted to know more. It is the perfect way to represent the love that was always meant to be despite the two characters' differences. It's so beautiful that how could it not be turned into a tattoo?
Yasmine
and #4 veryyyy cute....
---
2

Peter Pan Tattoo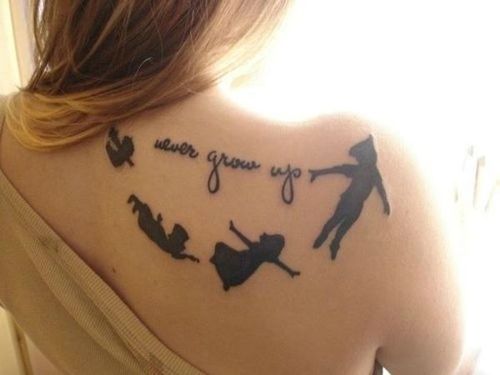 This awesome Disney tattoo is one of my favorites. I love the theme it borrows from Disney's Peter Pan, of never growing up. You may not stay young forever in the physical sense of the word, but no one can stop you from staying young in your mind. Disney always taught me to stay young at heart and this tattoo really catches the message. It looks great and teaches a lesson at the same time. One of the best Disney tattoos, right?
---
3

Mouse Love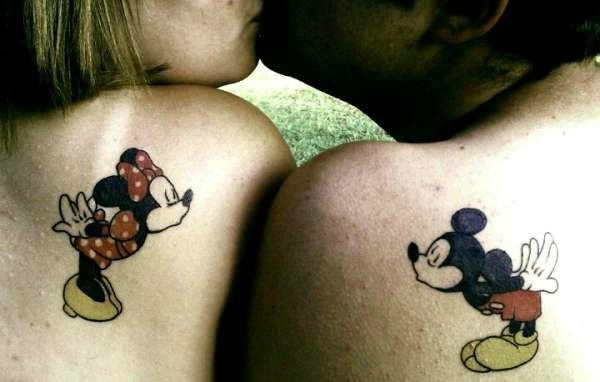 Oh my goodness, are these Disney tattoos not the cutest things? I absolutely love how this couple got Mickey and Minnie Mouse on their shoulders in just the right spots. I love the meaning behind these tattoos. Mickey and Minnie's love for each other was so big even though they were so small. And when you think of the perfect Disney couple, these little guys come in at number one. These tattoos are really amazing at showing love between two people who are meant to be.
---
4

Lion King Tattoo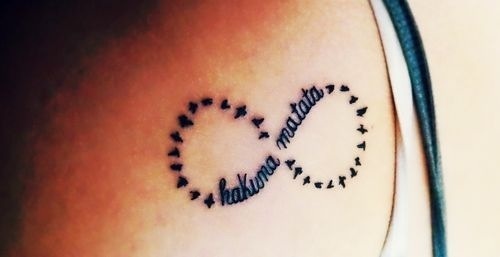 Hakuna Matata is one of my all time favorite quotes from The Lion King. This phrase can literally be translated into "there are no worries." This is such a great quote to live by. Life is way too short to always worry. We worry about paying rent, finding that perfect job, or just trying to fit everything into a 24 hour day. But sometimes we just need to sit back and say "no worries!" It is easy to forget, but having a tattoo like this will always be a constant reminder to take a step back sometimes. And I absolutely love the look of it! The infinity symbol is the perfect way to tie it all together! Remember, no worries!
---
5

Disney Character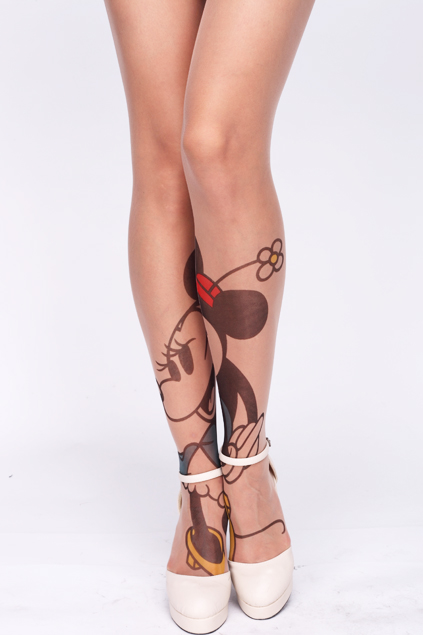 This tattoo idea is so cool! Putting Minnie Mouse on both legs and watching her take form is really spectacular. But you don't have to get only Minnie Mouse. Who is your favorite Disney character? You could get them across your legs like Minnie! It might even look cool to have two characters coming together!
---
6

Lilo and Stitch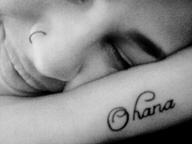 Everyone knows the awesome movie that Ohana comes from. That's right, Lilo and Stitch! I still watch this movie sometimes and it always makes me laugh and cry all at once! But I always cry when the little girl explains the meaning of the word Ohana. I'm sure you all know but in case you don't, Ohana means family. And to Lilo, family means nobody gets left behind or forgotten. That makes this tattoo a great one to get with a family member or just to represent the special relationship you have with your family or friends.
7

The Little Mermaid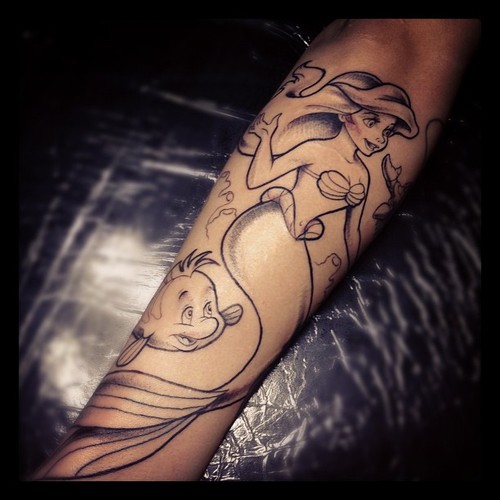 The creative look of this Disney tattoo is what really caught my eye. I love how the color in it is very light and you might think that there is none. It was the perfect way to give a little drama to a happy scene. Which is awesome because the Little Mermaid can be a pretty dramatic movie! Maybe it is just me being way too deep, but I love Ariel's struggle to be where she thinks she belongs. It really pushes you to never give up fighting for your dream! Any tattoo representing this movie is awesome in my book.
---
8

Mulan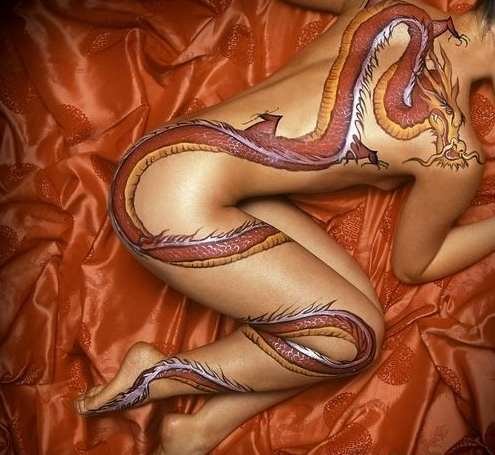 This breath-taking full-body tattoo is inspired by Disney's Mulan. How amazing does this dragon resembling Mushu look? And of course this has some major meaning behind it, like all Disney movies. Mushu is a sort of guardian of Mulan although he is far from perfect. He shows strength and vulnerability at the same time which ultimately helps Mulan. I may not get a tattoo that is as dramatic as this one but it sure is amazing. I love it!
---
9

Cinderella Tattoo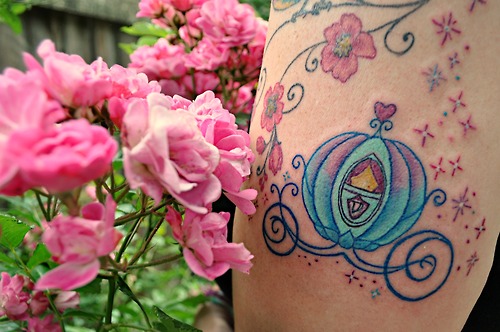 The last but definitely not least is this little beauty. Cinderella's pumpkin carriage is so majestic that it is hard to forget. Of course it brings together true love but it also shows how something simple can be something beautiful in a different light. What started out as a simple pumpkin turned into a wonderful carriage that allowed Cinderella's dreams to come true. Maybe a bit cheesy, but who doesn't need a little cheesy in their life? I applaud Cinderella tattoos!
Disney is something that every child holds near and dear to their heart. Which of these Disney tattoos did you like the best? Was it the Beauty and the Beast tattoo? Or the simple Lilo and Stitch tattoo? Would you ever consider getting a Disney tattoo? Talk to me in the comments! :)
---
Comments
Popular
Related
Recent