For some cozy home decorating, a few well-placed whimsical decorative pillows can reflect your style and even your personality. From vintage-inspired prints to novelty shapes, your couches and chairs can have a few added touches for comfort and visual appeal. And with these 7 whimsical decorative pillows, your home will have a warm welcome to visitors.
---
1

Cassette Tape Pillow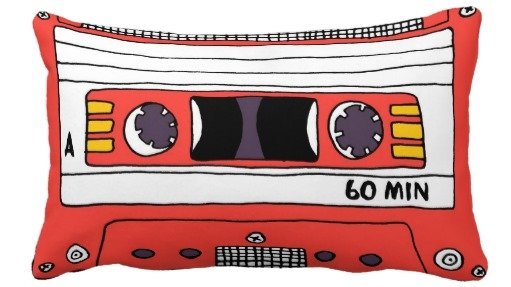 This kitsch creation is a throwback to the 1980s, and is a must have mix tape for fans of whimsical decorative pillows. The vibrancy of the purple and orange, paired with the fun design is perfect for those nostalgic over obsolete music formats, like the beloved cassette tape here. And what's more? Zazzle.com offers this Grade A cotton pillow in multiple sizes and and styles, including this lumbar support pillow. This is one cassette that's both cute and comfy.
---
2

Sit Back and Relax Pillow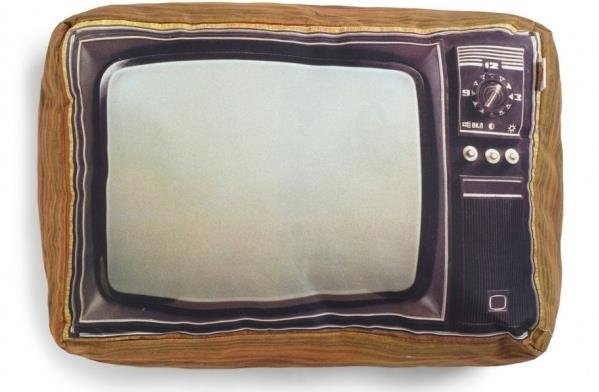 In another novelty choice for whimsical decorating, this Sit Back and Relax Pillow is pure entertainment. This retro designed television is the perfect pillow for the living room, and is comfortable enough to lounge upon while catching up on all your modern day DVR programs. Made from 100% polyester by Decor Crafts Inc., this pillow would make for some must watch TV. Change your channel to ModCloth.com to get one.
---
3

VÄNNERNA LÄPPAR Pillow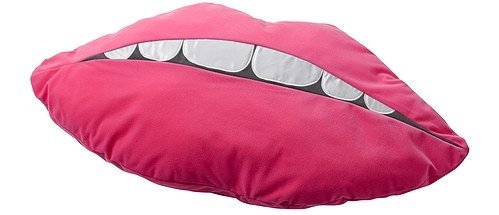 If you're looking for something quirky yet feminine, this red-lipped mouth number is one whimsical pillow for your pad. It's reminiscent of the Rocky Horror Picture Show, which in itself is a cult classic. So why not display one of these 70s inspired lip treatments on your love seat? It's a little sultry, a little kitsch and a whole lot of fun. And if you want one yourself, visit your local Ikea store.
---
4

Embroidered Flowers Pillow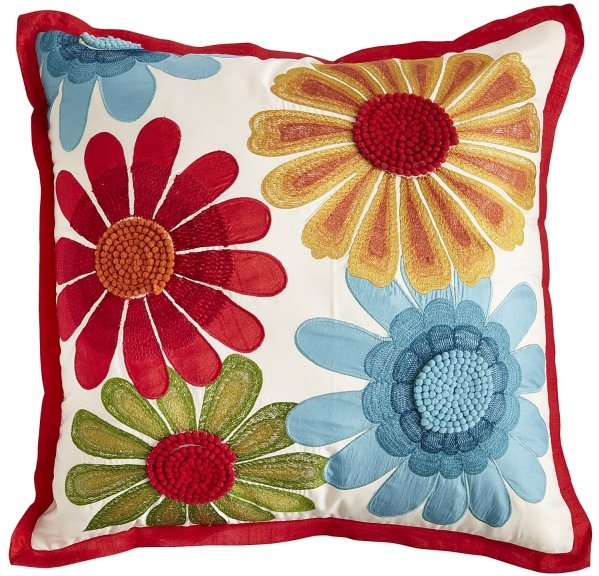 The bright colors and details on this dainty embroidered flowers pillow make for a fresh pick for your sofa. The red trim gives this polyester pillow an especially nice touch. Pair this garden pattern with a similar floral motif, or go for something in bold stripes or contrasting solids for a few throw pillows that will look anything but thrown together. Visit Pier1.com for this design and others that strike your fancy.
---
5

Writer Creator Vintage Typewriter Pillow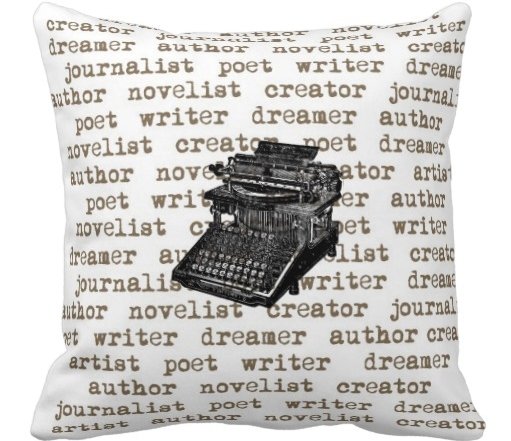 Not to be trite, but words cannot express how much I love this whimsical typewriter pillow. It's everything I am and everything I strive to be, in a comfortable and stylish pillow form! While decorative pillows are commonly displayed on sofas and couches, this one would look especially fitting in the home office. And again, since Zazzle.com has got it going on, this vintage inspired pillow is available in various sizes. Genius!
---
6

Ferm Living Robot Pillows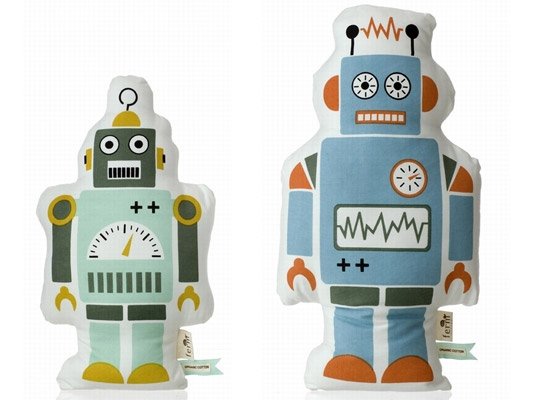 Beep-bop-bop-beep-boop. Translation? These robot pillows are pretty awesome. Maybe these nostalgic robots have been rebooted for children's bedrooms of today, but I think they'd look rather sci-fi stylish on your sofa. So thank you very much, Mr. Roboto because these pillows from Ferm Living are way too whimsical not to own. Get your own robot pillows from BurkeDecor.com.
---
7

Threshold round Patchwork Toss Pillow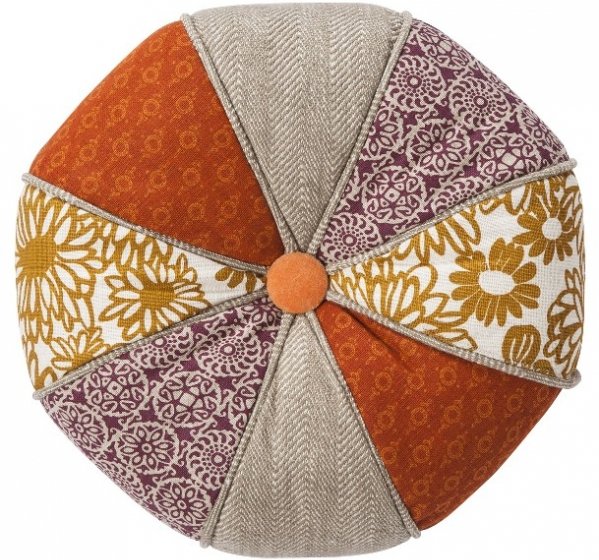 The best part of owning this patchwork pillow is the ability to decorate practically any space with these lovely contrasting patterns. The floral and print design are neutral without being bland. And this round toss pillow would look lovely tucked in the corner of your couch or in that cozy nook of your favorite recliner. If you're looking for a patchwork toss pillow for your humble abode, visit Target.com.
Whether you're a creative mastermind, a cosmetic-obsessed girly girl, a vintage enthusiast or any combination of the above, there are some awesome whimsical decorative pillows out there, just for you. Which one is your favorite?
More
---
Comments
Popular
Recent