Though many of us are in love with our smartphones and even downright addicted to them, I bet you didn't know of all the ways an iPhone app can save your life. Yes, that's right, not only can it direct you where to go, tell you what time your appointments and meetings are, and let you know when your best friend's birthday is, or keep you updated on your email, but it can also possibly save your life in certain situations. Smartphones are a great utility that we have available to us today. I especially love mine for keeping all my music, emails, calendars and contacts all in one place, which are available with me anywhere I go. Outside of the basics though, I also appreciate the ways an iPhone app can save your life if it ever comes down to it. Read on and you'll develop a new appreciation for your iPhone. Have an Android or other smartphone device? No worries! Most of these apps are available on all smartphones.
---
1

ITriage App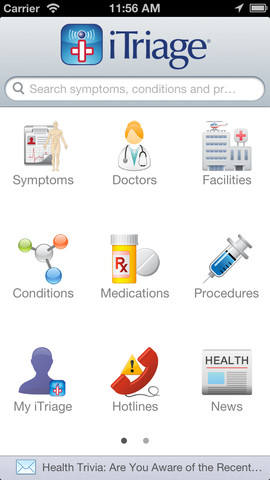 itunes.apple.com
iTriage is an app create by two emergency room physicians, and is one of the best examples of ways an iPhone app can save your life. Not only is iTriag is a free app for iPhones, but also for the Android, Blackberry and other Web-enabled devices. iTriage provides patients with information about their symptoms and gives them advice about seeking medical attention for these symptoms. It also provides a list of nearby medical facilities including emergency rooms, hospitals, urgent care centers and doctors offices. While this app may not seem like an actual life-saver during a robbery or assaut-related crime, it would most definitely come in handy if you find yourself with strange symptoms that could be detrimental to your health. The goal of iTriage is to help consumers make appropriate and cost-effective decisions about when and where to seek medical attention.
---
2

Weather-Pro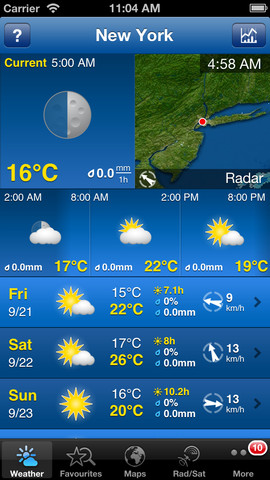 itunes.apple.com
Weather-Pro is a unique app of most weather apps and sends alerts to your smartphone immediately in the case of dangerous weather. This app can keep you from getting stuck in a dangerous storm, advising you to leave town before a storm like a hurricane, or even something as simple as keep you from your usual run during the chance of a tornado. This app also includes breaking news alerts and a 7 day forecast, which are all updated every 3 hours and more. Weather-Pro is also fixing to start sending push notifications out for all types of weather notices as well.
Trendinig Stories
More Stories ...
3

Around –Me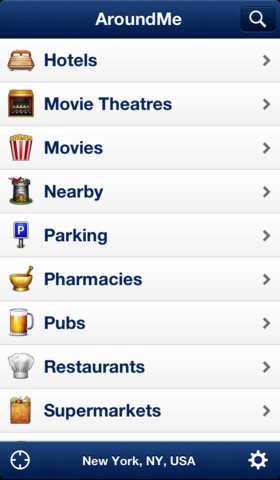 itunes.apple.com
Around-Me is a very popular app with good reason, and it can not only let you know of a tasty restaurant in town, but it could potentially save your life. Say you find yourself stranded in your car with a flat tire in the middle of nowhere after you take that wrong turn home from your aunt's house of town for example. Around-Me can tell you where the nearest gas station is, hospital is, restaurant is and more. You could easily call the nearest gas station or mechanic for help, or be able to tell your car insurance company where they might be able to locate you to come for roadside assistance. Around-Me is also completely free.
---
4

Flashlight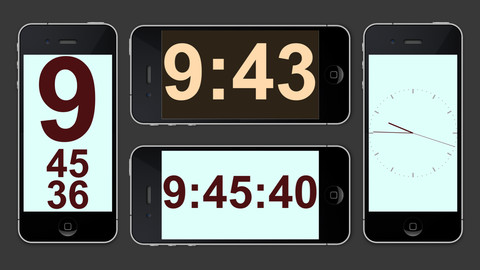 itunes.apple.com
This free app is one of my favorites that could possibly save your life because it is so simple. Flashlight is exactly what it says- a flashlight. Ever find yourself leaving the mall too late or leaving a friend's house in the wee hours of the night and can't find your keys? What if you're in a dangerous neighborhood or parking lot? Hustling around for your keys is a prime target circumstance for rapists, robbers and more. Flashlight helps you find your keys in the blink of an eye and that door lock, which can also be hard to navigate sometimes. It also comes in handy when letting yourself in your own front door, which as we all know, takes quite a few minutes to do in the dark. Put the darkness out quick and get to your destination safely with the help of this app.
---
5

StreetSafe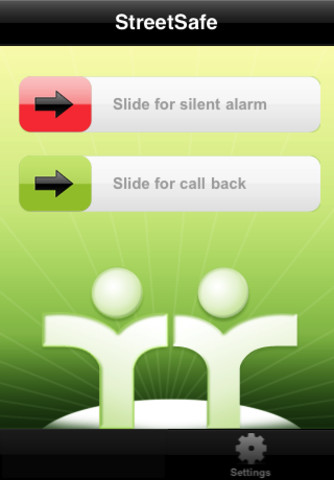 itunes.apple.com
StreetSafe is a great app to have in an emergency. You can activate a silent alarm that alerts a monitoring center so police are immediately dispatched to your location. No phone call needed! Your physical description and any notable medical conditions such as diabetes or heart disease, are immediately transmitted to the 911 service. If you're walking home in an unsafe area and find yourself nervous, trust your gut. You can at this point call a safety advisor through StreeSafe who will stay on the line with you until you reach your destination or you can choose to have them alert the police if you see something suspicious or need immediate help. What a brilliant app to have for all us ladies who I'm sure have found ourselves in these shoes plenty of times.
---
6

SafeKidZone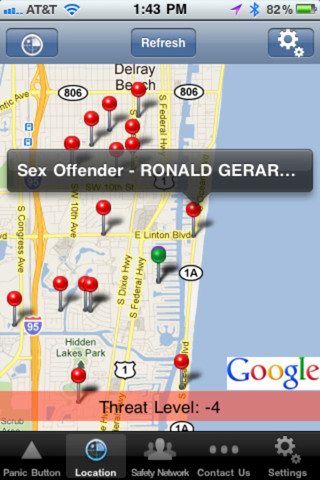 itunes.apple.com
If you have children, you'll love this app! The app programs a cell phone key to act as a panic button for children, but your child actually does have to have a phone for it to work. If a child is in trouble, he can push the button and the child's preselected emergency network of family and friends is automatically alerted via text, e-mail and phone call. SafeKidZone's call center gets the GPS coordinates, and a conference call is automatically initiated so parents and friends can take action (having several contacts on the call also helps clear up false alarms quickly). If it's a true emergency, the center provides 911 services with the child's GPS location and photo as well as other vital information. I think this is a brilliant app for children to have. In fact, I see 10 and 11 year olds all the time with iPhones in their hand! While I never had this luxury growing up, this app would certainly be a great example of a reason a child should have a smarphone. SafeKidZone is also completely free.
---
7

Circle of 6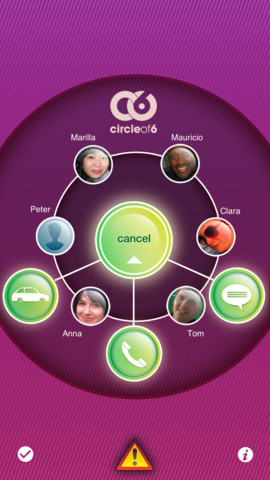 itunes.apple.com
I saved the best for last girls! Pick 6 of your closet friends or family members and add them to this app. Here's how it works: An app originally designed for college students, Circle of 6 is also useful for high school students or any female who finds herself in a threatening situation by alerting all 6 friends or contacts she chooses that she is in danger. This makes it easy for the designated contacts to either get to her physically, call her, or send assistance to her, in case one of the other contacts can't be reached. How many times have we tried to reach our friend or mother in a situation and she won't pick up her phone? Here's where this app comes in handy. Circle of 6 has an unobtrusive screen that is easy to operate. Two taps will send out one of three predetermined text messages to all 6 contacts, along with your location, or it can request for them to call you to break up a tense situation such as a stranger confronting you. The app also contains pre-programmed emergency hotlines that you can customize such as campus security numbers, the police, or 911. This app was the winner of the Department of Health and Human Services/White House "Apps Against Abuse" Challenge this year as well. Each developer behind the app was a victim or has experience in the field of sexual abuse prevention, mobile technology, graphic design and healthy relationship building, which are all, of course, women! Download this app ladies and tell your friends about it too! Circle of 6 is completely free too, so it won't hurt your budget anymore than some stranger could hurt you!
Do you have a favorite safety app? I want to hear about it Spread the love for the smartphone's ability to save more than your social media fix, but also save your life!
---
Comments
Popular
Related
Recent