Stylish ways to upcycle an old shirt will show you how to make something quite fashionable out of something that you're about to throw out. Yes, there are many ways to repurpose an old shirt but the list we have here are fashion-related. I will make another list of other fun uses for shirts another time; for now, let's take a look at these stylish methods to upcycle an old shirt.
This is a** fantastic way to upcycle an old shirt**, especially for those who are being tortured by Father Winter. There are several ways that you can accomplish this, too. I like the way Katelyn did hers. With a beautiful combination of two shirts, braids, and twists, she got a tee scarf that looks very pretty.
Feeling like making something sexy and girly? Then this one-shoulder ruffle top is the old shirt upcycle project for you. The steps in simplified terms: hack shoulder off shirt, cut strips of same shirt to make ruffles, sew ruffles, rock your new repurposed top.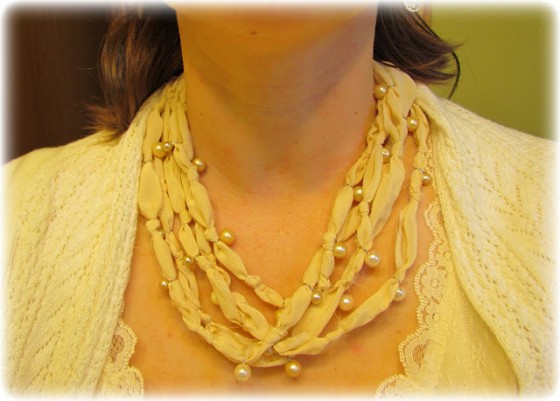 The shirt used for the tutorial we're linking to here is not the knit type but you can easily use one for this project. Aside from pearls, you can also add crystal beads and charms, if you want something more colorful and fun.
Oh wow, so easy and so much fun! I suggest that you and your girl friends get together and tackle this chic way to upcycle your old shirts. Make some for adults but don't forget the cutie little girls in your life, too.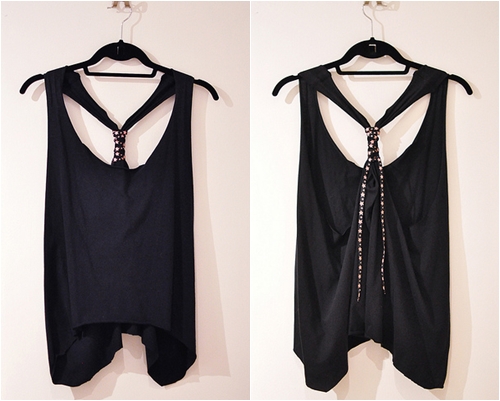 This tutorial by Love Maegan will not take you more than half an hour to follow. Bonus: no sewing involved. Among these stylish ways to upcycle an old shirt, I will most probably tackle this soon-ish. I have a few oversized shirts lying around somewhere.
To match your tee necklace, why don't you make a bracelet, too? From the creative lady who shows us how: ...these bracelets are so snuggly and soft you don't even know you're wearing it. So awesome.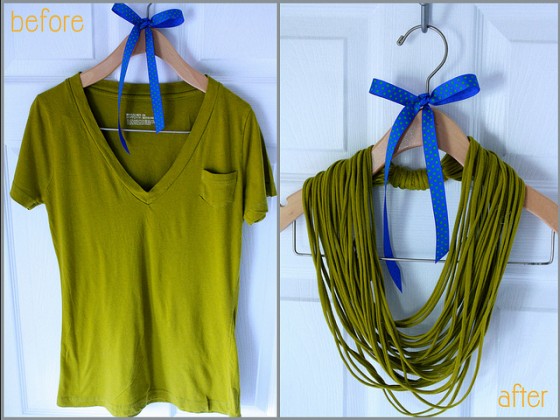 I know, I know, I already listed down tutes for a scarf and a necklace but I just had to include this. Because THIS particular old shirt repurpose will give you both a scarf and a necklace in one. And the strips look so chic that it will be a DIY infraction not to try this project.
Oh the many uses these fabric flowers have! You can use them as brooches, headband embellishments, and more. Pin them on your bag, scarf, or even a fabric belt. Among these stylish ways to upcycle shirts, this particular project will give you several amazing styling options.
Tell me, have you tried some of these old shirt upcycled projects? If you want to share the stuff you've made, don't hesitate to link to your blog. While you check out these tutorials, I shall take out my scissors and try to make my own tank top from an old shirt.