For the past three or four years, the pumpkin spice craze has been getting … well, a little out of hand. I mean, I love pumpkin spice as much as the next (basic) girl, but what started as a sweet seasonal Starbucks treat has quickly morphed into a pumpkin spice epidemic. Forget about the fake condoms that made their way around last year, there are plenty of legit products that have been pumpkin spiced to death.
1

Pumpkin Spice Pringles
In addition to such dubious flavors as Cinnamon & Sugar and White Chocolate Peppermint, Pringles introdued Pumpkin Pie Spice chips a few years ago. Opinions ranged between "omg, ew," "meh," "wtf," and enjoyment, oddly. They were certainly an acquired taste – and that taste was acquired by so few people that I'm pretty sure they (hopefully) stopped making these.
2

Pumpkin Spice Oreos
Oreos are no longer the institution we once knew and loved. The brand keeps coming up with new flavors, some of which are delicious and some of which … aren't. In my personal opinion, Pumpkin Spice Oreos are just … too much. Too much pumpkin, too much spice, too much sugar. Your mileage may vary.
3

Pumpkin Spice Latte M&M's
Not just pumpkin spice, either. Pumpkin spice latte. Didn't M&M's learn their lesson with those awful birthday cake monstrosities?
4

Pumpkin Spice Peeps
As if Peeps weren't bad enough on their own. Isn't it enough that these malformed marshmallow monsters come around at Easter? Do they have to invade the fall, too?
5

Keebler Fudge Stripes, Pumpkin Spice Edition
This is a travesty. I haven't ever tried these and I don't want to because Fudge Stripes are supposed to have fudge.
6

Jello Pumpkin Pie Spice Pudding
So never mind that you could just make your own pie filling with canned or fresh pumpkin. I suppose it could be worse, though. They could actually come out with pumpkin spice jello.
7

Pumpkin Spice Country Crock
Butter. They have pumpkin spice butter.
8

Dr. Sweet Tooth's Pumpkin Spice Body Powder
Yeah, it's not all food. Pumpkin spice has now invaded every aspect of commerce. You can powder your body with it.
9

Sprouts Organic Pumpkin Kale Chips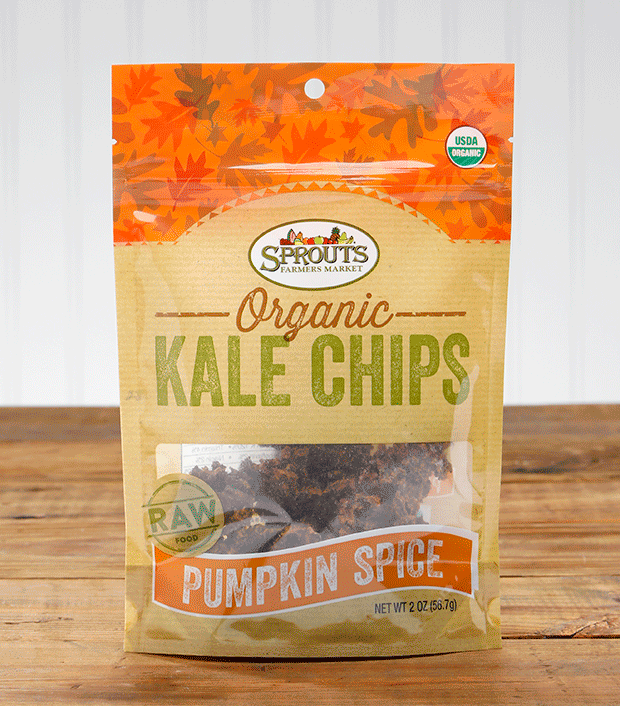 So this happened, apparently. I don't know, I guess it could be good, but I only ever buy kale to feed it to my rabbit so I wouldn't really know.
10

Jif Whips Pumpkin Pie Spice
I guess pumpkin and peanut butter would be okay, but this is a mix of maple butter and pumpkin spice flavors, and it's just the worst.
11

Brach's Pumpkin Spice Candy Corn
So … I kind of get this. Candy corn is one of the most detested Halloween candies ever. I can imagine the marketing team having a brainstorming meeting wherein they decide it makes perfect sense to sell pumpkin spice flavored candy corn. "It'll fly off the shelves! Let's double the orders!"
12

Sweet Cinnamon Pumpkin Fragrance Mist
Don't let the name fool you. This is pumpkin spice body spray.
13

Pumpkin Spice Farmers' Market Soap
The Farmers' Market brand jumped on the pumpkin bandwagon as well. Who doesn't want to lather up in the shower and come out smelling like Thanksgiving dinner?
14

Rossi Pasta Pumpkin Spice Lasagna
Like … I kind of get the idea behind this one too. Butternut squash ravioli and similar pasta dishes are super popular during the fall season, especially among the farm-to-table set. That being said, no. Just no.
15

Pinnacle Pumpkin Pie Vodka
I'm not a big drinker, but I'm not a teetotaler or anything. Still, thinking about doing a shot of pumpkin flavored vodka triggers my gag reflex.
16

Polar Pumpkin Spice Seltzer
Ditto. Fortunately this is seasonal and doesn't always show up on store shelves, but when it does, New England ends up getting triple visitors – some come for the leaves, some come for Halloween in Salem, and some come for the seltzer.
17

Cedar's Pumpkin Spice Hummus
I'm not a big fan of hummus anyway, so I don't know, maybe pumpkin spice is an acceptable flavor. I'm going to go out on a limb and guess that it tastes awful, though.
18

Pepperidge Farm Pumpkin Spice Milano Cookies
Remember how Milano cookies used to be sacred and the only appropriate tweak involved adding more chocolate or maybe some mint? Pepperidge Farm remembers but they pulled this ish anyway.
19

Hostess Pumpkin Spice Twinkies
I don't even want to live on this planet.
20

Pumpkin Spice Hershey's Kisses
I'm not kidding. This is deplorable.
21

Shock Top Pumpkin Wheat Ale
Okay. Okay, call me basic. I admit it, I like pumpkin beer. Shipyard Pumpkin is my favorite, but Shock Top is pretty good, too. There's no accounting for taste.
What does it for you? Everybody likes something pumpkin spice, I'm convinced. 'fess up.
Niama:
Funny article & comments! Never had anything "pumpkin spice" & this article doesn't exactly compel me to try anything pumpkin spice lol.
Niama:
There's a commercial-unfortunately I can't remember what it's for-but an older gentleman says "We don't have any damned pumpkin spice!" IT IS SO FUNNY! This article made me think of that commercial! Lol
Taylor:
Pumpkin spice Oreos are amazing though. Don't know who put a stick up your behind lol
Taylor:
@katie because it's the spice used on pumpkins. It would be mighty hard to make spice out of pumpkin I believe lol
Ariana:
Actually some of these sound good
Katie:
"Pumpkin spice" is so misleading. Things labeled as suck always just taste like cinnamon and clove. No pumpkin...
Claire:
I've never tried pumpkin spice anything, so these actually sound interesting to me!
Laraw:
Pumpkin spiced whatever gives me the boak. Not nice to say but I guess if enough folk profess to love it, others can be swicked into thinking it tastes good, when in actual fact your taste buds never lie and pumpkin spiced ( insert foodstuff here) is just pants 😔
Wendy:
I love pumpkin spice almost anything like the pringles for example not sure hey! doesn't hurt to try