As you would expect, the loudest and boldest statements of extravagance and opulence are made in gold; they always have been. So, now we have everything from shoes to undergarments to electronics and even chocolates in gold! You heard me you right! Here are seven over the top gold accessories that will make you go WHAT!
---
1

Gold Bra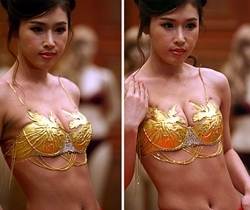 Image Source: didntyouhear.com
At $1.89 million, this fancy bra forged in gold costs more than a regular apartment in the US and a luxury house in a lot of other places in the world. The product (if I may call it that) has been manufactured by Golden Zone, a Korean company. It is unfortunate that the bra looks agonizingly uncomfortable in the way it has clasped the woman's breasts, and quite hideous in its design.
2

Gold Sports Shoes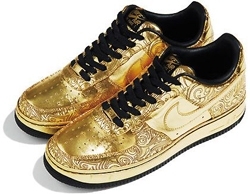 Image Source: weirdomatic.com
How about gold sports shoes to steal attention? Now that is certainly an over the top gold accessory! Nike launched its limited edition Air Force 1 Supreme Closing Ceremony metallic gold leather shoes after the Beijing Olympics, as a collector's item and a tribute to the greatest global sporting event. This may be old news, but I haven't yet seen anyone sporting a pair.
---
3

Gold Fingernail Rings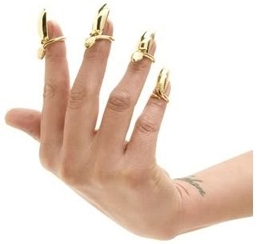 Image Source: i364.photobucket.com
It seems as though this set of odd looking fingernail rings was designed for no purpose other than to figure on a list of over the top gold accessories. I'm not sure I would want to venture too close to someone wearing these. Besides, I half expect Lady Gaga to put them on for her next stage show.
---
4

Triple Gold Necklace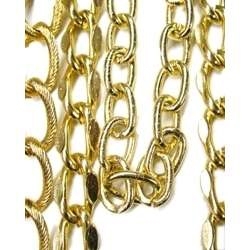 Image Source: s3.thisnext.com
Imagine being chained in gold, literally. It is a fancy idea, and Kitson Boutique has brought it to life with this extravagant gold necklace, which is essentially layers of gold link chains resting around your neck. You wouldn't want to step anywhere within a 100 miles of a dodgy neighborhood with this one on.
---
5

Dinosaur Bones Rib Cage Cuff Bracelet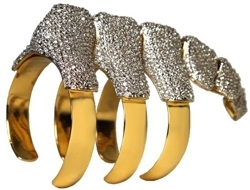 Image Source: 1.bp.blogspot.com
Disney is responsible for this extravagant and dazzling bracelet. It brought it out as part of a signature collection to commemorate Fantasia's 50th Anniversary. The bracelet is made in solid brass, plated with gold, and is completed with hundreds of tiny Cubic Zirconia stones.
6

Romain Jerome's Fancy Watch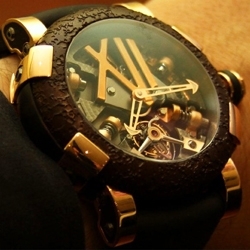 Image Source: mademansion.com
Trust Romain Jerome to come up with a fancy watch. This expensive timepiece, called 'Steampunk Tourbillon', is the flagship piece of its fancy Titanic DNA range. Gold features prominently in its artistic design, and a small percentage of the watch's metal is actually taken from the famous Titanic ship.
---
7

Gold IPod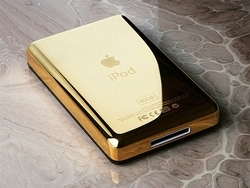 Image Source: thesoulstyle.com
If you haven't had enough of over the top gold accessories, how about an iPod encased in solid 24-carat gold? Apple brought this out for the first time in 2007, and somehow even managed to price it fairly reasonably. However, it goes without saying that even if you had the money, a flashy iPod in solid gold would hardly be practical. But then, is practicality really the point?
I could go on with this list of over the top gold accessories, but I suppose you have enough to chew on for a day! As always, the penchant for gold is alive and healthy, and there is no doubt that designers and manufacturers will continue their experiments in gold. Have you come across any crazy accessories? Do share!
Top image source: didntyouhear.com
---
Comments
Popular
Related
Recent