I think we have all seen those crazy luxury pet products, but have you ever thought about buying one? I must admit, I have been pretty tempted to buy some of these super luxe collars, beds and other accessories in the past. If nothing but the best is good enough for your pampered pet or you just like to see the all the extravagant luxury pet products out on the market, you are going to love my picks below!
Table of contents:
1

Iron Accents Royal Pet Canopy Bed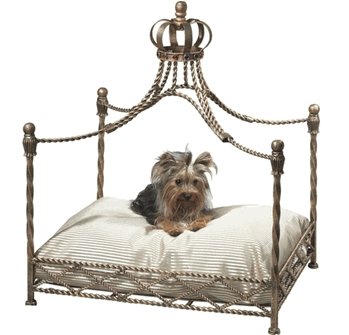 Let me start off this list of luxury pet products with this fancy canopy bed. I do not know about you, but I would love to sleep in a magnificent bed like this one so I think my pet would be just as happy in it. This decorative canopy bed works for a cat or dog and fits a standard size pillow for your pet to perch on. If your pet is a prince or princess in training, this bed is a perfect addition to your pet's room. Available at ironaccents.com for $190.
2

Bitch New York Red Bone Crystal Poop Bag Holder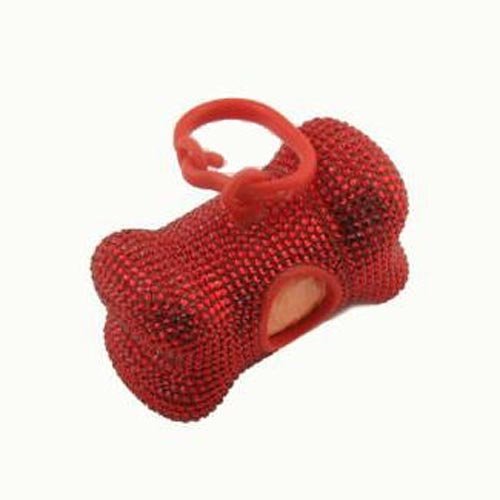 It is a dirty job, but someone has to do it! Potty bags are a must-have for dog owners so why not make doing the dirty deed a little most stylish by getting one of these fab poop bag holders? Bitch New York makes a variety of colors of these chic pet products that come in either a bone or heart shape. Your dog will be the diva or divo of the dog park. Available at bitchnewyork.com for $402.
3

OPAWZ Healing and Relaxing Pet Spa Salt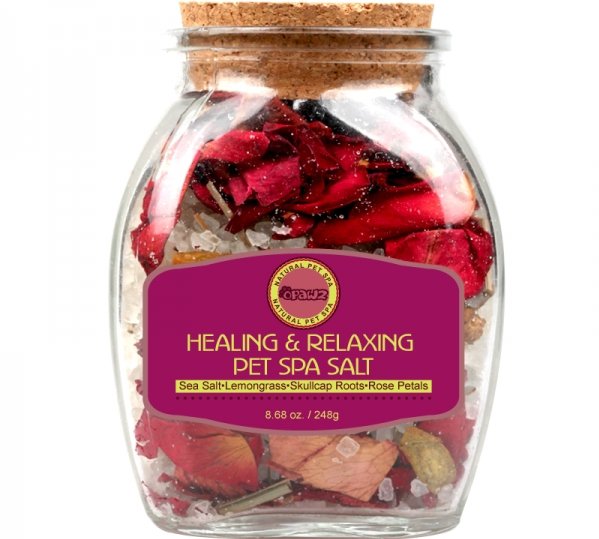 We like to take a relaxing bath with some fragrant bath salts, so why should our pets miss out on the fun? Made with 100% natural ingredients, this special blend is formulated to soothe sore muscles and promote overall healing. So whether your pooch had a rigorous workout or just needs some TLC, this special blend is perfect to put your pet at ease. Available at opawz.com for $16.99.
4

The Refined Feline Lotus Cat Tower

If a regular old cat tree just will not cut it, the Refined Feline Lotus Cat Tower might be just what your kitty needs. The Zen themed piece will bring balance and calm to your cat's life and makes a stylish addition to any room. It comes with brown carpet with Velcro as well as replacement carpet and plush cushions with faux suede covers. Available at wag.com for $326.98.
5

Suck UK Cat DJ Scratching Deck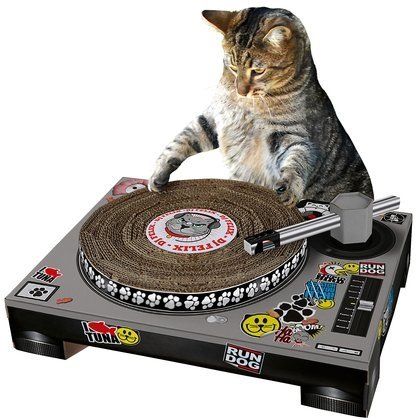 Are you convinced that your cat was a DJ in a previous life? If so, this scratching deck will change her life! Not only will this decorative piece brighten up any room, you will not have to worry about your cat scratching up and ruining any of your furniture. Aside from this pet product looking super cool, every time she uses the scratching deck, it will put a big smile on your face. Available at wag.com for $34.59.
6

Jonathan Adler Puppy Uppers Jar

Dog treat jars should not be something that you have to keep hidden away. Most treat jars are not something that I would want front and center in any room, but this baby from Jonathan Adler is something I would proudly display! Store your pup's favorite treats or even some toys in this stylish jar that adds an element of cool to any counter. Available at houzz.com for $138.
7

Dutch Dog Design DoggySnooze Memory Foam Bed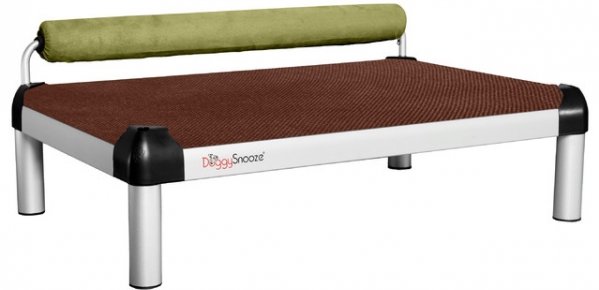 If a canopy bed just is not your dog's style, I am betting that this memory foam bed with a cushioned bolster is right up his alley. Your dog will be comfy, cozy and oh so relaxed in his very own elevated memory foam bed. Do not be surprised if your dog starts spending even more time in bed! Available at houzz.com for $219.
If you are looking to pamper your pet with an extravagant gift, any of these products will have your pet barking or purring with glee. Our pets are a member of the family so I do not blame you for wanting to give them something a little more upscale than your average pet product. Do you buy your pet luxury products?
Please rate this article