Are you a newly wed decorating your first home? Or maybe you're looking for the perfect gift to give a newly wed couple? Or just maybe you want something special to accessorise your home with something that meets the 'cute' factor. If yes, take a look at these 13 His & Her accessories for your home and maybe you'll find the perfect thing to add that special touch to your space.
---
1

His & Her Throw Cushions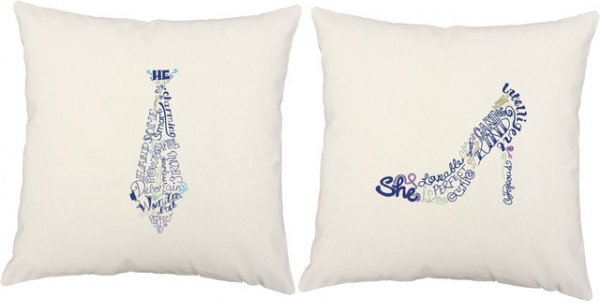 A fun take on your standard His & Her cushions, these are unique enough to be conversation starters. Perfect for an informal living room or a corner reading cubby, these His & Her cushions make an excellent focus point for your space.
---
2

His & Her Piggy Banks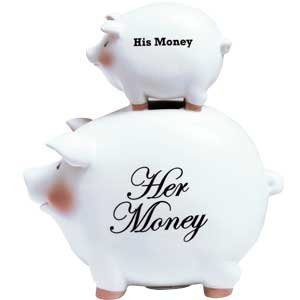 How adorable are these piggy banks?! There is seriously no better way to collect all the loose change at the end of the day than these beyond cute His & Her piggy banks. I would love a pair of these piggies in my house to add the quaint and the fun factor all at once!
---
3

His & Her Pillows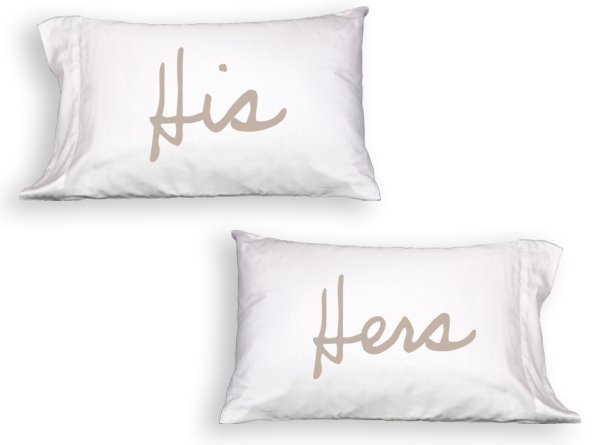 These simple and elegant His & Her pillows are perfect for the master bedroom. They have the advantage of not being tied down by such a design that forces you to keep them in a set position – and so you can keep the pillows on whatever side of the bed you prefer. And I personally love fluffy white pillows, don't you?
---
4

His & Her Key Chains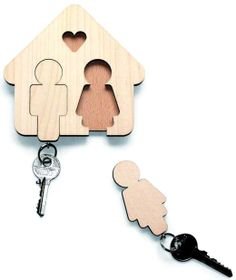 How cool are these key chains? One for each of you, this unique key chain and holder set will make the perfect gift for anyone setting up a new home. And this way you're sure to never just leave your keys lying around the house!
---
5

His & Her Towel Hooks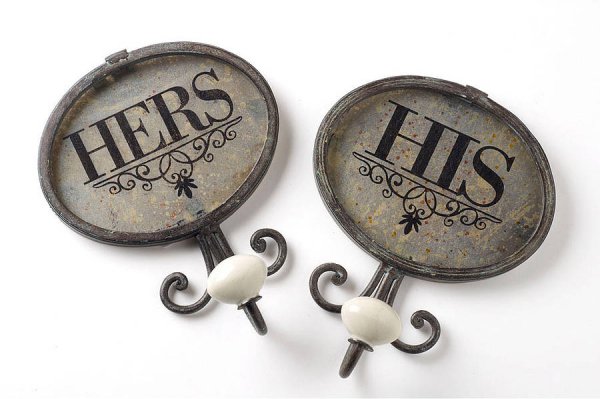 Wonderfully vintage in their style, these His & Her towel hooks would look lovely in any bathroom.
---
6

His & Her Bath Towels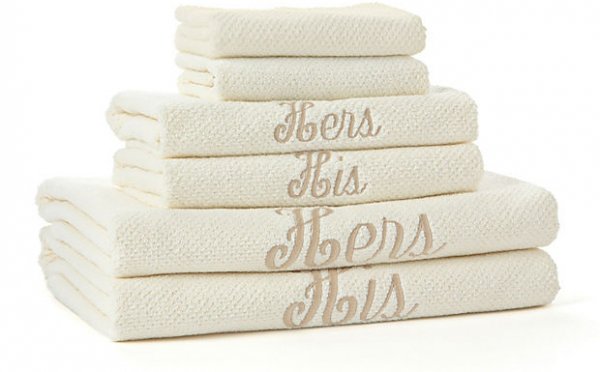 Now how can a set of His & Her towel hooks not be matched with His & Her towels? Available in a large variety of patterns, colors and styles, these towels are the perfect gift for any couple. You can even get them customized with names to make them more special.
7

His & Her Bath Mats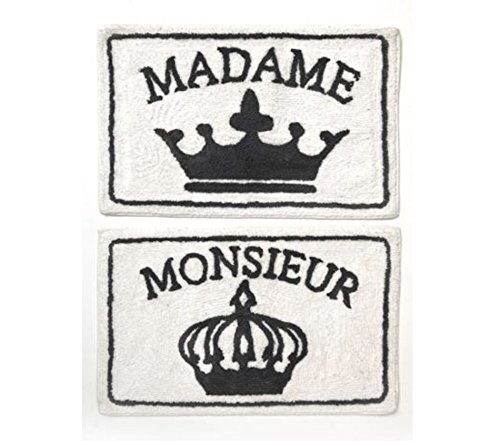 To complete your His & Her Bathroom you need this set of His & Her bath mats. How much fun are these right?
---
8

His & Her Bathrobes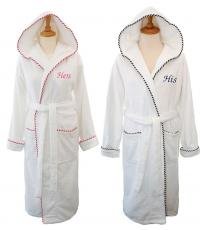 And to finish the set of bathroom accessories, you have His & Her bathrobes. Soft, luxurious and perfect to spend weekends in, this set of robes makes a lovely gift for any newly wed couple.
---
9

His & Her Coffee Spoons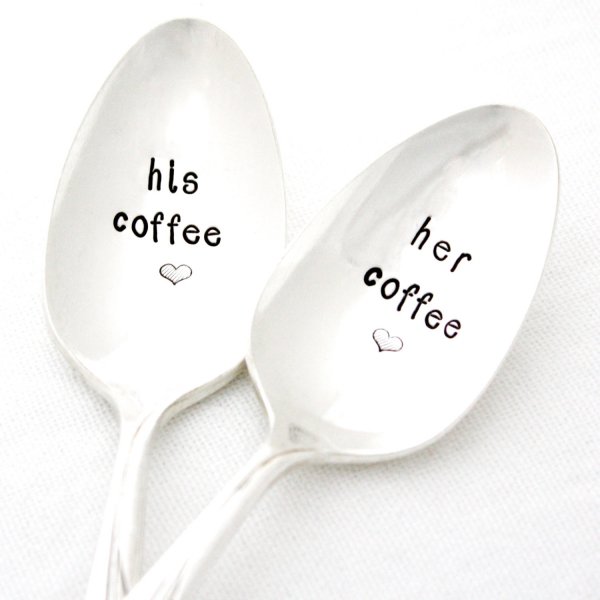 Super cute and the stuff heirlooms are made of, this matching set of His & Her coffee spoons are perfect for a newly married couple starting off their life together. These would also make a good anniversary gift if you're looking for something special to brighten your day!
---
10

His & Her Mugs

If you have the spoons, the mugs can't be too far away right? I personally love these periodic-table themed tiled His & Her mugs. Perfect for anyone with a love for Breaking Bad!
---
11

His & Her Coasters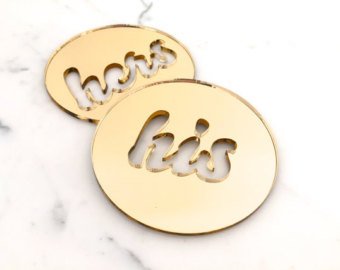 You can never have too many coasters right? I for one am always collecting fun and quirky coasters to have around my house and this set of His & Her coasters matches exactly that description.
---
12

His & Her Glasses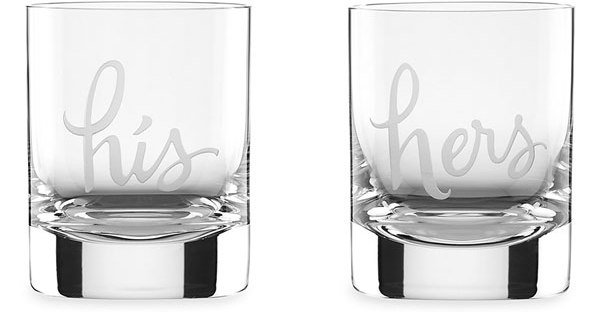 Regular drinking glasses made fun, these His & Her glasses are subtle and pretty. They'll match any decor you have around the house and this way you can be sure you're not picking up the wrong drink!
---
13

His & Her Wall Art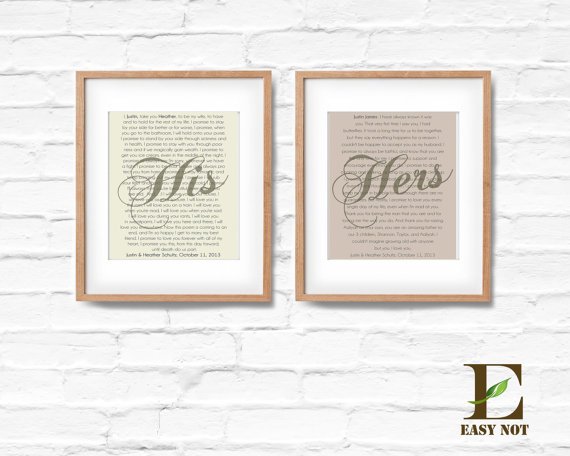 Finally, a quaint and thoughtful set of His & Her prints for your walls because your wedding vows will always remind you of the love you share with your partner. Individually framed or as a set, these would look lovely anywhere in the house.
Matching His & Her accessories add a lot of cute factor to any space. And they look quite adorable if done right. Plus they make the perfect gift for any newlywed. Have you come across any more fun ideas for His & Her accessories you'd love in your home? Share them with me, yes?
---
Comments
Popular
Related
Recent