We dog owners are fanatics on so many levels. We obsess over every aspect of their canine lives, from the food they eat (organic only!) to the toys they play with (safety first!) to whether or not to allow them to co-sleep (why not?)… one thing I don't worry about, though, is how stylish my pooch will be, for I have found a trove of darling dog collars at one of my own fave fashion shops. Here are 7 of those darling dog collars…
---
1

Frisky Business Collar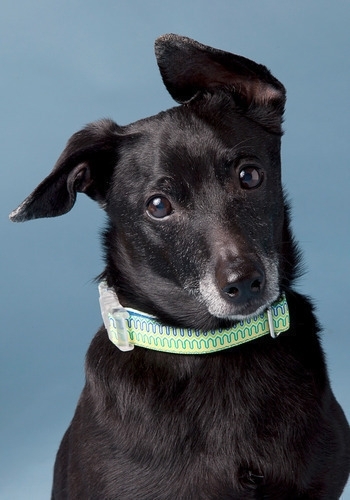 Price: $15.99 at modcloth.com
What a super-cute doggie collar! It's made in a funky pattern, all green, blue, and yellow, ideal for the pooch who wants to be color-coordinated for spring! It's made by Jonathan Adler, so you know it's top-quality and stylish. It comes in two sizes, small or large, and both sizes are adjustable to ensure a perfect fit, no matter how dainty or burly your canine companion is.
---
2

Right Bark 'Atcha Collar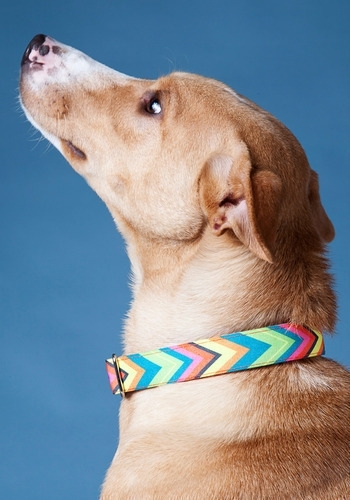 Price: $15.99 at modcloth.com
How bright and colorful! I love the ikat-inspired pattern, and the vibrant hues all displayed together. It's so eye-catching! I also adore the little bone-shaped charm. It's made of sturdy, comfortable cotton and nylon, and it's adjustable, so it's sure to be a perfect fit.
3

Happy Tails Dog Collar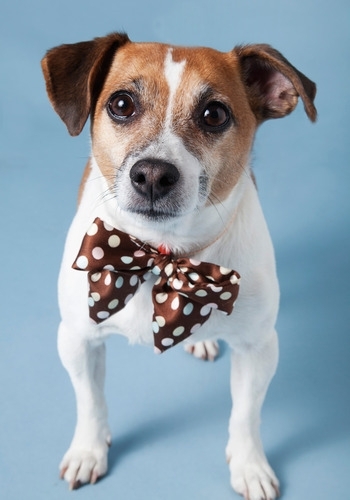 Price: $19.99 at modcloth.com
Make your doggie dashing in this brown polka-dot bowtie collar, and he'll be the talk of all of the lady pooches in the neighborhood. It comes in three sizes, and is made of hemp and nylon, so it's sure to last for dog years. There's even a metal loop for attaching a leash, so you can take your handsome pup on a stroll to show off his new style.
---
4

Diamond in the Ruff Dog Collar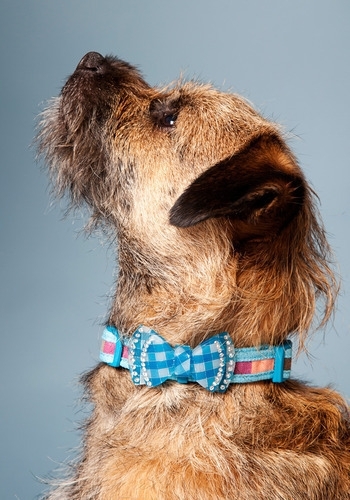 Price: $24.99 at modcloth.com
How sweet! No-one will ever wonder whether your dog is a boy or a girl if she's wearing this blingy bow collar! It's made of a pretty blue gingham check in a cotton/nylon blend with glittering rhinestone trim. It's available in three sizes, so even the tiniest girl doggie can wear one and look entirely too cute!
---
5

Bling Cherry Dog Collar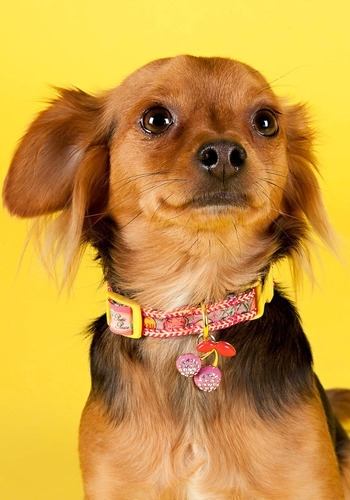 Price: $24.99 at modcloth.com
I could totally see this little cherry dog collar on my bestie's Boston. Isn't it adorable? The collar itself is made of nylon and cotton, with a metal loop for securing a leash. But my favorite detail, of course, is the double-stem of cherries on the front, bright and cheery and just a little sassy!
---
6

Paw-k Avenue Dog Collar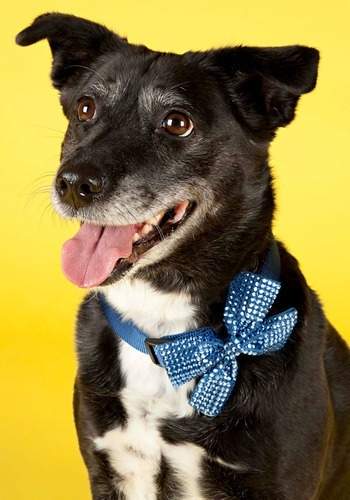 Price: $19.99 at modcloth.com
This fancy dog collar has style to spare, bedecked with a bow that, in turn, is bedecked with rows of rhinestones! It's appropriate for any doggie climbing the big city social ladder, or for one who's already at the top… it's so stylish!
---
7

Rose Bud-dy Dog Collar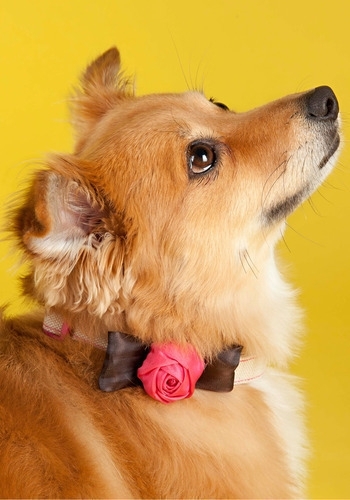 Price: $19.99 at modcloth.com
Have you ever seen a sweeter dog collar than this? It's perfect for a pup named Daisy or Rosie, with a little blossom off to one side. But it's more than just another pretty collar — it's made of sturdy hemp and nylon, with a metal loop so you can attach an all-business leash.
With so many darling dog collars to choose from, you'll have to pick more than one, obviously — let's see, the rhinestone bow for dress, the stripes for every day… which of these cute dog collars do you like best, and why? Do tell!
---
Popular
Related
Recent