It wouldn't be Mardi Gras without a bunch of beads, right? But what to do with the extras? There are loads of fun ways you can use up the excess beads you find yourself with as Mardi Gras gets closer. Use what you make to get into the spirit and celebrate. Here are some fun and easy crafts that will get you into the Mardi Gras mood. Let me know how they turn out.
Table of contents:
1

Braided Mardi Gras Bead Statement Necklace

Source: DIY Mardi Gras Statement Necklace
Who says you have to wear your strings of beads individually? Wrap them around each other to create a one of a kind look like this one.
2

Mardi Gras Holiday Wreath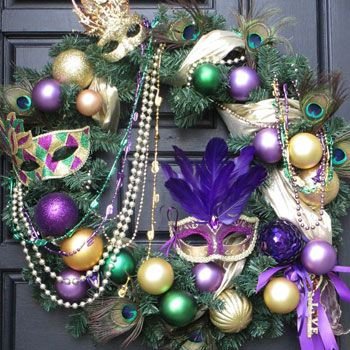 Source: Christmas Ball Ornaments: Reuse for ...
Incorporate some beads into a wreath that you can hang on the front door as Mardi Gras gets closer.
3

Mardi Gras Bead Topiaries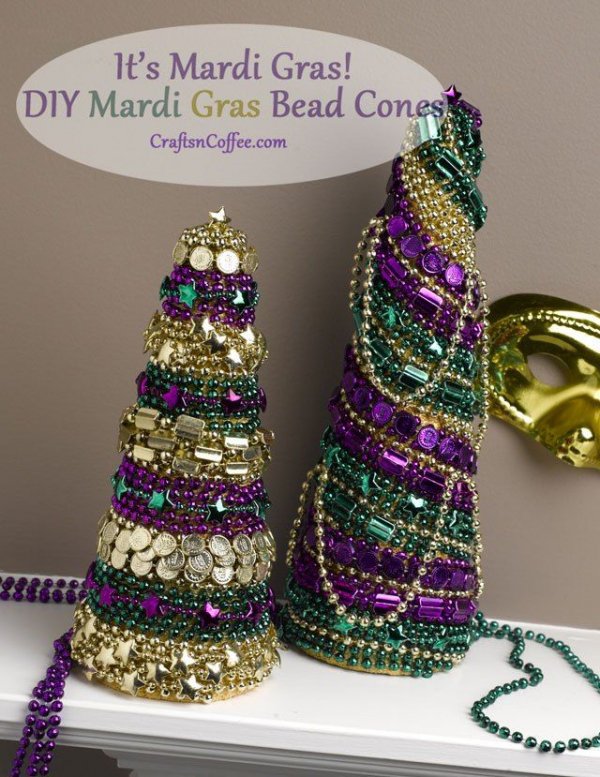 Source: Festive, DIY Mardi Gras decorations ...
Deck out your whole house with a few of these scattered around the rooms.
4

Mardi Gras Chandelier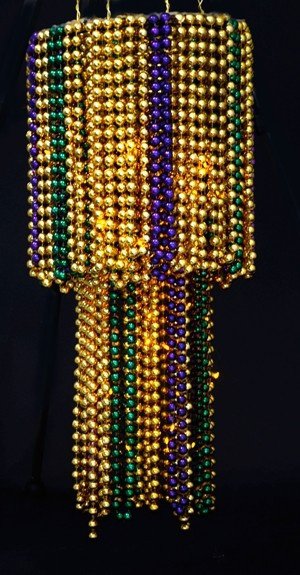 Source: Party Ideas by Mardi Gras ...
You won't mistake the time of year when you hang up this masterpiece.
5

Fleur De Lis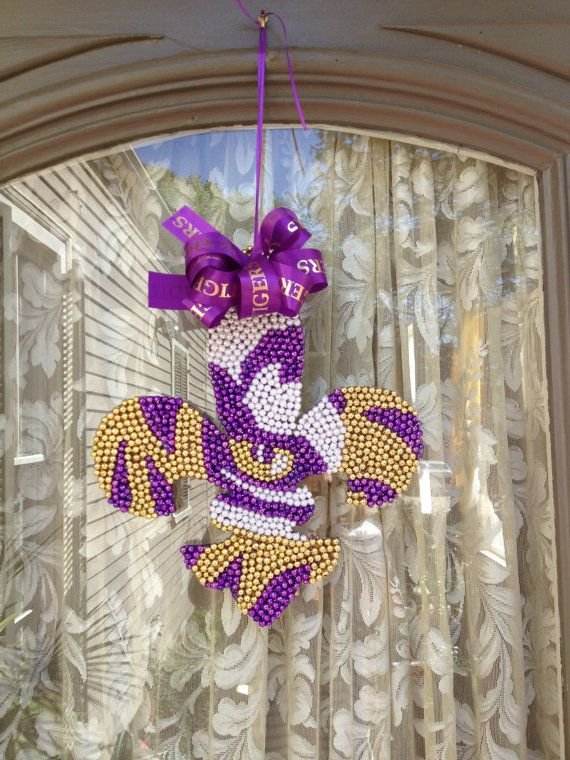 Source: Medium LSU Tigers Eye Fleur ...
This is pretty fantastic. It's clearly for the LSU Tigers, but you could modify it if that's not your team.
6

Wall Art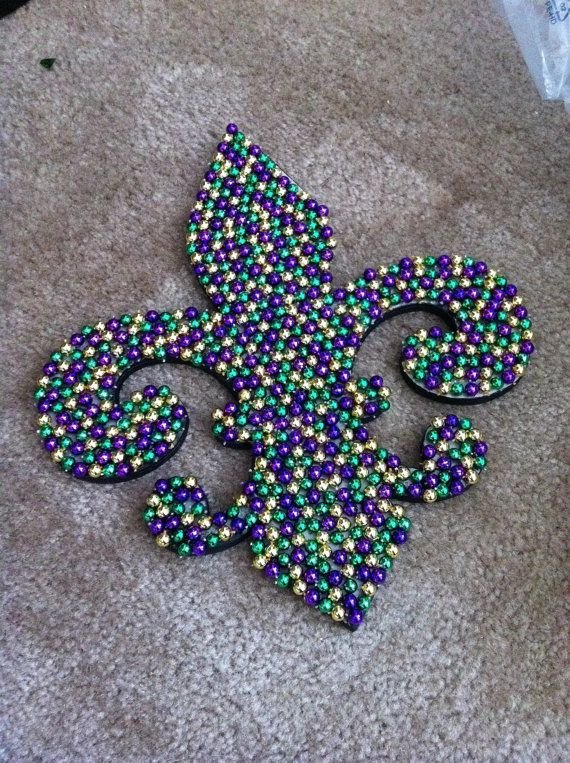 Source: Mardi Gras Bead Fleur De ...
Grab a wooden or cardboard shape at your local crafts store and cover it with broken apart beads.
7

Wrapped Beads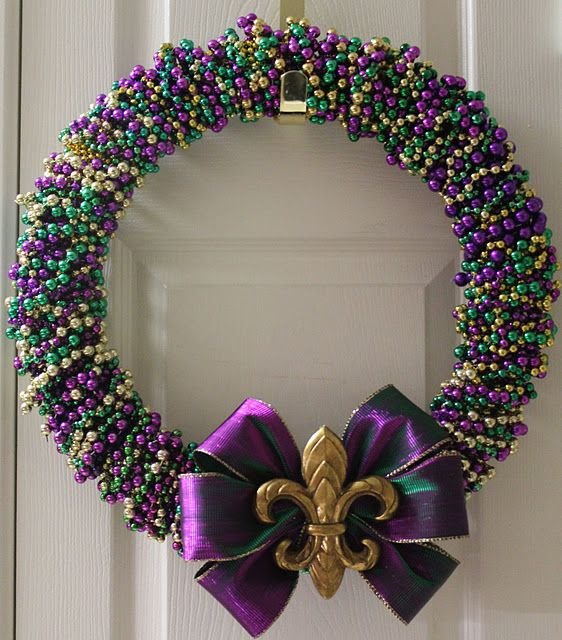 You can wrap a wreath shape with fun Mardi Gras beads to create something you'll love hanging on your front door.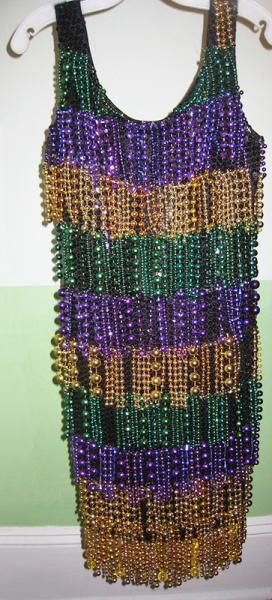 Source: How to Make a Mardi ...
It might take some time, but you can make this fun dress by gluing or sewing beads to a simple dress.
9

Festive Shoes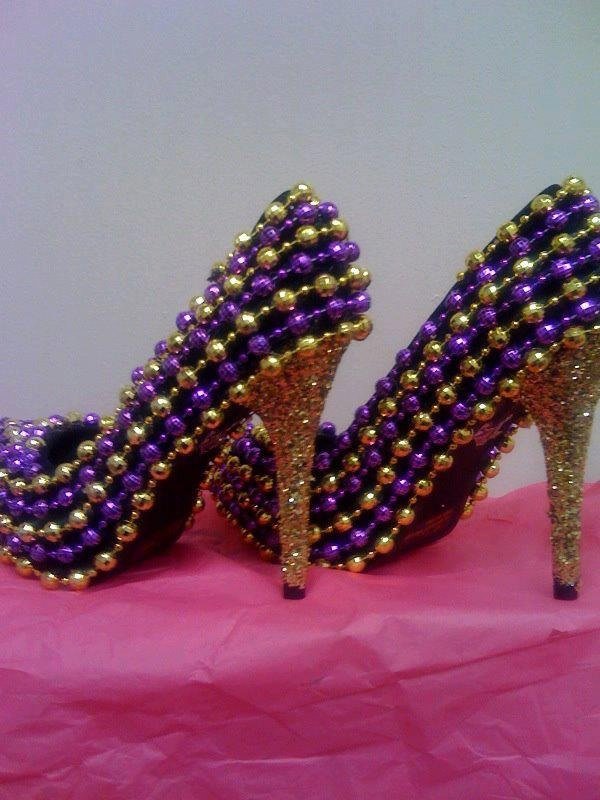 Source: Etsy :: Your place to ...
Wear these shoes to your Mardi Gras bash and you'll be the life of the party.
10

Mardi Gras Bead Mosaic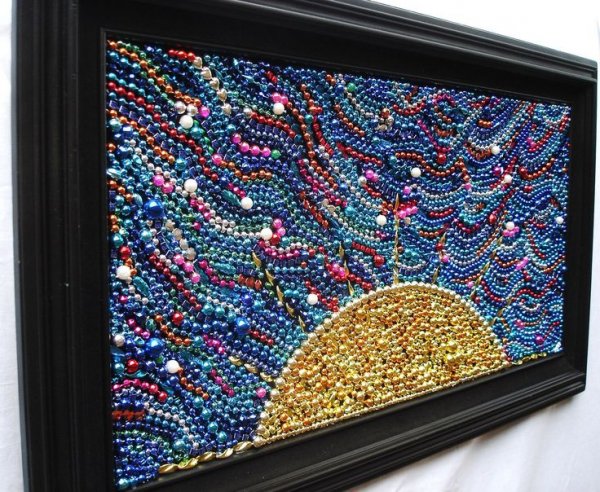 Source: Items similar to Original Mardi ...
Cut apart all those extra strands of beads and make a fun picture out of it.
11

Beaded Coasters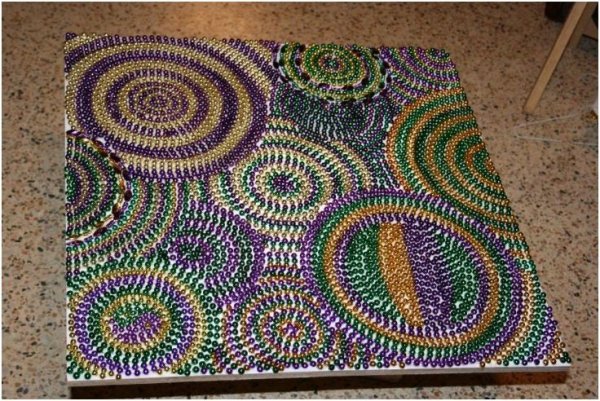 Source: Top 10 Decorative DIY Crafts ...
These would be fun coasters to put out if you host a Mardi Gras party this year.
12

Flamingo Garden Art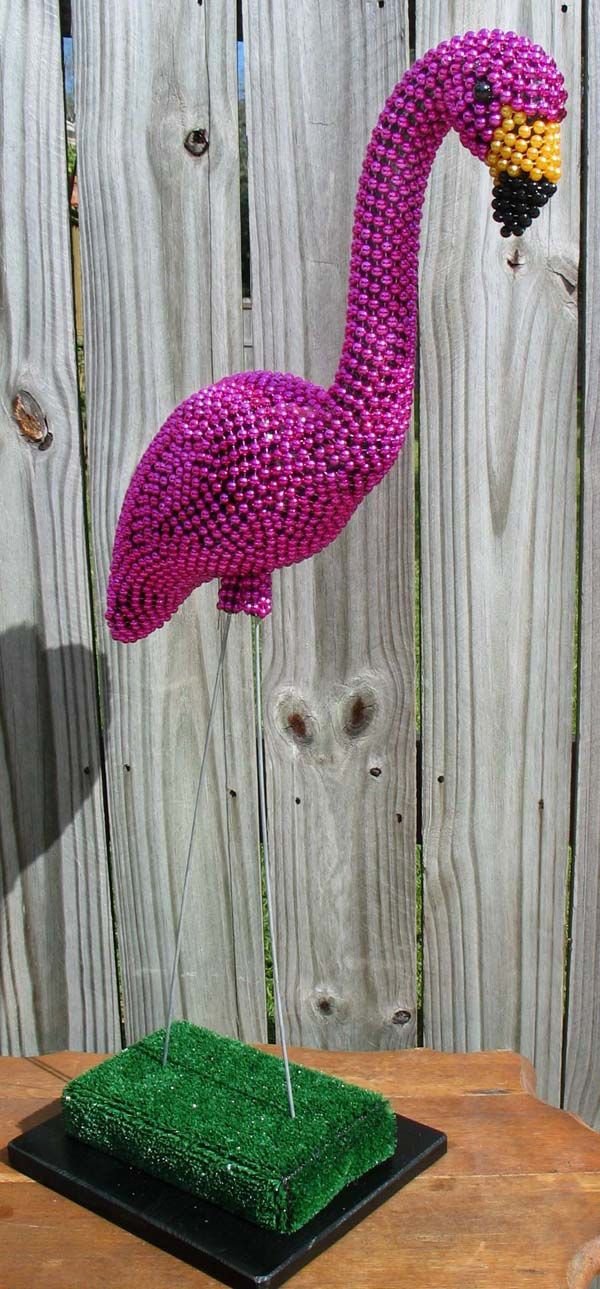 Source: Thrown Art -
This guy could hang out in your front yard all year round, not just at Mardi Gras time.
13

Monogram DIY with Mardi Gras Beads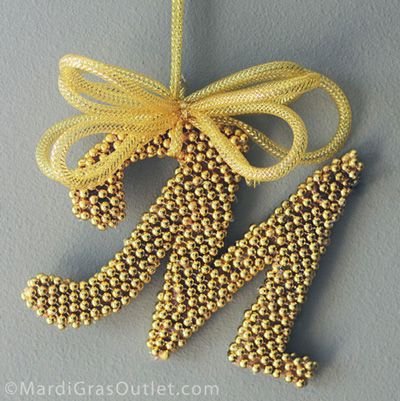 Source: Party Ideas by Mardi Gras ...
This would look adorable on the front door, but you could also hang it on the wall in your house.
14

Paired with a Mask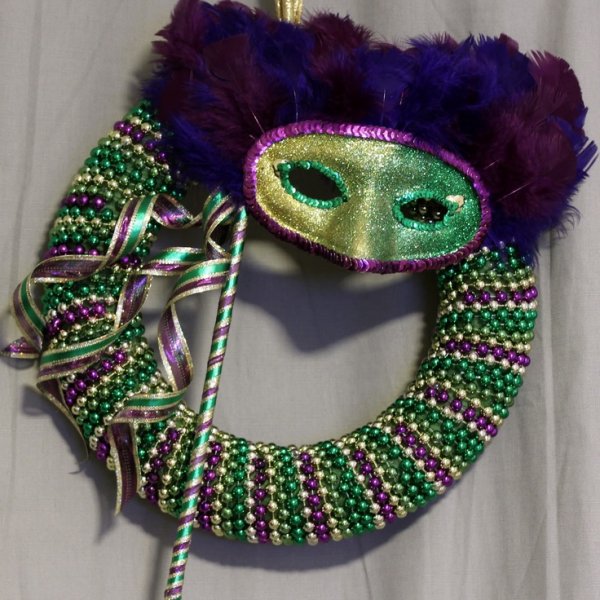 Source: DIY: Beaded Mardi Gras Wreath ...
Wouldn't this be fun to hang in your house?
15

Bead Wine Bottle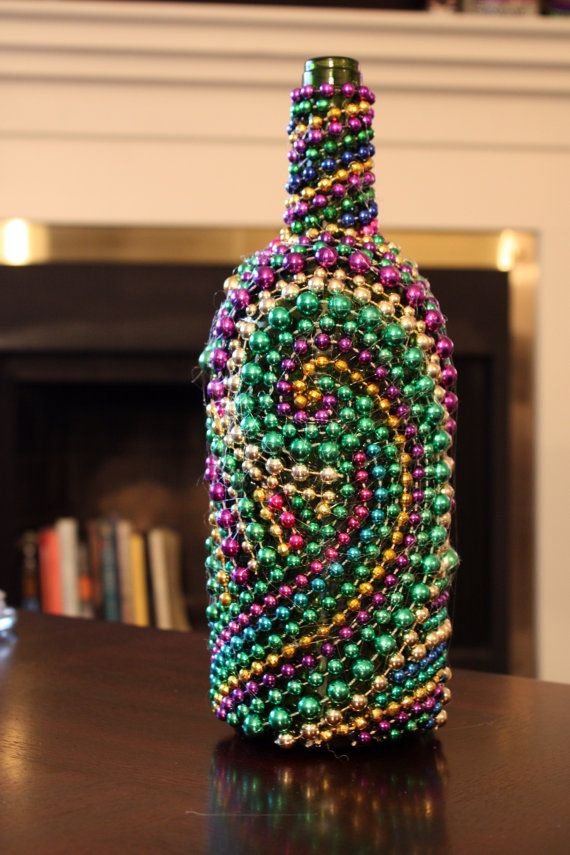 Source: Items similar to Mardi Gras ...
You could decorate with this by itself or place a flower in it. Fun, isn't it?
16

Decorative Garden Ball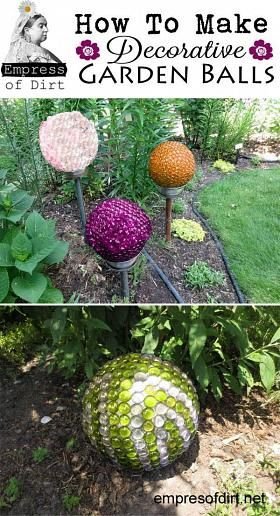 Source: Decorative Garden Ball Ideas And ...
Here's another fun thing that would look great during Mardi Gras, but could work all year round too.
17

Wine Glasses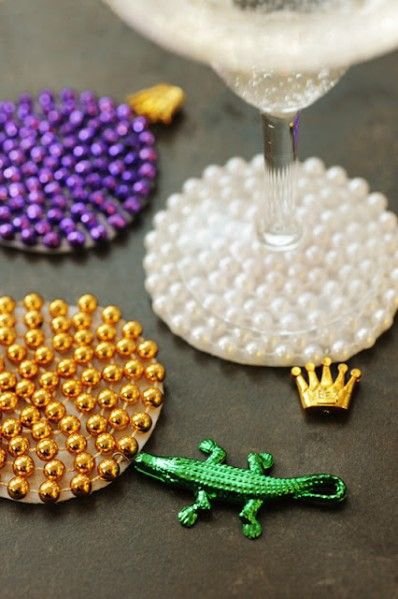 Source: dollarstorecrafts.com
Make your wine glasses something special by gluing beads around the bottom of them.
How will you celebrate Mardi Gras this year? Will you make any of these crafts to make the day even more enjoyable?
Please vote and rank this list
Please rate this article